The duration of your assessment will depend on the type of your appointment and the complexity of your problem.
Musculoskeletal
and
sports injury
assessments take approximately one hour.
Neurological
and
paediatric
assessments take approximately an hour and a half.
On your first visit (or subsequent visits for new problems) you will receive a thorough assessment, diagnosis and a treatment plan will be devised. Advice is provided regarding your condition and exactly how physiotherapy can help. The recommended number and frequency of treatment sessions required will also be discussed. The number and frequency of appointments is completely flexible. It is important for your physiotherapist to know how often you are able to attend if further treatment is recommended as treatment is structured differently dependent on the frequency of appointments. The remainder of your initial session will be used for treatment. If further treatment sessions are required you will usually be given exercises or advice to follow before the next treatment session.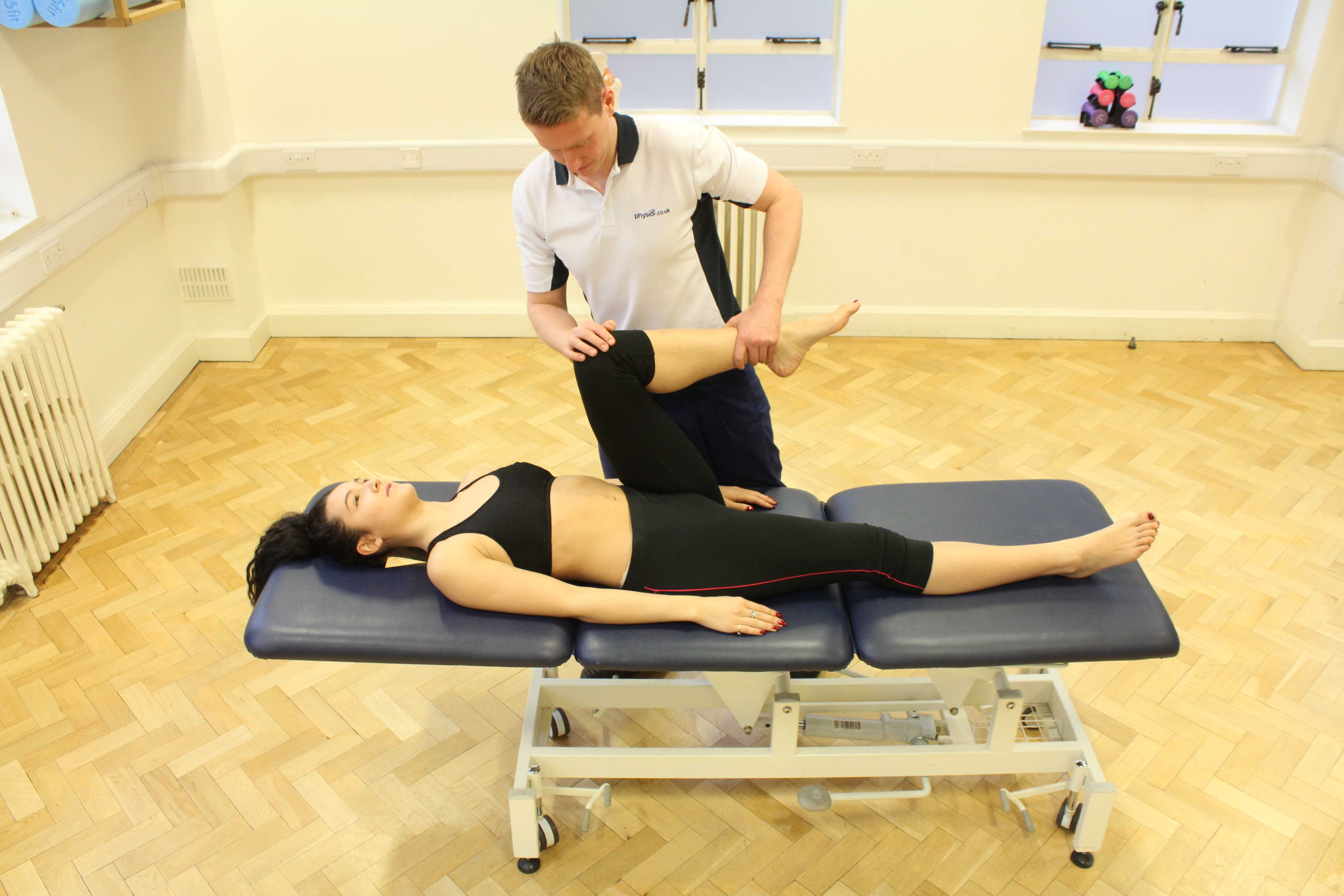 Above: Knee mobility and strength tests condurcted by an experienced physiotherapist
Subjective Assessment
The first part of the assessment is the subjective assessment. This is a verbal assessment and is used to gather information about your problem, general health, past medical history, social history and any medication you take.
By finding out how the problem started and your symptoms your physiotherapist will often already know what is causing your problem before physically assessing you. By discussing your general health and past medical history they will be able to decide which types of treatment are suitable for you.
The final and most important part of the subjective assessment is finding out your aims and expectations of treatment and any goals that you are hoping to achieve.
Physical Assessment
The physical assessment is performed following the subjective assessment. Physical assessments vary greatly depending on your problem and the type of physiotherapy that you are receiving. The assessment generally focuses on functional ability, range of movement, muscle length, muscle strength, stiffness, co-ordination, balance, stability and other 'special test' dependent on the problem or area affected by your problem. The physical assessment confirms your diagnosis, highlights factors contributing to your problem and how physiotherapy can help you.
Diagnosis & Explanation
Following the subjective and physical assessments you will be provided with a diagnosis and this diagnosis will be explained to you so you know why you are experiencing the problems that you are. The physiotherapists at Physio.co.uk often use models of joints, skeletons and muscles during the explanation to allow you to fully understand your diagnosis and how and why physiotherapy can help you. A sound understanding of your condition is essential if you are to benefit maximally from physiotherapy and comply with treatment. This is a very important part of the assessment session. If you don't understand or want to know more please ask. We enjoy explaining what is wrong and how we can help. We like questions!
Treatment Options & Treatment
Your treatment options will be explained to you by your physiotherapist following the subjective assessment, physical assessment, diagnosis and explanation. Your physiotherapist will answer your questions, advise how you can benefit from physiotherapy treatment, discuss achievable goals, the frequency of treatment sessions that they recommend and the length of time they expect that you will benefit from treatment for.
Physio.co.uk focus on educating patients and empowering them to take control of their own recovery. Whenever appropriate advice, education and exercise programmes are provided to complete between treatment sessions.
Your assessment appointment is normally concluded with physiotherapy treatment. The type of treatment will be specific to your condition or injury. In some complex cases the assessment, advice and education may take up the entire allocated time. In this situation treatment will commence at the next appointment. The amount of treatment given at the initial visit is always dependent on the complexity and nature of the problem. Wherever possible, you will be provided with treatment on the day and given something to work on until the next treatment session.
Follow Up
If further treatment sessions are required they can be arranged on days and times convenient to you. Physio.co.uk aim to promote a quick, hassle free recovery.
To find out more about our services, or to arrange an appointment please call us now on 0330 088 7800 or email office@physio.co.uk