Physiotherapy following a hip replacement
A hip replacement is a surgical procedure which involves replacing a worn away or damaged hip joint with an artificial one.
The hip joint supports the weight of the body in both static and dynamic postures. The hip is a ball and socket joint. The ball part is the rounded head of the femur or thighbone which connects into the socket part or cup in the pelvis, called the acetabulum. The top of the femur just below the head, is called the neck of the femur.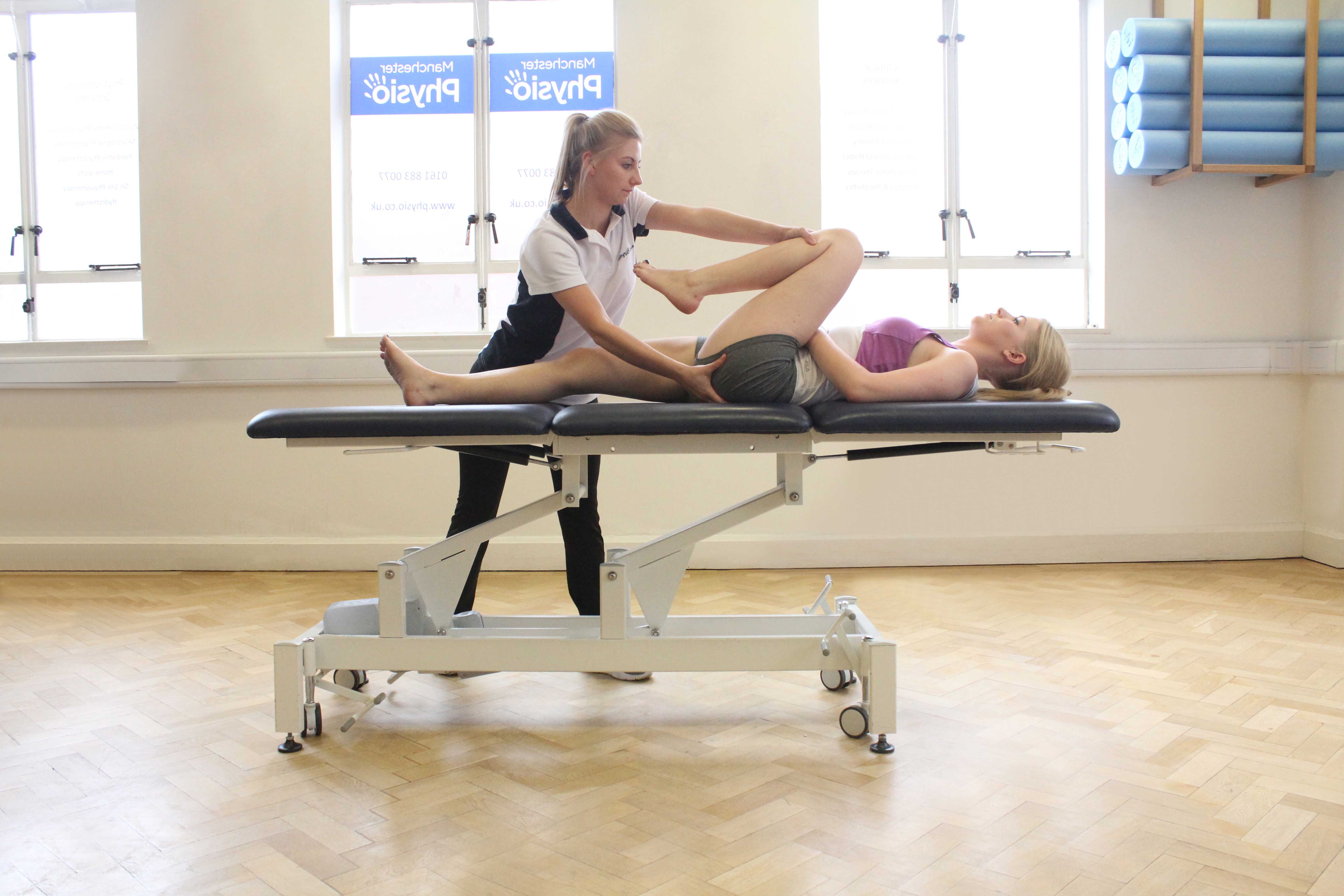 Above: Soft tissue massage and mobilisation of the connective tissues around the hips
A total hip replacement involves replacing the femur and the acetabulum. This may involve either
replacement of the femoral head and neck or
replacement of the surface of the femoral head.
The acetabulum is replaced in both procedures.
A hemiarthroplasty involves replacement of the surface of the femoral head without alteration to the surface of the acetabulum. This is commonly performed after a fracture of the neck of femur.
Total hip replacement surgery is a successful and beneficial procedure for diseased or damaged hip joints but recovery can be a lengthy process. Resurfacing the femur and acetabulum with metal plating is sometimes considered with advanced hip disease because it requires less prosthetics and less bone removal.
Physiotherapy after a hip replacement will reduce your joint pain, increase your mobility, improve your independence with everyday tasks and increase your quality of life.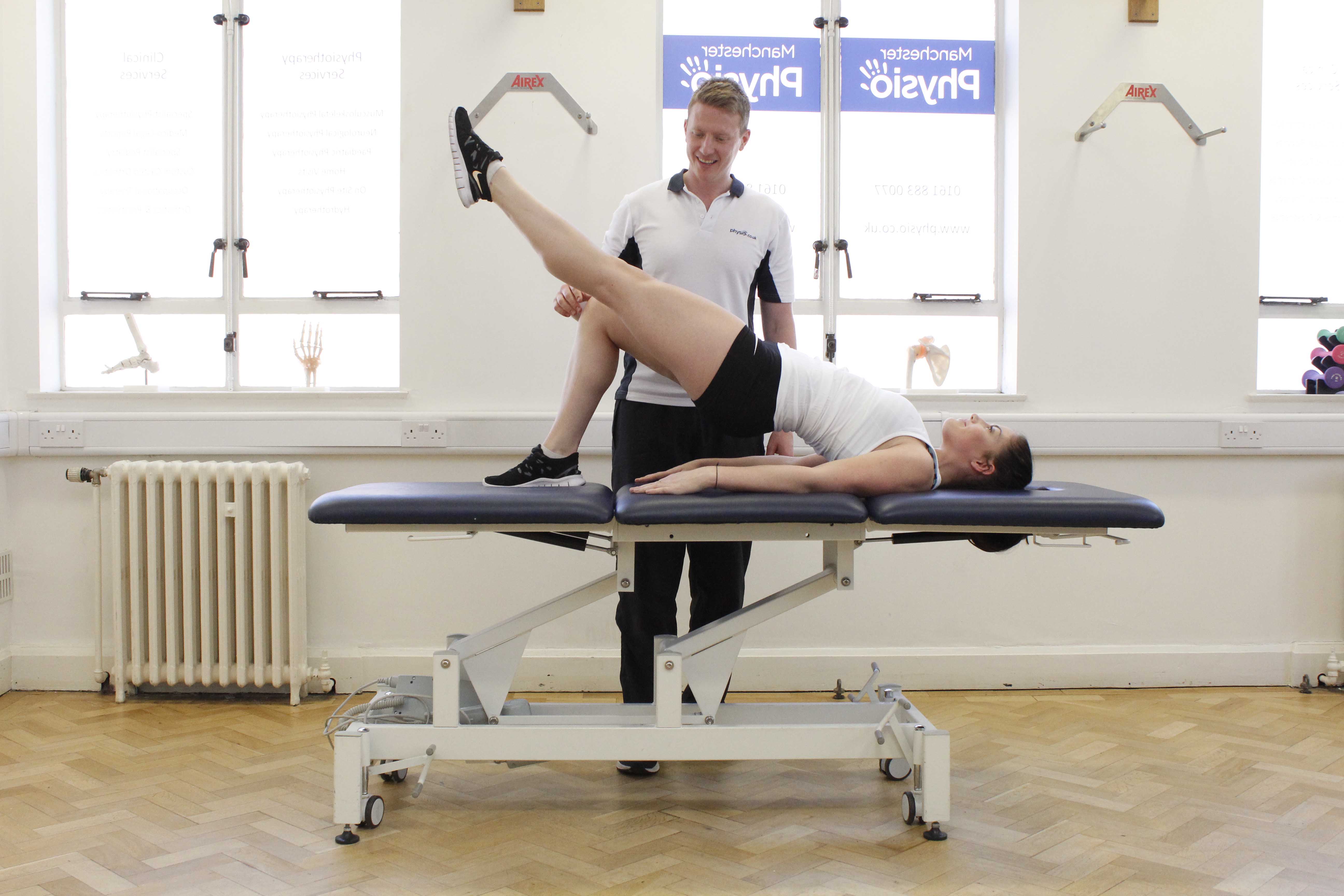 Above: Passive stretch of the hip joint and surrounding connective tissues
Physiotherapy before a hip replacement
Before your surgery it is important to stay as active as possible to help with your recovery. Physiotherapy treatment before your operation will involve daily exercises to strengthen the muscles around your hip joint. Walking and swimming are advised in the weeks and months before your surgery to keep your joint flexible and your muscles strong. Your physiotherapist will also provide information and precautions about the surgical process and its outcomes.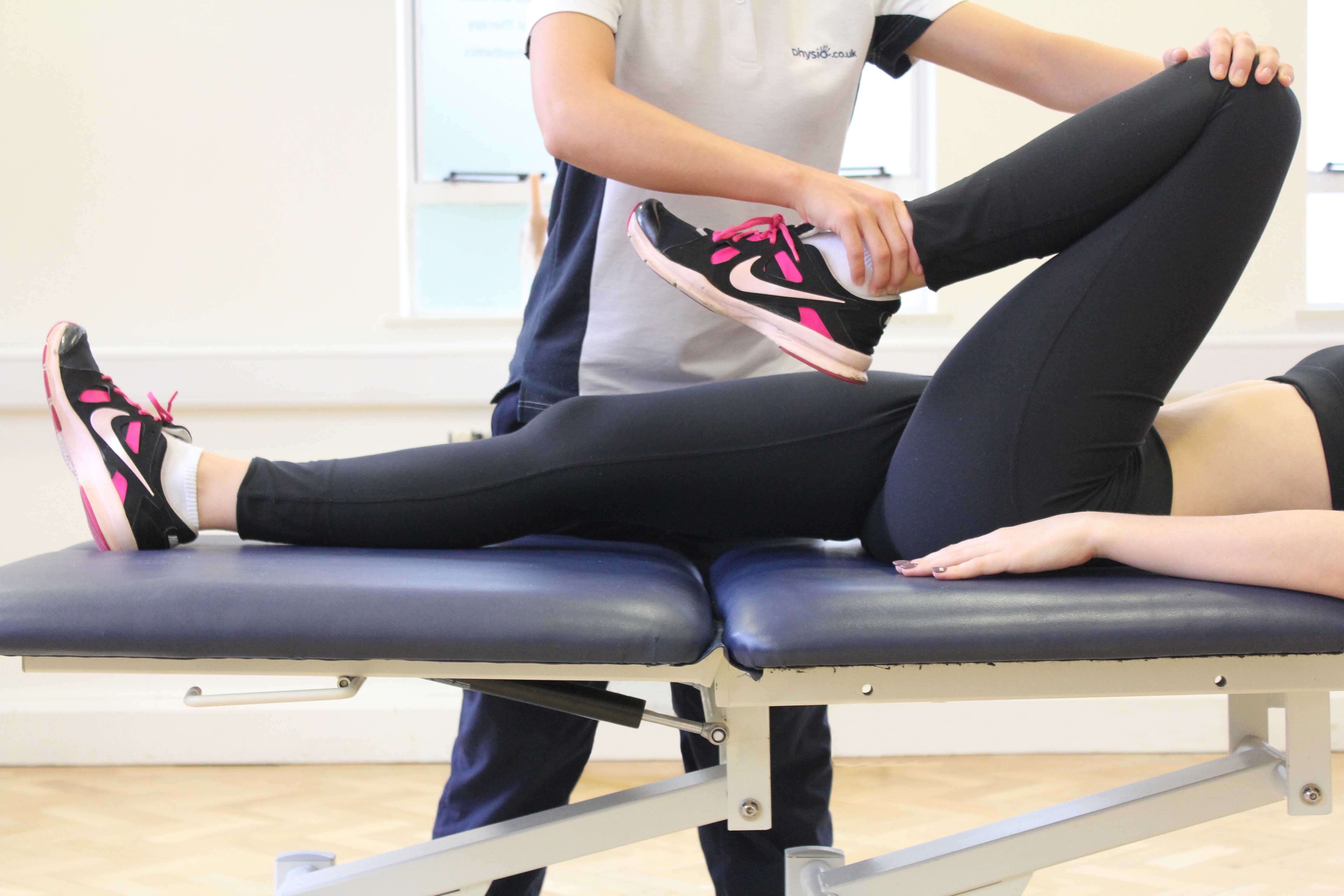 Above: Passive stretch of the hip joint and surrounding connective tissues
Symptoms after a hip replacement
After your operation it is normal to experience pain and discomfort as you have undergone a major joint reconstruction. Your movement will be limited initially as the anaesthesia wears off. A special pillow may be placed between your legs to hold your hip joint in a good position. You will see a physiotherapist one or two days after your surgery who will assist you with bed mobility, transfers and sit to stand. Exercises may include ankle mobilisations, and simple exercises for your quads and glutes. Walking is also encouraged and you may be given a walking aid (such as crutches or a walker) and advised to partially weight bear for the initial stages of your recovery. You will be in hospital for approx 5 days but this depends on your general health and fitness.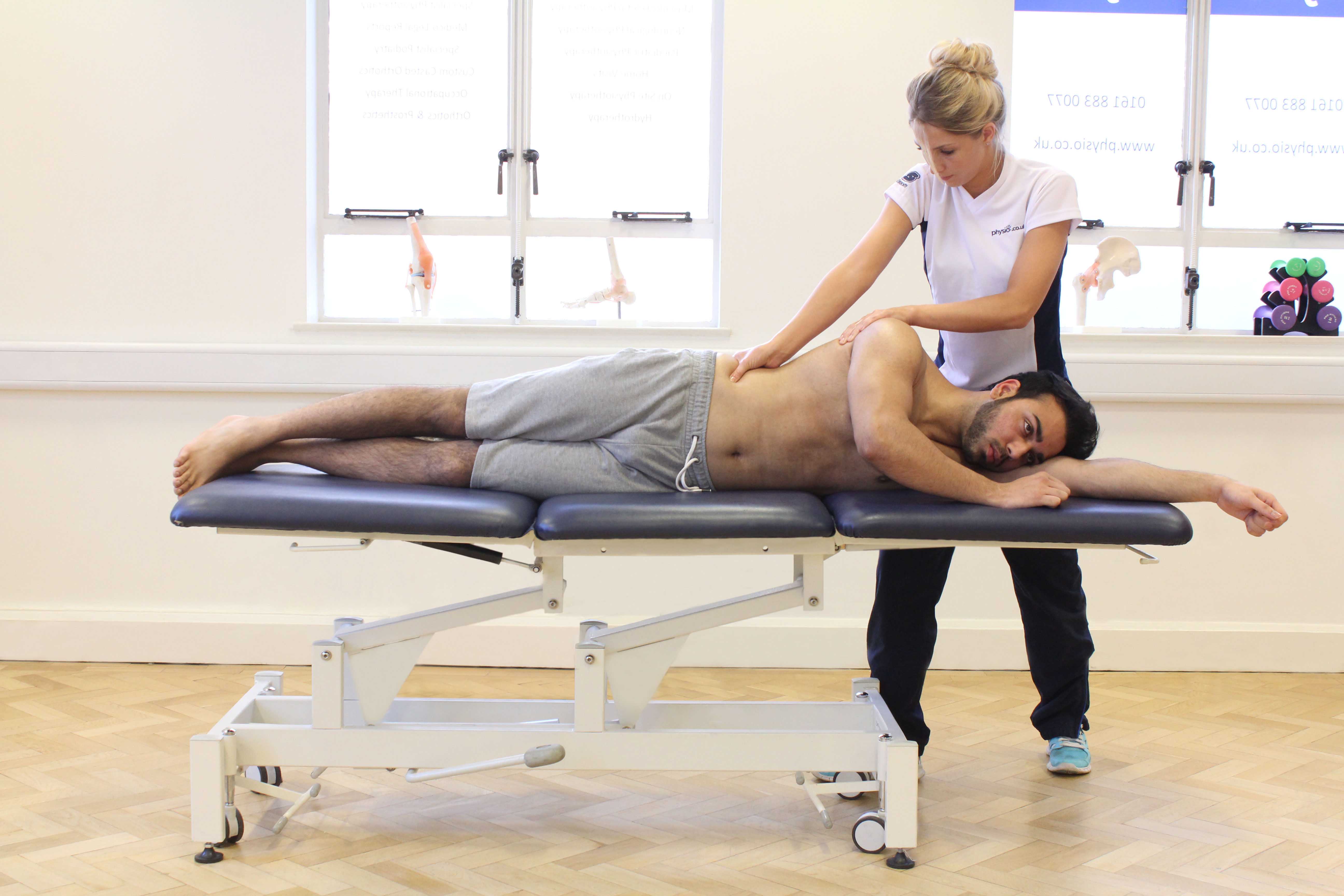 Above: Strengthening exercises for the hip and pelvic muscles, supervised by MSK therapist
Physiotherapy following your hip replacement
Physiotherapy treatment is a crucial part of your recovery, so it is essential that you continue exercises after leaving hospital. Physiotherapy treatment at Physio.co.uk will improve muscle strength and flexibility and help you regain ambulation and function as soon as possible.
Rehabilitation goals at Physio.co.uk will include:
Decreasing pain and swelling
Restoring and maintaining full range of motion in the hip
Increasing strength in the quadriceps hamstrings and glutes
Re-education of normal gait
Increasing fitness and endurance
Promoting independence with functional activities
Improving quality of life
1-2 weeks
There are certain movements that you should not do in the first six weeks. For example, you shouldn't cross your legs or twist your hip inwards and outwards. Your physiotherapist in hospital will give you further advice and tips to protect your hip.
During the two weeks of your physiotherapy programme with Physio.co.uk the main aims are to control your pain and swelling, passively improve range of motion and muscle strength. Treatment will also be focused on improving ambulation and how you mobilise around your home. Physiotherapy treatment at this stage will include:
Initiation of gait training with the use of assistive devices, such as crutches and a walker
Continuation of functional transfer training
Progression of ROM and strengthening exercises to the patient's tolerance
Progression of ambulation on level surfaces and stairs (if applicable) with the least restrictive devices
2-6 Weeks
At this stage of your rehabilitation your physiotherapy programme with Physio.co.uk will continue previous exercises to increase range of movement with the addition of resistance exercises. Exercises will also be functional to increase your independence with everyday activities. Treatment will also include gait re-education (with less assistance) and improving proprioception (balance). Physiotherapy activities will include:
Strengthening exercises - For example, seated leg extensions, side-lying/standing hip abduction, standing hip extension and hip abduction, knee bends and bridging
Stretching exercises to increase the flexibility of hip muscles
Progression of ambulation distance
Progression of independence with ADLs
Gait re –education training
Proprioception and balance training
Stationary bicycle as tolerated
6-12 weeks
At this point of your rehabilitation your physiotherapist at Physio.co.uk will focus on restoring your functional ability so that you can back to activities you enjoyed previously. Your progress will be carefully monitored to ensure you are safe carrying out your activities. Your physiotherapist will guide and support you throughout your programme to ensure the best possible recovery. Your physiotherapy treatment will consist of a progression of your exercises to build up the muscles in around your hips and in your legs and continue increases range of movement in your hip. Activities to increase your fitness levels may be included such as walking, hydrotherapy and gentle cycling.
12+ weeks
The success of your recovery and the time it takes to get you back to a level you were previously will depend on your dedication to your treatment programme. At this stage of your rehabilitation you will continue to improve with physiotherapy treatment so that you reach your maximum potential. Recovery may take up to 6 months but physiotherapy will improve your quality of life and ability with sporting or daily activities.
For more information call Physio.co.uk now on 0330 088 7800 or to book an appointment please contact us.