What is transverse myelitis?
Transverse myelitis is a neurological disorder caused by inflammation over a section of the spinal cord. This inflammation blocks messages transmitted through the spinal cord and can damage nerve fibres resulting in loss of sensory and/or motor function. The main symptoms of transverse myelitis are muscle weakness and abnormal sensation.
The segment or level of inflammation to the spinal cord determines which parts of the body are affected. In transverse myelitis damage at one segment will affect function at that segment and segments below it. Inflammation of the spinal cord commonly occurs at the thoracic (upper back) level, causing problems with leg movement and bowel and bladder control.
Physiotherapy will help people with transverse myelitis in the short and long term by promoting recovery and increasing functional abilities and activity levels.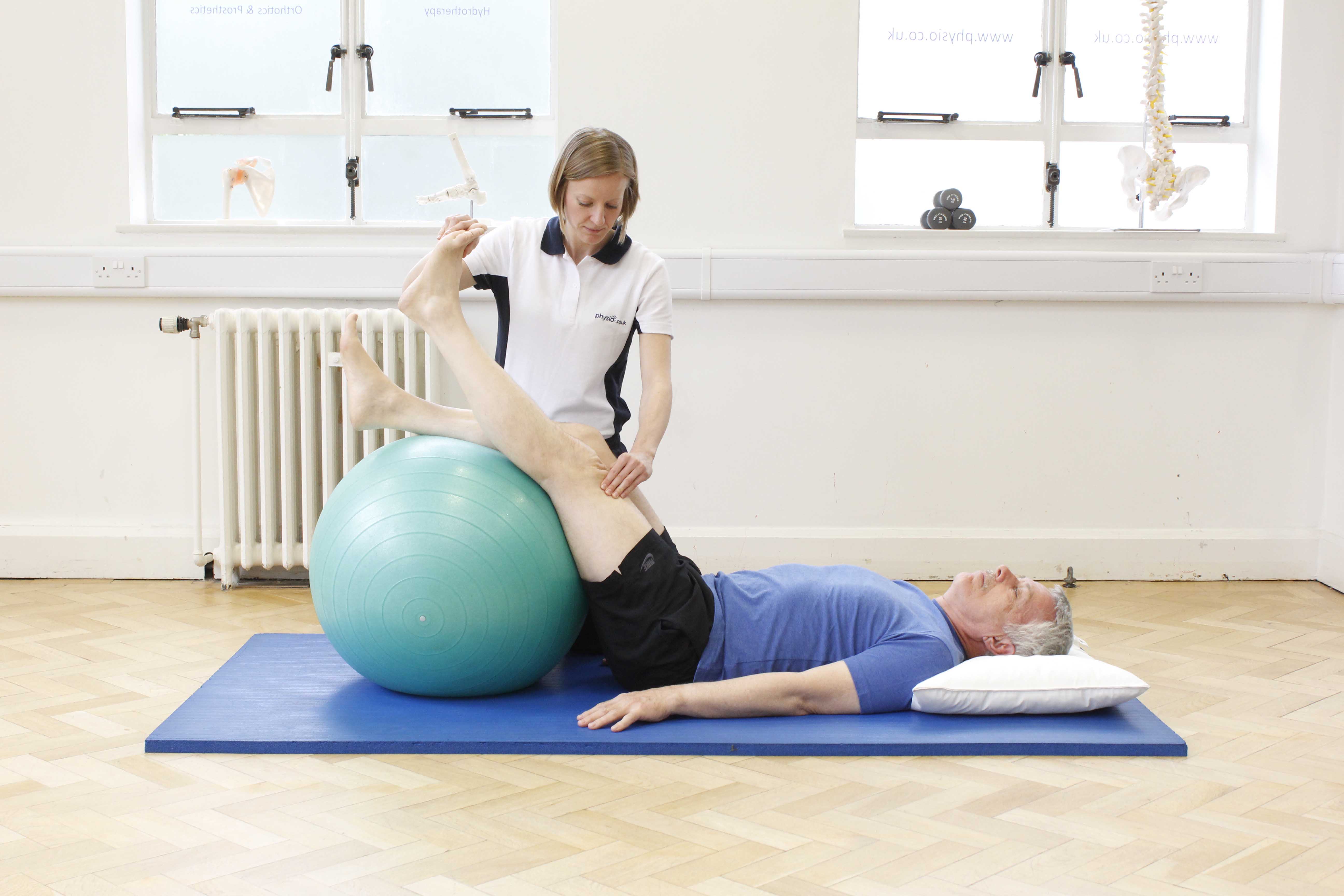 Above: Quadriceps strengthening exercises supervised by neurological physiotherapist
Diagnosis of transverse myelitis
If transverse myelitis is suspected you will usually be referred to a neurologist. They will determine a diagnosis of transverse myelitis by using:
Magnetic Resonance Imaging (MRI) – this is to detect inflammation in the spinal cord.
Myelogram – set of x ray to examine the spinal cord.
Blood tests – this is to test for viral infection.
These tests will also rule out any other conditions such as tumours and a disc prolapse that might be compressing the spinal cord.
What causes transverse myelitis?
It is not clear what causes inflammation of the spinal cord. It has been suggested that viral infections spread to the spinal cord resulting in an inflammatory response to fight off the virus. Transverse myelitis is not inherited and no genetic factors have been identified.
What are the effects/symptoms of?
The symptoms and signs depend upon the level of the spinal cord involved. The spinal cord contains nerve fibres that carry messages between the brain and the body. Inflammation of the spinal cord interrupts these pathways causing:
Muscle weakness in the lower limb (sometimes arms are involved depending on the level of the lesion)
Sensory disturbance,
Bowel and bladder dysfunction,
Back pain
Radicular pain (nerve pain in the distribution of a single spinal nerve)
There may be partial or total paralysis and sensory loss below the level of the lesion but the majority of patients show good recovery with physiotherapy.
Physiotherapy for transverse myelitis
A person with transverse myelitis should seek physiotherapy treatment as physiotherapy will improve functioning and promote quality of life. Physiotherapy is the most important aspect of managing this condition in the short and longer term. Physiotherapy treatment is best provided by specialised neurological physiotherapists that can help with the common symptoms of transverse myelitis. These include:
Muscle Weakness - It is essential to keep exercising. Physiotherapy treatment will increase muscle strength by improving walking, running or swimming. Hydrotherapy treatment helps the muscles relax and will prevent muscle stiffness and shortening. You don't need to be able to swim to make good progress with supervised hydrotherapy. Exercise will also improve balance and posture.
Fitness levels - Physiotherapy treatment will help to achieve everyday tasks by improving fitness, energy levels and stamina. A graduated exercise programme will be developed by the physiotherapist in order for you to regain your full potential.
Mobility - Our physiotherapists can advise you on mechanical support such as wheelchairs walking aids and orthotic devices in order to improve functional ability. Physiotherapy treatment can also teach transfers (getting in and out of a wheelchair, bed, car, shower/bath and onto and off a toilet) to improve safety and promote independence
Pain – Some people with transverse myelitis experience pain. The pain can arise from muscle strain caused by nerve compression or using the body in an unfamiliar way. Physiotherapy treatment will help reduce pain and stiffness by teaching you new ways of moving and improving your posture.
Transverse myelitis affects everyone differently. The onset of symptoms can be rapid and scary. Physiotherapy treatment will help you manage your condition by working closely with you and those around you. Physiotherapy will maximise your potential by developing a progressive programme that is tailored to your symptoms.
Physiotherapy treatment will depend on your condition and the length of treatment will depend on your progress. Physiotherapy will promote your quality of life by increasing your independence and sense of well-being. Our specialised neurological physiotherapists at Physio.co.uk will carry out an initial assessment to determine you individual needs and short and long term goals will be developed. To gain more information on your rehabilitation potential call us on
0330 088 7800
,
book online
or alternatively request a
free phone consultation
.