The medical term for stroke is cerebrovascular accident (CVA) and it is an interruption in the blood supply to the brain. The lack of blood supply to the brain can cause a variety of motor, sensory and cognitive deficits depending on which area of the brain is affected. If the symptoms last more than 24 hours it is diagnosed as a stroke. If they last less than 24 hours it is called a transient ischemic attack (TIA) or a 'mini-stroke'. Physiotherapy is an essential part of rehabilitation after stroke. Physiotherapy helps to restore normal movement patterns and function through intensive exercise, expert handling, positioning and the use of adjunct treatment techniques. At Physio.co.uk our specialist physiotherapists have valuable experience in the assessment and treatment of adults with stroke. Our physiotherapists use current evidence based research and an in-depth understanding of the pathophysiology of stroke to deliver a first class standard of treatment.
Types of stroke
There are two types of stroke.
An ischaemic stroke
is the most common type of stroke and it is caused by a blockage in one of the blood vessels causing the brain tissue to be starved of blood supply.
A haemorrhagic stroke
is a leakage of blood into the brain tissue due to rupture of a blood vessel, known as a 'bleed'. Both types of stroke can cause significant disability depending on the area and extent of the brain affected. However, the symptoms caused by both types of stroke can be improved with multi-disciplinary rehabilitation and intensive physiotherapy.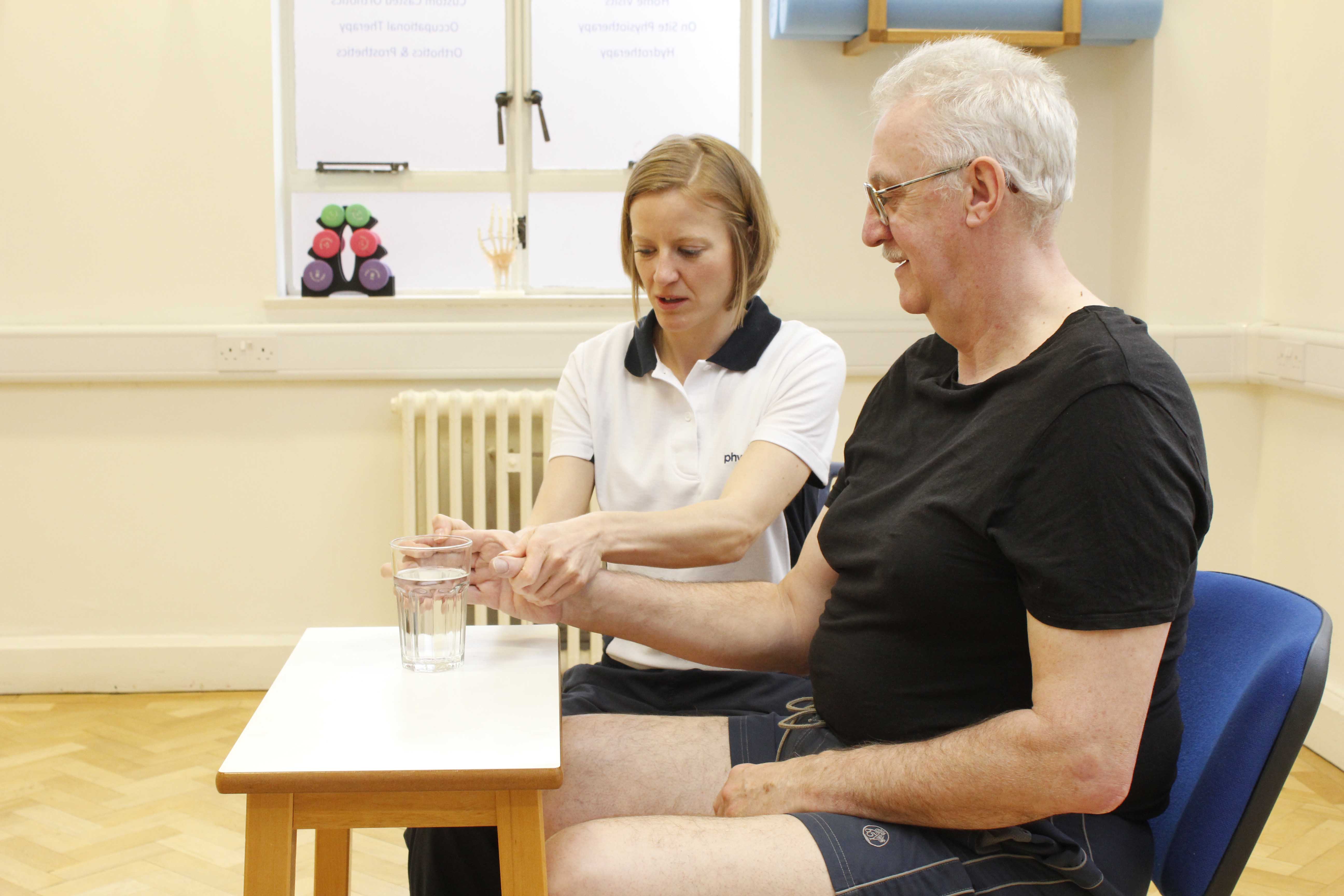 Above: Functional rehabilitation exercises assisted by physiotherapist to regain independence
Symptoms of stroke
The symptoms of stroke vary depending on the type of stroke and which areas of the brain have been affected. However, the most common symptoms are a headache, arm and leg weakness on same side of the body, facial droop and slurred speech. Due to the
muscle weakness
, individuals may be unable to sit, stand up or walk around. Physiotherapy treatment can help improve a patient's mobility,
balance
,
co-ordination
and
sensation
. Individuals may also have difficulty swallowing; have visual problems,
difficulty writing
and
following instructions
.
Diagnosis of stroke
A stroke is a medical emergency and will be diagnosed by medical staff in the hospital setting following a neurological examination. The individual will have a computed tomography (CT) scan as soon as possible after admission to hospital in order to identify whether the stroke is ischemic or haemorrhagic. This information is used to inform the immediate treatment.
Once diagnosed as a stroke, the individual may have a magnetic resonance imaging (MRI) and Doppler ultrasound scan to check the blood vessels for blockages and narrowing.
Causes of stroke
An ischaemic stroke is a lack of blood supply to the brain tissue. This can be caused by an obstruction by a blood clot which is formed either in the brain, called a thrombus or somewhere else in the body called an embolism. It can also be caused by a general decrease in blood supply due to shock or more rarely by venous thrombosis. The risk of having an ischaemic stroke is increased with age, pre-existing medical conditions such as diabetes and a family history of stroke. Modifiable risk factors include blood pressure, cholesterol, smoking, alcohol consumption, obesity and level of exercise tolerance.
In contrast, a haemorrhagic stroke is caused by leakage of blood from a small blood vessel in the brain. The risk of this occurring is increased with high blood pressure, illicit drug use, bleeding disorders or head injury.
Treatment of stroke
Medical management of stroke is focused on reduction of risk factors and prevention of further strokes. Advice to reduce weight, take regular exercise, have a balanced diet and limit alcohol intake is provided. There is medication available to reduce blood pressure, cholesterol and assist the individual to stop smoking and taking drugs.
It is essential that the individual receive intensive stroke rehabilitation on a specialised stroke unit from a multi-disciplinary team. Nursing staff, physiotherapists, occupational therapists, speech and language therapists and psychologists will work with the medical staff to deliver holistic 24 hour specialist care. After the individual leaves hospital, they will require on-going rehabilitation to re-settle and integrate into the community setting.
Physiotherapy for stroke
Physiotherapy treatment for stroke will depend upon the individual's symptoms and how soon it is after your stroke. However, the main principles of treatment are:
Facilitation of normal patterns of movement with arms, legs and trunk
Facilitation of equal weight bearing through legs
Facilitation of normal posture and body alignment
Sitting and standing balance activities
Co-ordination and sensory stimulation
Practice of activities of daily living (ADL's)
Provision of home exercise program
Provision of wheelchairs, walking aids and equipment
Provision of orthotics, splints and casts
It is common for individuals who have had a stroke to have some
muscle weakness
. This is usually on one side of the body, known as a right or left sided hemiparesis. It affects the arm, leg and trunk of the opposite side of the body to the area of brain affected. For example, if the stroke occurs in the left side of the brain, the right side of the body will be affected. Physiotherapy can help to increase movement in the affected side of the body, prevent muscle tightness and
stiff joints
. Your physiotherapist will provide a detailed
exercise program
for you to continue with a range of
strengthening
,
stretching
and
balance exercises
depending on your symptoms and problems. Technique is important during exercising and it may be helpful to use a mirror to check your posture and body alignment at home.
Your physiotherapist will assess your ability to get in and out of bed, to sit, stand, walk and climb the stairs. If these transfers are difficult after a stroke, your physiotherapist will show you new methods which will improve the safety and level of ease with which you can complete the task. There is a variety of equipment available to help including bed levers, specialist seating, hoists, rotastands, walking frames and sticks. Your physiotherapist will advise which equipment is most helpful for you. If you are having difficulty completing personal care or kitchen tasks or need major adaptations to the home, your physiotherapist will refer you to Manchester Occupational therapy.
There are a range of significant physical, cognitive and sensory benefits to having intensive physiotherapy after a stroke. The advantages of regular physiotherapy include:
Increased active movement and muscle strength
Increased ability to move around and walking
Increased efficiency and safety of transfers and mobility
Increased confidence and quality of life
Improved movement patterns and quality of movement
Improved balance, sensation and co-ordination
Improved postural control and core stability
Learn appropriate exercises to do at home
Physiotherapy treatment will be goal focused. Goals will be discussed and set by the individual at the initial assessment. An example of a long term goal may be to walk to the corner shop with a walking stick or to drink a mug of tea with your affected upper limb. The progress made in treatment sessions will be monitored and evaluated regularly.
If standing and walking is your main goal after a stroke, treatment may include
dynamic balance
and
strengthening exercises
,
core stability work
with a gym ball, body weight supported treadmill training or
functional electrical stimulation (FES)
. Water based exercise therapy within our warm
hydrotherapy
pool is beneficial and enjoyable for individuals with any level of mobility after stroke and can significantly improve mobility. It is quite common for leg
weakness
to resolve quicker than arm
weakness
after a stroke. If this is the case for you, our specialist physiotherapists have a range of treatment options available to help improve the movement and function of the upper limb including
botox injections
,
saebo therapy
,
constraint induced movement therapy
and electrical muscle stimulation. Our experienced neurological physiotherapist will assess your suitability for these adjunct treatment techniques.
If you are able to attend one of our clinics for physiotherapy, you will be able to make use of a wide open space, the parallel bars, treadmill, hoist, tilt table and
Bobath plinth
. If it is inconvenient to attend the clinic, our physiotherapists can bring smaller pieces of exercise equipment such as ankle weights, wobble boards, pedals, balls and steps to your home. Either way, our physiotherapists have considerable experience in both the community and clinic setting and can provide an excellent standard of rehabilitation for individuals who have had a stroke.
Why Physio.co.uk for stroke
At Physio.co.uk, we understand that the symptoms of stroke can make a huge impact on your ability to move around and carry out a normal active life. Our specialist neurological physiotherapists can provide intensive rehabilitation focused on the individual's problems and goals to make substantial improvements to quality of life.
Physiotherapy rapidly decreases the recovery time for individuals who have had a stroke. Our specialist physiotherapists are focused on minimising your problems and increasing your independence to facilitate a return to an active, rewarding life. To book an appointment or find out how our experienced physiotherapists can help you after stroke, please contact us now on
0330 088 7800
. Alternatively, please
book an appointment online
today!