Thoracic discectomy
A thoracic discectomy is removal of an intervertebral disk in the thoracic spine or upper back. The normal intervertebral disc acts as a shock absorber between two vertebrae. As we age, degenerative changes or wear and tear can occur in the spine which can cause the disc to bulge or prolapsed (fall out of place). This can result in a band of pain around the body typically in the chest as the disk presses on the nerve roots. Muscle weakness in the legs may also occur due to pressure on the spinal cord. Surgical treatment for a thoracic disc prolapses may be required if an individual with severe pain is not responding to conservative treatment.
A thoracic discectomywill be performed under general anaesthesia and will involve making an incision approximately 3 cm through either the back or the chest following the line of the rib to access the spine. The choice of operative route will depend on the exact position of the disc prolapse relevant to the spinal cord. The fragment of damaged disk will be removed as well as a small amount of bone and ligament from the spine. The main aim of a thoracic discectomy is to take the pressure off the spinal cord and nerve root to reduce pain and weakness.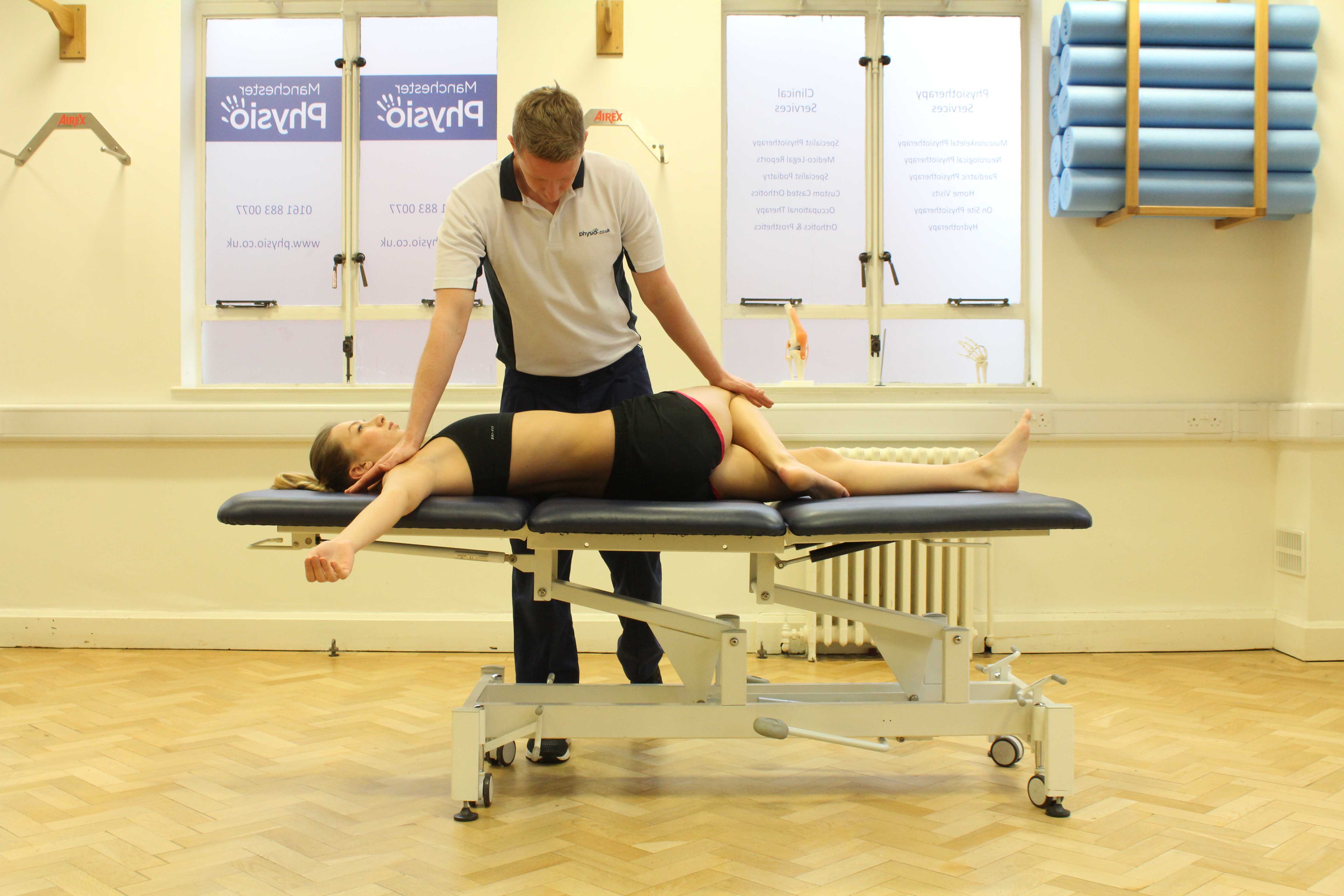 Above: Mobilisations of the vertebral joints in the upper back by experienced MSK Physiotherapist
Physiotherapy before a thoracic discectomy
Physiotherapy treatment before your surgery will focus on exercises to improve strength and flexibility of your back muscles in order to promote your recovery. Advice and information about what to expect after your operation will be given by your physiotherapist.
The physiotherapists at Physio.co.uk offer thoracic disc prolapsed physiotherapy treatment to prevent the need for surgery.
Symptoms following a thoracic discectomy
After your operation you may experience some pain and discomfort but this will be controlled with medication. Early ambulation will be encouraged, and assistive devices may be used as needed. A physiotherapist will help you mobilise shortly after your surgery and will teach you ways to get in and out of bed, and on and off the toilet. Once you are mobilising safely and level of pain permits it, you will be able to go home. This is usually between 3-5 days depending on your individual circumstances.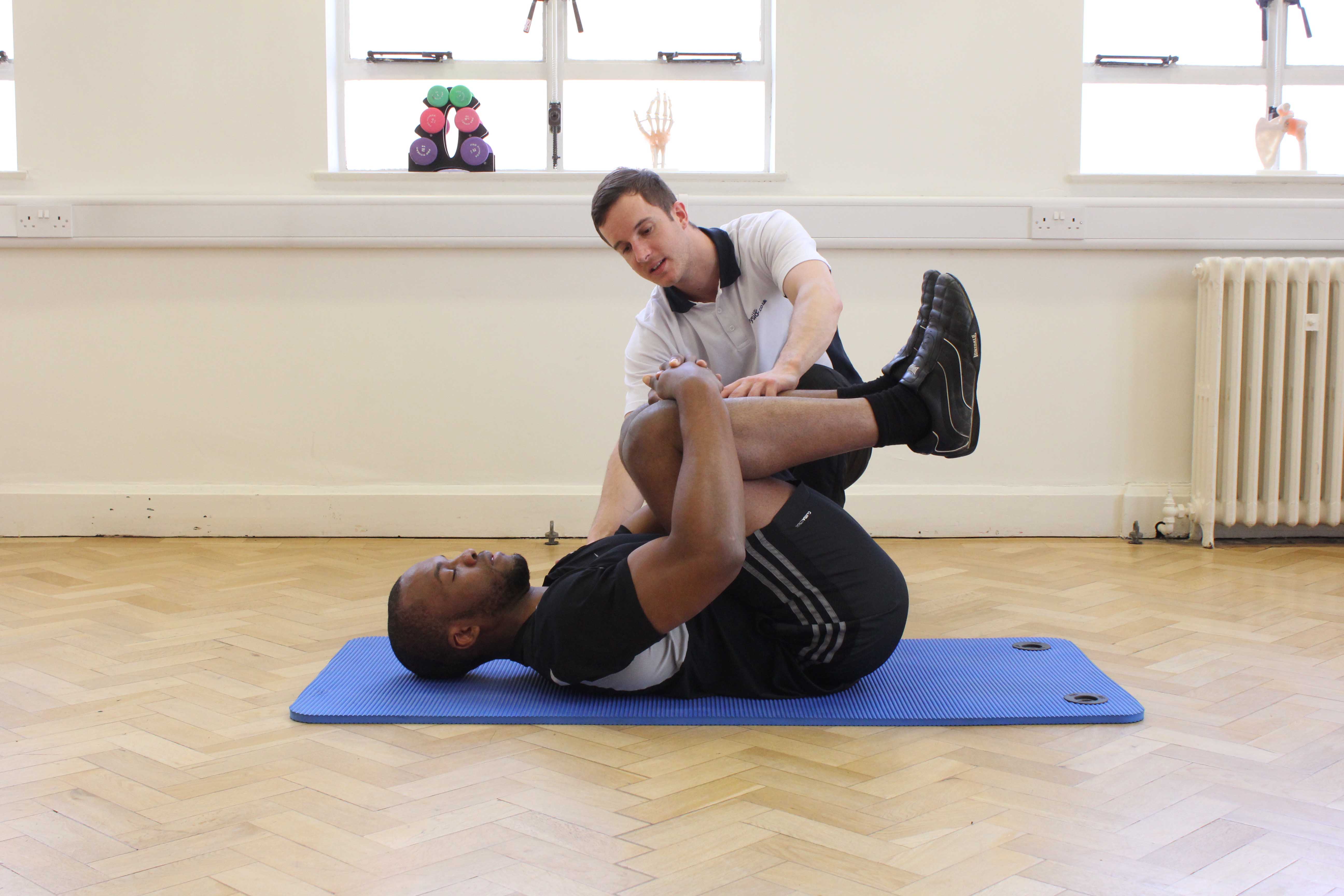 Above: Intervertebral disc pain in the upper back
Physiotherapy following a thoracic discectomy
Physiotherapy treatment at Physio.co.uk following your discectomy will promote independence in all functional activities and facilitate your recovery.Treatment is best provided by a specialist physiotherapist. At Physio.co.uk, our physiotherapists are experienced at providing treatment for individuals following a thoracic discectomy.Physiotherapy treatment will be tailored to you and your progress monitored through shrt and long term treatment goals. Following your surgery, physiotherapy treatment at Physio.co.uk will maximise your potential with the activities important to you and improve your quality of life.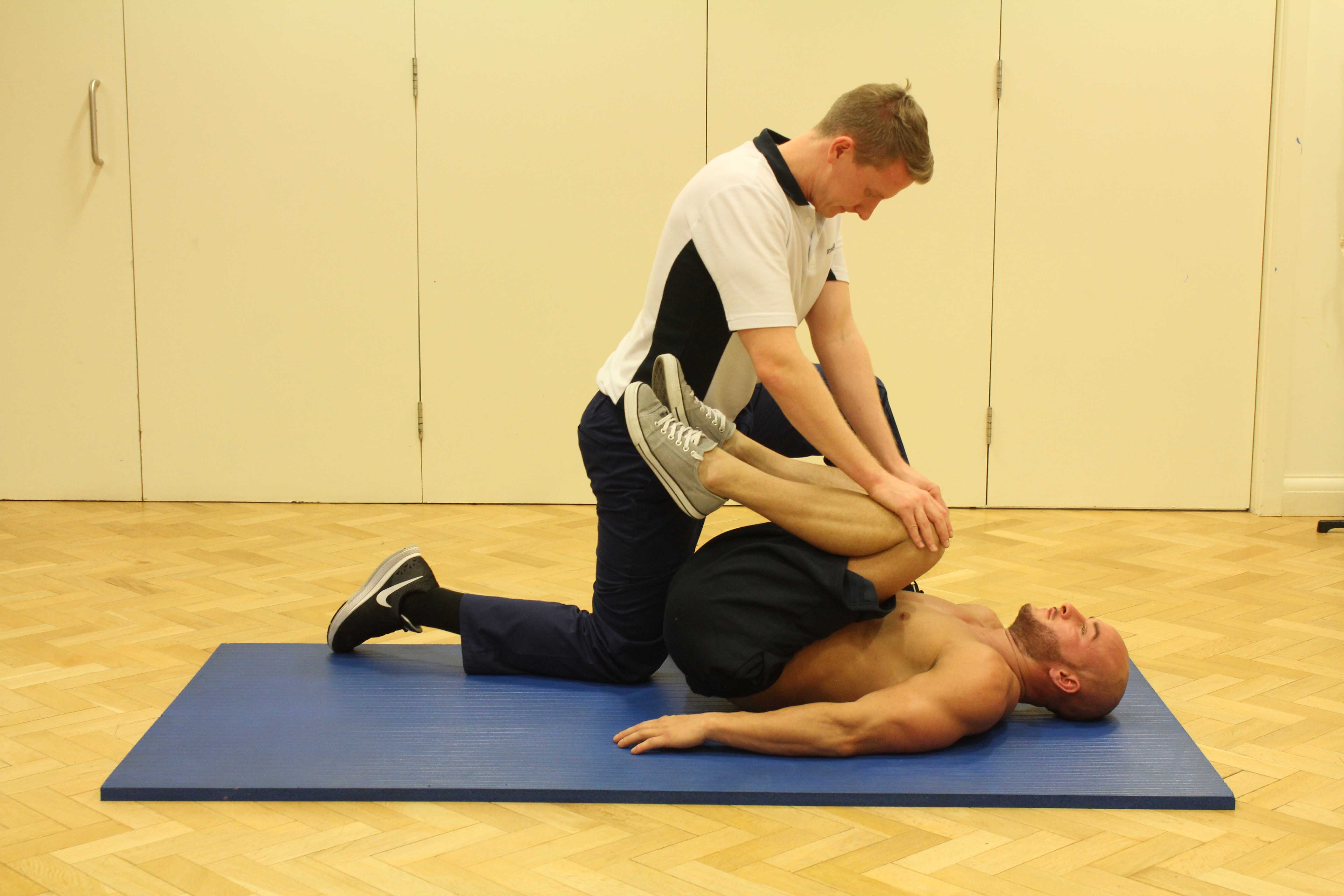 Above: Active stretches of the upper back supervised by specialist MSK therapist
1-2 weeks
Physiotherapy treatment shortly after your surgery will concentrate on:
Ice and ultrasound to reduce pain and increase comfort.
Gentle stretching will be introduced to improve range of movement. This will be combined with hands on treatment to decrease muscle tension and encourage healing.
Teaching proper transfer techniques to maximise independence and increase confidence with everyday tasks. These techniques may include sit to stand, and the use of the arms to assist with transfers.
2-6 weeks
After the first couple of weeks following your surgery, your physiotherapist will progress your rehabilitation programme if they are confident you are making progress. Physiotherapy at this stage will emphasise stretching, strengthening, muscle control and aerobic exercises.Exercises will focus on the muscles around the trunk, hips, and thighs. Low impact activities, such as walking and swimming, will be encouraged to improve general fitness.Physiotherapy treatment at this stage may include:
Core stability exercises
Exercises to strengthen the quads, hamstrings and gluteus
Joint mobilisation
Progressing walking distance
Stationary bicycle
6-12 weeks
Physiotherapy at Physio.co.uk during this stage of your recovery may include:
Exercises centred around everyday activities, to improve muscle strength and flexibility in the upper back and facilitate your independence with vocational and leisure activities.
Correcting and varying posture throughout the day to prevent stiffness and muscle fatigue.
12+ weeks
During this stage of your recovery, your physiotherapist will continue to tailor your exercises around functional activities and build your confidence with these tasks at home or at work.
The amount of time it will take for you to return to the level you were previously will depend on your individual symptoms and goals. Individuals who have a physical or manual vocation should allow approximately 6 weeks until they can fully return to work.
Your physiotherapist at Physio.co.uk will increase your independence with everyday tasks and get you back to the level you were previously as soon as possible.
For more information call Physio.co.uk now on 0330 088 7800 or to book an appointment please contact us
.