What is sesamoiditis?
Sesamoiditis is an inflammation around the sesamoid bone under the ball of the foot which is often accompanied with swelling. The sesamoid bones are small pieces of bone underneath the hallux (big toe they act as pivots for the tendons which flex (bend) the hallux. The two sesamoid bones are named medial and lateral. The medial sesamoid bone is where inflammation occurs most commonly, as this is where the impact of walking can occur. This is also the main attachment site for the flexor tendons which pull the big toe down during the gait cycle. Sesamoiditis causes pain, making it painful to walk.
Sesamoiditis can cause great discomfort when walking and can alter a person's gait pattern. Sesamoiditis occurs most commonly in young active people as they are continuously applying pressure to this part of the foot.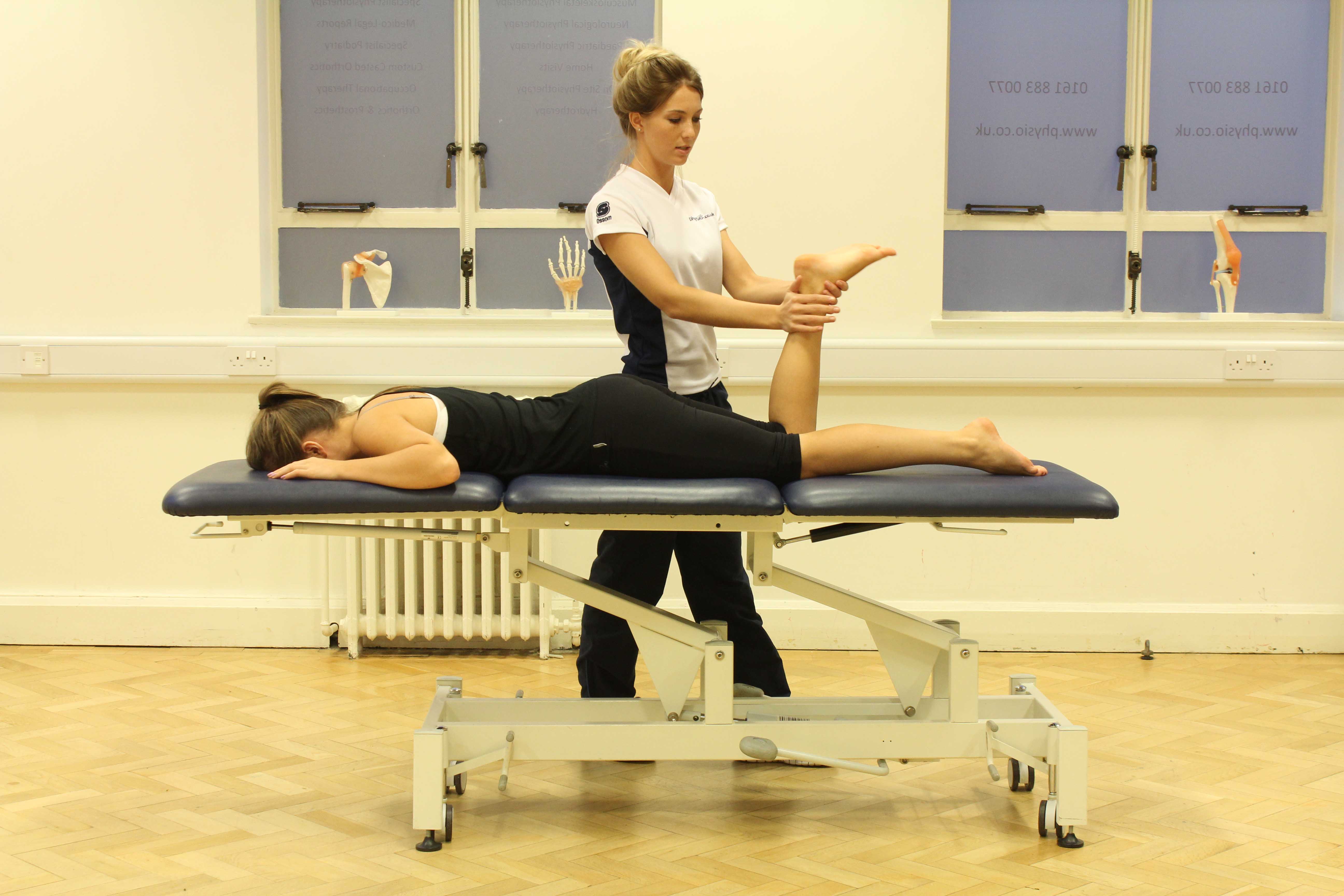 Above: Mobilisations and stretches of the foot and ankle by specialised therapist
What causes sesamoiditis?
Sesamoiditis is inflammation of the sesamoid bones. Inflammation can be caused by:
Osteoarthritis
Osteoporosis
Sudden extension (straightening) of the hallux
A large force extending the hallux
Regular walking in high heels
Large sesamoids
High medial arch of the foot
Over-pronation of the foot
What are the symptoms of sesamoiditis?
Symptoms of sesamoiditis usually have a gradual onset and can include:
Pain at the base of the hallux on walking, especially when pushing off the toes
Pain on weight bearing
Reduction in pain on non-weight bearing
Pain with pressure on area
Swelling
Physiotherapy for sesamoiditis
Sesamoiditis can be treated with a course of physiotherapy. The physiotherapists at Physio.co.uk are experienced at treating Sesamoiditis and helping to relieve the symptoms of sesamoiditis and return the individual to previous function. Some of the treatments may include:
Ice/cold therapy
Electrotherapy
Strengthening exercises
Stretching exercises
Advice on current activity and gradual return to previous activity
Advice on footwear
At Physio.co.uk our physiotherapists work closely with podiatrists who may also be able to treat the problem with orthotic insoles. The physiotherapists at Physio.co.uk will offer a comprehensive assessment, diagnosis and treatment plan to help reduce pain and improve function.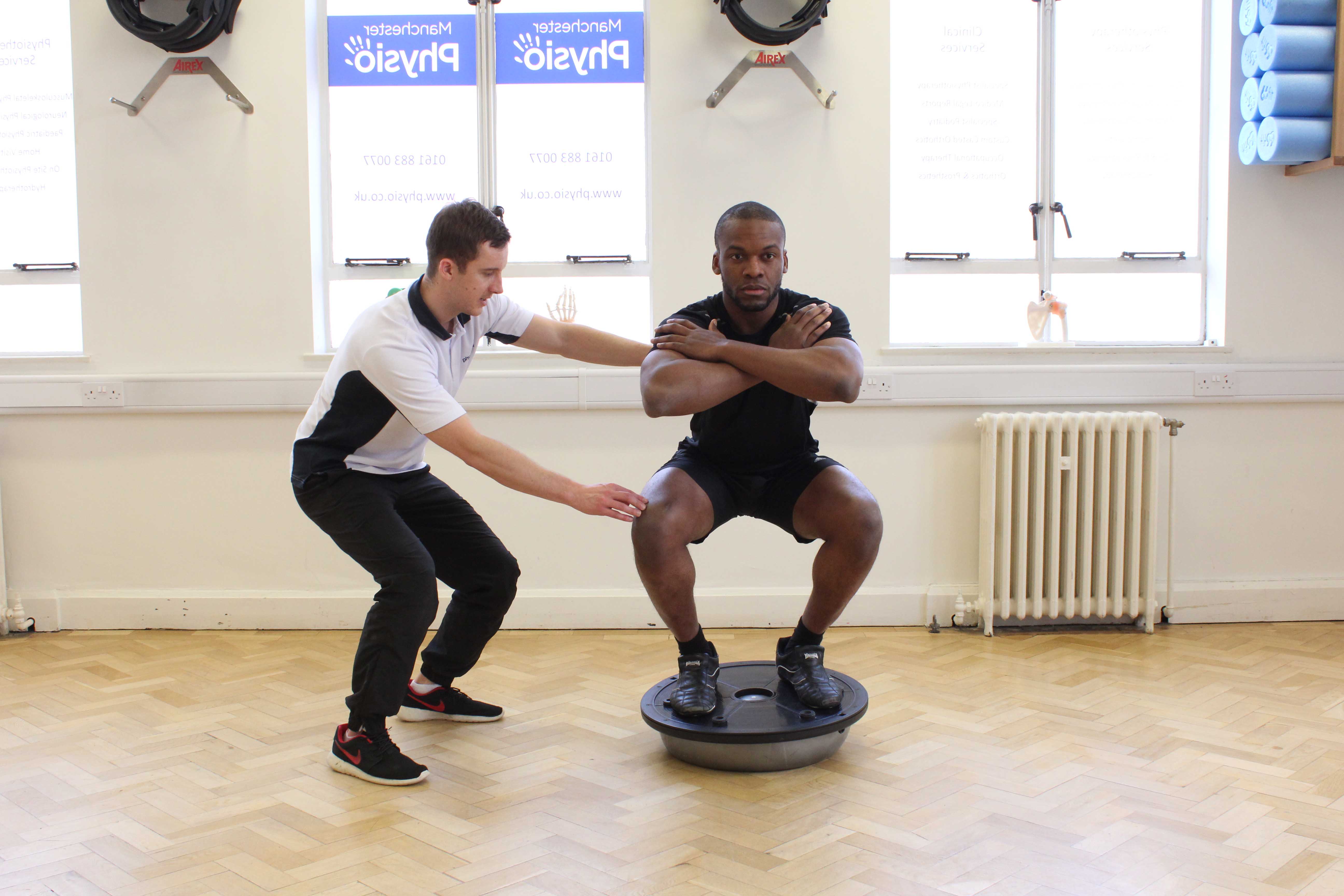 Above: Stability training for the foot and ankle supervised by an experienced physiotherapist
Can sesamoiditis cause any long-term effects?
In the majority of cases physiotherapy can effectively treat and rehabilitate sesamoiditis. If the injury becomes frequent then insoles may be needed for long term use and physiotherapy can help to reduce symptoms.
Summary
Sesamoiditis is an inflammation on the sesamoid bone under the ball of your foot. It becomes inflamed and swollen due to an overuse injury mechanism. There are a variety of treatment options which are available from the experienced physiotherapists at Physio.co.uk. Treatment will depend upon their clinical judgement from the initial assessment and the presenting symptoms. If you require further information or an appointment please
contact us
or call
0330 088 7800
.