What is a patella tendon rupture?
The patella tendon is a thick, fibrous band of tissue that runs from the bottom of the kneecap to the shin bone. A rupture of the patella tendon is a complete tear of this tendon. Physiotherapy is an effective treatment for a patella tendon rupture.
How does a patella tendon rupture happen?
The function of the patella tendon is to transmit forces from the quadriceps (thigh muscles) to the shin bone. The patella tendon can be ruptured when the quadriceps (thigh muscle) is overstressed by a strong contraction.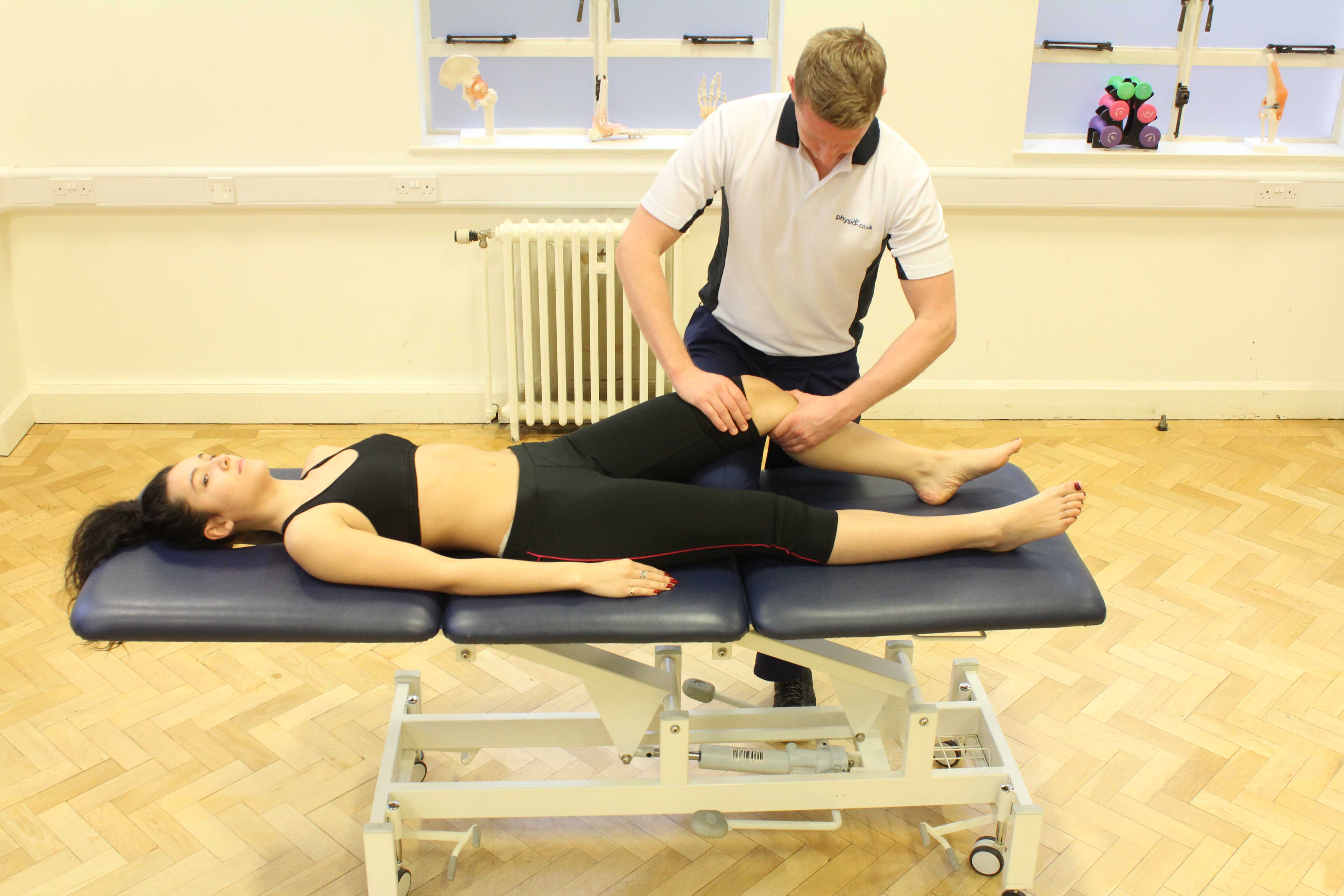 Above: Therapist performing knee assessment
What are the symptoms of a patella tendon rupture?
A complete tear, or rupture, of the patella tendon causes instant pain felt at the front of the knee, just below the kneecap. This pain may also be combined with a tearing or snapping sensation. A complete tear will leave your leg feeling very weak and you will be unable to straighten it. You may also be unable to stand on the injured leg without it collapsing or giving way. Other symptoms include:
What should I do if I have a patella tendon rupture?
A ruptured patella tendon will not get better on its own. Therefore, if you have ruptured your patella tendon you require surgery to repair it. You should go to your nearest accident and emergency department as soon as possible. To control the amount of bleeding and swelling in the tissues, the
RICE regime
should be followed (Rest, Ice, Compression, Elevation).
What shouldn't I do if I have a patella tendon rupture?
If you have ruptured your patella tendon, you shouldn't undertake activities which increase blood flow to the injured site and, therefore, bleeding and swelling to the area for the first 48 hours. These include hot showers, heat rubs, the consumption of alcohol and excessive activity.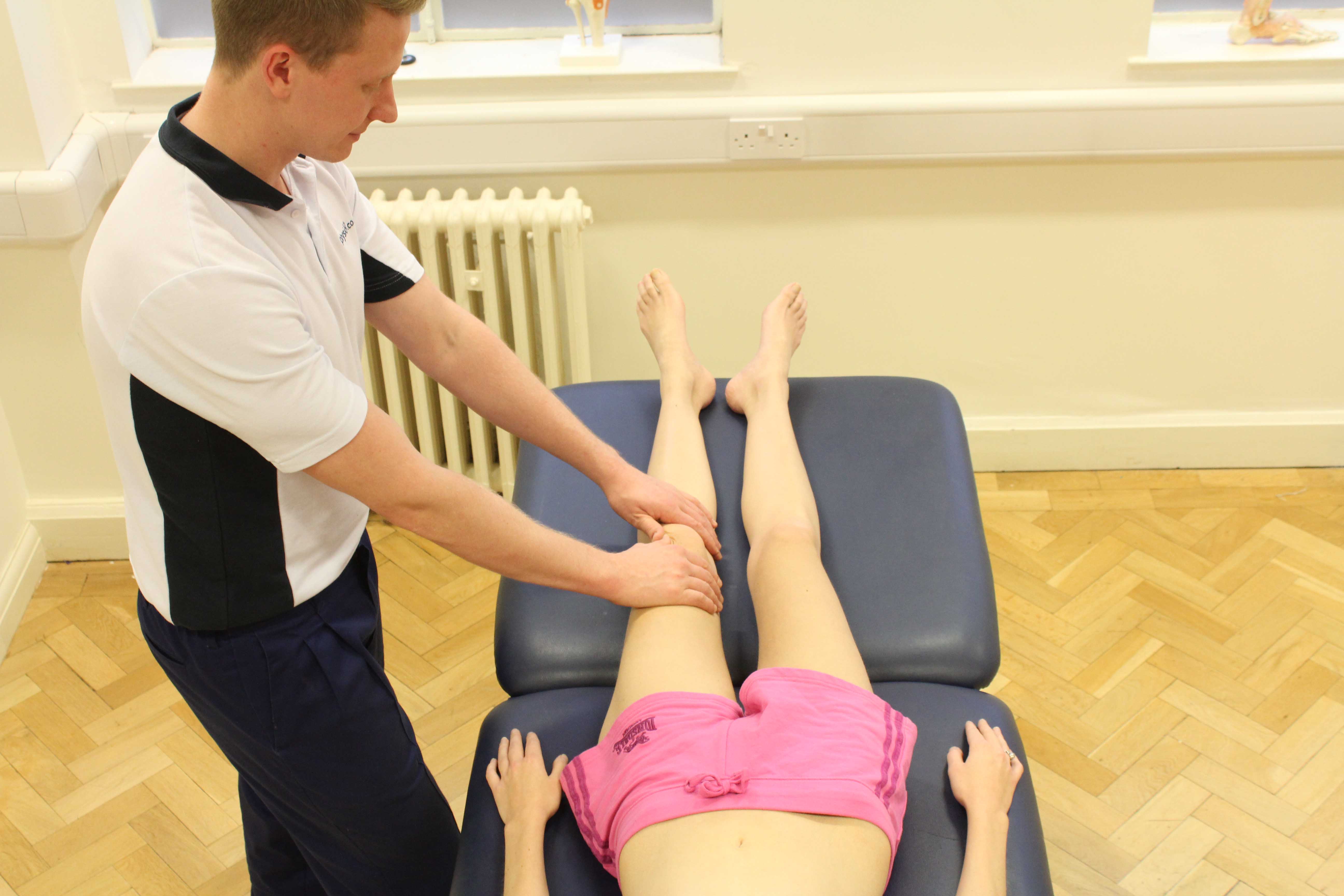 Above: Therapist performing soft tissue massage and mobilisations on the patella and surrounding connective tissue.
Physiotherapy treatment following a ruptured patella tendon.
Surgery is normally performed as soon as possible following your injury. As a result, your initial assessment with your physiotherapist is usually after the tendon repair surgery. The physiotherapists at Physio.co.uk always endeavour to liaise with your surgeon throughout your rehabilitation. We work alongside many different orthopaedic surgeons and have experience in following numerous post operative protocols. Following the surgical repair of your patella tendon your physiotherapist will gradually progress you through a progressive rehabilitation programme of specific stretching and strengthening exercises whilst maintaining the mobility of your knee cap and scar tissue to allow you return to your previous level of activity.
Other treatments may include:
Could there be any long-term effects from a patella tendon rupture?
Following surgery, rehabilitation takes place over a number of months. It may be a few months before you can walk on your injured leg. It can, therefore, be a further number of months before your muscle length and strength return to satisfactory levels to enable return to your previous levels of activity, work or sport. Unfortunately, in some cases, despite complying with rehabilitation, individuals may not reach their previous level of activity.
To arrange a physiotherapy assessment call Physio.co.uk on
0330 088 7800
or
book online
.