Coronary heart disease is the failure of the coronary circulation to provide adequate blood supply to the heart muscle. This can cause significant discomfort,
angina
and breathlessness. Physiotherapy can help to reduce the symptoms of heart disease and decrease the risk of secondary complications.
Symptoms of heart disease
The symptoms of coronary heart disease include
angina
, breathlessness, sweating, light headedness and nausea. In severe cases it can lead to a
heart attack
.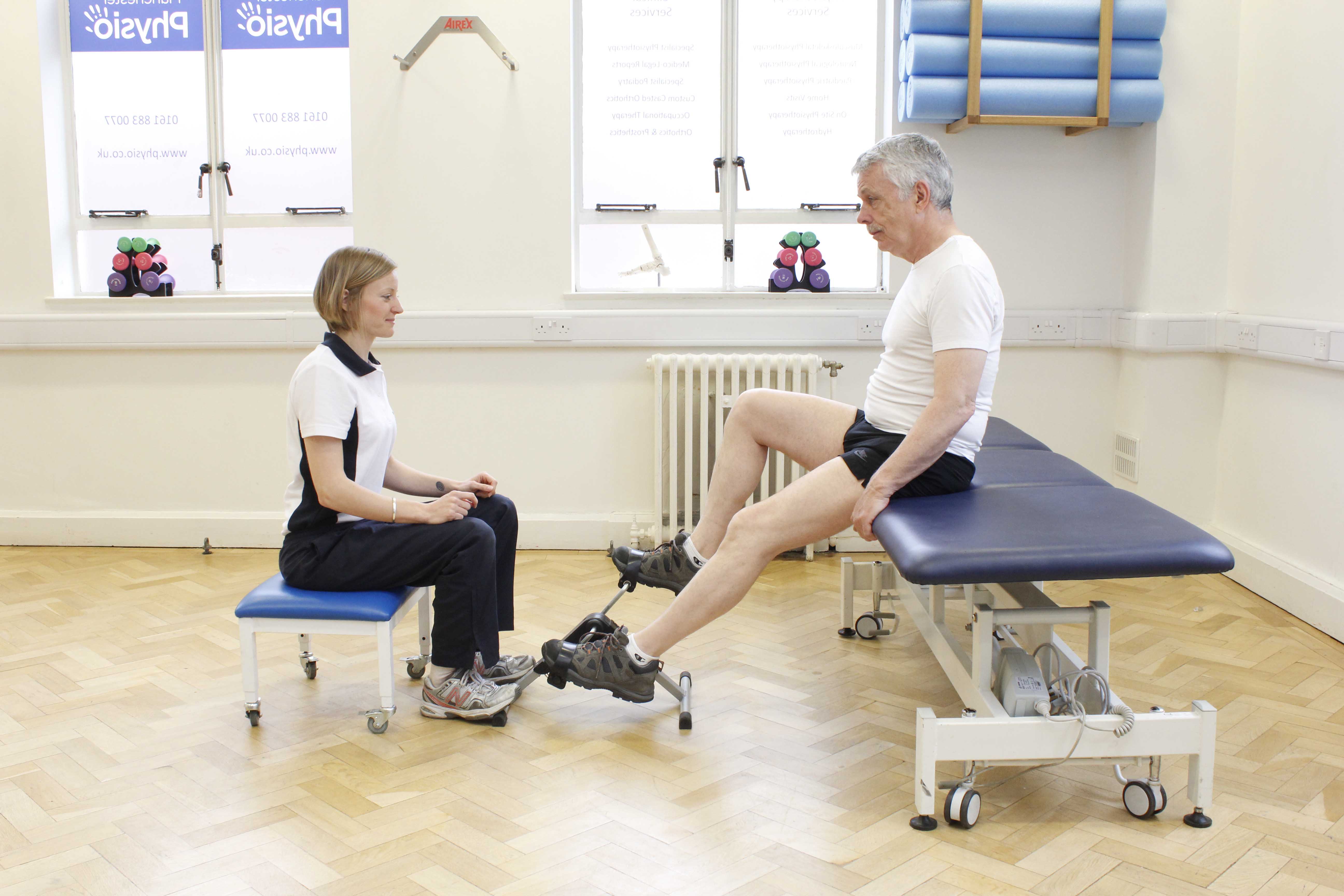 Above: Gentle cardiovascular exercise supervised by specialist MSK Physiotherapist
Causes of heart disease
Coronary heart disease is caused by narrowing and hardening of the arteries due to a process called atherosclerosis. Risk factors that increase atherosclerosis and coronary heart disease include smoking, high blood pressure, obesity, diabetes and high cholesterol. It is important that all risk factors are monitored by a multi-disciplinary team and minimised as far as possible.
Diagnosis of heart disease
Your doctor will diagnose coronary heart disease using a number of medical tests and investigations. It will be necessary to check your blood pressure, cholesterol and a take a detailed account of your smoking and exercise habits. To confirm a suspected diagnosis, an electrocardiogram (ECG) will record abnormal rhythm and activity in the chambers of your heart. Other scans that produce images of your heart include X-rays, echocardiograms (echo), magnetic resonance imaging (MRI).
Treatment of heart disease
The treatment of coronary heart disease involves lifestyle changes. It is important that the individual follows the advice of a doctor to stop smoking, have a healthy diet and regular exercise. There is medication available to reduce cholesterol, lower blood pressure and decrease the risk of heart attack as a result of the heart disease. If the heart disease is severe it may be necessary to
intervene surgically
with an angioplasty, a stent, bypass grafts or a heart transplant.
Physiotherapy for heart disease
Exercise plays a key role in reducing the progression of coronary heart disease and reducing the risk of angina and heart attacks. Following a detailed physiotherapy assessment and discussion of the aims of therapy, a treatment plan will be formulated that may include:
Monitoring of your symptoms in response to exercise
Cardiovascular fitness training
Mobility practice
Diet and lifestyle advice
Provision of mobility aids and equipment
It is essential that individuals with heart disease undertake regular physical activity. At Physio.co.uk, our specialist physiotherapists can attend a local gym with you and show you how to exercise effectively within your safe limits. It is very important to warm up and cool down correctly to avoid painful joints and muscle cramps. Frequent cardiovascular exercise on the treadmill, cross trainer, rowing machine or bike will help to decrease your blood pressure, heart rate and cholesterol levels reducing the risk of secondary problems due to your condition. Your physiotherapist will also provide an exercise program for you to complete outside of therapy sessions. This may include a variety of
strengthening
,
stretching
and
balance exercises
depending on your needs. You will be shown how to use a range of equipment including dumbbells, ankle weights, core stability ball and wobble cushion if appropriate.
Hydrotherapy
is a useful alternative form of cardiovascular rehabilitation for individuals with heart disease as the warm water improves cardiac function and it is suitable for individuals with any level of mobility and ability. Our hydrotherapy pool is warm and shallow and has ramp access with disabled changing facilities.
Individuals with coronary heart disease substantially benefit from regular physiotherapy sessions. The benefits of physiotherapy to the individual with coronary heart disease:
Learn how to warm up and cool down effectively
Learn appropriate progression of exercises
Increased confidence of how to exercise within your limits
Increased cardiovascular fitness
Increased muscle strength
Increased flexibility and endurance
Weight loss
Reduced risk of angina and heart attack
If you have symptoms of breathlessness and sweating while you are resting it may seem strange to think that physical exercise will reduce the symptoms. However, over time exercise will help to reduce your heart rate and reduce your symptoms of heart disease. Physiotherapy with a specialist in cardiac rehabilitation can help to give you confidence to begin to exercise again and show you how to slowly increase your fitness and strength.
Why Physio.co.uk for heart disease
At Physio.co.uk we have a clear understanding of the causes, risks and implications of coronary heart disease. Our specialist physiotherapists can show you how to exercise safely to improve your cardiovascular fitness and overall quality of life.
Dedicated, motivated physiotherapists
Treatment at any stage of coronary heart disease
No waiting lists
Flexible appointment times
Access to gym facilities
Access to hydrotherapy
Physiotherapy sessions can be held in your home, at one of our clinics, in the gym or hydrotherapy pool. To book an appointment or have a free telephone consultation with a dynamic physiotherapist please contact us now on
0330 088 7800
. Alternatively,
book an appointment with us online
today.