What is sinus tarsi syndrome?
The sinus tarsi is a bony groove between the heel bone (calcaneus) and the bone directly above it (talus). This groove contains a number of ligaments which join the two bones together. Sinus tarsi syndrome is an injury to these ligaments. Physiotherapy is an excellent treatment for sinus tarsi syndrome.
How does sinus tarsi syndrome happen?
Sinus tarsi syndrome is usually caused by a single trauma, such as forcibly twisting the ankle inwards, in which the ligaments of the sinus tarsi and the lateral ligaments of the ankle are injured simultaneously. Alternatively, sinus tarsi syndrome can be caused by overuse and a biomechanical problem combined, which places the ligaments within the sinus tarsi under increased stress.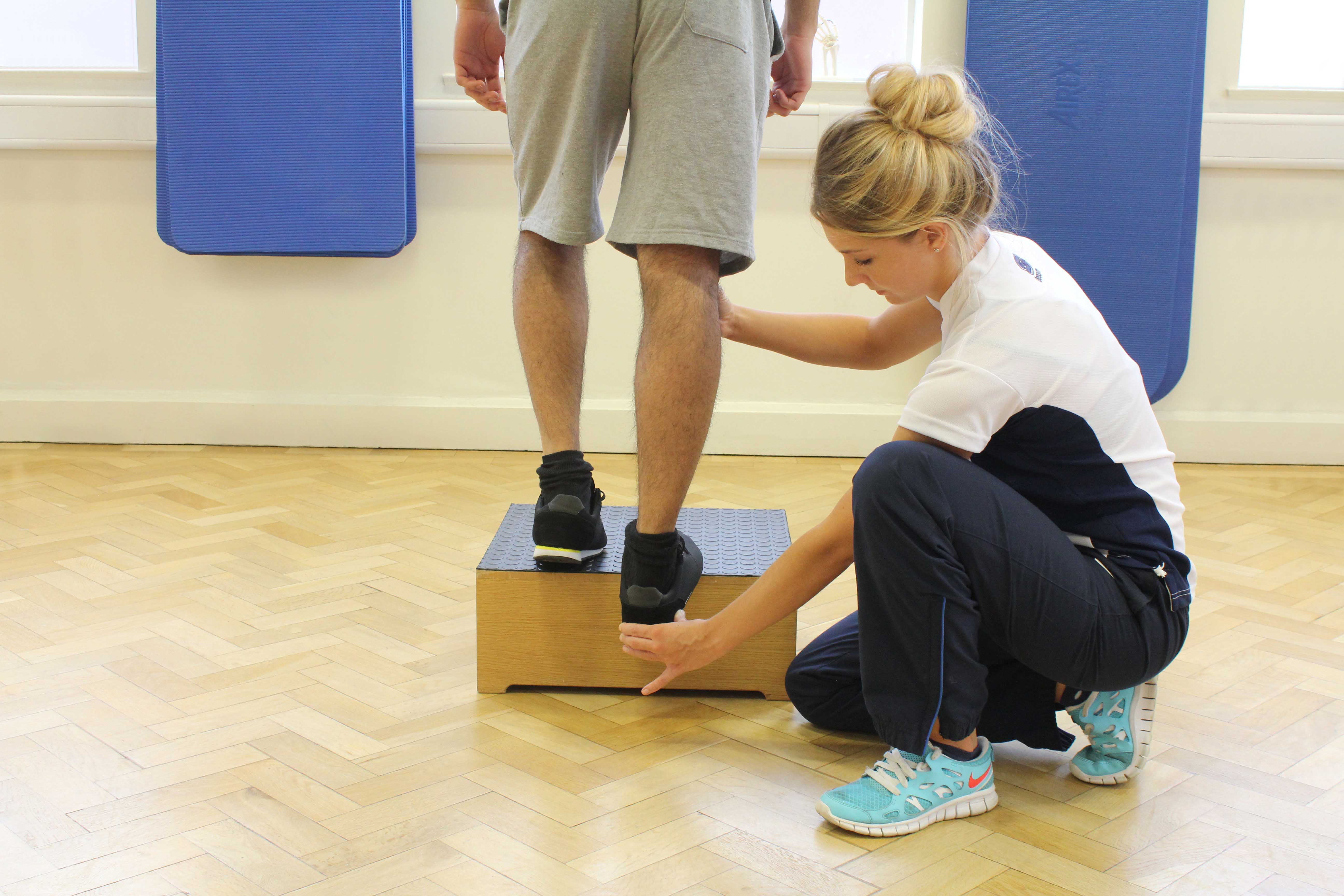 Above: Progressive ankle strengthening exercises supervised by specialised therapist
What are the symptoms of sinus tarsi syndrome?
Sinus tarsi injuries frequently occur at the same time as injuries to the lateral ligaments of the ankle, therefore, they can be treated as a
sprained ankle
. If this is the case, improvements may be seen initially as the lateral ligaments heal, however, if sinus tarsi syndrome is also present, the ankle may continue to be painful a number of weeks following injury. The pain is felt towards the front of the outside of the ankle. This pain is often most severe in the morning and improves over the course of the day. Possible symptoms may include:
What should I do if I have sinus tarsi syndrome?
You can speed up your recovery from a
sprained ankle
by following the simple RICE regime over the first 24–48 hours. Swelling is necessary for the injury to heal; however, too much swelling can delay healing. The RICE regime (Rest, Ice, Compression, and Elevation) reduces blood flow to your injured ligament and, therefore, can reduce swelling. Rest involves limiting the amount of weight you put through your ankle. The use of crutches may be required if you are having difficulty walking. Ice should be applied to the knee for 15–20 minutes every 1–2 hours. It should be applied using a bag of frozen peas or crushed ice wrapped in a damp cloth. Compression involves the application of an elastic bandage around the injury site. It should be firm but not tight. Elevation involves lying with your ankle resting on a chair or pillows so that it is above the level of your heart. You should continue the RICE regime until you have been assessed by a physiotherapist. This should ideally be within the first 48 hours of the injury.
If you have injured your ankle you should arrange a physiotherapy appointment as soon as possible.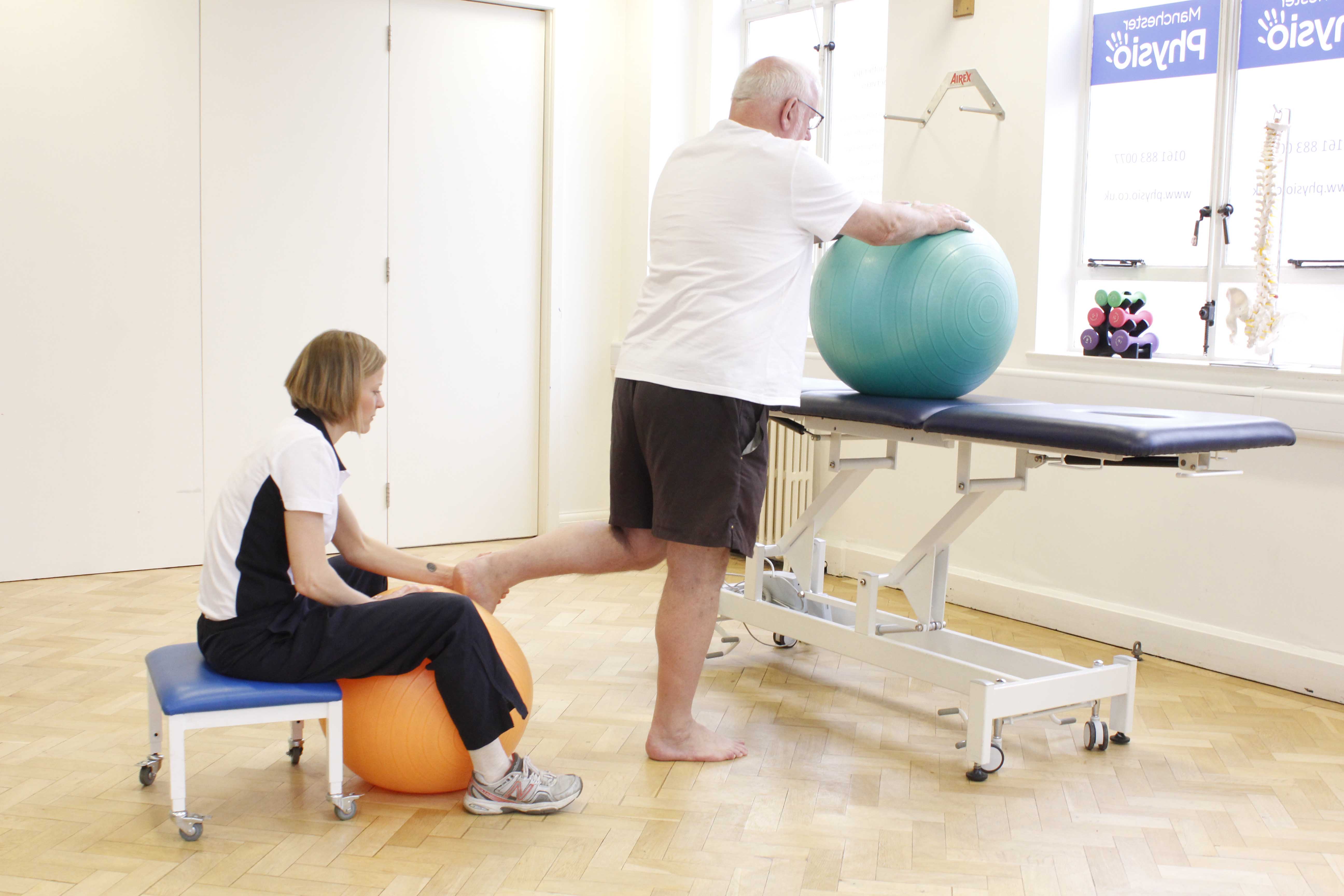 Above: Stability training for the foot and ankle supervised by an experienced physiotherapist
What shouldn't I do if I have sinus tarsi syndrome?
If you suspect that you have sinus tarsi syndrome, you should not ignore your problem and continue to exercise or your injury could be made worse and your recovery could be delayed.
Physiotherapy treatment for sinus tarsi syndrome.
Physiotherapy is important in the treatment of ankle injuries. Initially, your physiotherapist will be able to provide you with a diagnosis, explain the extent of the damage and provide an estimated timeframe for recovery. Your physiotherapist will be able to use a number of treatment techniques to reduce the pain, enhance the healing of the injured structures and restore the ankle to full function. This involves restoration of full range of motion, strengthening the muscles around the ankle, improving the balance (proprioception) with specific exercises and graduated return to full activity. Your physiotherapist will also be able to advise you on appropriate preventive measures when you return to normal activity, such as the use of ankle taping or ankle supports.
Other treatments can include:
Could there be any long-term effects from sinus tarsi syndrome?
With treatment sinus tarsi syndrome generally gets better in a number of weeks without complication.
To arrange a physiotherapy assessment call Physio.co.uk on
0330 088 7800
or
book online
.