What is Bronchiectasis?
Bronchiectasis is the abnormal, permanent dilation of the upper airways of the lungs. The branches of airways, called bronchi, become progressively smaller until they reach the alveoli, which are numerous small sacks or air where the exchange of oxygen and carbon dioxide take place. Bronchiectasis only affects the elasticity of the smooth muscle and cellular wall of the larger upper airways.
This results in greater difficulty effectively clearing secretions from the lungs, which in turn leads to greater frequency of infection. This begins a cycle of further damage, inflammation, greater mucus production and retention, ultimately leading to more infections. Even the body's own immune response can, under these conditions, add to the damage of the airways.
What causes Bronchiectasis?
Although some cases of bronchiectasis are congenital, affecting babies and small children, this is quite rare. The majority of people acquire bronchiectasis following an infection or some other insult to the lining of the airways.
The infection can cause damage to the smooth muscle of the bronchi walls that help maintain its shape. It can also affect the naturally elastic properties of the bronchi cell walls making it difficult to regain their normal size. When Bronchiectasis occurs there is a further abnormal inflammation across the entire depth of the bronchi cell walls, leading to exaggerated and permanent dilation of the bronchial airways.
With the fixed dilation of the bronchi greater volumes of mucosal secretions can pool in the airways. If the infection is still present than the lungs will produce yet more secretions as a defence. Unfortunately this provides ideal conditions for the further colonisation of bacterial infection. Repeated cycles of infection, inflammation and poor lung clearance cause more cell wall damage, that simply exacerbates the condition.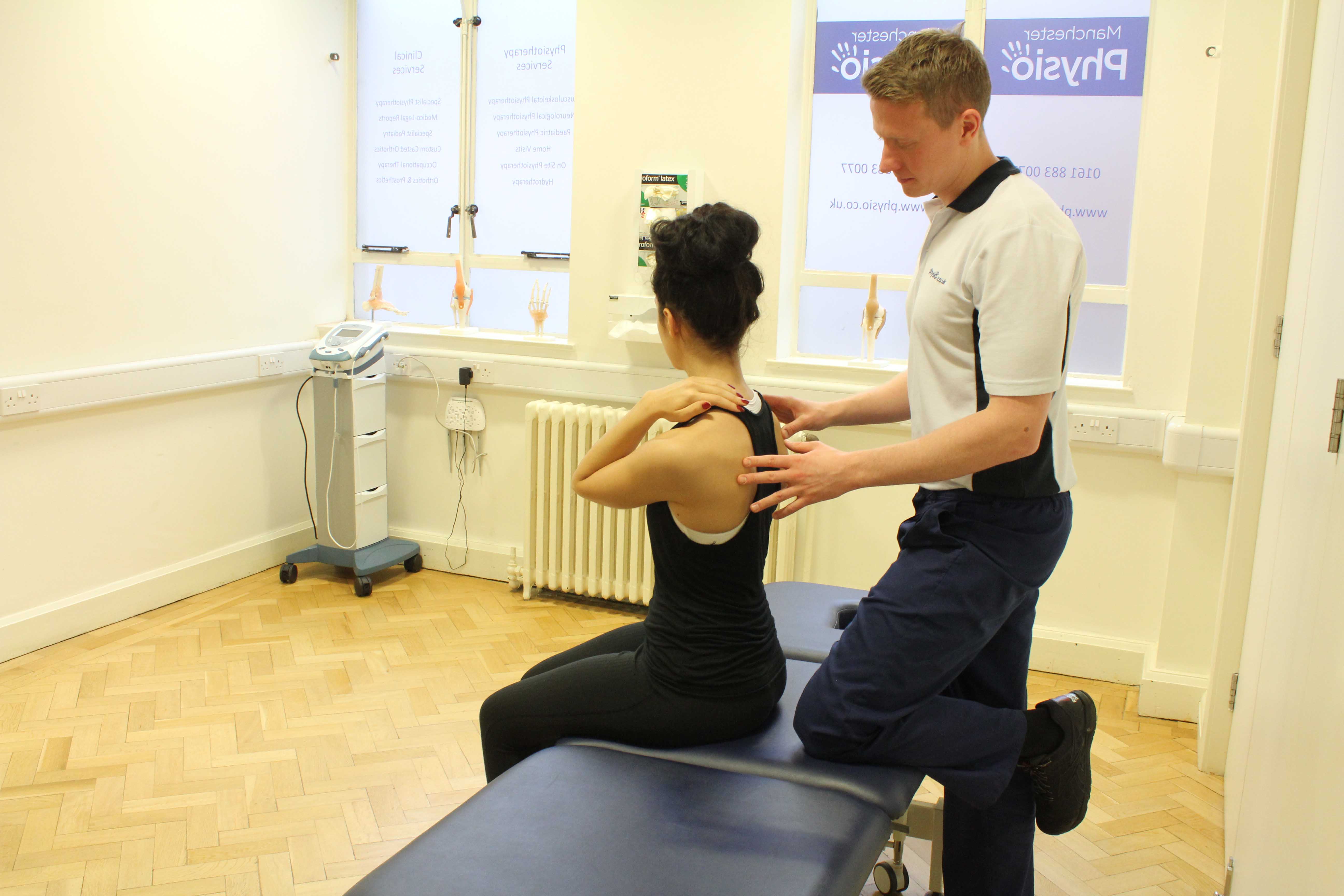 Above: Active cycle of breathing exercises supervised by a specialist physiotherapist
What are the symptoms of Bronchiectasis?
The basic symptoms of Bronchiectasis are similar to many other lung conditions and so it is easy to misdiagnose. Careful examination and use of auscultation can help narrow down a diagnosis of bronchiectasis if the following symptoms are found;
Wheezing sounds when breathing.
Coughing up excessive sputum.
Weight loss and visible wasting with long term conditions.
Nasal polyps.
Less common symptoms include;
Swelling of the fingers, referred to as clubbing.
Coughing up small amounts of blood.
Blueness to the lips, fingernail beds even the pallor of the skin.
Although breathing and lung sounds can often sound normal, auscultation via use of a stethoscope usually reveals some altered breathing sounds. These may include some or all of the following sounds spread across both lungs;
Squeaks, with each inward breath.
Crackles, usually indicate secretions from an active infection.
Scattered wheezing, usually from secretions obstructing airways.
Rhonchi, low pitch rattling sounds often heard throughout the lungs
In long term respiratory conditions enlargement of the hearts right side, that pumps blood around the lungs, can occur. Although this will not be obvious without examinations involving x-ray or MRI scans.
How is Bronchiectasis Diagnosed?
A doctor can confirm a diagnosis of Bronchiectasis following a detailed investigation of your symptoms, medical history and using specific tests to rule out other possible conditions. If you suspect you have Bronchiectasis you should seek an assessment with your doctor. Once diagnosed we can assess your current level of lung function and target treatments accordingly.
For more information on how physiotherapy can help treat Bronchiectasis, or to book yourself an assessment, please contact us via email at office@physio.co.uk or ring us on 0330 088 7800.
What would a physiotherapy assessment for Bronchiectasis involve?
At Physio.co.uk, we want to gain as much information as possible about your condition to ensure we give you the best treatment. In your first appointment with us, our physiotherapists will carry out an assessment which has two parts:
Subjective
A discussion between you and our physiotherapist to find out what symptoms you are experiencing, and how your condition is affecting you and your lifestyle.
Objective
An assessment to discern the presence of any pain, your current breathing pattern, respiration rate, lung volume and a series of special tests to identify the presence of any mucus retention and lung function impairment.
There can be great variation in the symptoms displayed, depending on the progression of the condition and any complicating factors. The assessment process will be important in identifying your current symptoms and needs, so that treatments can be targeted and effective.
What would physiotherapy treatment for Bronchiectasis involve?
At Physio.co.uk, our physiotherapists will ensure you specialised treatment for your Bronchiectasis. Depending on the severity and duration of your condition, your treatment may involve:
Secretion clearance:

Effective / productive coughing techniques.
Postural drainage in sitting and lying.
Manual assistance, including percussion, vibrations and shaking.

Breathing technique retraining:

Controlling respiratory rate
Diaphragmatic breathing
Controlling / reducing breath volume
Relaxation breathing exercises

Education and Advice:

Illness cause and progression.
Effects of environmental and allergen factors.
Medication management
At Physio.co.uk you will experience a personalised treatment session. Each appointment will be aimed at returning you to your everyday activities and what you enjoy.
How can I arrange a physiotherapy assessment for Bronchiectasis?
If you have been diagnosed by your doctor as having Bronchiectasis and are suffering from symptoms affecting your breathing and lung clearance, you would benefit from an assessment with one of our experienced respiratory physiotherapists.
You can contact us directly to arrange an assessment and we can advise you if further treatment is recommended, and give you advice on self-management. To arrange an appointment please email office@physio.co.uk or call 0300 088 7800.
Summary
At Physio.co.uk, our respiratory physiotherapists can provide specialist assessment and treatment for people with Bronchiectasis. We can apply a range of therapy techniques and advice to manage your symptoms and maintain the best possible level of lung function and comfort. We can also advise on activity modification to make daily living easier. Along with advice for you and your family on appropriate self-management techniques to maximise your functional ability between therapy sessions.
For more information on how physiotherapy can help treat Bronchiectasis, or to book yourself an assessment, please contact us via email at office@physio.co.uk or ring us on 0330 088 7800.