Hydrotherapy is used to treat people with many
neurological conditions
, in combination with other rehabilitative techniques. Often, neurological patients are able to perform activities in the pool that they are unable to perform on dry land. Hydrotherapy is also used as a way to reduce
muscle spasm
and increase strength for many neurological conditions.
Physio.co.uk has many patients with
neurological conditions
that regularly enjoy hydrotherapy sessions.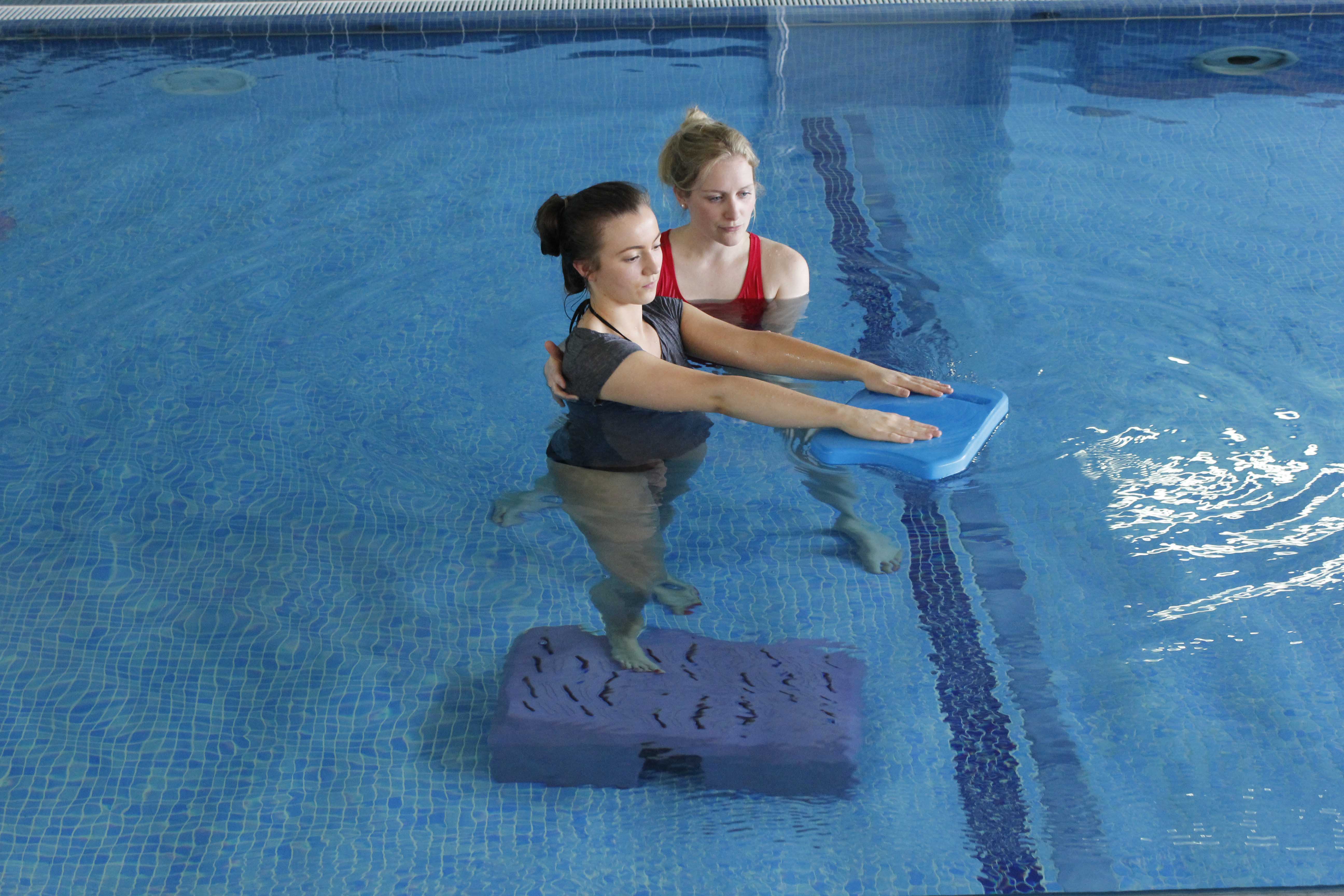 Above: Hydrotherapy session with close supervision from specialist physiotherapist
Neurological conditions that may benefit from hydrotherapy
Aims of hydrotherapy for neurological conditions
Hydrotherapy aims to encompass the same goals as an on-land programme; the physical characteristics of warm water allow these to be achieved more effectively:
Prevent soft tissue contractures and mobilise stiff joints
Use of buoyancy effect to enhance muscle activity
Develop motor control through use of functional goals
Increase muscle strength
Increase endurance
Increase function and enhance independence
Improve quality of life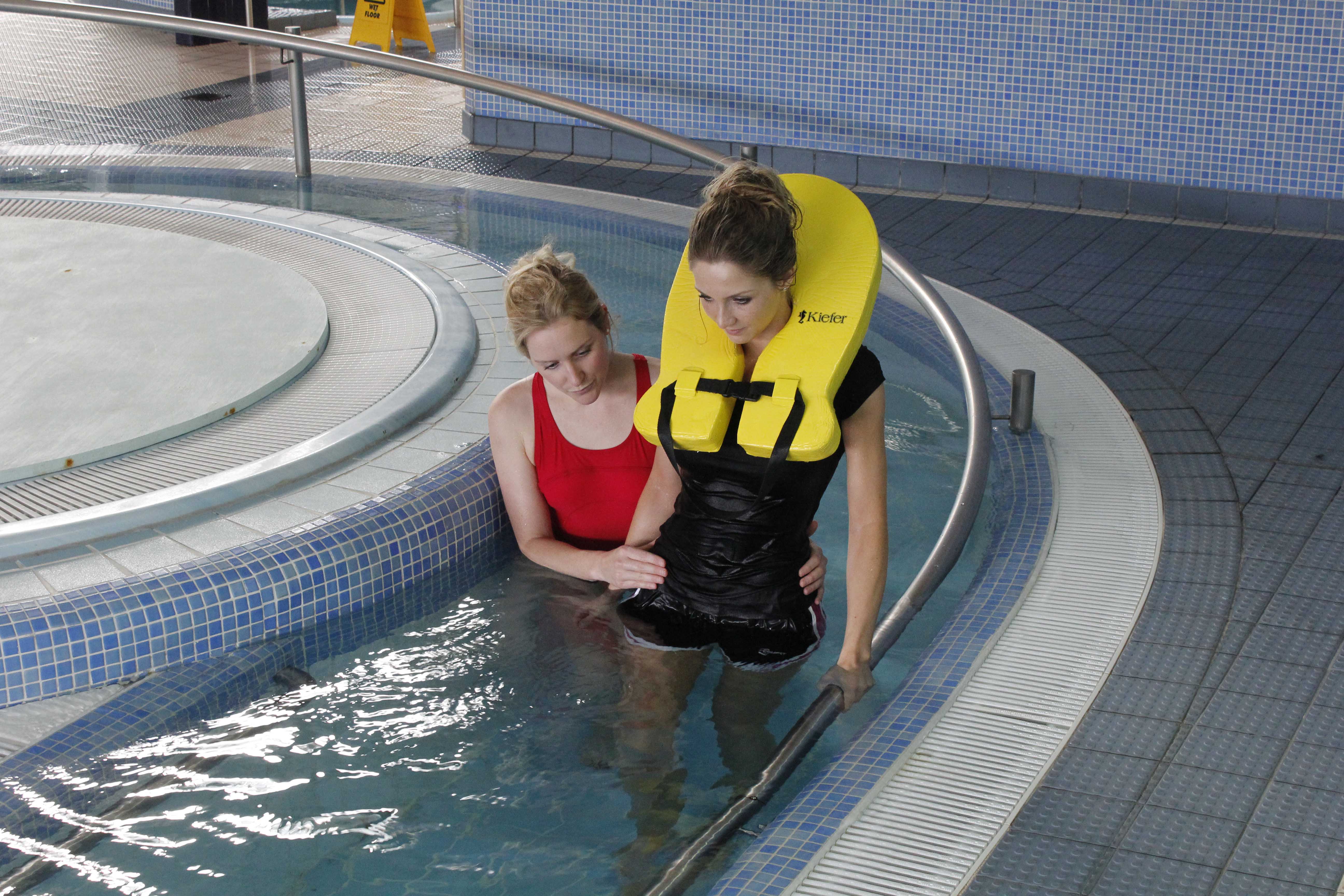 Above: Your physiotherapy sessions will take place in specialised hydrotherapy pools
Advantages of hydrotherapy in neurological rehabilitation
The warm water allows increased movement, as it decreases joint stiffness, normalises tone, and promotes relaxation of the muscles. The combination of these effects is likely to relieve pain.
Water can provide resistance against which we can strengthen weak muscles
The buoyancy effect of water can facilitate passive stretching
Water provides a safe environment in which to practice balance and walking, it also allows for easier handling for the physiotherapist
The buoyancy effect allows decreased weight bearing and walking can be practiced sooner
What hydrotherapy may involve
A personalised one to one programme will be created by our team of highly experienced physiotherapists aimed at achieving the personal goals of the individual. It will use the principles of water to its advantage, incorporating strengthening exercises to overcome the resistance effect, stretching with aid of the buoyancy effect, relaxation with the aid of heat that will normalise tone and decrease stiffness. The programme will also include functional activities such as reaching and grasping floating objects. The water provides a safe environment in which to practice walking and weight transference. A physiotherapist will accompany the patient in the water to provide support and facilitate movements.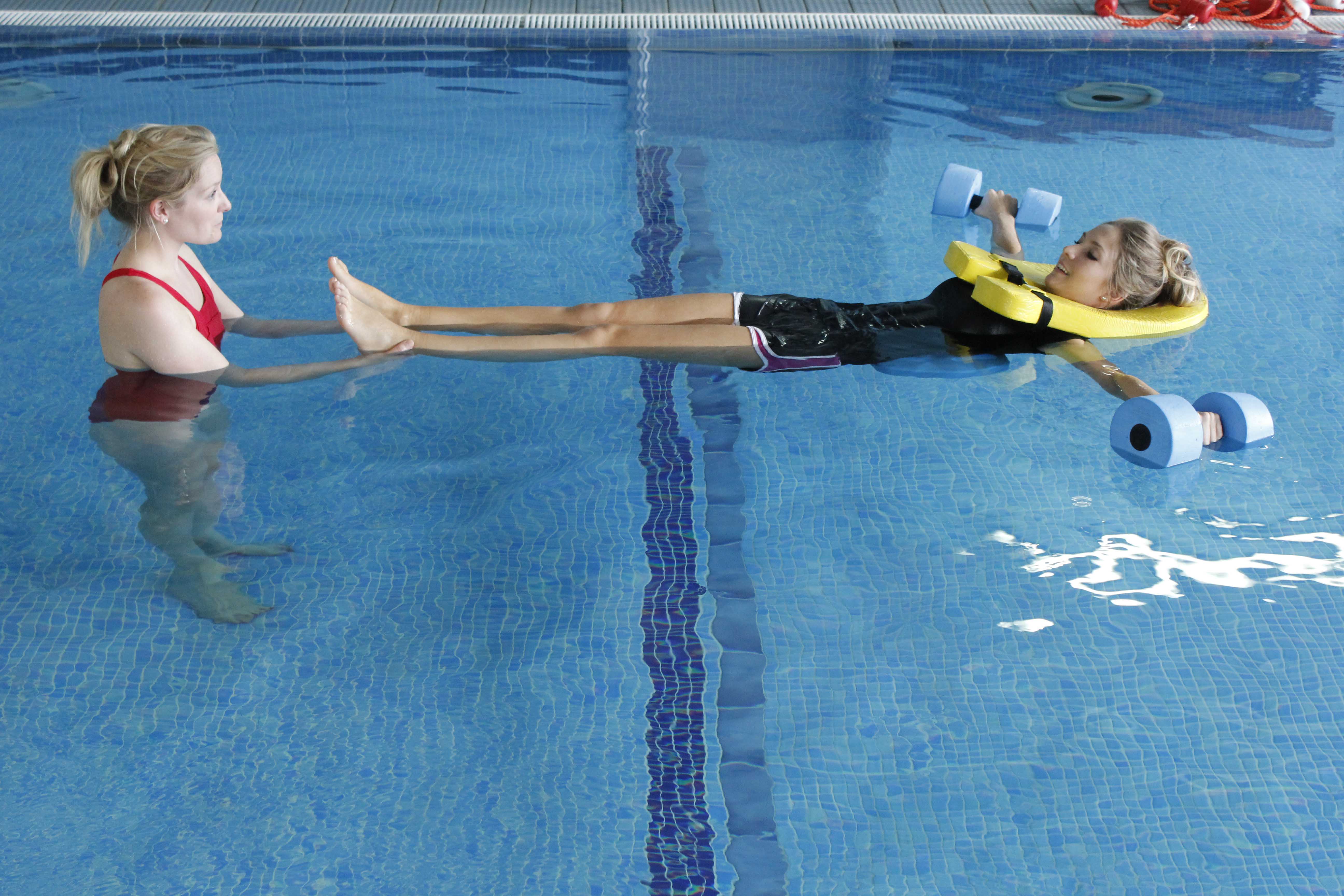 Above: Hydrotherapy session with close supervision from specialist physiotherapist
Why Physio.co.uk?
Physio.co.uk provides a highly specialised one-to-one rehabilitation physiotherapy programme. With no waiting lists and flexible appointment times, we can fit into any lifestyle. Our team of experienced neurological physiotherapists are able to produce a thorough week-by-week programme, focused on achieving personal goals.
The hydrotherapy facility we use is fully equipped to ensure safety and access despite physical capabilities. Key features of the centre include:
Private hydrotherapy area
Hoist available for transfers into the pool if required
Wheelchair access to pool via "Aqua-chair"
Large disabled changing area with plinth
Access to disabled toilets and showers
Easy access to poolside
If you would like more information on hydrotherapy for neurological conditions or to book an appointment please call Physio.co.uk on
0330 088 7800
. You can also
book online