Physiotherapy following a hiplabral repair
The labrum is made of cartilage that protects and stabilises the socket of your hip joint and holds it together during movement.A labrum tear can occur due to denegrative changes such as arthritis or a traumatic injury such as a fall, accident or sporting injury.Labral tears can be seen in association with episodes of hip dislocation or subluxation. They are commonly associated with a sudden change in movement or twisting manoeuvres.
A labral repair involves trimming and re-attaching the torn cartilage using an arthroscope, so is similar to a hip arthroscopy.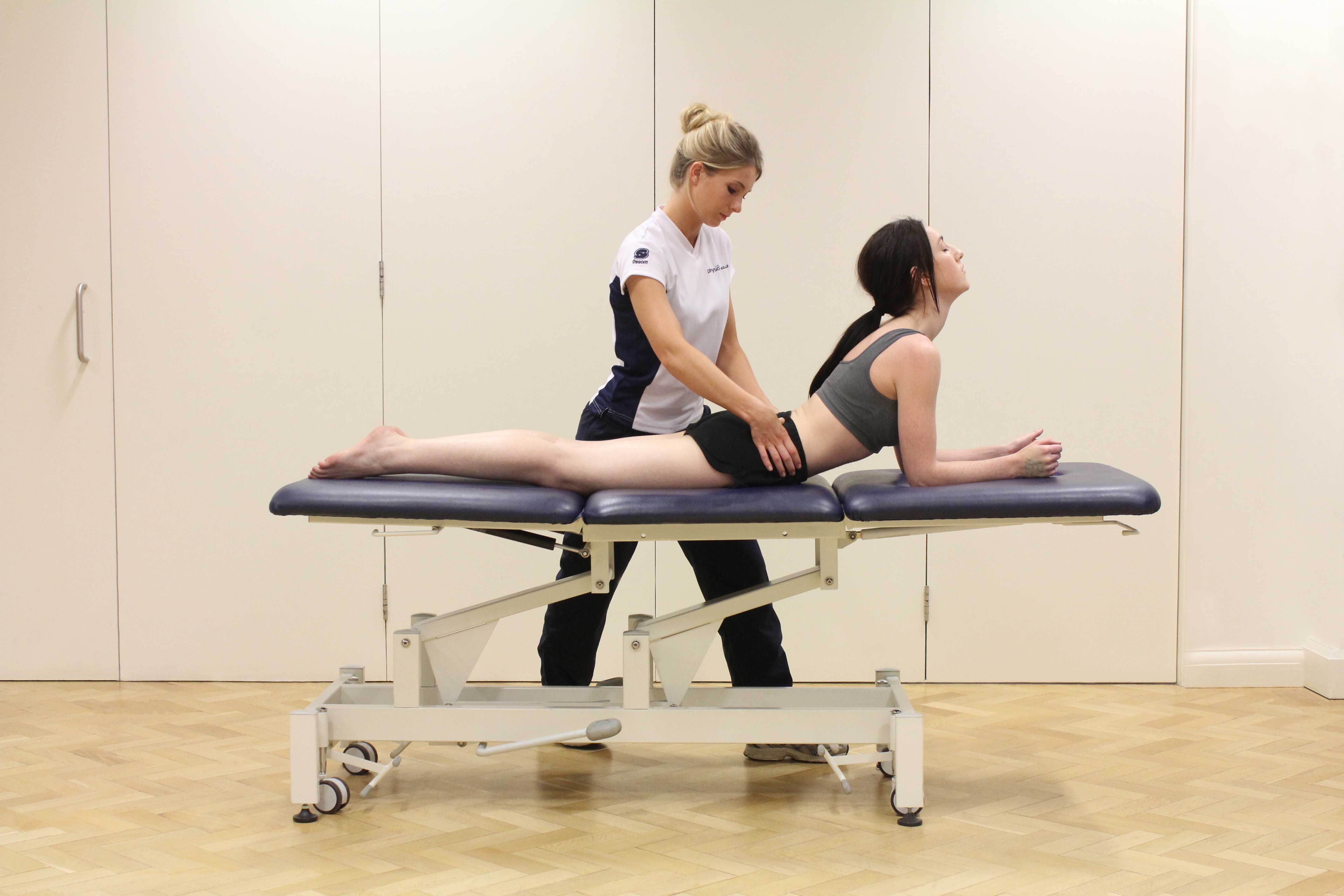 Above: active stretch of the muscle and connective tissue around the hips, supervised by a therapist
Physiotherapy before a hip labral repair
It is important to stay mobile and as active as possible before your operation to assist in your recovery. Physiotherapy treatment before your operation will involve exercises to keep your hip joint flexible and to strengthen the muscles around your hip.In the weeks and months leading to your operation it is advised to continue activity as often as possible.
Symptoms following a hip labral repair
After your operation you may experience some pain at your hip joint which is normal and can be can be controlled with painkillers. The operation is quite a quick procedure so you should be able to leave the hospital either on the day of surgery, or the following morning.
A physiotherapist will visit you to assess your mobility and to give you some exercises that you need to continue at home on a daily basis. You will also be given crutches to provide safety when walking.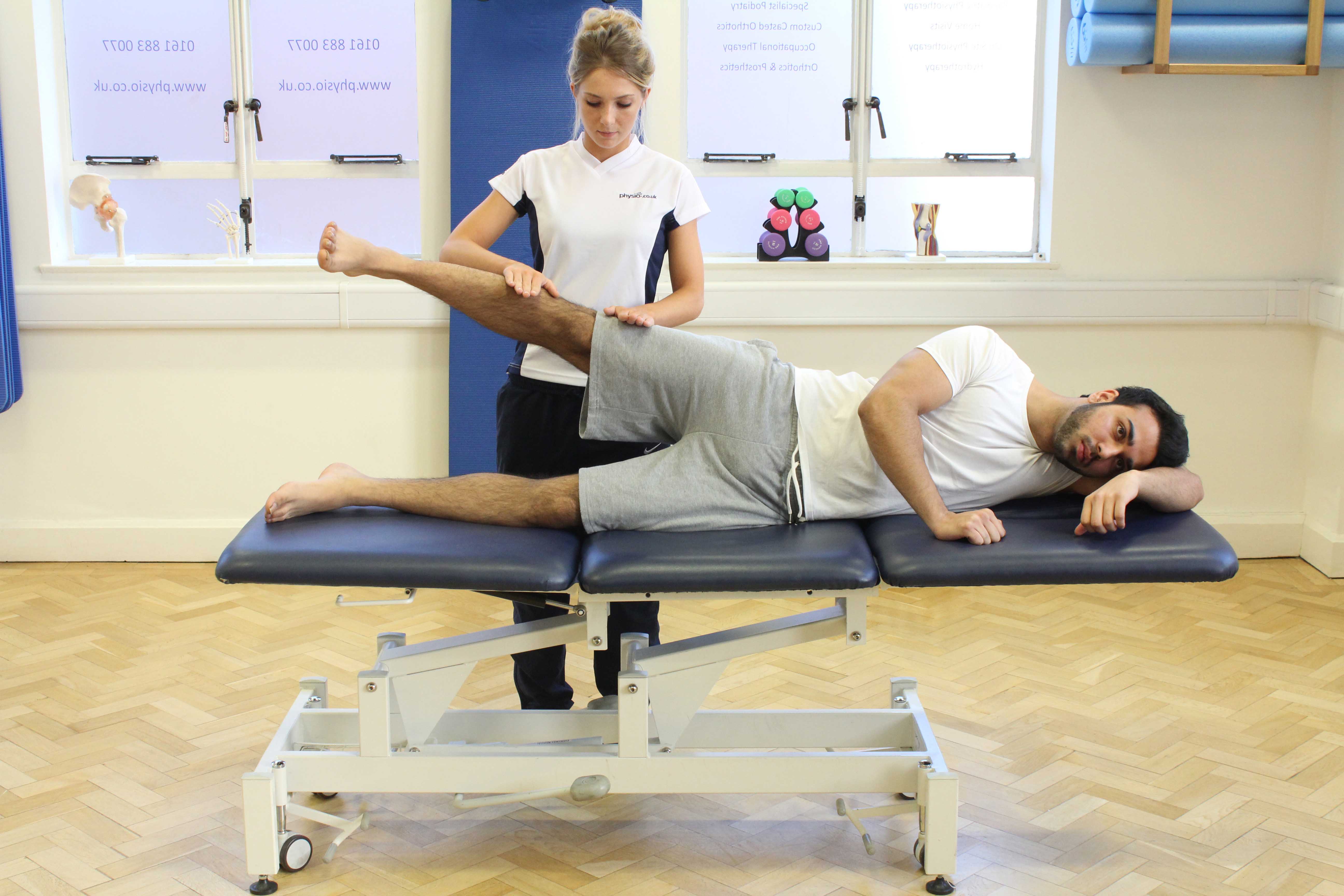 Above: Strengthening exercises for the hip and pelvic muscles, supervised by MSK therapist
Physiotherapy following a hip labral repair
Physiotherapy treatment following a labral repair will help you return to an active lifestyle as soon as possible.
Following your surgery you will be taught how to use crutches by a physiotherapist and will remain on these for four or five days. This is so that you are safe mobilising independently bearing weight on your hip joint.
Rehabilitation under the supervision of a physiotherapist should be commenced as soon as possible. Physiotherapy will help regain your full range of movement in your hip, increase your muscle strength, improve your balance and return you to sports and hobbies that you enjoy.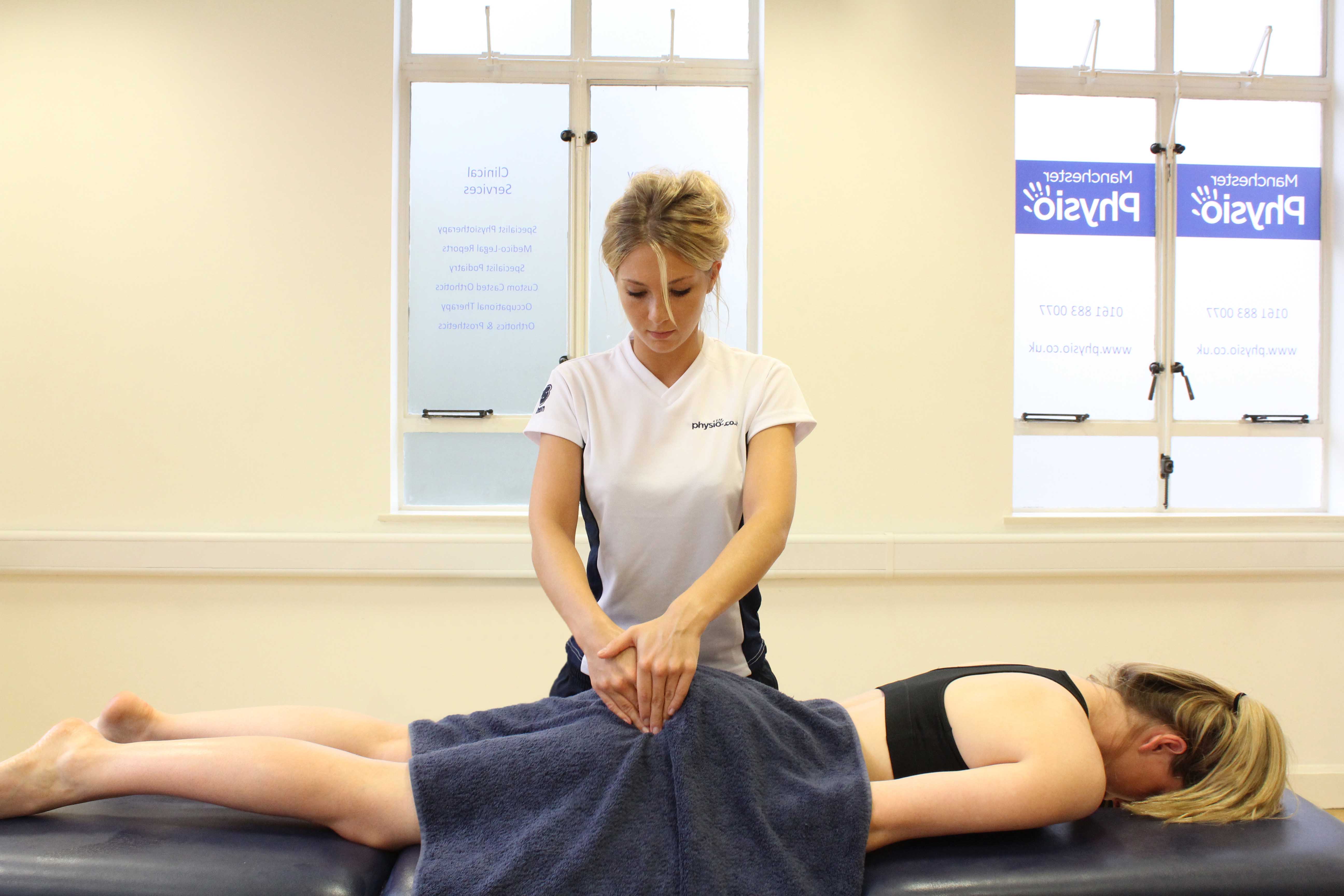 Above: Soft tissue massage of the muscles and connective tissues around the hip
1-2 weeks
In the first couple of weeks after surgery it is important to stay mobile but as pain allows. Your physiotherapist at Physio.co.uk will prescribe an initial exercise programme focusing on restoring your range of movement and gentle strengthening and stretching exercises. Rest is also important to allow the pain to settle and for the tissue to heal.
At Physio.co.uk, our physiotherapists are experienced in treating individuals following a labral repair. Your treatment programme will be developed incorporating your needs in order that you achieve the best possible recovery as soon as possible. In the first couple of weeks your physiotherapist will also assess your mobility and ensure that you are safe around your home. Treatment goals will be designed so that you reach your maximum potential and have targets to follow in the coming weeks.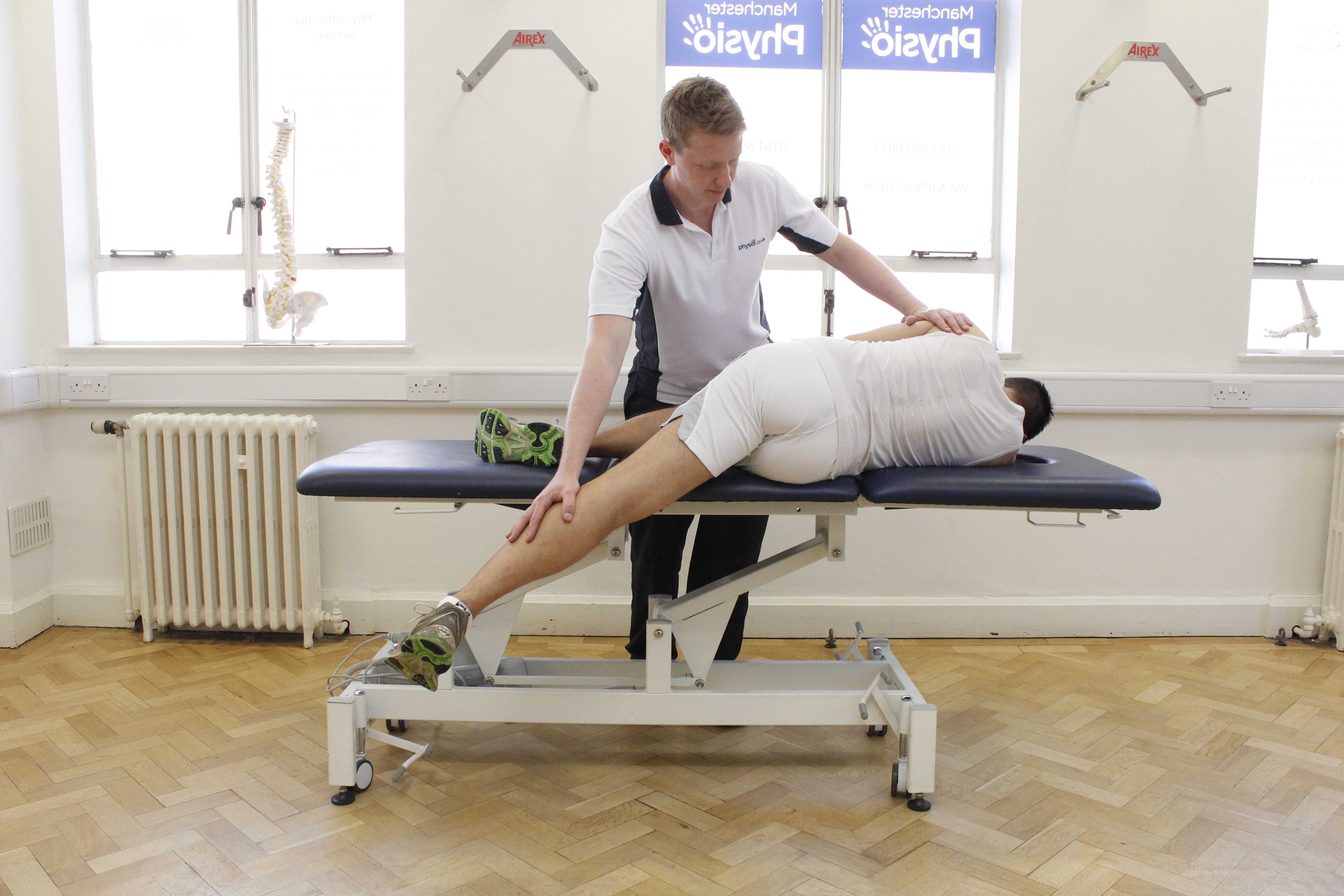 Above: Passive stretch of the hip joint and surrounding connective tissues
2-6 weeks
When you are mobilising pain free, your physiotherapist will concentrate on a gradual return to the activities that you enjoy. Physiotherapy treatment will involve:
Exercises to restore range of movement
Promoting normal walking patterns
Progressive muscle strengthening using resistance
Activities to improve balance reactions
Progression of ambulation on level surfaces and stairs (if applicable) with the least restrictive devices
Hydrotherapy - exercises in a hydrotherapy pool are particularly effective because they allow mobilisation without compression through your hip joint. This can begin once your wound has healed.
Your physiotherapist will also focus on core stability work (exercise for your stomach muscles) at this stage. Light activities such as static bike can begin within a few weeks after your surgery.
6-12 weeks
Once your hip has normal range of motion and strength, functional exercises can be started. Your physiotherapist at Physio.co.uk will concentrate on continuing to increase muscle strength and improve physical fitness and balance training at this stage of your rehabilitation. With the help of your physiotherapist, exercises focused on your return to sport and hobbies will be possible.
The success rate of treatment is largely dictated by your compliance.Physiotherapy treatment following a labral repair will enhance your recovery and return you to functional and sporting activities as soon as possible.
For more information or to book an appointment call
0330 088 7800
,
book online
or alternatively request a
free phone consultation
.