What is sensory modulation?
Sensory modulation is the organisation of sensory information; it is a basic neurological function and an ongoing process. Effective sensory modulation is being able to successfully control the degree that one is affected by different sensory inputs. The central nervous system is able to regulate things such as activity level and attention by allowing one to focus on relevant stimuli, disregard unimportant stimuli and adapt the volume of stimulation one is exposed to. Efficient sensory modulation enables the central nervous system to achieve this. Modulating sensory input allows us to interact with the physical and human environment and allow us to adapt to everyday challenges.
Normally, healthy sensory modulation is an automatic, unconscious process, which in children developing normally occurs without effort. However, for those children with a range of developmental problems, sensory modulation is ineffective, requiring effort and concentration with no assurance of accuracy.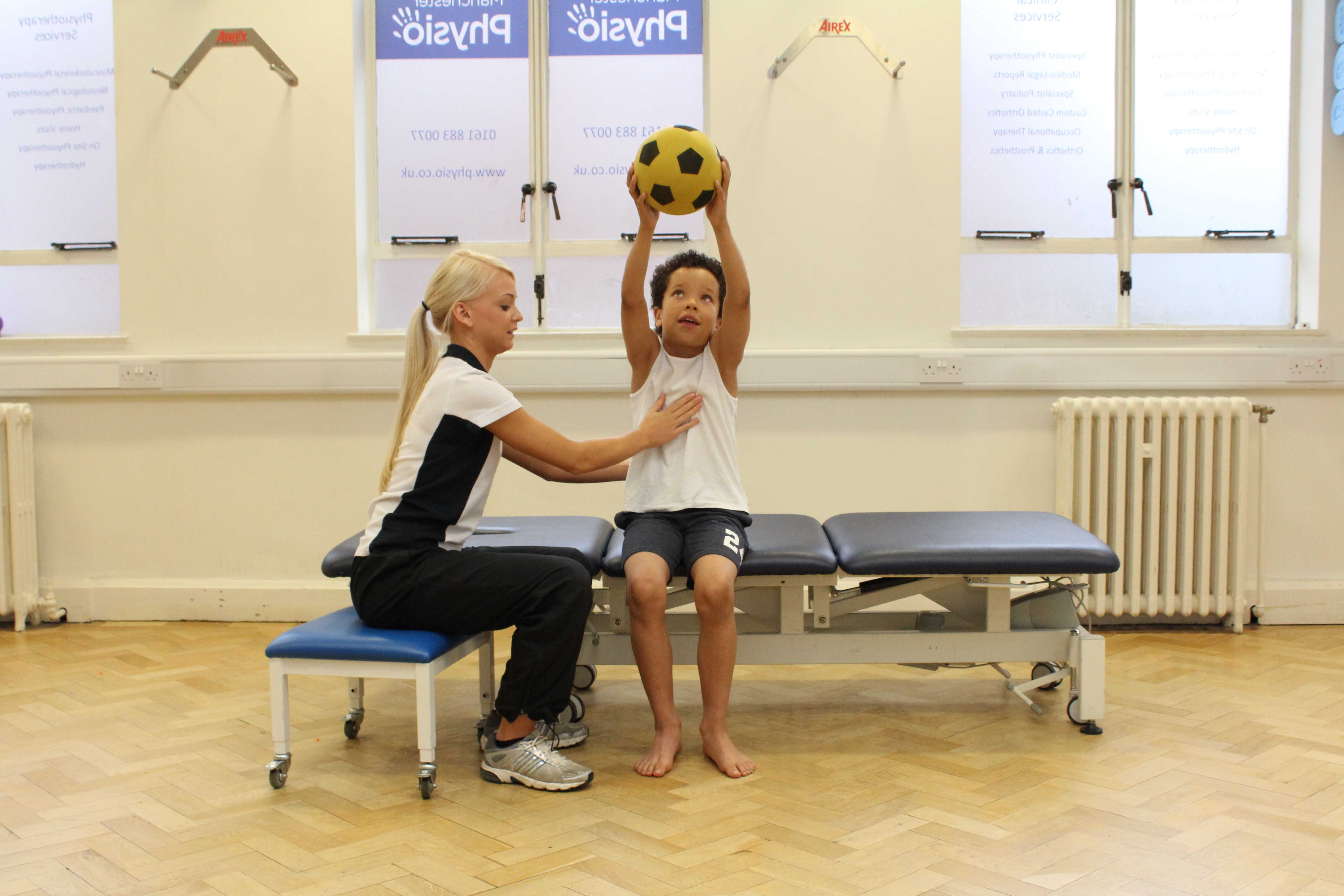 Above: Mobilisation and proprioception exercises supervised by a paediatric physiotherapist
What causes Sensory Modulation Disorder (SMD)?
The underlying mechanisms for sensory modulation disorder are not fully understood, but a number of situations where SMD may be a concern include:
Autism and other developmental disorders
Premature birth
Learning disabilities
Brain injury
Attention-deficit hyperactivity disorder (ADHD)
What are the symptoms of sensory modulation disorder?
It is often difficult to distinguish symptoms of SMD from other problems/conditions. Children with sensory modulation disorder may demonstrate a number of different behaviours, including:
Being over-responsive to sensory information (for example crying at loud noises, vacuums, motors etc., and being aggressive to tactile input)
Being under-responsive to sensory input (for example being unresponsive to pain, overwhelming need for movement stimulation, etc.) children affected by sensory modulation often vary between these two extremes
They often have problems with behavioural / emotional control
Children are frequently oblivious to sights, touch, smells, pain, sounds or movement
May display sensation-seeking behaviours
They are often very defensive and in "fight or flight" mode; this defensiveness stimulates the autonomic nervous system and causes a strong negative, emotional response
Overreactions to movement, touch, tastes, odours and sounds, may result in distress, avoidance and distractibility
What can physiotherapy do to help sensory modulation disorder?
Treatments employed to develop sensory modulation concentrate on sensory integration therapy. These treatments regularly include activities that involve sensory and proprioceptive input, and vestibular stimulation, for example using:
Swiss balls
Obstacle courses
Swings or heavy work of some sort
Finger paints, sand, water
At Physio.co.uk our therapists offer a safe and enjoyable environment when treating children with sensory modulation problems.
Summary
Sensory modulation is the organization of sensory information. Effective sensory modulation is achieved by the central nervous system attending to relevant sensory information, and disregarding irrelevant stimuli. Normally in healthy children it occurs unconsciously without thought and attention. However, in children with developmental problems it is inefficient requiring effort and concentration. Children with sensory modulation difficulties often fluctuate between being over-responsive to stimuli, and under-responsive to stimuli. These reactions to sensory input often result in distress, aggression or anxiety. Sensory integration therapy can improve sensory modulation.
For more information or to book an appointment please call Physio.co.uk now on
0330 088 7800
or please
contact us
.