What is pregnancy related Carpal tunnel syndrome?
Carpal tunnel syndrome (CTS) is compression of the median nerve as it passes through an area in the wrist known as the carpal tunnel. Compression of the median nerve is more common in pregnant women. This is as a result of an increase in the amount of fluid in your body due to you being pregnant which can then compress on the median nerve. This nerve compression can cause
pain
,
numbness
or
pins and needles
in the affected wrist. Physio.co.uk have specialist physiotherapists that reduce your pain.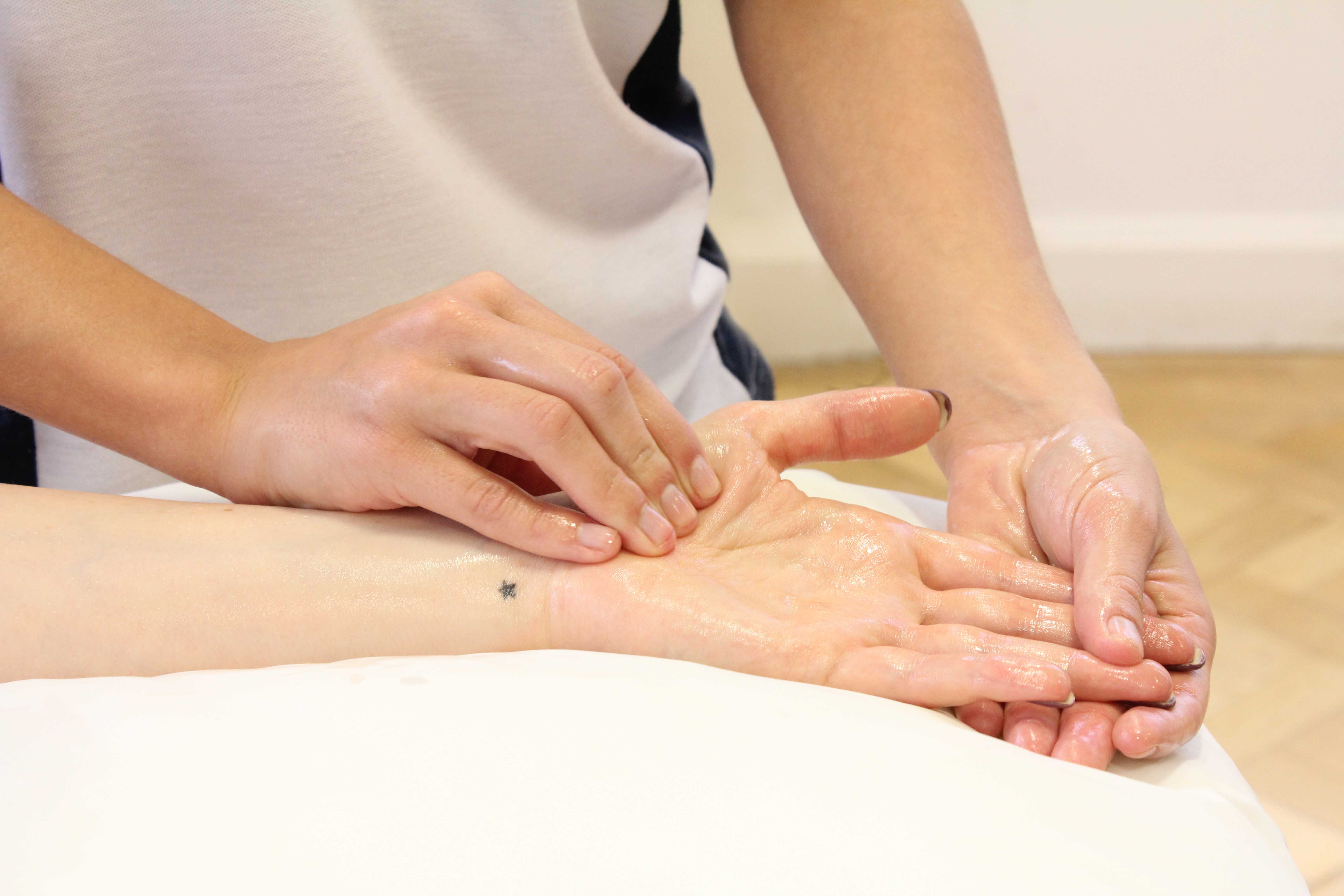 Above: Soft tissue massage of the falma fascia to calm symptoms of carpel Tunnel syndrom
What are the symptoms of pregnancy related CTS?
Night pain
Weakness in the wrist and hand muscles
Difficulty doing repetitive tasks such as typing or writing
What are the risk factors of pregnancy related CTS?
Fluid retention in the wrist during pregnancy
Family history of CTS
Existing inflammatory conditions such as rheumatoid arthritis
Obesity
CTS experienced in previous pregnancies
What physiotherapy treatment will I receive for pregnancy related CTS?
CTS usually ceases shortly after childbirth but it is important to begin your physiotherapy programme with Physio.co.uk as soon as you notice any of the symptoms to reduce the risk of long term complication and help accelerate your recovery. Physiotherapy treatment may include:
Elevation exercises to reduce swelling
Provision of wrist-splints worn at night
Cyrotherapy (ice)
Wrist and hand strengthening and mobility exercises
Electrotherapy techniques including ultrasound
Hand positioning advice
Summary
Pregnancy related CTS is compression of the median nerve during or following pregnancy as it passes through the carpal tunnel area of the wrist. The main symptoms include tingling, numbness and pain. The physiotherapists at Physio.co.uk will be able to assist you with a comprehensive physiotherapy programme to help optimise your recovery. Please call Physio.co.uk on
0330 088 7800
to book an appointment today, or alternatively
book an appointment online
today!