Manipulation under Anaesthesia of the Shoulder
Manipulation under anaesthesia (MUA) is a manual therapy treatment used to break down scar tissue formation and improve articular and soft tissue movement through specific myofascial manipulation and mobilisation techniques on a sedated patient. The procedure is performed on patients suffering from adhesive capsulitis (frozen shoulder). Frozen shoulder is a disabling condition with no specific underlying cause. The capsule that surrounds the shoulder joint becomes inflamed and contracted, scarring the capsule and resulting in a loss of glenohumeral motion with increased pain and stiffness.
MUA involves using either a local (regional – your arm is numbed and you remain awake) or general (put to sleep) anaesthetic to paralyse the surrounding musculature helping the muscles to relax and freeing up joint motion. While under the anaesthetic, your arm is moved into its free limit and then forcibly moved into its end range positions. By doing this, it breaks down the scar formations and adhesions and returns joint mobility.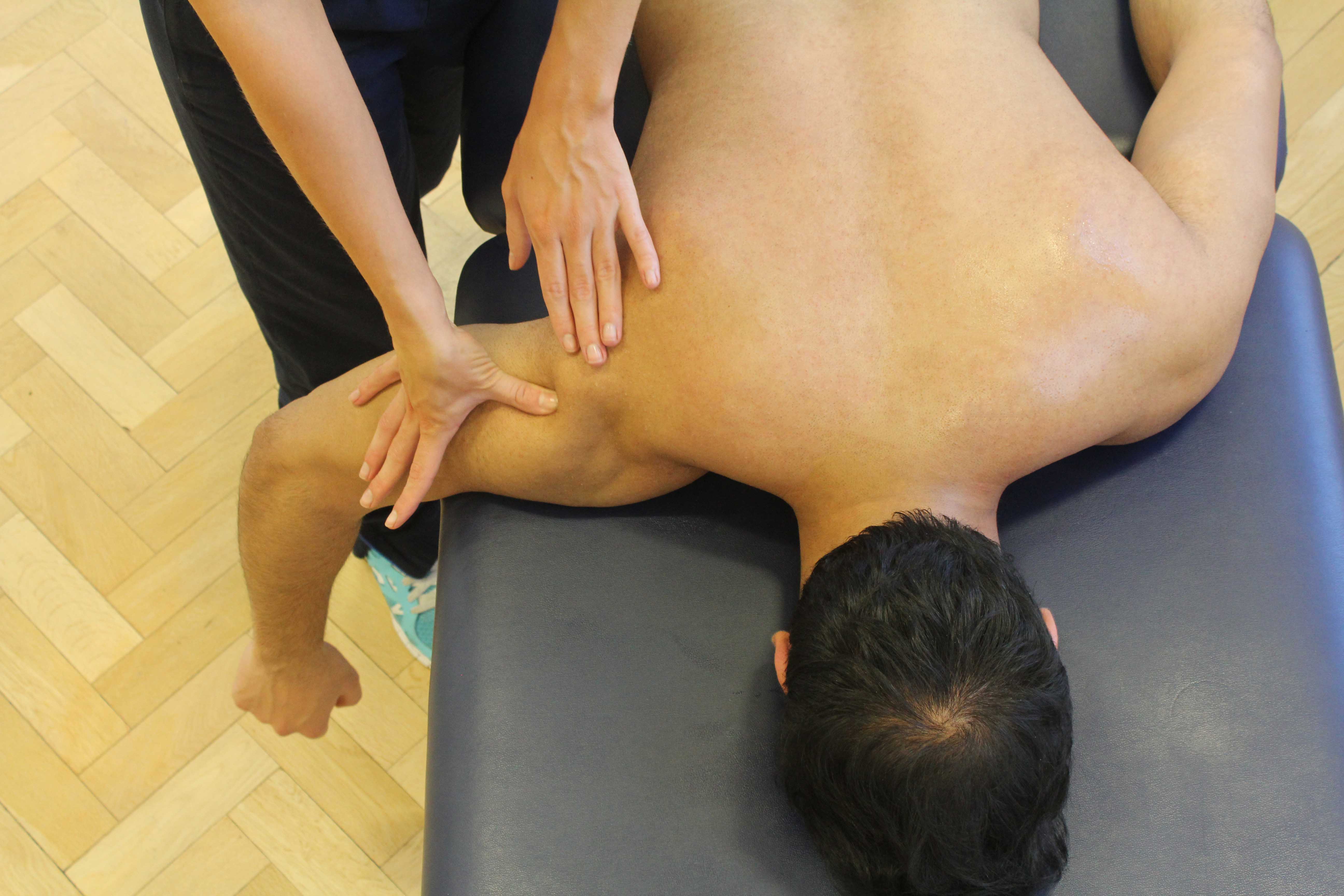 Above: Mobilisation of the shoulder joint by experienced physiotherapist
Physiotherapy before Manipulation under Anaesthesia of the Shoulder
Physiotherapy prior to MUA is a useful and recommended intervention. Physiotherapy with Physio.co.ukis an effective conservative method in treating frozen shoulders offering advice, helping to reduce stiffness and improving range of motion. Where surgery is indicated, physiotherapy will help treat initial problems and maximise post surgical rehab through providing an optimal platform for rehabilitation. Treatment will consist of:
Heat therapy
Pain management
Joint mobilisations
Stretching
Myofascial release
Muscular strengthening programme
Advice on surgery and post surgical management
Symptoms following Manipulation under Anaesthesia of the Shoulder
FollowingMUA your shoulder will be placed in a protective sling and you will be encouraged to begin physiotherapy immediately. Immediate physiotherapy with Physio.co.uk will lead to an improved outcome and help you regain maximum functional use of your arm quicker. Common symptoms following MUA include:
Physiotherapy following Manipulation under Anaesthesia of the Shoulder
Following MUA, Physio.co.uk will design a personal treatment programme to optimise the success of your operation. Physio.co.uk will provide a thorough assessment and explanation of treatment with attention paid to functional, occupational and sporting needs. Joint goals will be established and Physio.co.uk will develop a personal rehabilitation programme aiming to restore previous levels of function. Treatment will initially focus on acute management following surgery and progress on to regaining strength, pain free movement and function.
Weeks 1-3
Initial treatment will concentrate on minimising post-operative complications and managing acute symptoms. With early shoulder mobilisation critical to surgical success close care will be paid to initiating movement. Treatment will include:
Cryotherapy
Pain management
Postural education
Heat Therapy
Early passive and active assisted range of movement exercises
Pendulum exercises
Active range of movement exercises
Active exercises for elbow, wrist and hand
Scapular setting
Massage
Stretching
Electrotherapy
Taping
Sling management
Advice and education
Weeks 4-6
At this stage you will be encouraged to increase your rehab so that movement in your arm is maintain and improved. It is possible that the shoulder will return to its previous, immobile state and so it is crucial to continue with focussed movement rehabilitation.Also, attention will be paid to restoring normal biomechanical movements through stability and proprioceptive exercises. Physio.co.uk will develop your programme with attention to personal requirements. Treatment will include:
Increased passive and active rage of movement
Joint mobilisations
Soft tissue release
Stretching
Rotator cuff strengthening
Scapular stabilising
Taping
Biomechanical assessment and re-training
Weeks 7-12
Following week 7 Physio.co.uk will focus on a continuation and progression of exercises. Rehabilitation will begin to include specific exercises needed to perform functional activities and be directed to attaining full range of movement, improving muscular strength and endurance. Treatment will consist of:
Advanced joint mobilisations
Increased strengthening
Progressive proprioceptive exercises
Shoulder strengthening
Muscular endurance
Functional, sporting and occupational exercises
Soft tissue release
Weeks 12+
Following 12 weeks of intense physiotherapy with Physio.co.uk you will have regained range of movement and significantly improved muscular strength, endurance and control. With full recovery taking up to 6 months Physio.co.uk will intensify treatment, providing a comprehensive long term rehabilitation programme so that you are able to return to full sporting and social activities and maximise functional use of your arm.
Attaining full range of movement
Advanced strengthening of rotator cuff throughout range
Advanced shoulder muscle strengthening
Advanced proprioceptive exercises
Functional training
Long term management
Summary
Manipulation under anaesthesia is a common manual therapy treatment performed under anaesthetic for people with frozen shoulder syndrome. Frozen shoulder can be a debilitating condition causing a lot of pain and limiting movement and use of your arm. To help restore this movement, this procedure forcibly moves your shoulder into the ends of range which you are unable to actively perform. This movement breaks up the scar tissue formed within the shoulder, helping to restore movement. In order to maintain this, it is essential that you undergo a comprehensive rehabilitation programme with Physio.co.uk to improve pain free movement and function, and prevent any deterioration or relapse.
Call Physio.co.uk now on 0330 088 7800 for more information or to book an appointment please contact us
.