What is an inhaler?
An inhaler is a portable handheld device used to deliver prescribed medication to the airways. Inhalers are used by people with
respiratory conditions
to help manage their
symptoms
. Inhaler medications can fall into one of two categories:
Reliever inhalers – this is used as and when required to help relieve breathlessness or wheezing. It relaxes the muscles in the airways allowing them to become wider.
Preventer inhalers – these are used daily by the patient to help prevent symptoms developing. They work by reducing inflammation in the airways.
When activated, the inner medication is shot down into the airways upon a voluntary deep breath in. Method of activation depends on the specific inhaler, common ways include:
Pressing down firmly on the canister
When a deep breath is taken in
Pressing the medication into a spacer (large plastic container)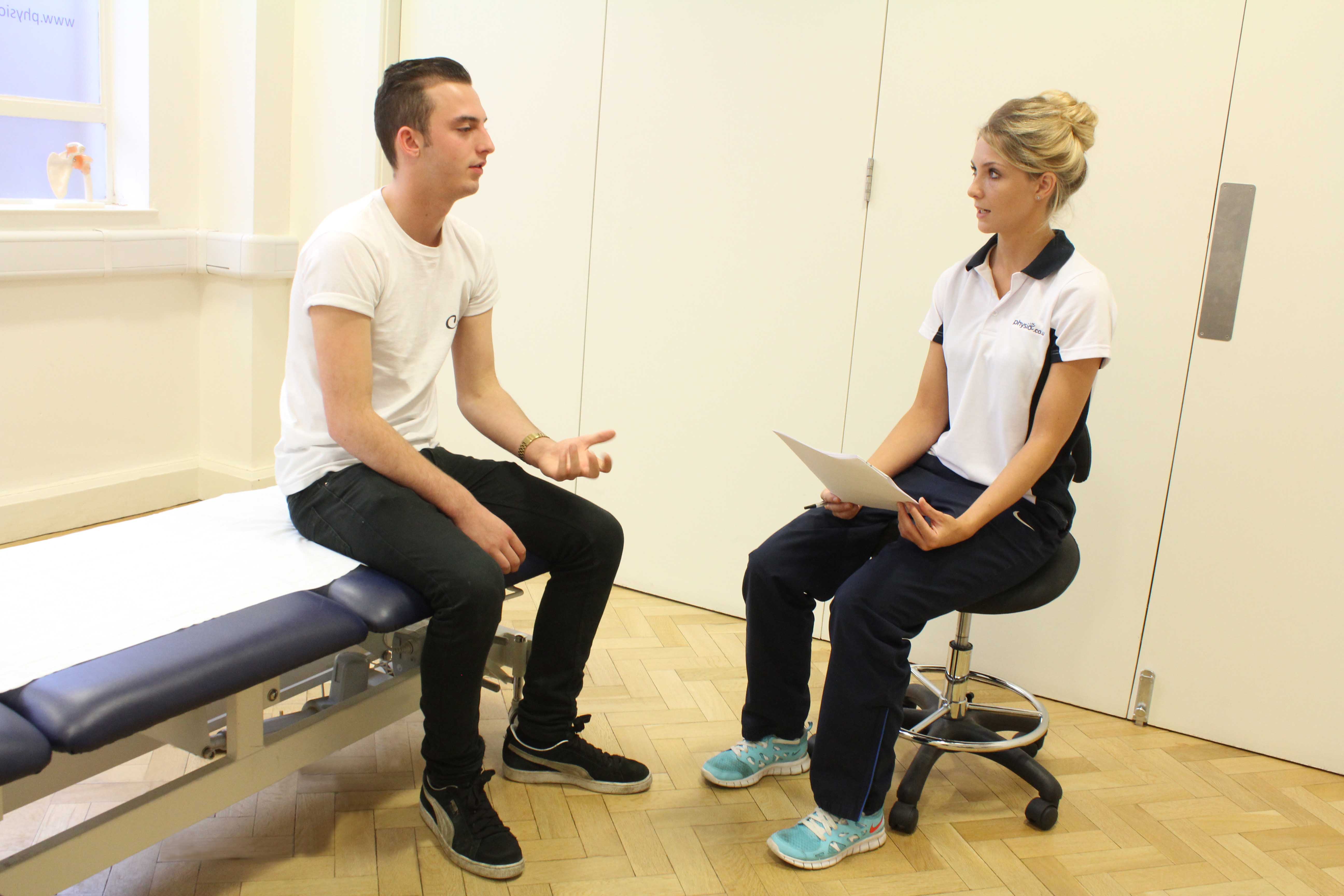 Above: Specilaist therapist discussing assment results and treatment options with a client
What conditions are inhalers used to help?
Inhalers are the most common treatment for a number of
respiratory conditions
including:
Why is a correct inhaler technique so important?
Using a correct inhaler technique is important so you get as much as your prescribed medication into your lungs as possible. This will allow the drug to work as effectively as possible.
Inhalers come in all sorts of different shapes and sizes, our respiratory physiotherapists are experienced in the full range of inhalers available, and will be able to run through with you the most effective technique for using your inhaler to ensure you to get maximal benefit.
Our respiratory physiotherapists will assess your technique, and then provide
advice
on how it can be made more effective. Any child or adult new to using an inhaler would benefit from having their technique assessed.
Practice with our physiotherapists will enable you to enhance your confidence in taking your inhaler, safe in the knowledge you are using it to best effect.
How might my technique be made more effective?
It is important you remember to shake your inhaler prior to use, correcting your technique can be this simple, or may take many different approaches, common modifications include:
Duration of inspiratory hold (length you hold your breath in)
Posture
Use of adjuncts e.g. addition of a spacer - although bulky, spacer adjuncts allow better intake of the medication into the lungs
What other advice can respiratory physiotherapists provide?
Our respiratory physiotherapists, although unable to provide alternative inhalers, will be able to offer
advice
should you be struggling with your current inhaler. There are many different models, so should you be struggling to take a deep enough breath for example, our physiotherapists will be able to offer advice on the alternatives available from your doctor.
Our physiotherapists will also be able to offer advice on other inhaler concerns, such as:
How often you should change your inhaler
How often you should clean your inhaler
How you should store your inhaler
For a respiratory assessment with one of our experienced physiotherapists, and a review of your inhaler technique, please call Physio.co.uk today on
0330 088 7800
. Alternatively,
book your appointments online
!