Osteoporosis is a disease that causes frail bones that are more
prone to fracture
. Fracture is the breaking of a bone. Individuals who have osteoporosis benefit from physiotherapy to
reduce the risk of trips and falls
that may cause fracture. Those who already have a fracture find physiotherapy essential to maintain
range of movement
,
strengthen muscles
and assist the return to previous level of mobility and function.
Cause of osteoporosis
The specific cause of osteoporosis is not known. However, the risk of developing osteoporosis is increased with age and by being female rather than male. It is more likely to occur if you have a family history of osteoporosis and if you have an oestrogen deficiency following menopause. Modifiable risk factors are smoking, alcohol intake, a poor diet and too much or too little activity. Links have also been found with a deficiency of vitamin D and soft drinks that contain phosphoric acid.
Types of osteoporosis
There are three types of osteoporosis.
Type 1
mostly affects women after menopause due to the hormonal changes.
Type 2
affects both men and women over the age of 75.
The third type is called secondary osteoporosis. This affects men and women at any age and is due to a pre-existing medical condition or prolonged use of steroids.
Symptoms of osteoporosis
There are no symptoms of osteoporosis other than that the individual is at more risk than usual of breaking a bone. Therefore, a diagnosis is not usually made until an individual is in hospital due to a fracture.The most common bones to break with osteoporosis are wrists, hips and the bones in the spine.
Diagnosis of osteoporosis
Osteoporosis is diagnosed using an X-ray, computed tomography (CT), magnetic resonance imaging (MRI) and bone mineral density (BMD) testing in the hospital setting.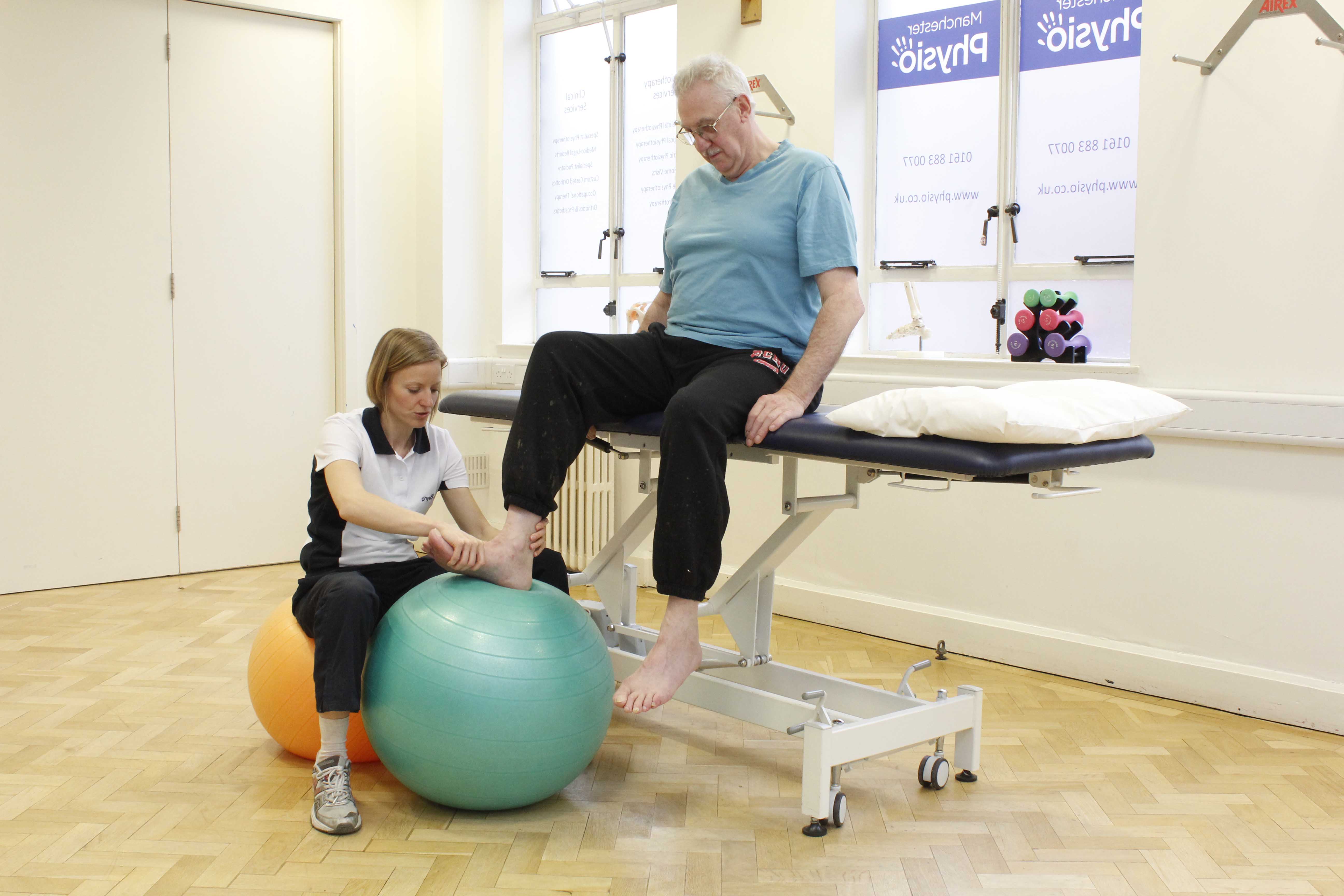 Above: Mobilisations of the foot and ankle to relieve pain and stiffness
Treatment of osteoporosis
There is no cure for osteoporosis. Treatment for osteoporosis is focused on reducing the risk of fractures and depends upon the progression of the disease, the patient?s gender and lifestyle. Advice and support will be provided to enable the individual to stop smoking, limit alcohol intake and increase calcium and vitamin D intake. It is important to discuss the advantages and disadvantages of medication and oestrogen replacement therapy with your doctor in relation to the treatment of osteoporosis. Physiotherapy and exercise is an essential part of rehabilitation after a fracture and prevention of further fractures in the future.
Physiotherapy for osteoporosis
Physiotherapy plays an important role in reducing the risk of fractures and also returning to function after a fracture has taken place. If an elderly individual has a fall and fracture, they are most likely going to require an inpatient hospital stay for several weeks whilst they re-gain
muscle strength
, mobility and confidence. It is essential that the individual has intensive physiotherapy whilst they are in the hospital setting and also once they are back in the community. It can take some time to learn to walk and move around again after a fall and it can seem daunting to return to daily chores and routine.
Your specialist physiotherapist at Physio.co.uk will carry out a full physical assessment and examination. Following on from this, your physiotherapist will discuss your main problems and the goals of treatment. Depending on the individual's clinical presentation, the treatment plan may focus on:
Weight-bearing exercises
Mobility practice
Practice of functional tasks
Provision of walking aids and equipment
Your physiotherapist will observe you transferring in and out of bed, rising from a chair, walking around and climbing the stairs. If any of these functional tasks are a struggle, we will suggest and provide a range of equipment and aids to make them easier and safer. It may be necessary to move furniture around at home and remove rugs in order to allow sufficient space for walking aids and to avoid trips and falls. Your physiotherapist will teach you a range of exercises to do in your own time at home. These exercises may focus on
strengthening
your arms, legs and trunk or improving your
balance
and co-ordination. If necessary your physiotherapist may suggest an assessment with an occupational therapist in order to assess your ability to complete functional tasks such as cooking, cleaning, washing and getting dressed. Occupational therapists are also able to provide major adaptations to the home such as stair-lifts and level access shower facilities.
Individuals with osteoporosis substantially benefit from holistic physiotherapy assessment and treatment. The benefits of physiotherapy for the individual with osteoporosis include:
Reduced risk of falls
Reduced risk of fractures
Reduced pain
Increased balance
Increased mobility
Increased independence
Learn exercises to do in your own time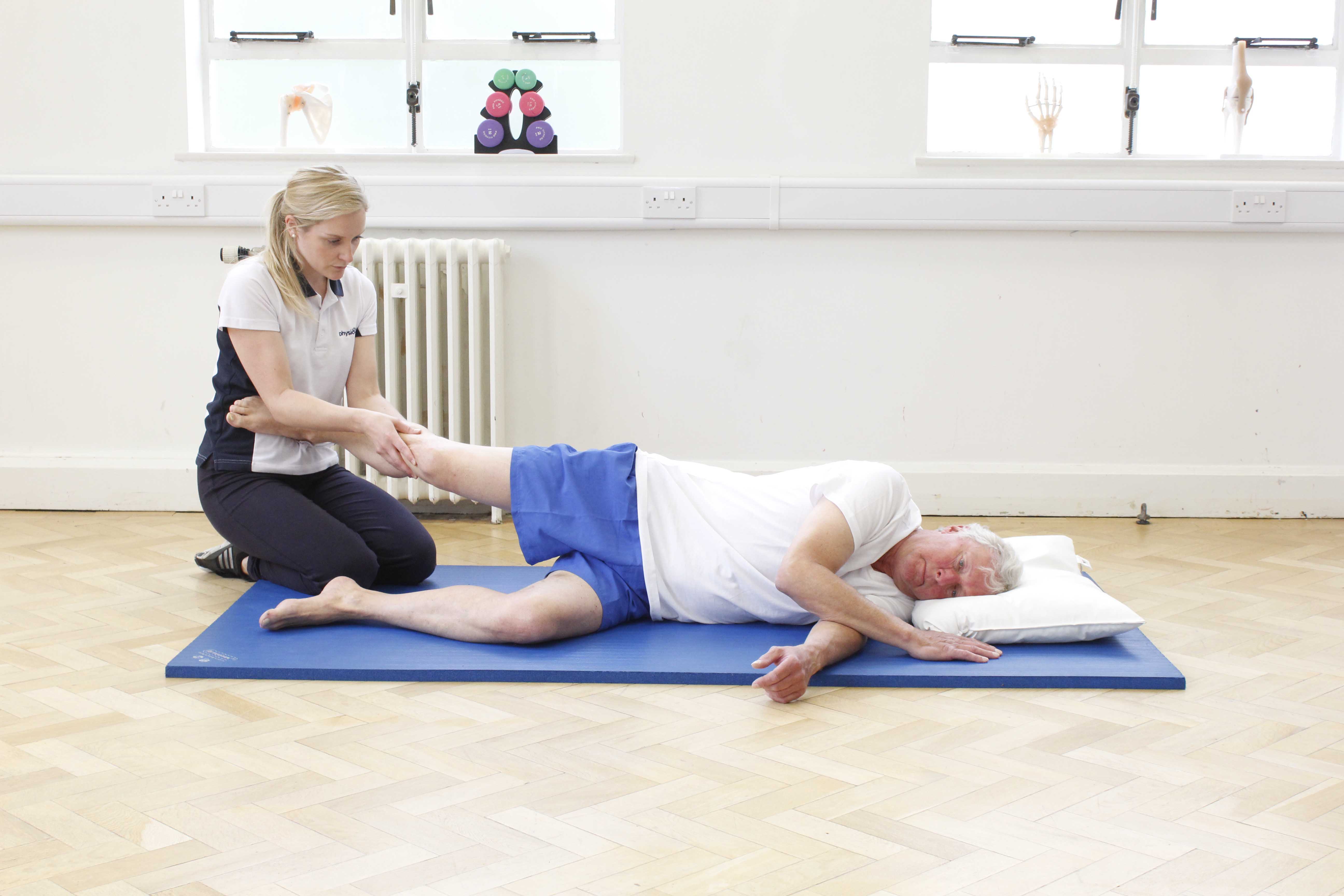 Above: Mobilisations of the knee to relieve pain and stiffness
Why Physio.co.uk for osteoporosis
At Physio.co.uk we understand that falling over and fracture is a worry and a concern for individuals with osteoporosis. Our experienced physiotherapists have valuable experience in the assessment and treatment of individuals with osteoporosis. We can help reduce the risk of falls and fracture through exercise and advice to increase your confidence and overall quality of life.
No waiting lists
Treatment to reduce the risk of fracture
Treatment after a fracture to assist return to previous level of ability
Friendly, experienced physiotherapists
Flexible appointment times
Proven track record
Access to hydrotherapy
Access to occupational therapy
Physiotherapy sessions for individuals with osteoporosis are held in the individual's home or in one of our clinics. Rehabilitation with a specialist physiotherapist significantly increases independence, function and reduces the risk of falls and fracture due to osteoporosis. To discuss how physiotherapy can help individuals with osteoporosis contact us now on
0330 088 7800
. Alternatively, you can also
book an appointment with us online
today!