What is Emphysema?
Emphysema is a lung condition that specifically affects the structural integrity of the respiratory tracts cell walls. It is one of the key conditions that confirm the presence of Chronic Obstructive Respiratory Disorder (COPD). The key feature of Emphysema is the abnormal and permanent dilation of the airways in the upper respiratory tracts.
This effect impairs normal ciliary function and smooth muscle contraction, necessary for effective lung secretion clearance. As the emphysema causes inflammation which triggers additional mucus production in the lungs, there is often an excessive retention of mucus. This unfortunately provides ideal conditions for further infections to take hold.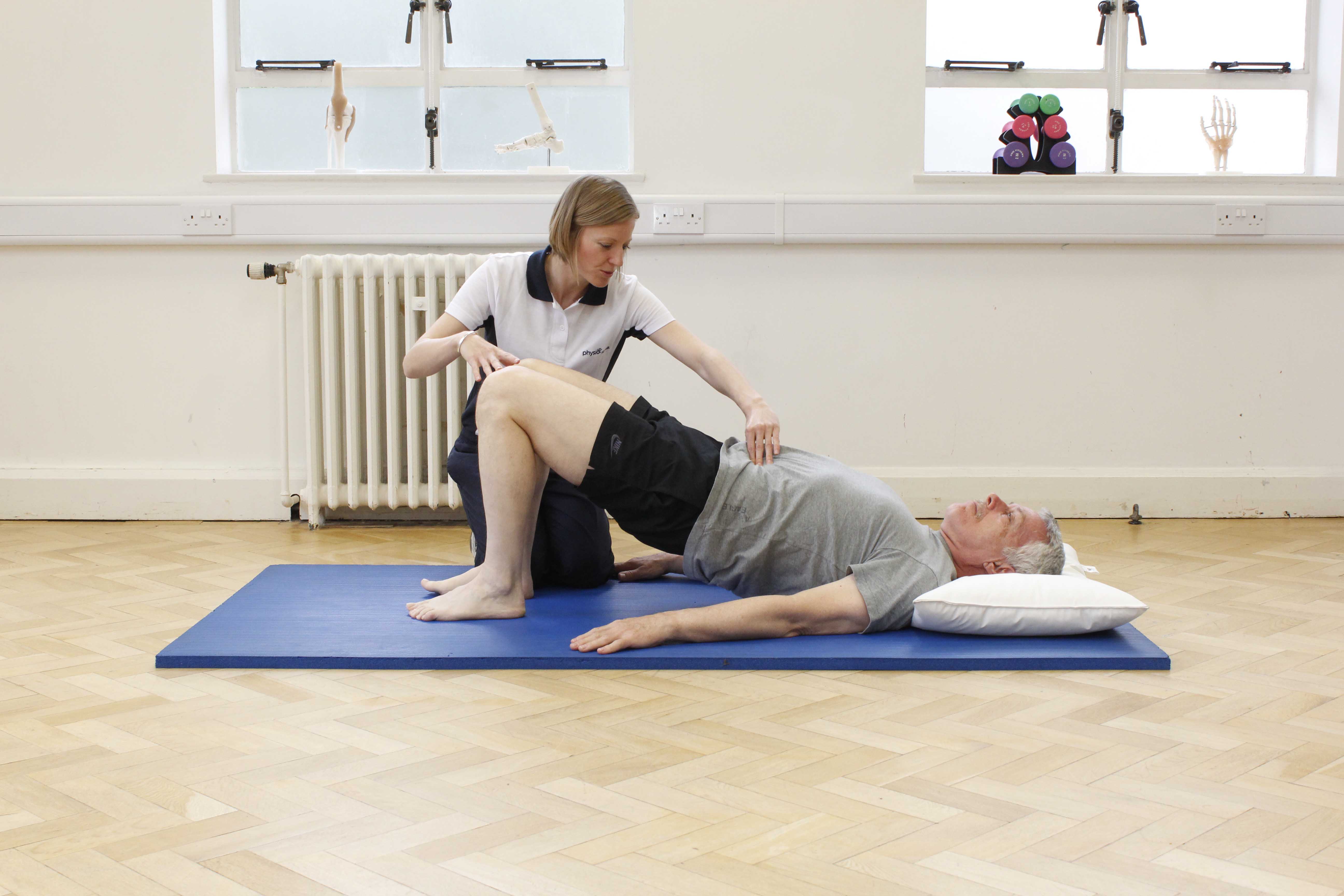 Above: Active cycle of breathing exercises and postural drainage exercises supervised by a specialist physiotherapist
What causes Emphysema?
Once the natural defences of the respiratory system have been bypassed by some form of invading infection a normal inflammatory immune response usually occurs. The cell walls of the airways would become swollen, additional protective mucus is produced and white blood cells converge on the area to attack the invading pathogens.
In individuals with Emphysema there are approximately 5 to 10 times higher number of macrophage white blood cells present in the lung tissues and fluids. There is also an increased number of neutrophil white blood cells that release excess amounts of proteases. These break down the protein based elastic structure of the airways cell walls. It is the loss of the cell wall elasticity that leads to the permanent dilation of the airways.
The permanent dilation of the airways, combined with the damage to the cells walls, is a cumulative process. The result is greater mucus production and retention, loss of functional lung surface and a greater risk of repeat infections.
What are the symptoms of Emphysema?
Emphysema initially presents with symptoms common to many respiratory conditions and it takes careful examination and elimination of alternate causes to confirm a diagnosis. Some of the signs and symptoms of emphysema include;
Weak and infrequent cough.
Increased respiratory rate.
Breath sounds are quiet, with some wheezing during auscultation.
Tapping chest produces deep resonant sound.
Heart sounds are quiet with auscultation.
Visible use of upper body, accessory breathing muscles.
Persistent hyperinflation of lungs creates 'barrel chest' appearance.
May used pursed lip breathing to help maintain positive lung pressure.
Easily fatigued with activity.
Advanced cases of emphysema can leave the individual with wasted limb muscles, visibly elevated jugulars, signs of cyanosis and peripheral oedema.
How is Emphysema Diagnosed?
Emphysema is routinely diagnosed by your doctor once they have looked at you medical history and compared x-rays, blood tests and performed a detailed respiratory assessment, including spirometry. Once you have a confirmed diagnosis we can book you in for a respiratory assessment with one of our specialist physiotherapists. They will look at your current functional ability and tailor a maintenance program for you.
For more information on how physiotherapy can help treat Emphysema, or to book yourself an assessment, please contact us via email at office@physio.co.uk or ring us on 0330 088 7800.
What would a physiotherapy assessment for Emphysema involve?
At Physio.co.uk, we want to gain as much information as possible about your condition to ensure we give you the best treatment. In your first appointment with us, our physiotherapists will carry out an assessment which has two parts:
Subjective
A discussion between you and our physiotherapist to find out what symptoms you are experiencing, and how your condition is affecting you and your lifestyle.
Objective
An assessment to discern the presence of any pain, your current breathing pattern, respiration rate, lung volume and a series of special tests to identify the presence of any mucus retention and lung function impairment.
There can be great variation in the symptoms displayed, depending on the progression of the condition and any complicating factors. The assessment process will be important in identifying your current symptoms and needs, so that treatments can be targeted and effective.
What would physiotherapy treatment for Emphysema involve?
At Physio.co.uk, Our physiotherapists will ensure you specialised treatment for your Emphysema. Depending on the severity and duration of your condition, your treatment may involve:
Secretion clearance:

Effective / productive coughing techniques.
Postural drainage in sitting and lying.
Manual assistance, including percussion, vibrations and shaking.

Breathing technique retraining:

Controlling respiratory rate
Diaphragmatic breathing
Controlling / reducing breath volume
Relaxation breathing exercises

Education and Advice:

Illness cause and progression.
Effects of environmental and allergen factors.
Medication management
Recognising signs of possible Asthmatic episodes.
At Physio.co.uk you will experience a personalised treatment session. Each appointment will be aimed at returning to your everyday activities and what you enjoy. It will be important to note that the respiratory physiotherapy we apply should be closely incorporated with other health care professional's management of the client's dietary, medical and counselling needs.
How can I arrange a physiotherapy assessment for Emphysema?
If you have been diagnosed by your doctor as having Emphysema and are suffering from symptoms affecting your breathing and lung clearance, you would benefit from an assessment with one of our experienced respiratory physiotherapists.
You can contact us directly to arrange an assessment and we can advise you if further treatment is recommended, and give you advice on self-management. To arrange an appointment please email office@physio.co.uk or call 0330 088 7800.
Summary
At Physio.co.uk, our respiratory physiotherapists can provide specialist assessment and treatment for people with Emphysema. We can apply a range of therapy techniques and advice to manage your symptoms and maintain the best possible level of lung function and comfort. We can also advise on activity modification to make daily living easier. Along with advice for you and your family on appropriate self-management techniques to maximise your functional ability between therapy sessions.
For more information on how physiotherapy can help treat Emphysema, or to book yourself an assessment, please contact us via email at office@physio.co.uk or ring us on 0330 088 7800.