Paediatric oncology is the area of medicine that deals with the screening, diagnosis, treatment and follow-up care of children who are diagnosed with cancer. Physiotherapy is an essential part of the multi-disciplinary management of cancer during childhood and aims to minimise symptoms, improve function and improve your child's quality of life. At Physio.co.uk, our experienced paediatric physiotherapists strive to deliver a first class standard of treatment utilising current research and literature.
Causes of cancer in childhood
The cause of cancer in children is not known. It is not infectious and neither is it caused be genes passed down from parents.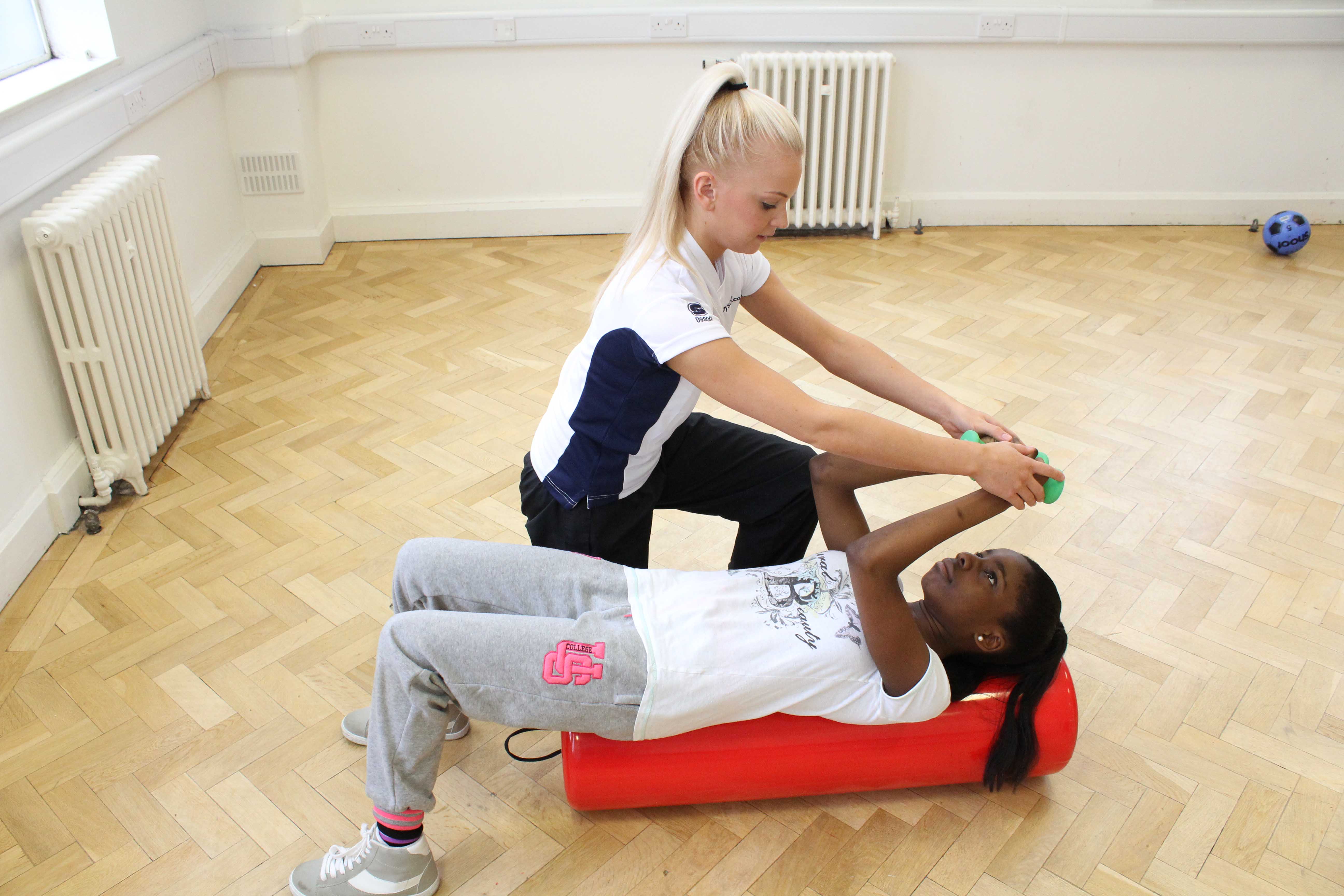 Above: Building strength, co-ordination and balance under supervision of a paediatric physiotherapist
Symptoms of cancer during childhood
Cancer is rare for children. However, children that have undiagnosed cancer may complain of headaches, tiredness, lack of appetite, nausea and visual changes. You may notice your child has an area of
swelling
or bruising and a fever. These symptoms are not exclusive to cancer and do not confirm a definitive diagnosis.
Diagnosis of cancer in childhood
If your child complains of the above symptoms, take them to see a doctor who will carry out a urine test to check for abnormal levels of chemicals in the urine. If a tumour is suspected, further tests such as X-rays, computed tomography (CT) scans, ultrasound and bone scans may be necessary.
Treatment of cancer during childhood
Depending on the type and nature of the tumour diagnosed, the treatment options will vary. The options for your child will be discussed with you by a paediatric oncologist. Treatment may include blood transfusions, symptom control, surgery, drugs, radiotherapy and management of secondary complications such as infections or breathing problems.
Physiotherapy for children with cancer
Your child will significantly benefit from physiotherapy assessment and treatment at any stage of their condition. Physiotherapy can help ensure your child is physically and cognitively strong enough for surgery or radiation therapy. It can also help your child recover from surgery and get back to normal level of ability and function. Physiotherapy can also prove beneficial in the palliative care of your child to ensure optimum comfort and dignity in the end stages of the condition.
Your physiotherapist will carry out a detailed assessment of your child's
muscle strength
,
range of movement
,
muscle tone
,
pain
,
sensation
and
proprioception
. The findings of the assessment will be discussed and a list of your child's problems and goals will be documented. Your child's goal may be to use both hands to play a game or to walk up the stairs safely. Your physiotherapist will use play to plan fun activities which work towards your child achieving short term goals. A treatment plan for a child with cancer may include:
Management of pain, swelling and fatigue
Stretches of joints, muscles and scar tissue to maintain range of movement
Transfer and walking practice
Cardiovascular exercise
Fun balance and co-ordination exercises
Supply of aids and equipment to make walking and completing tasks easier
Your physiotherapist will provide an
exercise program
for you to carry out with your child. This will include specific handling techniques,
stretches
,
muscle strengthening exercises
and sensory and
lymphatic massage
. It is important that your child continues with physiotherapy at home between sessions in order to make maximal improvement. Physiotherapy sessions can be provided
at your home
,
in one of our clinic locations
or in our
hydrotherapy pool
.
Hydrotherapy
is a form of exercise delivered in warm shallow water that benefits individuals with cancer of all ages. The physical properties of the warm water enable efficient mobilising and strengthening of all muscle groups and improve function. Your physiotherapist will also be able to provide
advice and guidance
regarding specialist seating and equipment. Our colleagues at Manchester Occupational Therapy are able to provide reports and advice regarding major adaptations to your home.
There are a wide range of physical and cognitive benefits that are achieved via specialist paediatric physiotherapy. Some of these benefits include:
Increased body image confidence
Increased independence and decreased reliance on others assistance
Increased self-esteem and motivation
Increased mobility and ability to move around
Increased muscle strength, balance and co-ordination
Increased exercise tolerance and stamina
Improved posture and core stability
Learn how to help your child through physical activity and exercise
Decreased risk of secondary complications
Why Physio.co.uk for children with cancer
At Physio.co.uk we understand the symptoms and problems your child may face as a result of cancer. Our specialist physiotherapists have valuable experience working with cancer in childhood and can provide a high standard of assessment and treatment to enable optimum function and quality of life.
It is proven that physiotherapy significantly improves function and quality of life for children who have cancer. At Physio.co.uk, our experienced physiotherapists provide an excellent standard of assessment and treatment in your own home or at one of our clinic locations. To discuss your child's needs with a specialist paediatric physiotherapist or to book an appointment please contact us now on
0330 088 7800
. Alternatively, use our online booking system to
make an appointment online
today!