Temporomandibular Joint (TMJ) surgery is used to treat severe cases of jaw pain known as Temporomandibular disorder (TMD), when non-surgical management has failed.
TMD is a painful condition that restricts jaw movements.
Severe TMD is often due to, or coupled with a number of causes such as:
Arthritic conditions: e.g. osteoarthritis, rheumatoid arthritis or traumatic arthritis
Ankylosis (an abnormal fusion of the joint)
Avascular necrosis (death of tissue due to poor blood supply)
Fracture
Functional deformity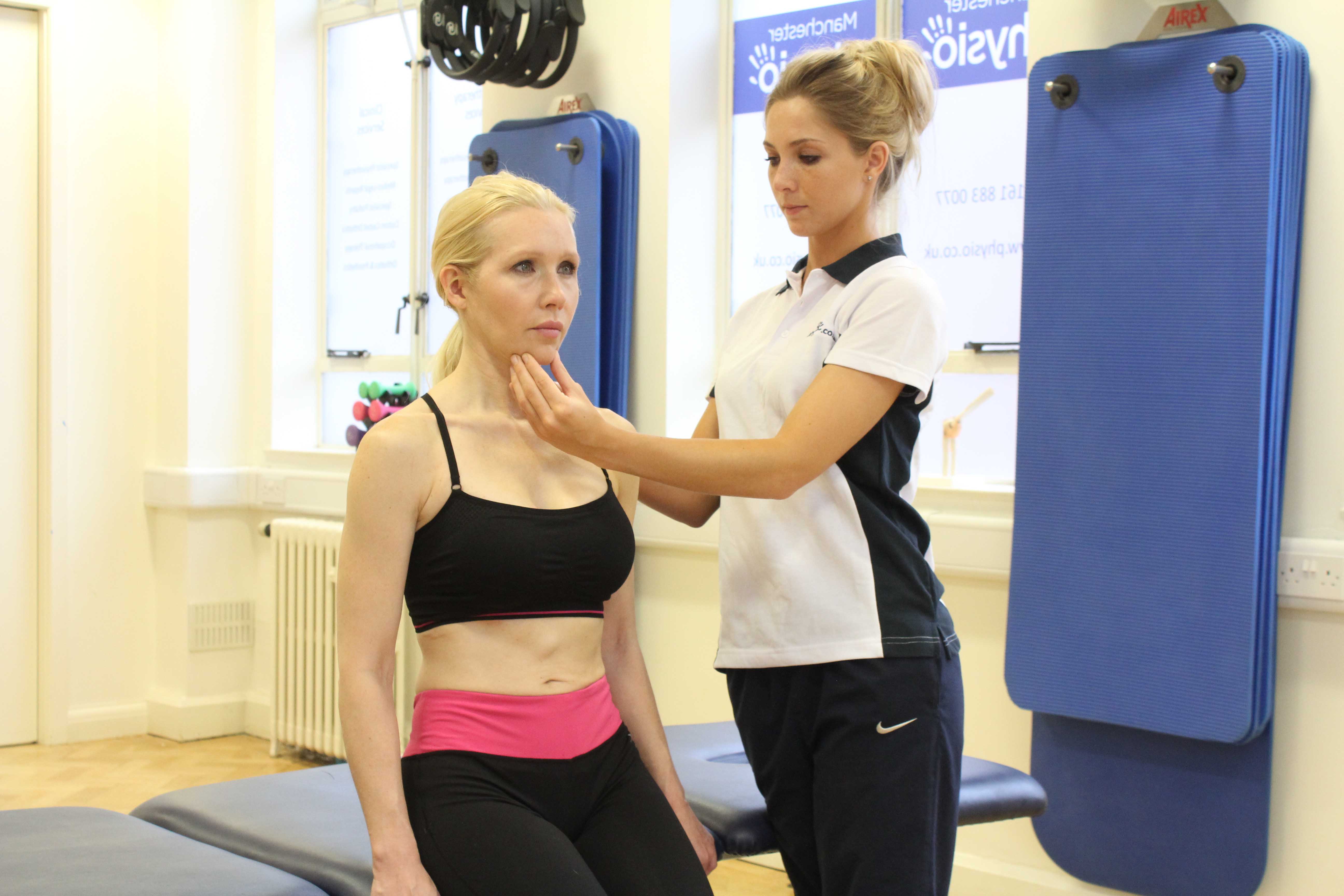 Above: Mobilisations and massage of the jaw by specilist MSK therapist
There are several surgical options. These include:
Arthrocentesis - surgeons place two needles around the joint space, then flush and irrigate the joint, getting rid of scar tissue and fibrous matter that is interrupting the joint.
Arthroscopy - small endoscope is placed inside the joint for diagnostic purposes and to treat inflammation and discs that are "stuck" in position or displaced.
Arthroplasty – performed to repair, reposition or even remove the disc in more serious disorders where the disc is badly displaced.
Partial / total joint replacement – Existing joint removed and replaced by artificial joint designed to work in the same way as its original counterpart. Total joint replacement is only used in cases where there is severe late-stage degeneration.
Physiotherapy is important following surgery to reduce pain, improve jaw function, and generally speed up the recovery process.
Physiotherapy following TMJ surgery
Depending on the type of surgery performed, rehabilitation can take anything between 6 weeks and 6 months.
0-1 weeks
Physio.co.uk will be able to create a personalised program initially including active range of motion exercises and active stretching. Our physiotherapists may recommend preheating the jaw for 10-20 minutes prior to and if possible, during exercise. Following exercise, our physiotherapists recommend you apply ice for approximately 15 minutes. This will help reduce any residual pain and swelling.
1-2 weeks
Physio.co.uk will be able to progress your exercise program by including passive stretching. During your physiotherapy sessions, not only will you receive an evaluation and be given specific treatment, you will be given additional exercises for your home program.
2 weeks +
Now the healing process is well underway, Physio.co.uk will add strengthening exercises to your regime. Our physiotherapists will also seek to address any other problems you may still be experiencing within everyday life, these may include pain with yawning, or the inability to whistle.
Your rehabilitation will continue until your jaw is functioning normally again.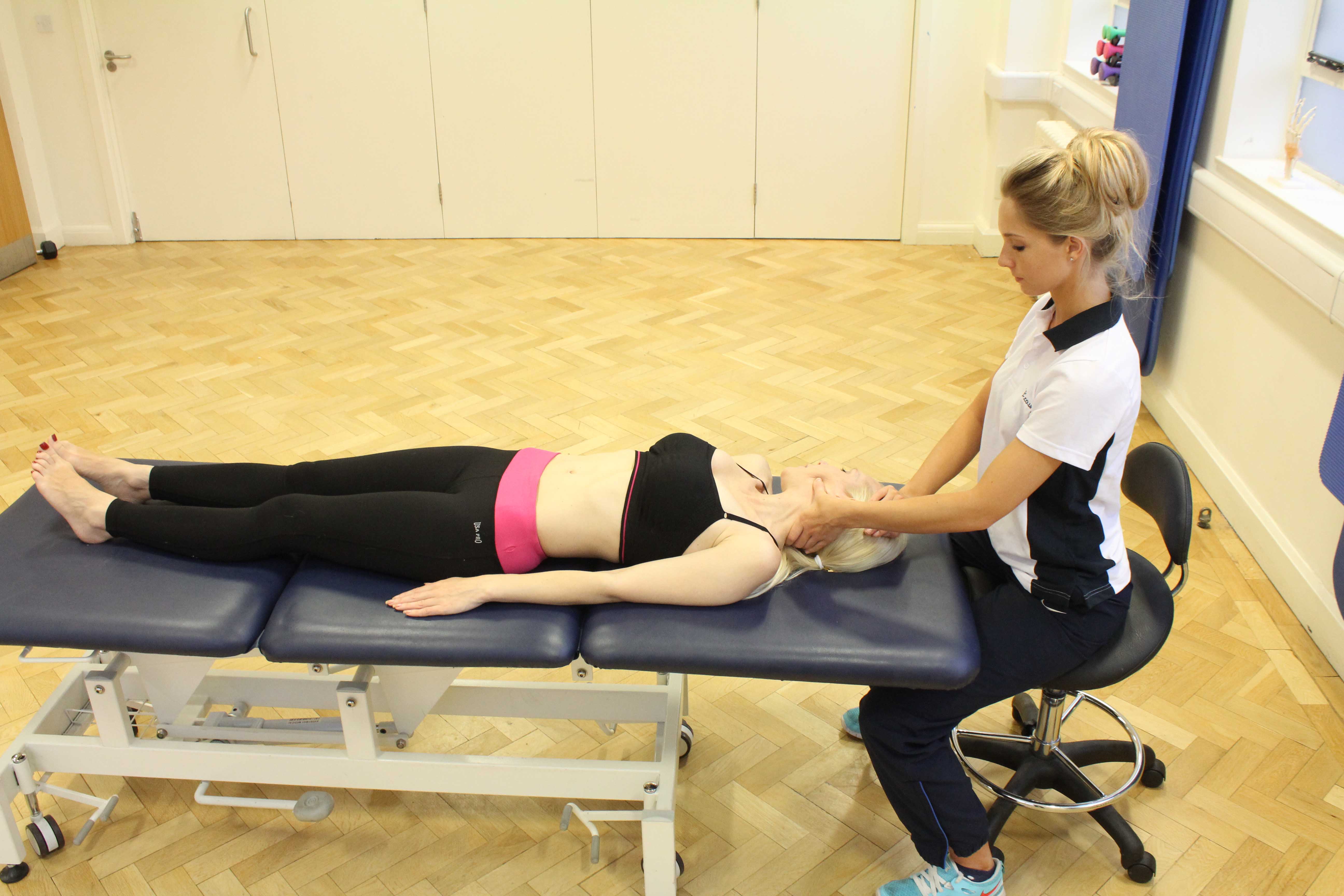 Above: Mobilisations of the TMJ by experienced MSK therapist
Summary
Temporomandibular Joint (TMJ) surgery is used to treat severe cases of jaw pain known as Temporomandibular disorder (TMD). There are a variety of surgical procedures that may be carried out. Physiotherapy is important following surgery toreduce pain and improve jaw function.Physio.co.uk will use a variety of techniques to speed up your recovery, and our physiotherapists will be able to create a tailored treatment program soon after your operation based on your operation and your personal goals.
Call Physio.co.uk now on 0330 088 7800 for more information or to book an appointment please contact us.