What is Asperger's syndrome?
Asperger's syndrome is a lifelong developmental disorder that forms part of the
Autistic
spectrum. A mild form of Autism, Asperger's affects how one makes sense of the world, how they process the cues and information around them, and how they use this to interact with others. Children with Asperger's syndrome struggle to read the emotional cues and signs given out by those around them, they often struggle to make sense of others and know how to respond or act.
There is no known cause for Asperger's; it affects one in every two-hundred, with men more likely to be affected than women.
Many Asperger's patients have a combination of conditions such as dyslexia,
dyspraxia
, attention deficit hyperactivity disorder (ADHD), obsessive compulsive disorders (OCD) and epilepsy.
Physiotherapy can be used to help people with Asperger's syndrome become more independent and better able to deal with the
difficulties of everyday life
. It can help them build confidence and achieve their full potential.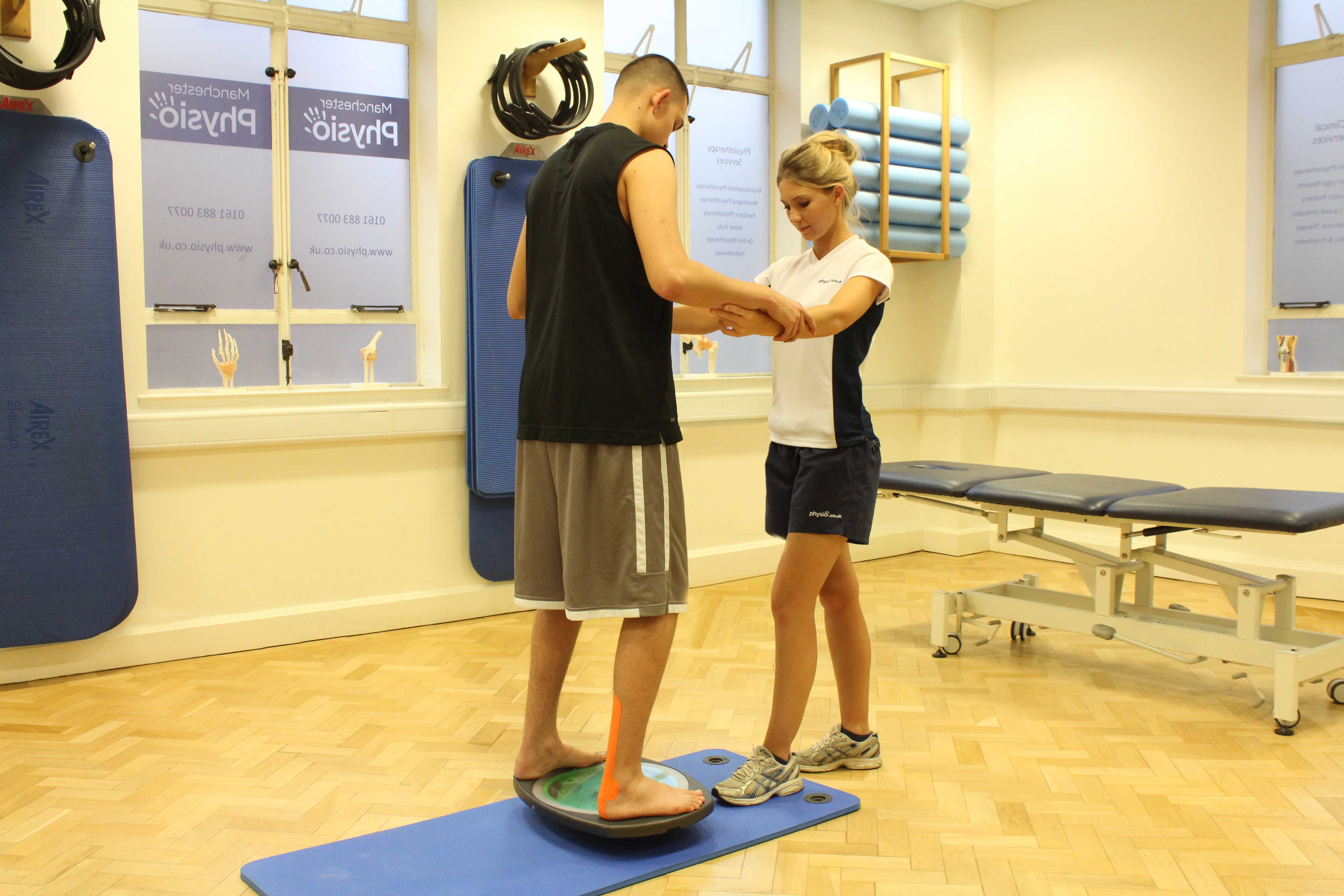 Above: Use of taping during balance exercises to increase stability and proprioceptive awareness
What are the symptoms of Asperger's syndrome?
Asperger's syndrome affects people in different ways, no two cases the same. Although the symptoms vary between sufferers, they are often classified into 3 main groups:
Communication – In many people with Asperger's syndrome, communication seems mixed up. This decreases understanding and affects how they respond and express themselves. This often leaves people with Asperger's them unable to say what they mean. Facial expressions and body language (non-verbal cues) are often missed, leaving the person appearing self-focused and lacking in empathy to those around them – this presents them with difficulty making friends, which then leads to them feeling lonely, isolated and lacking in self-esteem.
Social development – People with Asperger's lack understanding of how to behave in social situations, and are often unaware of what is appropriate to say or do. Communication may seem blunt to others as they say things how they are, and struggle to accept that others can have different points of views and thoughts. People with Asperger's may also struggle to interpret tone of voice, making jokes or sarcasm often misunderstood.
Social imagination – Whilst intelligence is not affected, people with Asperger's often focus very intensely on narrow channels of interests, which sometimes become obsessive. People with Asperger's often develop very specific ways of doing tasks that help stop them become confused. However, should something unexpected disrupt the sequence, this will leave them feeling confused, upset and anxious, and furthermore constantly anxious that if something goes wrong again they will not know what to do or how to cope.
People with Asperger's syndrome can also present with altered senses (sight, sound, feel, small, taste) leaving them over /under-sensitive to external stimuli (what's going on around them). This can sometimes leave them anxious that some unexpected stimulus may occur at any point, for example a loud bang.
Other symptoms can include more physical complaints like:
It is for these physical symptoms that physiotherapy will prove most beneficial.
How can physiotherapy help people with Asperger's?
Children with Asperger's require much support and encouragement to allow them to lead full and independent lives. The main goals of physiotherapy for Asperger's patients include working on improving:
Spatial awareness and perception
Correct posture
Specific movement patterns – such as sports skills, drawing or writing
What are the benefits of physiotherapy for someone with Asperger's syndrome?
Physiotherapy aims to provide opportunities so those with Asperger's are able to realise their full potential.
Through working on improving the physical difficulties experienced by the individual, Physiotherapy will also help build self-confidence and belief; enhancing psychological wellbeing.
If you or someone close to you has Asperger's syndrome and are interested in finding out how physiotherapy may be able to help, call Physio.co.uk today on
0330 088 7800
to book an appointment, or
book an appointment online
today!