What is Arteriovenous Malformation?
Arteriovenous malformations (AVM) are a tangled bundle of arteries and veins connected by at least one cavity space. The arteries present feed directly into the veins and, due to the unusually high volume of blood passing through the structure, the cell walls of the draining veins are often stretched.
What causes Arteriovenous Malformation?
The mechanism by which AVM's form and the underlying cause is not yet known. The incidence of AVM's is very low with an estimated once case in every hundred thousand people. It is a congenital condition, and as it is present from birth this suggests a possible underlying genetic cause that affects normal vascular development.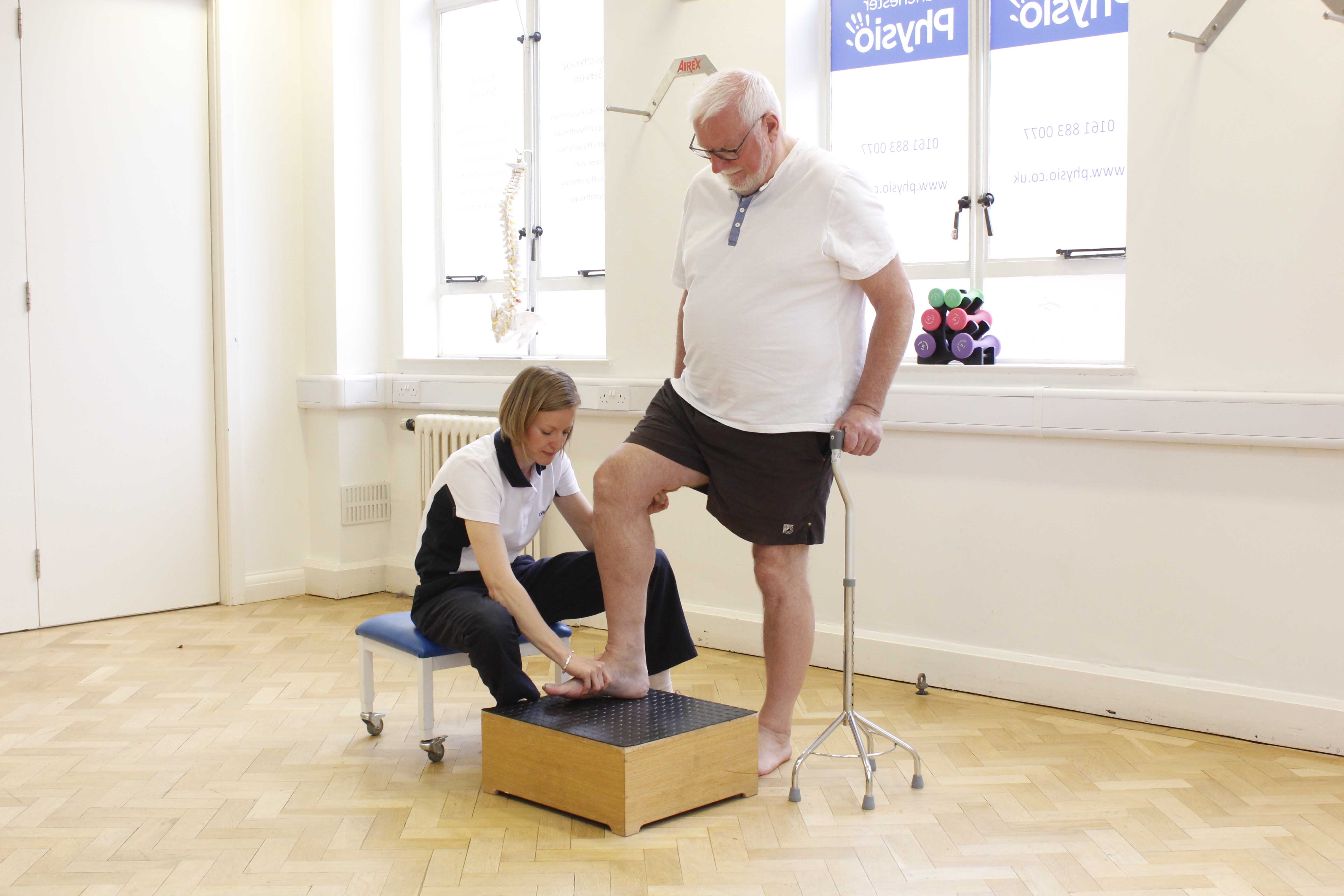 Above: Neurological physiotherapist assisting functional mobility exercises to improve independent living
What are the symptoms of Arteriovenous Malformation?
For the vast majority of people with an AVM there are no clear precursor symptoms for the condition. Usually the first major seizure or stroke event, followed by clinical investigation is the initial confirmation of the condition.
Individuals with an AVM often have a history of mild learning difficulties, severe headaches and occasionally mild seizures. Even a detailed neurological assessment may only reveal a subtle dysfunction between left and right brain hemispheres when a cranial AVM is present. Most symptoms and subsequent tests present findings that are typical of more common conditions, making confirmation of AVM prior to a major clinical incident very difficult.
How does physiotherapy help AVM?
When an individual with AVM suffers from a severe haemorrhage the resulting symptoms, limitations and deficits are similar to many other neurological conditions. The disruption of blood flow means that areas of the brain are starved of oxygen and nutrients which can cause damage to the brain.
The specialist physiotherapists at Physio.co.uk are trained to assess and treat the wide variety of physical symptoms caused by such haemorrhage. Our physiotherapists will work out a treatment plan incorporating your own personal short and long term goals in order to improve your function and quality of life.
For more information on how physiotherapy can help treat AVM, or to arrange an appointment with our specialised neurological physiotherapists please email our team at office@physio.co.uk or call us on 0330 088 7800.
How is AVM diagnosed?
Your doctor will usually confirm a diagnosis of AVM following a detailed look at your medical history, along with the results of your blood tests and MRI scans. The presenting symptoms following any haemorrhage, or the presence of seizures can also help determine the existence of AVM.
If you feel that you have presented with similar symptoms to those described you can always contact your doctor to arrange an examination. Though it is important to note the condition is extremely rare. If you have been diagnosed or suffered from a haemorrhage and your doctor recommends physiotherapy you can book yourself an appointment with us via email at office@physio.co.uk or call us on 0330 088 7800.