Fragile X syndrome is a genetic condition caused by changes to the X chromosome. Physiotherapy can help in the treatment and management of the physical symptoms of Fragile X syndrome by increasing
muscle strength
,
normalising tone
and increasing your child's ability to participate in a variety of activities. At Physio.co.uk our specialist physiotherapists can assist your child's development in a range of functional tasks to improve overall quality of life.
Symptoms of Fragile X syndrome
Fragile X syndrome affects children physically and cognitively. The physical characteristics of Fragile X syndrome are an elongated face, large ears, flat feet and low muscle tone. There may be a delay in the child's development and physiotherapy can help the child's ability to roll, crawl and walk. Children with this condition often have cluttered speech and difficulty using language. This can cause difficulty for your child to make friends and engage in social situations. Memory and intellectual impairments may cause problems learning new subjects at school and it can be difficult to concentrate in class due to hyperactive receptive behaviour that is often seen with Fragile X syndrome.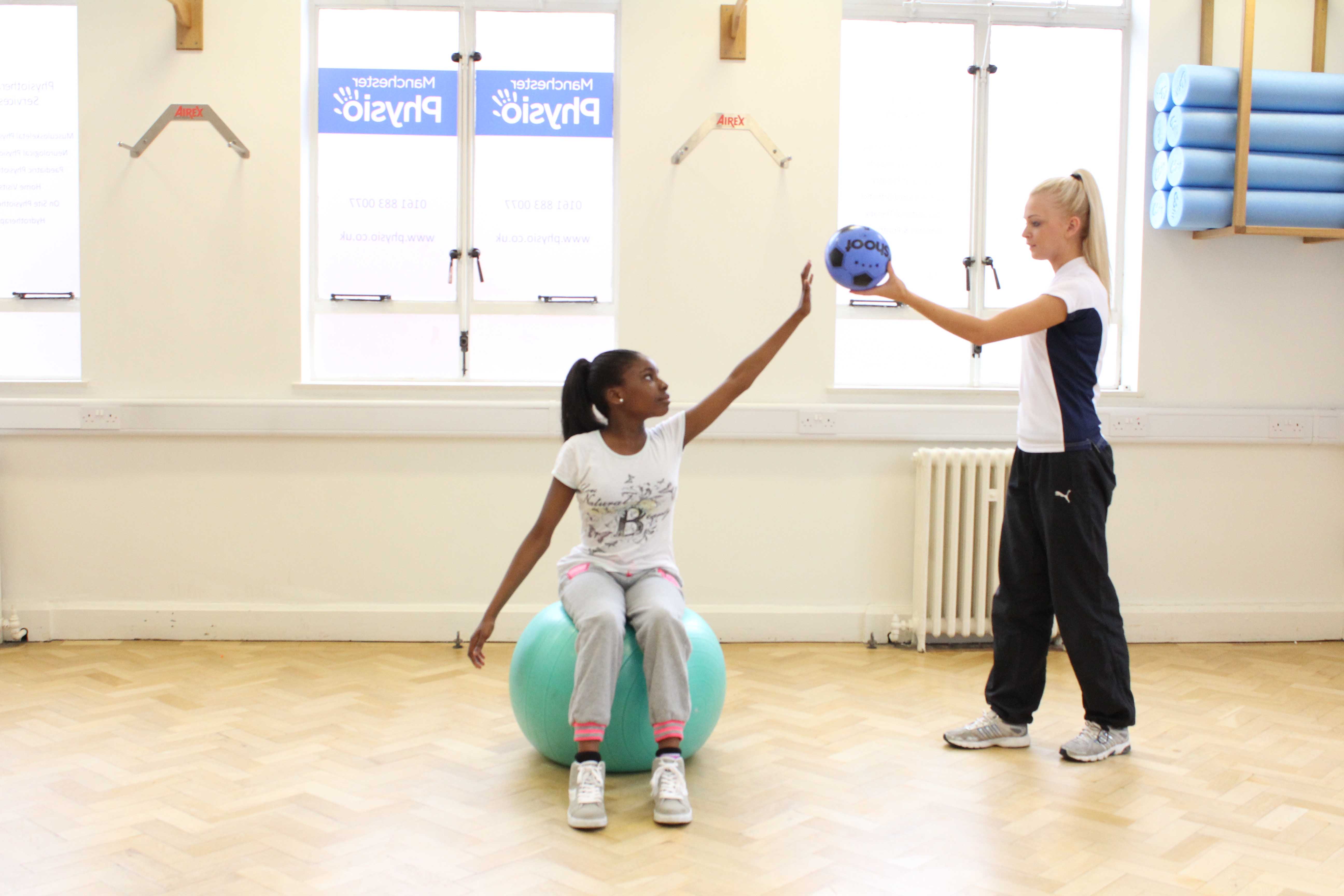 Above: Core stability and balance exercises assisted by a paediatric physiotherapist
Diagnosis of Fragile X syndrome
It is difficult to diagnose Fragile X syndrome in babies due to the lack of physical signs. As the child grows, it is diagnosed via review of family history, symptoms and blood tests.
Treatment of Fragile X syndrome
There is no cure for Fragile X syndrome. Currently, the syndrome is treated using behavioural therapy, education and physiotherapy.
Physiotherapy for Fragile X syndrome
Physiotherapy treatment can significantly benefit children with Fragile X syndrome. A specialist physiotherapist will carry out a detailed assessment and a discussion of problems and goals. A treatment plan will be formulated that may include:
Mobility practice – crawling, walking, jogging
Transfer practice – rolling, sit to stand, lie to sit
Balance and co-ordination activities
Muscle strengthening exercises to address low tone
Cardiovascular fitness
Fine hand dexterity exercises
Your physiotherapist will provide a detailed exercise program for you to complete with your child on a daily basis. This may include strengthening exercises, stretches or balance activities depending on your child's symptoms, problems and goals. Your physiotherapist will show you how to use a range of equipment and activities to produce physical benefits for your child. Children with Fragile X syndrome may struggle to maintain concentration so treatment sessions are fun and challenging in order to maintain your child's participation and engagement. Therapy can be provided in your child's home, school or in one of our clinic locations depending on where is most convenient for you. Your child's progress will be closely monitored and re-evaluated regularly by your physiotherapist in order to establish and feedback the positive effects of physiotherapy treatment.
The overall aim of physiotherapy is to improve your child's physical abilities, promote independence with activities of daily living and improve quality of life. The benefits of physiotherapy include:
Improved mobility
Increased ability to transfer
Increased muscle tone
Improved balance and co-ordination
Increased muscle strength
Increased exercise tolerance and stamina
Increased confidence and motivation
Improved social skills
Your specialist physiotherapist will provide mobility aids and equipment necessary to help your child with Fragile X syndrome carry out functional activities. This may include a
Lycra suit
or
orthosis
, a walking frame, trike or exercise equipment. Training and education sessions can provided to your child's relatives, carers or teachers in order to show them how to use this equipment, how to position your child during rest periods and how to adapt specialist seating. Regular physiotherapy sessions will increase the rate of improvement in your child's
muscle strength
,
balance
,
co-ordination
and ability to reach normal
developmental milestones
.
Why Physio.co.uk for Fragile X syndrome
At Physio.co.uk we understand the difficulties your child can face caused by Fragile X Syndrome. It can be difficult to move around, to communicate and to integrate into the educational system. Our specialist physiotherapists can provide expert assessment and treatment in order to optimise your child's abilities and facilitate an active rewarding life.
Treatment at any stage of condition
Treatment at home, in gym or clinic
Dedicated, motivated physiotherapists
Provision of exercise program specifically written for the individual
Provision of aids and equipment
Access to occupational therapy
Access to speech and language therapy
Access to specialist gymnasium
Physiotherapy sessions can be provided in the clinic, home or school environment. Physiotherapy is an essential part of treatment and management of the symptoms of Fragile X syndrome and will provide significant physical and cognitive benefits to your child. To book an appointment or have a free telephone consultation regarding Fragile X syndrome please contact us now on
0330 088 7800
, , or
book an appointment with us online
today!