What is tenosynovitis?
Tendons are strong cordlike structures in the body that connect muscles to bones. Some tendons are covered with a protective layer called a synovial sheath which allows the tendon to move freely without any friction. If the synovial sheath becomes inflamed it is known as tenosynovitis whereas if the tendon is inflamed this is called tendonitis. Tenosynovitis and tendonitis usually occur at the same time and are common in rheumatoid conditions as the
inflammation
in the joint can put extra pressure on tendons and their sheaths. Both conditions can also occur following a sports injury or a repetitive strain injury.
Physiotherapy is often used to treat tenosynovitis and is a very effective way of reducing the symptoms. Physio.co.uk has experienced physiotherapists that can provide you with a comprehensive assessment and treatment programme to maximise your recovery from tenosynovitis. The physiotherapists at Physio.co.uk can also offer ways to reduce the likelihood of you experiencing tenosynovitis again in the future.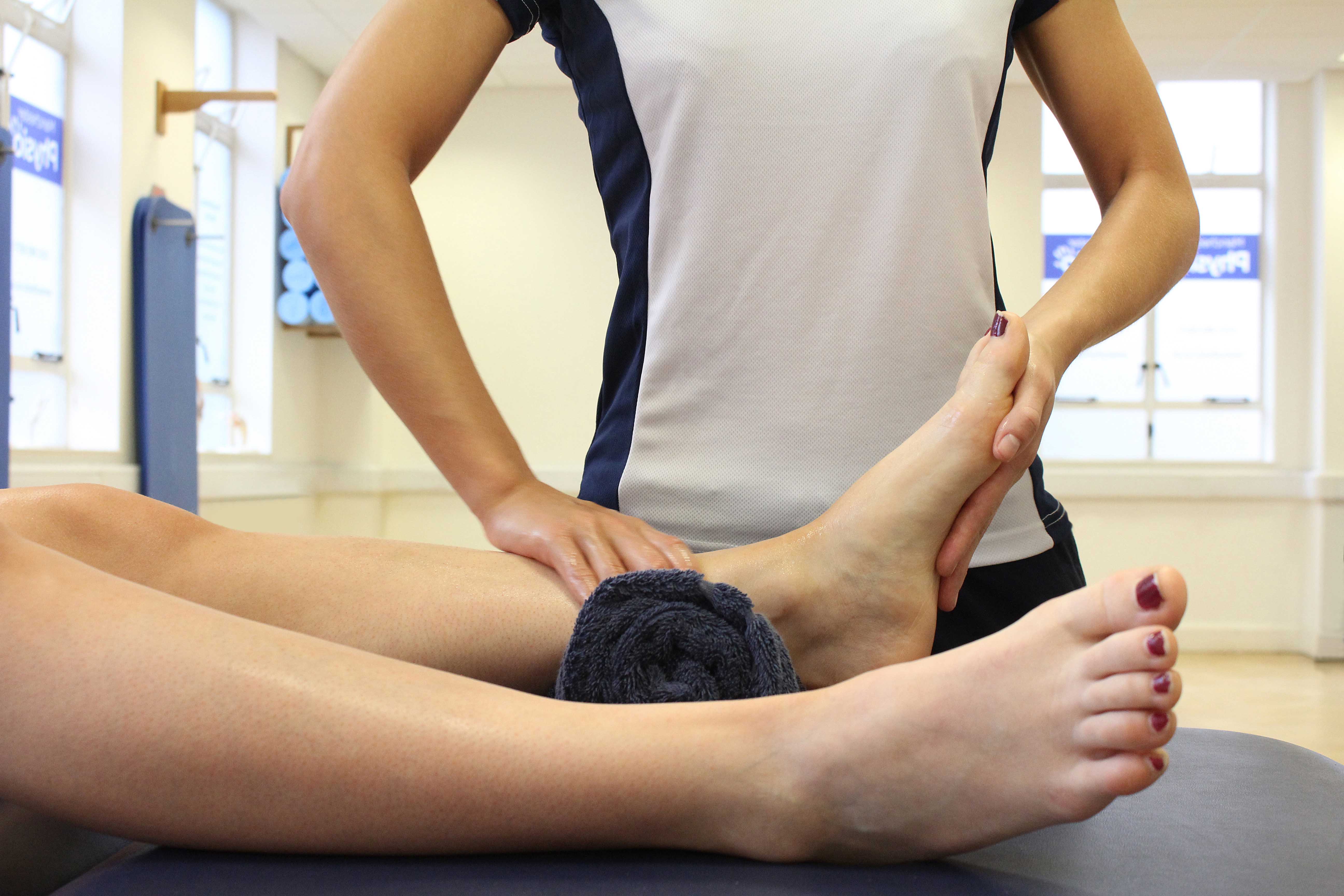 Above: Stretches and massage of the tendons in the ankle by specialist MSK Physiotherapist
Common areas of tenosynovitis include:
Achilles tenosynovitis (heel)
Lateral epicondylitis (tennis elbow)
Medial epicondylitis (golfer's elbow)
Supraspinatus tenosynovitis (top of the shoulder)
DeQuervain's tenosynovitis (over the thumb)
What are the symptoms of tenosynovitis?
There are a number of symptoms associated with tenosynovitis and these will depend on the exact location of the condition and how severe it is. As soon as you are aware of the symptoms of tenosynovitis, it is important to see a physiotherapist to help minimise any complications. If symptoms are ignored, it is possible for severity to worsen and tendons may split which will make it very difficult to heal. Possible symptoms may include:
Heat and redness
A clicking or grating noise over the tendon
Unable to carry out normal activities and/or sport
A lump can occur over the tendon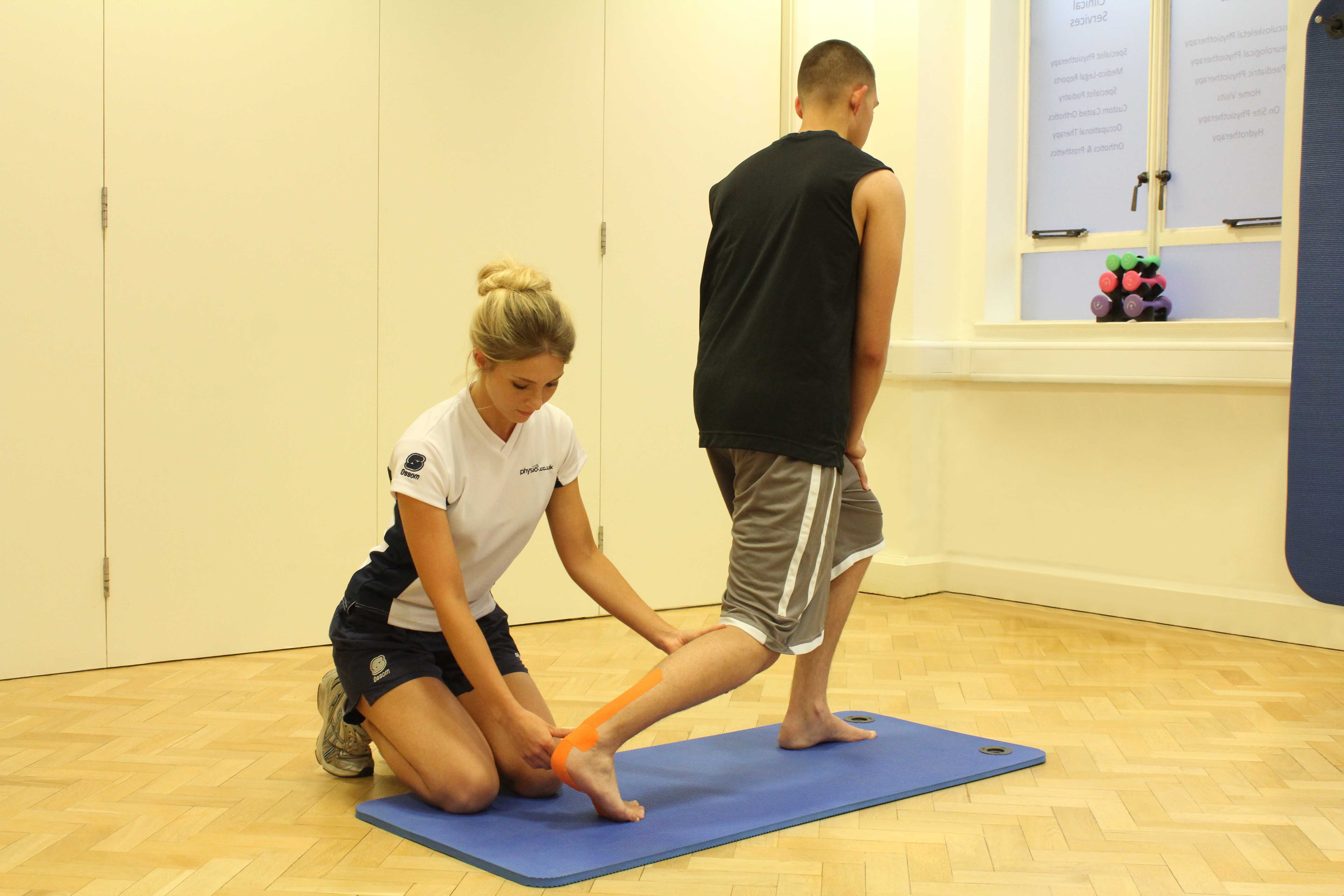 Above: Taping used to support the ankle during rehabilitation exercises, surpervised by MSK therapist
How is tenosynovitis diagnosed?
There are a number of methods that will be used to diagnose tenosynovitis and a combination of tests will often be used to confirm the condition. It is important that physiotherapy with Physio.co.uk starts as soon as tenosynovitis has been diagnosed to optimise your potential. Potential ways to diagnose tenosynovitis include:
Physical assessment of symptoms
MRI scan
X-ray
How will physiotherapy help with tenosynovitis?
Physiotherapy will help minimise the symptoms of tenosynovitis and get the area moving again. Physio.co.uk will provide you with a full assessment of the area which will then help tailor your physiotherapy programme to ensure that you are able to return to your normal activities of daily living as soon as possible. Physiotherapy can help in the following ways:
What physiotherapy will be used for tenosynovitis?
Your physiotherapy programme will depend on your symptoms and the goals you would like to achieve. Your physiotherapist at Physio.co.uk will let you play an active role in your rehabilitation and decide the best treatments to suit you. Potential physiotherapy includes:
Electrotherapy including ultrasound and Megapulse
Frictions
Provision of splints
Provision of specialist equipment to help with activities of daily living
Advice on repetitive activities
Steroid injections
Shock wave therapy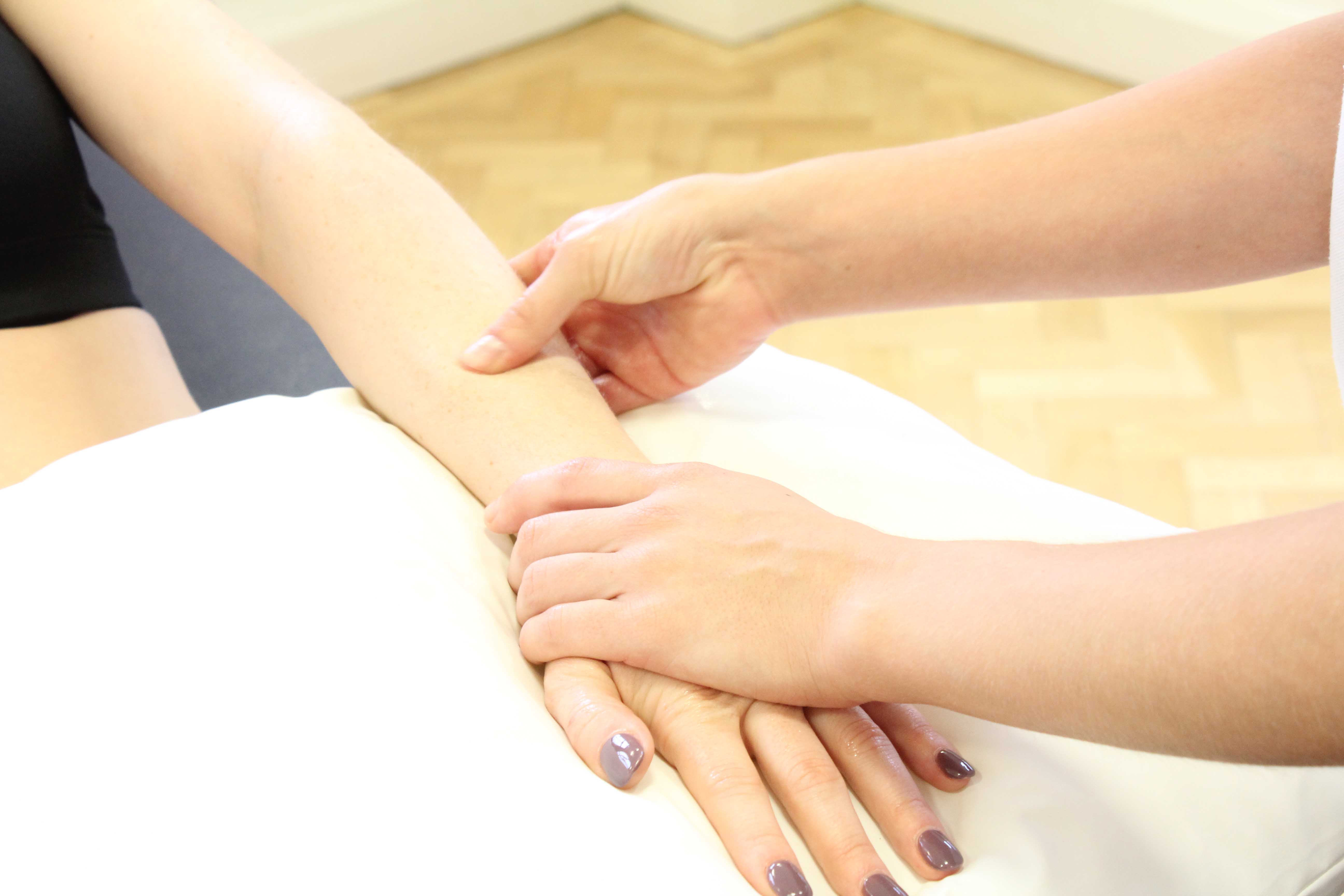 Above: Soft tissue massage of the tendons in the forearm to relieve pain and stiffness
Summary
Tenosynovitis is inflammation of the synovial sheath surrounding tendons. Tenosynovitis often occurs simultaneously with tendonitis which is inflammation of certain tendons and this commonly occurs in the shoulder, ankle, thumb and elbow regions. Physiotherapy is an effective way to treat tenosynovitis and a combination of treatments are often used to optimise recovery. Physio.co.uk has specialist musculoskeletal physiotherapists that are experienced in assessing and diagnosing tenosynovitis. A personalised rehabilitation programme designed by Physio.co.uk can facilitate your recovery and prevent any long term complications. Please call Physio.co.uk on
0330 088 7800
to book an appointment today. Alternatively,
book an appointment online
today!