What is Kennedy's disease?
Kennedy's disease is type of
motor neurone disease
that affects males. It is one of a group of genetic disorders called
spinal muscular atrophy (SMA)
which causes damage to the motor neurons in the spinal cord leading to progressive muscle weakness, wasting and loss of function. Kennedy's disease also affects the facial and tongue muscles making speaking, swallowing and breathing difficult.
Physiotherapy for Kennedy's disease will help you manage your current symptoms and maintain you functional independence for as long as possible.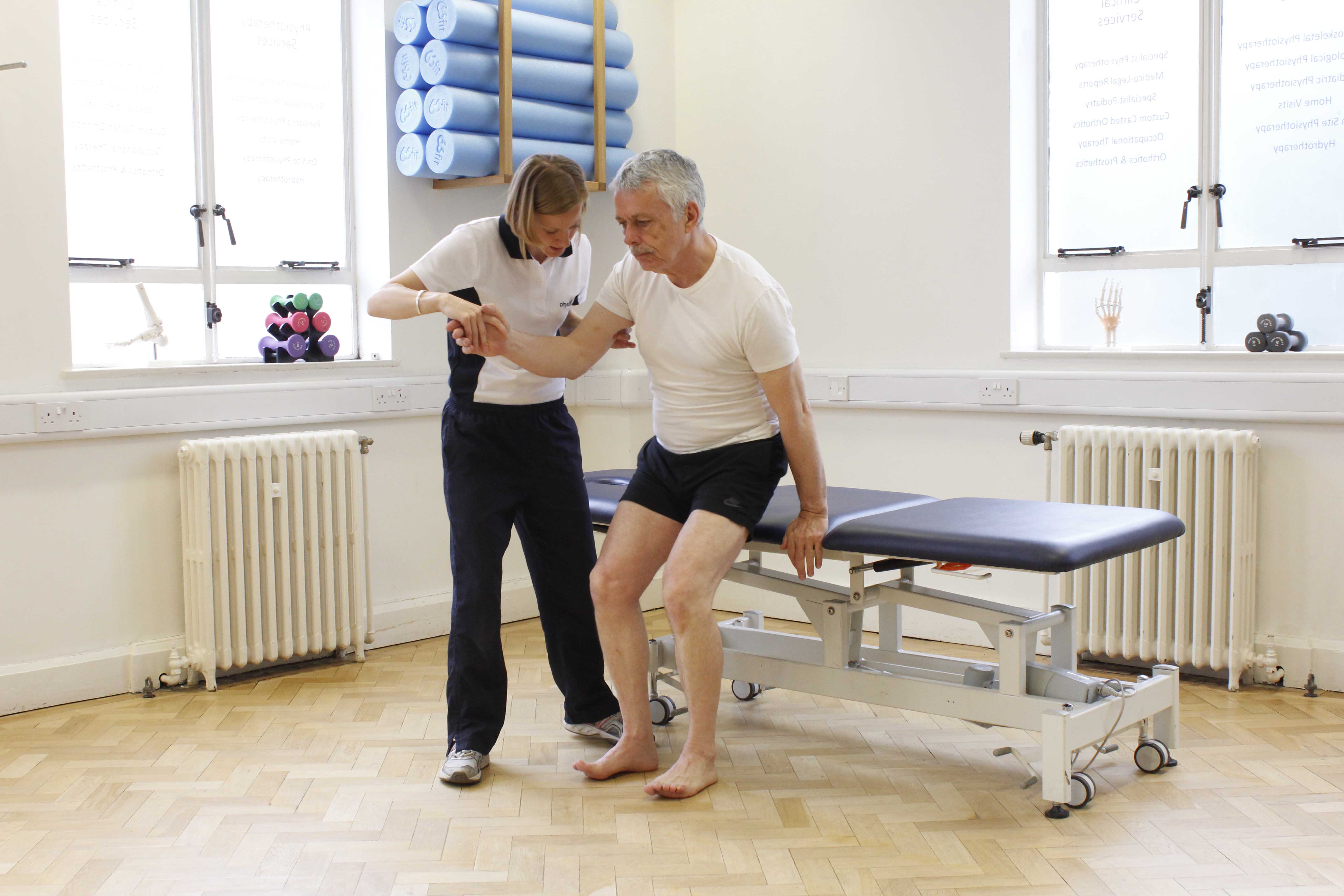 Above: Neurological physiotherapist facilitating client transfers from stitting to standing
Diagnosis of Kennedy's disease
Genetic testing will help to confirm a diagnosis of Kennedy's disease. You may also be referred to a neurologist who will look at the activity of your muscles using an electromyography (EMG).
What causes Kennedy's disease?
Kennedy's disease is a genetic disease caused by a defective gene. Kennedy's disease is an x-linked recessive disease, which means the defective gene is carried by the mother on one of her X chromosomes.
What are the symptoms/effects of Kennedy's disease?
Early symptoms of Kennedy's disease include:
Tremor
Muscle cramps
Muscle twitches (fasiculations)
These symptoms progress to muscle weakness which usually begins in the pelvic or shoulder regions making everyday activities such has dressing, washing, walking and climbing the stairs difficult. Weakness of the facial and tongue muscles may occur later in the course of the disease and often leads to dysphagia (difficulty in swallowing), dysarthria (slurring of speech) and recurrent chest infections.
Physiotherapy for Kennedy's disease
Physiotherapy treatment can help maintain muscle strength and your independence with functional tasks for as long as possible. At Physio.co.uk our specialist neurological physiotherapists understand that being diagnosed with Kennedy's disease is an emotional experience and can be difficult for the person affected as well as their families. Our neurological physiotherapists at Physio.co.uk recommend that physiotherapy is started shortly after onset and continued for a period of time to maximise your independence and keep muscles strong for longer.
Physiotherapy treatment at Physio.co.uk will be centred around:
Maintaining muscle strength
Maintaining joint range of movement
Preventing soft tissue shortening
Improving posture
Improving balance and coordination
Maximising respiratory function
Maximising independence
Reducing risk of falling
Increasing energy levels
Improving sense of well being
Your physiotherapist at Physio.co.uk will assess how Kennedy's disease is affecting you and short and long term goals will be developed centred around you and those close to you. These goals will be re-assessed on a regular basis as your physical symptoms change over time. Physiotherapy treatment at Physio.co.uk may include:
Exercise program including stretching exercises to lengthen tight muscles and maintain joint flexibility and strengthening exercises to improve functional activities
Activities to maintain the strength around your trunk and pelvis
Balance training
Improving posture in lying, sitting and standing to promote symmetry and comfort
Hydrotherapy to maximise movement
Practicing functional activities such as standing and walking
Advice about orthotics and mobility aids
Physiotherapy will depend on your current needs and level of mobility. As Kennedy's disease progresses you may require more assistance and aids and equipment to help you with daily tasks. At Physio.co.uk, our neurological physiotherapists work closely with orthotists and occupational therapist who can provide you with appropriate resources to maximise your independence and improve your quality of life.
For more information or to book an appointment, please call
0330 088 7800
.