Breast reconstruction is a surgical procedure to create an artificial breast that has been removed due to cancer (
mastectomy
). Breast reconstruction is either carried out at the same time as your mastectomy (immediate reconstruction) or when you have recovered from the mastectomy and so will be carried out as a separate operation (delayed reconstruction).
There are two main types of breast reconstruction surgery:
Prosthetic reconstruction: silicone implants are used
Autogenous reconstruction: healthy tissue from elsewhere in the body
Autogenous reconstruction can us tissue from different areas in the body:
Latissimus dorsi flap: the large muscle in your back is used
TRAM flap: the rectus abdominis muscle from your stomach will be used
DIEP reconstruction: skin and fat from the abdomen is used
Prosthetic breast reconstruction is much shorter than autogenous reconstruction and there is also a faster recovery time. Both operations have very good success rates and physiotherapy can maximise your recovery further. Physio.co.uk have specialist physiotherapists who will be able to create an effective physiotherapy programme to assist you following your operation.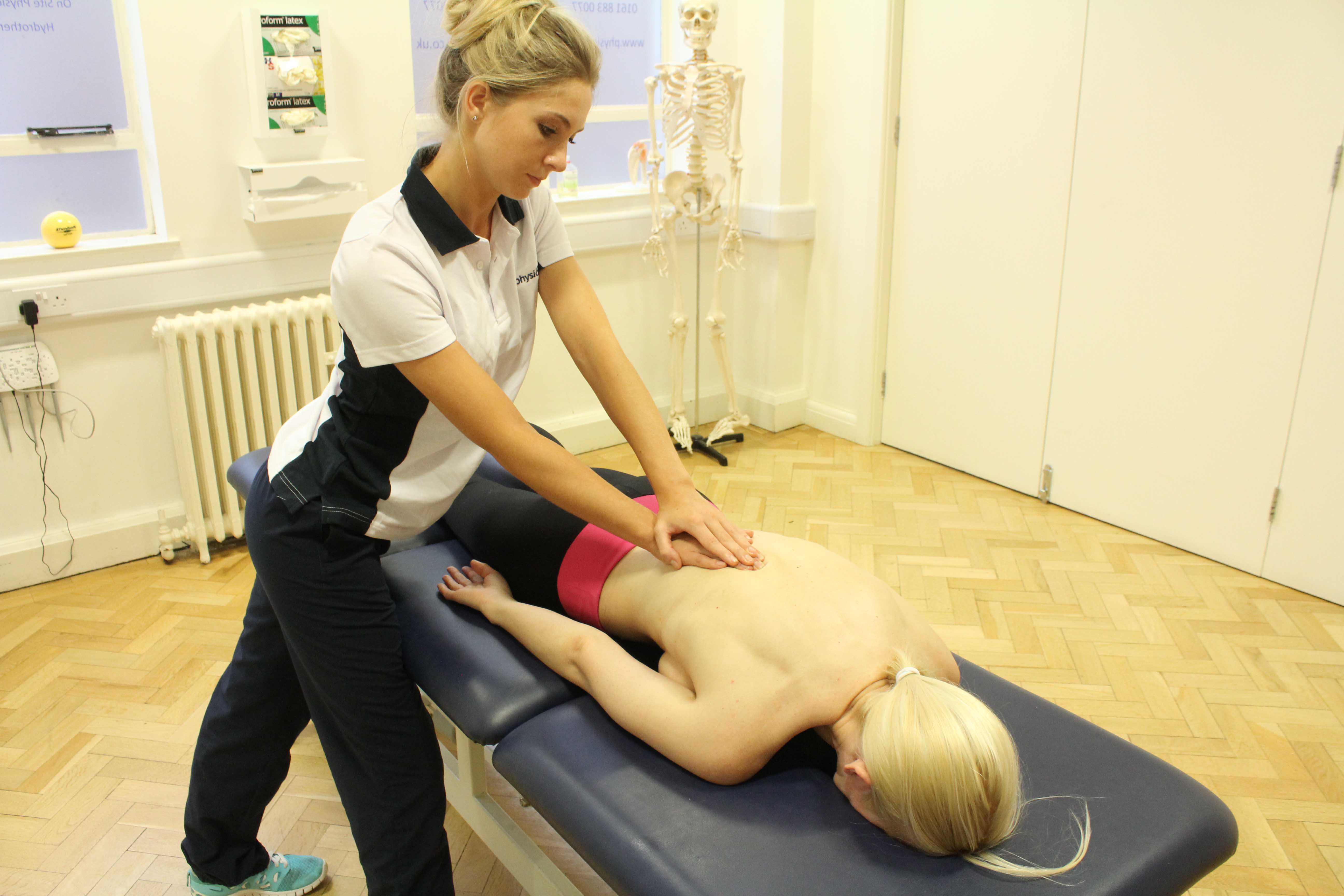 Above: Soft tissue massage to the muscles and connective tissues in the upper back by a, experienced therapist
What are the symptoms of breast reconstruction surgery?
You may experience temporary symptoms from your operation and the physiotherapist at Physio.co.uk will work with you to try and reduce these as much as possible. Possible symptoms may include:
A scar from where the incision (cut) was made on your breast and a scar from the area where the healthy tissue was taken if you had an autogenous reconstruction
Temporary pins and needles or numbness from where the nerves have been cut during the operation
Reduced strength if certain muscle have been removed or cut through
Bruising
What is the physiotherapy treatment for breast reconstruction?
There are various physiotherapy treatment options available to you following your operation. The physiotherapists at Physio.co.uk will carry out a full assessment to identify your main problems and work with you to devise a specialised treatment programme to suit your needs. Physiotherapy may include:
Summary
A breast reconstruction is replacing a cancerous breast with an artificial breast following a mastectomy. Breast reconstruction can be prosthetic using a silicone implant or autogenous where healthy tissue from another area of the body is used to create a new breast. The operation has high success rates which can be further increased by following a comprehensive physiotherapy programme. Physio.co.uk can work with you to devise a tailored physiotherapy programme specific to your individual goals and needs. Please call Physio.co.uk today on
0330 088 7800
to book an appointment today, or alternatively
book online