Pelvic girdle pain (PGP) is pain that originates from one or more of the joints in the pelvic area and causes pain at the front and back of the pelvis. The condition used to be known as Symphysis Pubis Dysfunction (SPD). PGP can also be referred to as osteitis pubis and pelvic girdle relaxation and it is important to know that all of the terms refer to the same condition.
In PGP, the joints that can be affected include;
Symphysis pubis joint (SPJ) at the front of the pelvis
Hip joint
Sacroiliac joint (SIJ) at the back
Because the pelvic joints work together as a ring mechanism, damage in one of the joints will often have an effect on one or more of the others. As multiple joints are involved, it is important to treat the whole pelvic area.
The specialist physiotherapists at Physio.co.uk will devise a programme to treat the whole pelvis as opposed to just managing one specific joint that is thought to be causing the
pain
. This will give you the best possible outcome.
Approximately 1 in 5 women experience PGP during pregnancy and usually the symptoms disappear after a few days. However, if the symptoms are more severe, you may need additional assistance and could benefit from a physiotherapy programme to help reduce your pain. Physio.co.uk have physiotherapists that specialise in women's health physiotherapy and can work with you to devise an individualised programme throughout your pregnancy.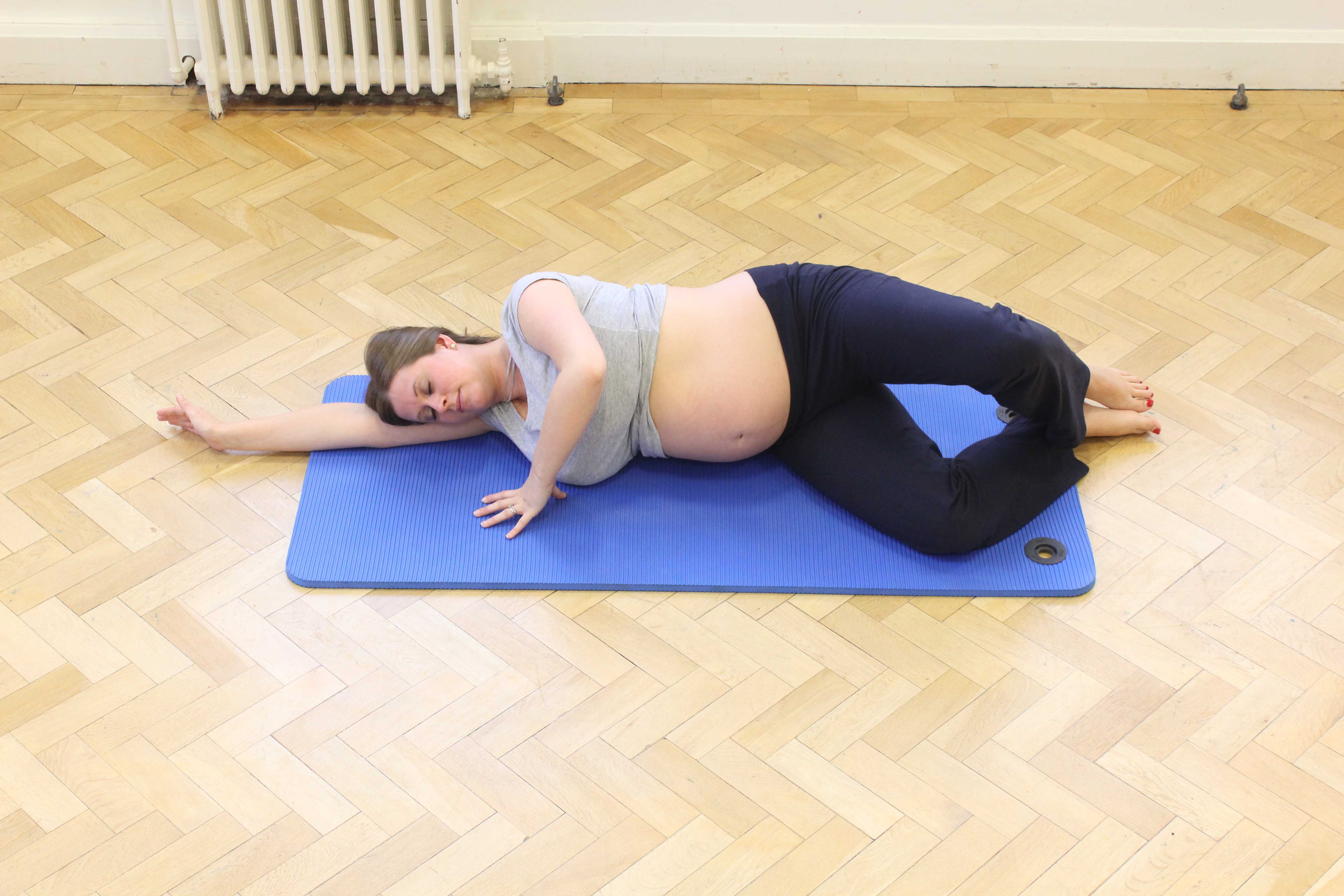 Above: Performing clam exercises to improve tone and stability in the hips and pelvis
Symptoms of pregnancy related PGP
Women can experience a range of different symptoms that are associated with PGP and your physiotherapist at Physio.co.uk will be able to create a treatment plan that is specific to any of the symptoms.
Pain over the pubic bone or below the abdomen
Low back pain
Discomfort or pain in the groin area
Problems when walking
A 'clicking' sound in the pelvic region
Pain when standing on one leg such as when undressing
Difficulty getting in/out of the car and or bath
Problems lying on your side or back
Difficulties during sexual intercourse
It is important for you to be aware of your symptoms to help achieve a diagnosis of PGP early on in your pregnancy. This will give you the best possible chance of reducing your pain as soon as possible.
Why might I experience pregnancy related PGP?
Often there is no specific cause of PGP, other times it may be a combination of reasons including:
Weakness in the surrounding muscles including pelvic floor, hip, lower back an stomach muscles
Past trauma of the pelvis
Multiple pregnancies
Overweight
A manual job
Hypermobility (joints are more mobile than they should be) in other joints in the body
Diastasis symphysis pubis (DSP). This is when the joint at the front of the pelvis (symphysis pubis joint) separates more than normal during labour.
What will my physiotherapy include?
Whatever the reason for pregnancy related PGP, it is important that you receive advice on treating and managing the condition as soon as possible. Physio.co.uk have specialist women's health physiotherapists that will carry out a comprehensive assessment and create a treatment plan to help minimise your symptoms as much as possible. Potential physiotherapy treatment may include:
Advice
Pacing advice about the importance of getting the correct balance between activity and rest
Advice on how best to carry out your normal activities of daily living including getting dressed and housework
Practice of the most appropriate and comfortable positioning techniques and how to transfer from one position to another
A complete stair assessment and advice on how best to manage getting up and down the stairs
Teaching of using your crutches if necessary
Lifting and handling techniques
Advice regarding the best labour positions
Providing you with any additional equipment that you may find useful including pelvic support belts and adaptations for your home
Treatment
There are various physiotherapy treatment options to treat your PGP. Your physiotherapist at Physio.co.uk will work with you to devise the most appropriate physiotherapy programme. Physiotherapy may include:
Pain control modalities including TENS
Gentle mobilisations around the spine, hip and pelvis joints to regain the correct movement and alleviate pain
Strengthening exercises for the stomach, back, hip and pelvis muscles to encourage improved support for these joints
Lower back mobility exercises
Pelvic stability exercises
Pelvic floor exercises
Soft tissue techniques to loosen any muscles that may be tight
Cardiovascular activity such as walking, cycling and swimming
Summary
Pregnancy related pelvic girdle pain (PGP) (originally known as symphysis pubis dysfunction) is pain in the one or more of the pelvic joints which may refer to other areas of the pelvis, hip or lower back regions. It is important to receive an accurate diagnosis of the condition and get advice on how best to manage PGP as early as possible. The specialist physiotherapists at Physio.co.uk will be able to provide you with a thorough assessment and treatment plan to help optimise your recovery and reduce your pain during pregnancy. Please call Physio.co.uk on
0330 088 7800
to arrange an appointment today, or you can also
book online
today!