What is vestibular neuritis?
Vestibular neuritis is an inflammation of the nerve which sends messages from the inner ear to the brain (cochlear nerve). This happens because of a bacterial or viral infection of either the inner ear or the nerve itself. Vestibular neuritis usually only affects one ear and causes
vertigo
and dizziness but no change in hearing. The condition can last a few weeks or can cause permanent symptoms if the inflammation becomes chronic. Physiotherapy is a very effective way of minimising the symptoms of vestibular neuritis and can help prevent it developing into a more chronic condition. Physio.co.uk have experienced physiotherapists that will provide you with a full assessment of your signs and symptoms and create a personalised programme to optimise your recovery.
Above: Vestibular physiotherapy - passive resetting exercises
What causes vestibular neuritis?
Vestibular neuritis can be caused by viral or bacterial infections for a variety of reasons. It is important to determine the underlying cause of your condition as quickly as possible as this will help tailor the most effective treatment programme. Potential causes of vestibular neuritis include:
Measles/mumps (viral labyrinthitis)
Meningitis (bacterial labyrinthitis)
Glandular fever (viral labyrinthitis)
Benign tumours
Cold/ flu
Injury to the ear
Bleed to the brain
Allergies
Side effect of certain drugs
What are the symptoms of vestibular neuritis?
The symptoms that you experience from vestibular neuritis depend on the severity and causes of your condition. It is important that you receive professional help as soon as you notice any of the following symptoms as this will speed up your recovery. Your physiotherapist at Physio.co.uk will devise a personalised treatment plan that is specific to your symptoms. Possible symptoms include:
Vertigo/dizziness
Nausea
Vomiting
Difficulty standing/ walking
Panic/anxiety
Inability to carry out normal activities of daily living
Sensitivity to light or sound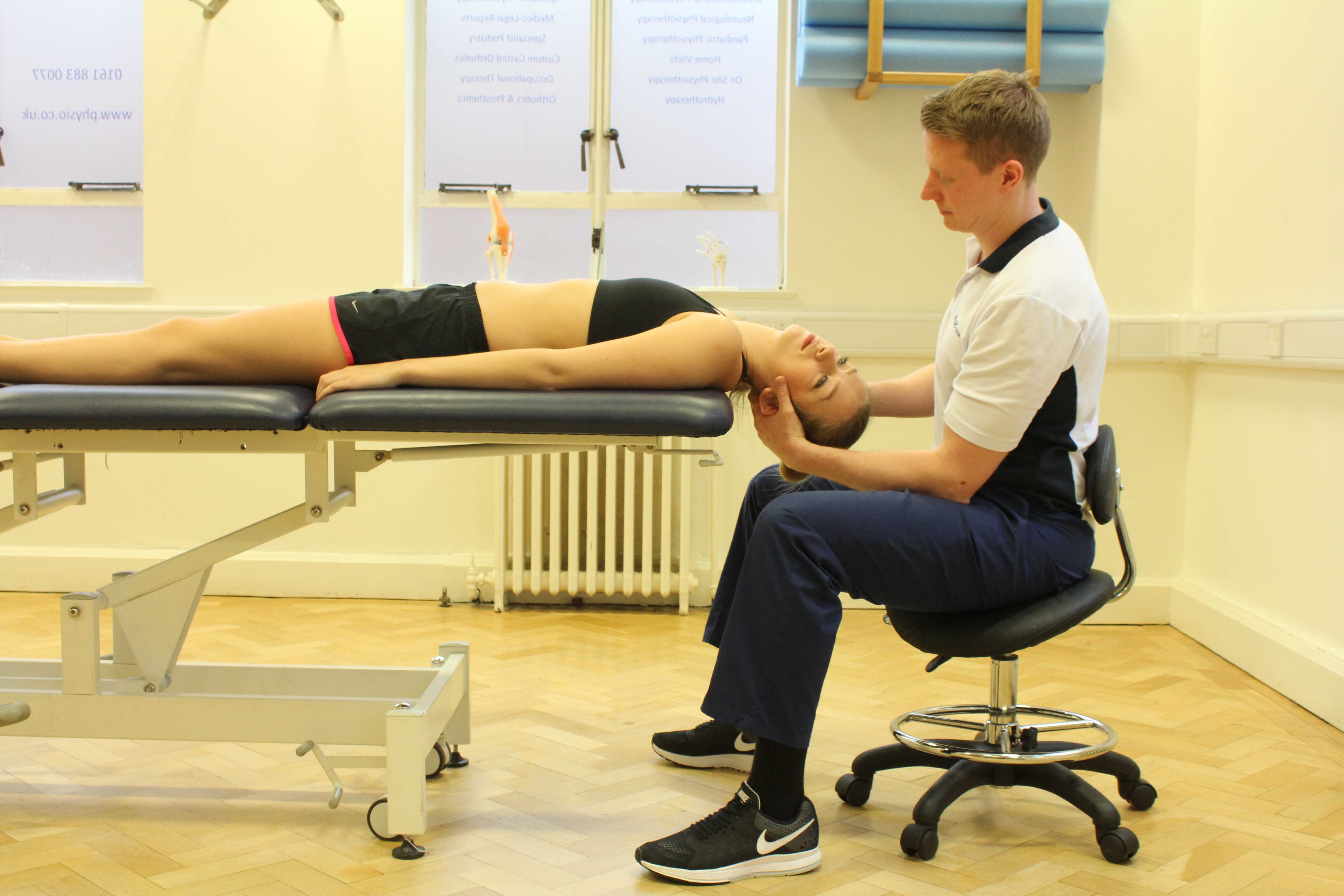 Above: Vestibular physiotherapy - passive resetting exercises
How is vestibular neuritis diagnosed?
There is no specific test that is used to diagnose vestibular neuritis and therefore your doctor or specialist will probably use a combination of tests to confirm the condition. Possible tests include:
Examination of symptoms
Balance tests
Eye tests
Blood tests
Hearing tests
MRI/CT scans
How can physiotherapy help with vestibular neuritis?
Physiotherapy is very successful in reducing the symptoms of vestibular neuritis and can help in a number of different ways. The sooner you can start the rehabilitation process the better. Physiotherapy can help with vestibular neuritis in the following ways:
Improve balance
Reduce vertigo/dizziness
Reduce nausea and vomiting
Help you continue with an active and healthy lifestyle
Improve walking and standing ability
Reduce pain
What physiotherapy will be used to treat vestibular neuritis?
The physiotherapy used by Physio.co.uk will depend on your symptoms and the severity of the vestibular neuritis. Your treatment plan is likely to change regular as it will be personalised to your symptoms and goals. The physiotherapists at Physio.co.uk will encourage you to take an active role in your treatment as this will optimise the outcome of your physiotherapy. Physiotherapy may include:
Explanation of your condition and symptom management advice
Summary
Vestibular neuritis is inflammation of the cochlear nerve which supplies the brain with information from the inner ear. This can happen because of a viral or bacterial infection and causes a number of different symptoms including dizziness, nausea and vomiting. Physiotherapy is a successful way of managing the symptoms of vestibular neuritis and it is important that begin a treatment programme as soon as you have received an accurate diagnosis of the condition. Physio.co.uk have experienced physiotherapists that will devise you an individualised treatment programme to reduce your symptoms and help you achieve your goals.
If you require any more information and would like to speak to one of our Physiotherapist?s or would like to book an appointment, please call Physio.co.uk on
0330 088 7800
and we will be happy to help you. You can also make an appointment by
booking online