A hernia is when an internal body part pushes through a weakness in the muscle wall. This can be tissue or an organ and there are different types of hernias depending on where they are located:
Inguinal hernia: part of the intestines push through the lower stomach area (abdomen). These are the most common type of hernia and mainly occur in older males.
Femoral hernia: tissue pushes through the groin area. Women are most likely to be affected by femoral hernias.
Incisional hernia: tissue pushes through a wound that has not completely healed from an operation. This is usually in the abdomen region.
Umbilical hernia: tissue pushes through the navel area (belly button). This type of hernia is common in young children.
Hiatus hernia: part of the stomach pushes through the opening of the diaphragm known as the hiatus
Usually, you will not experience any symptoms from any type of hernia but if the hernia disrupts blood supply or causes any other obstruction in the body it will require a surgical procedure known as a hernia repair. Hernia repairs are very successful and in order to optimise your recovery, it is important to complete a comprehensive physiotherapy programme. The specialist physiotherapists at Physio.co.uk will design an individualised programme tailored to meet your goals and needs.
Hernias can result in many different symptoms including:
A lump in that particular area
Certain activities may cause you pain such as bending over, lifting, coughing and sneezing
Constipation
Nausea
Vomiting
Severe pain at all times
Redness and swelling around the hernia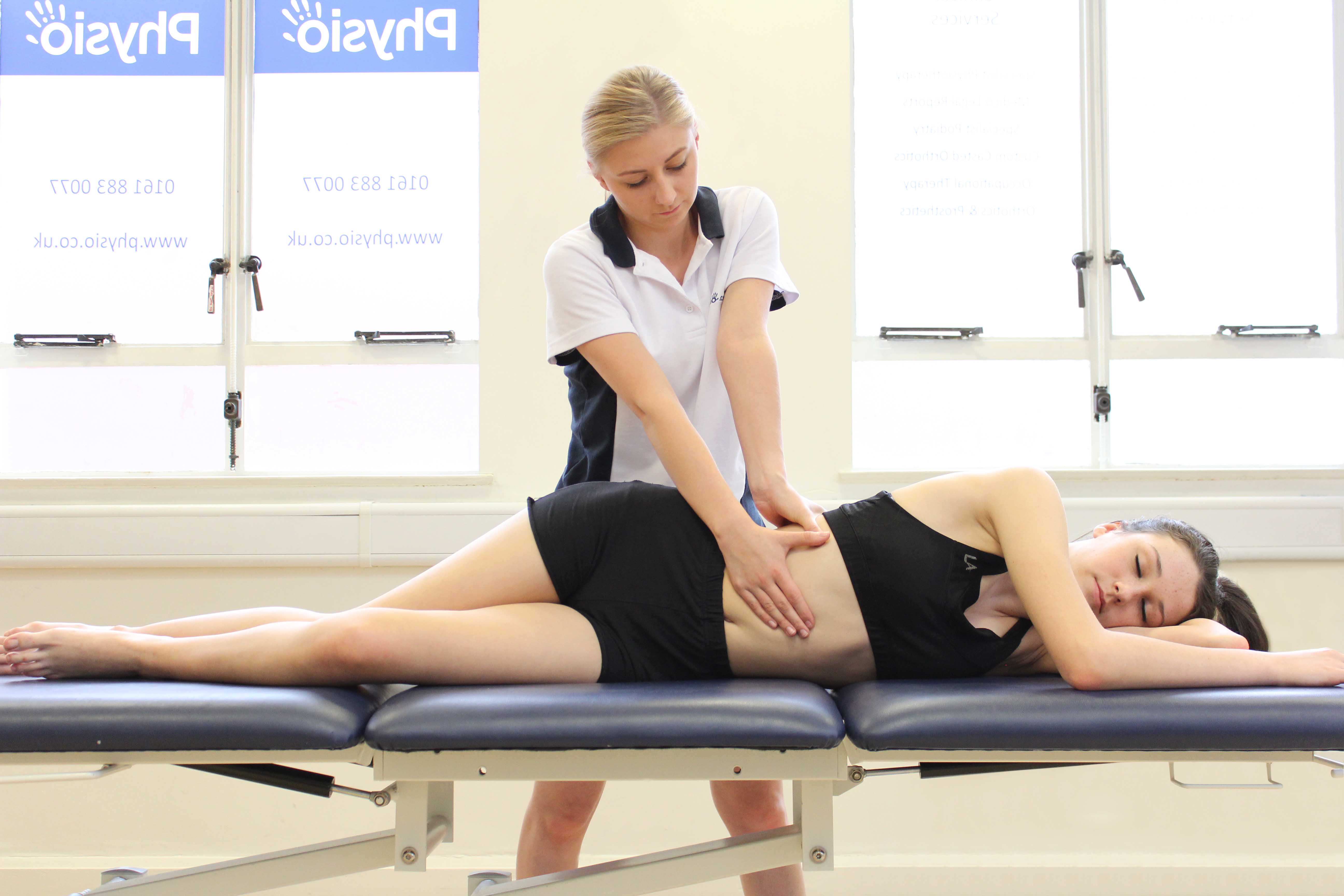 Above: Soft tissue massage of the abdominal muscles by specialist MSK therapist
There are a number of reasons why you may experience a hernia and these vary depending on the type.
Males over 40 (inguinal)
If you have an existing respiratory condition causing you to cough a lot such as bronchitis or chronic obstructive pulmonary disease (COPD)
If you have already had a hernia in the past
Women who have had multiple pregnancies as this sometimes weakens the abdominal wall (femoral)
Certain medical conditions such as diabetes may increase the risk of a hernia
Jobs or activities involving repetitive heavy lifting (incisional)
Overweight women over the age of 50 (hiatus)
Smokers
Surgical repair of your hernia involves the tissue being placed back into area that it originally came from. This can be done using either open or laparoscopic (keyhole) surgery. During open surgery, a large incision (cut) will be made in your abdomen to access the hernia and you will be given a local anaesthetic so you don't feel anything. This type of surgery used for larger and more complicated hernias and will lead to a longer recovery period. Laparoscopic surgery involves a much smaller incision in your abdomen where a tiny camera and instruments will be inserted to carry out the operation. It is beneficial if you have physiotherapy before and after surgery to maximise your rehabilitation potential. The physiotherapists at Physio.co.uk can develop a personalised programme to help you achieve any goals you may have.
Physiotherapy prior to hernia repair surgery
You may be placed on a waiting list for your operation and it is important that during this time you remain as active as possible to reduce the risk of any complications following the operation and to give you the best possible chance of a fast recovery. Your physiotherapy programme with Physio.co.uk at this stage may include:
Cardiovascular activity
Range of movement exercises for lower and upper limbs
Strengthening exercises for lower and upper limbs
Pain modalities
Preparation for the programme following the operation
Symptoms following hernia repair surgery
You may experience various symptoms after your operation and your physiotherapist at Physio.co.uk will discuss these with you and the best way of managing them. The symptoms may include:
Stitches and a scar from the abdominal incision
Swelling and bruising around the wound
Temporary pain from the operation
Temporary loss of sensation around the wound where the nerves have been damaged during the operation
Physiotherapy following hernia repair surgery
You may remain in hospital for up to seven days depending on both the hernia and surgery. After this, you will be able to begin your rehabilitation programme with Physio.co.uk.
Week 1
The first week will focus on building up your strength and fitness again and may include:
Cardiovascular exercise including bike and treadmill
Leg strengthening and range of movement exercises
Upper limb strengthening and range of movement exercises
Gentle abdominal strengthening exercises
Scar mobilising techniques
Weeks 2-6
Your post-operative symptoms should now be reducing and you will feel more able to gradually return to your level of activity before the surgery. Physiotherapy at this stage may include:
Progression of strengthening and range of movement exercises
Progression of cardiovascular activity
Incorporating more functional elements to your rehabilitation programme to focus on your usual activities of daily living and hobbies.
Exercise to address your posture and abdominal strength
Week 6 onwards
If you received laparoscopic surgery, you may be able to return to work up to four weeks earlier than if you experienced open surgery. Regardless of the type of operation, you should be beginning to feel able to do a lot more by yourself and be returning to your usual daily routine. Your physiotherapist at Physio.co.uk will now include specific functional activities that relate to your hobbies and/or work and aim for you to get back to full fitness.
Summary
A hernia is an internal tissue that protrudes through a weakness in the muscle wall. Types of hernia include umbilical, inguinal, femoral, incisional and hiatus depending on their exact location. A surgical procedure known as a hernia repair may be required if the hernia is causing you severe pain. This will be carried out using keyhole or open surgery and you will benefit from physiotherapy to promote a successful rehabilitation. Physio.co.uk can devise a personalised programme for you to help optimise your recovery. Please call Physio.co.uk today on 0330 088 7800 to make an appointment.