There are several different ways of using Functional Electrical Stimulation (FES) depending on the
muscles paralysed
and the aims of the treatment. FES can be used to strengthen a variety of muscle groups in the legs, arms and trunk. In the legs it can strengthen quadriceps, hamstrings, calf, shin and gluteal muscles. In the upper limb it is mainly used to strengthen the muscles which straighten and bend the elbow, wrist and hand. Your physiotherapist will show you how to use the FES in exercise mode to stimulate the desired muscle group and how to safely progress the use of the unit.
FES is now available from several different medical companies. At Physio.co.uk, we are able to offer assessment and treatment with a range of FES products and discuss the advantages of each to suit the individual's needs.
Odstock Medical Limited (OML) have produced the ODFS Pace Kit which is a pocket sized unit that provides electrical stimulation specifically to
reduce
foot drop when walking. It uses adhesive electrodes and a small switch which is placed inside the shoe so that the unit provides the electrical current at the correct time during the gait cycle.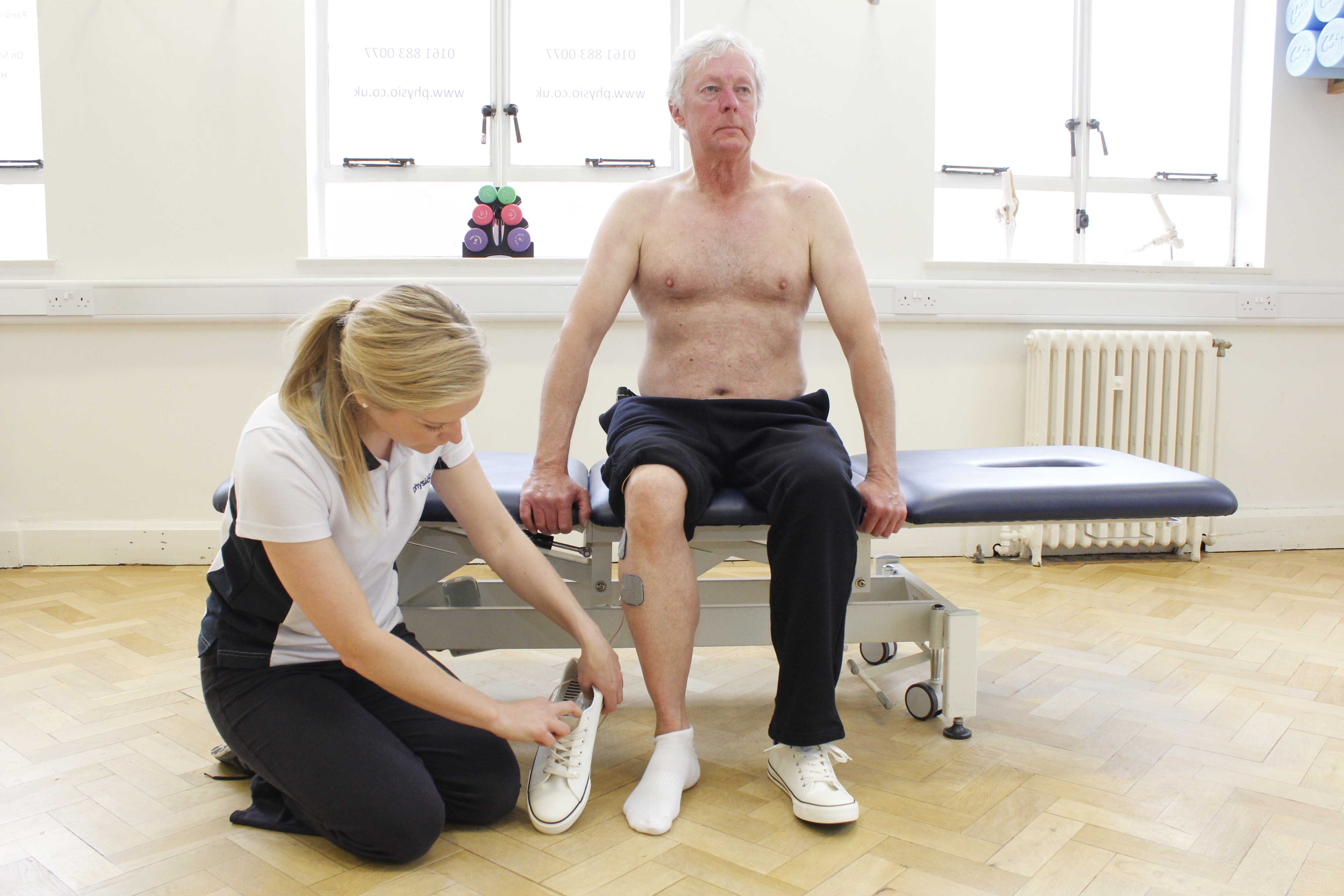 Above: Use of functional electrical stimulation by a neurological physiotherapist to aid mobility
Bionesshave produced the L300 Foot Drop System which uses wireless technology to provide electrical stimulation through a cuff which is worn on the lower limb. There is also a wireless upper limb unit available called the H200 Wireless Hand Rehabilitation System which improves grasp and release to enable functional activity.
Walkaide is another wireless medical device that is worn on the lower limb to improve
walking pattern
. It is suitable for individuals with neurological conditions and it can be worn barefoot or with shoes.
Electrical stimulation can be provided in the home or clinic environment. Your physiotherapist will be able to provide training and education regarding the safe and efficient use of the FES should you wish to purchase a unit and use it on a daily basis at home.
For more information on functional electrical stimulation, please use the following links or alternatively, contact us at Physio.co.uk today on
0330 088 7800
in order speak to one of our specialist neurological physiotherapists or to make an appointment with us today. You can also
make an appointment online
today if that is better suited to you.