What is a muscle strain?
A muscle strain is basically a tear in a muscle, which occurs when the muscle has been overloaded. Muscle strains are graded on how severe they are:
Grade 1
- Minor strain, when less than 5% of the muscle has been damaged
Grade 2
- This is a larger strain, when more of the muscle has torn but not all the way through
Grade 3
- This is when the muscle has completely torn into two parts
How does a muscle strain happen?
Muscle strains occur when a muscle is made to work too hard or overloaded due to abnormal mechanics. This normally happens when the muscle is in a stretched position and then forced to contract, this typically occurs during activities such as sprinting or uphill running. Muscles may be more susceptible to tearing if they are not warmed up properly before exercising, if they are tight and
weak
, and have poor co-ordination. One person may have a combination of these factors.
What are the symptoms of a muscle strain?
If you have a strained muscle, you will likely have experienced some immediate
pain
in the muscle, normally whilst doing a hard activity e.g sprinting, uphill running. Other symptoms include:
Pain in the muscle which is often made worse when you stretch or try to use the muscle
Bruising/swelling may be minimal or severe depending on the damage to the muscle
Weakness in the damaged muscle is common, in grade 3 injuries you may not be able to use the muscle at all.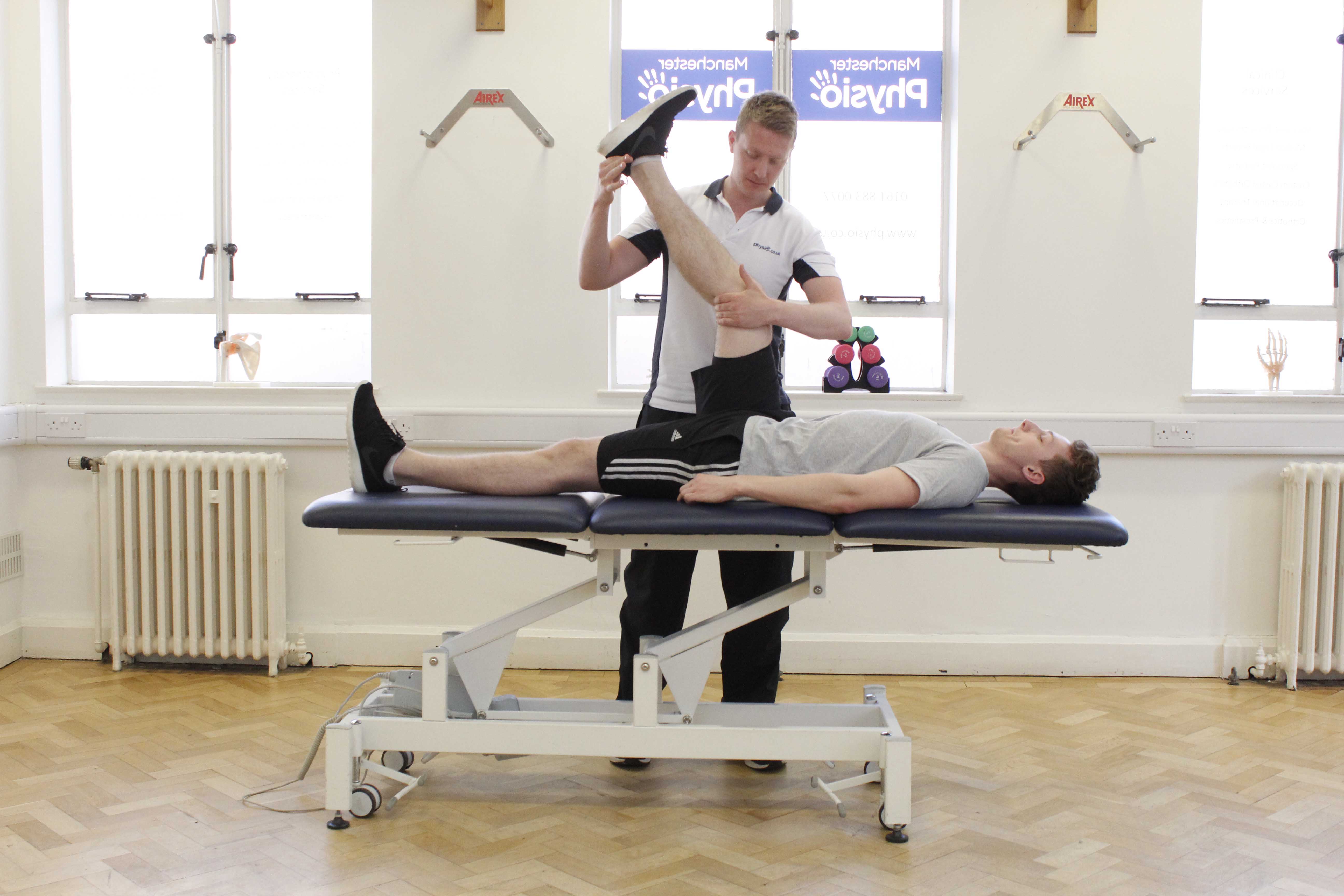 Above: Passive stretch to hamstring and calf muscles, applied by physiotherapist
What should I do if I have a muscle strain?
If you think you may have a muscle strain it is important to see a physiotherapist who can properly diagnose and manage your injury and help prevent it from occurring again. In the meantime, you can put an ice pack or bag of frozen peas wrapped in a tea-towel over the painful area for 15 minutes at a time to help reduce
pain
and
swelling
. If you are unsure of the cause it is likely your running technique that is instigating this, you will require a
Biomechanical Running Assessment
to find the root cause.
What is the Physiotherapy treatment for a muscle strain?
Physiotherapist will be able to assess and diagnose a muscle strain. They will then provide you with an individualised programme, aiming at reducing your pain and improving the function of the muscle. Treatments may include:
Running drills and cues
Soft tissue/Joint mobilisation
Sport-specific rehabilitation
What shouldn't I do if I have a muscle strain?
If you have a muscle strain you shouldn't try to continue with activities that make your pain worse, as this may be further damaging the muscle and lead to a more lengthy recovery time.
Could there be any long term effects from a muscle strain?
If a muscle strain is not treated correctly, the affected muscle may become tight and
weak
and make it more likely for a strain to occur again. Repeated strains and muscle tightness may lead to postural changes and increase your risk of developing other conditions.
To book a biomechanical running assessment with one of the specialist physiotherapists, please call Physio.co.uk on
0330 088 7800
today. You can also book appointments online using our
online booking system