ORIF Calcaneus – Open Reduction and Internal Fixation for Fractures of the Heel (Calcaneus) bone
The Calcaneus bone, commonly known as the heel bone, is situated at the rear of the foot, and is one of the two main bones that make up the foot. It is primarily responsible for supporting the weight of the body in standing and walking. It lies underneath the wedge shaped bone (Talus) that makes up the wedge at the front of the ankle joint, and adjacent to bones involved in the forefoot (Cuboid). When injured the orientation of the joints between these bones are affected.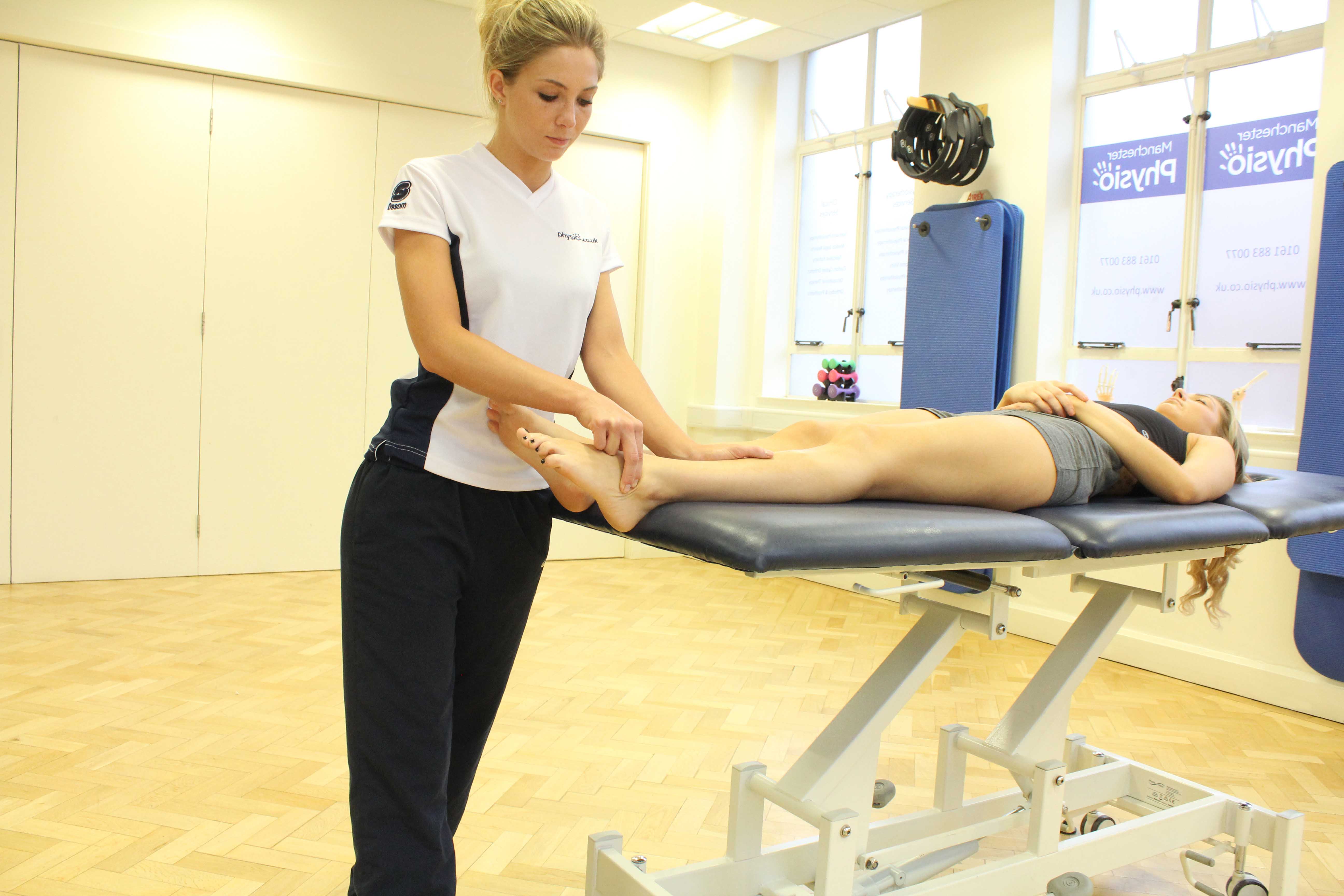 Above: Friction massage of the ligaments in the foot by MSK physiotherapist
The Calcaneus is the most commonly injured bone in the foot. The shattering nature of the bone on impact meansrelief of pain via conservative treatment is difficult. Physiotherapy is important following surgery of the Calcaneus.
Calcaneus fractures can be classified into 4 different types:
Type I –
Non-displaced fractures
Type II -
Two-part fractures
Type III -
Three-part fractures.
Type IV -
Fracture in which the bone is shattered into many fragments.
ORIF (Open Reduction and Internal Fixation) is a surgical procedure carried out following seriousfractures (Types II to IV). The procedure is carried out under general anaesthetic and involves opening up the outer side of the ankle joint, realigning the bone to its normal position (open reduction), provisional fixing with wires and then insertion of a metal plate and 7 screws to maintain this position (internal fixation).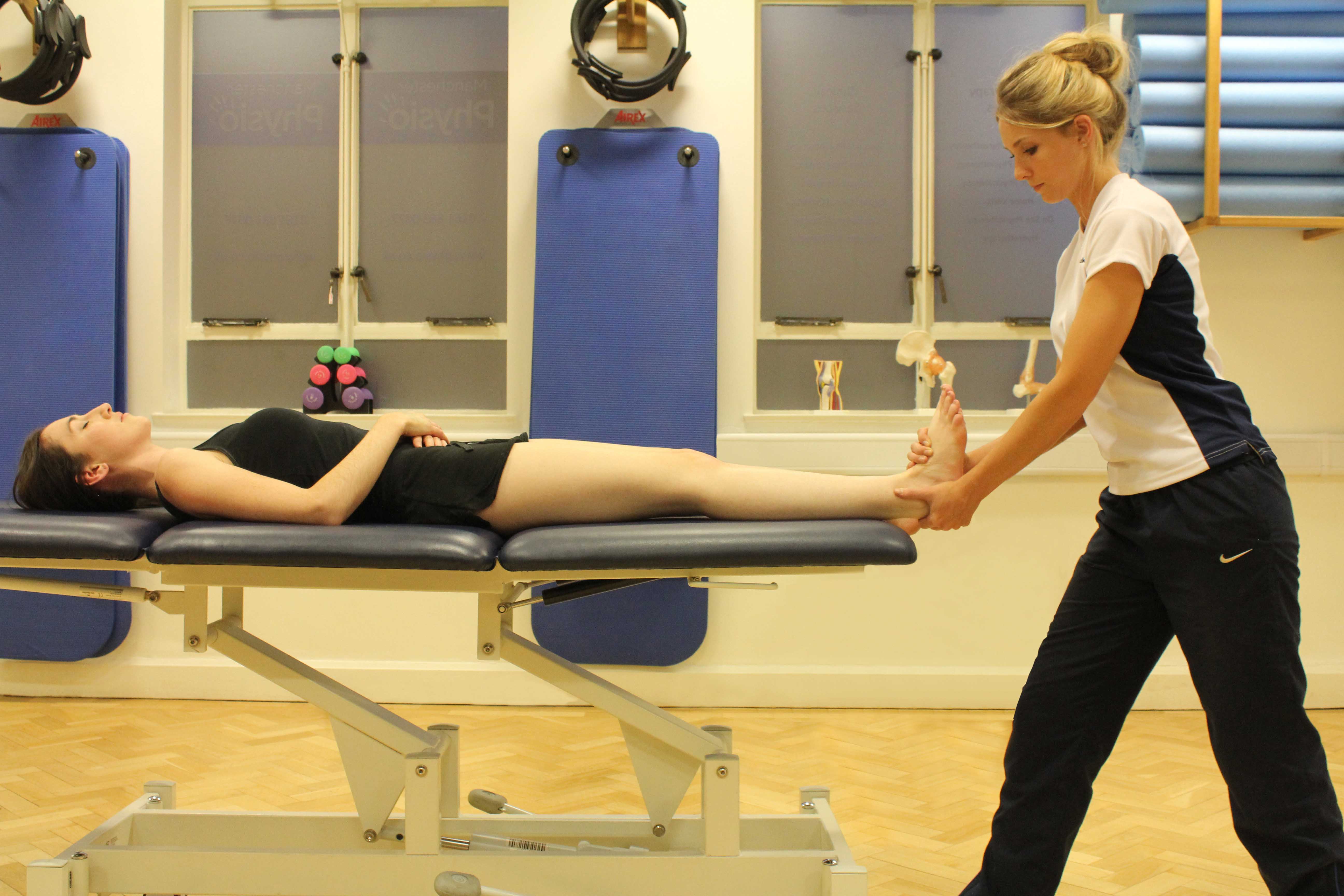 Above: mobilisations and stretches of the foot and ankle
Physiotherapy prior to surgery
Due to the vast swelling associated with the injury, surgery tends to be delayed until 5-14 days after the injury has occurred, in order to allow for swelling to subside.
Here at Physio.co.uk, we are able to assist during this time. Techniques that may be used include –
Ice therapy (Cryotherapy)
Compression techniques
Oedema massage
Provision of support and advice regarding the operation
Symptoms after surgery
Following surgery it is likely you will experience residual pain and swelling round the scar site.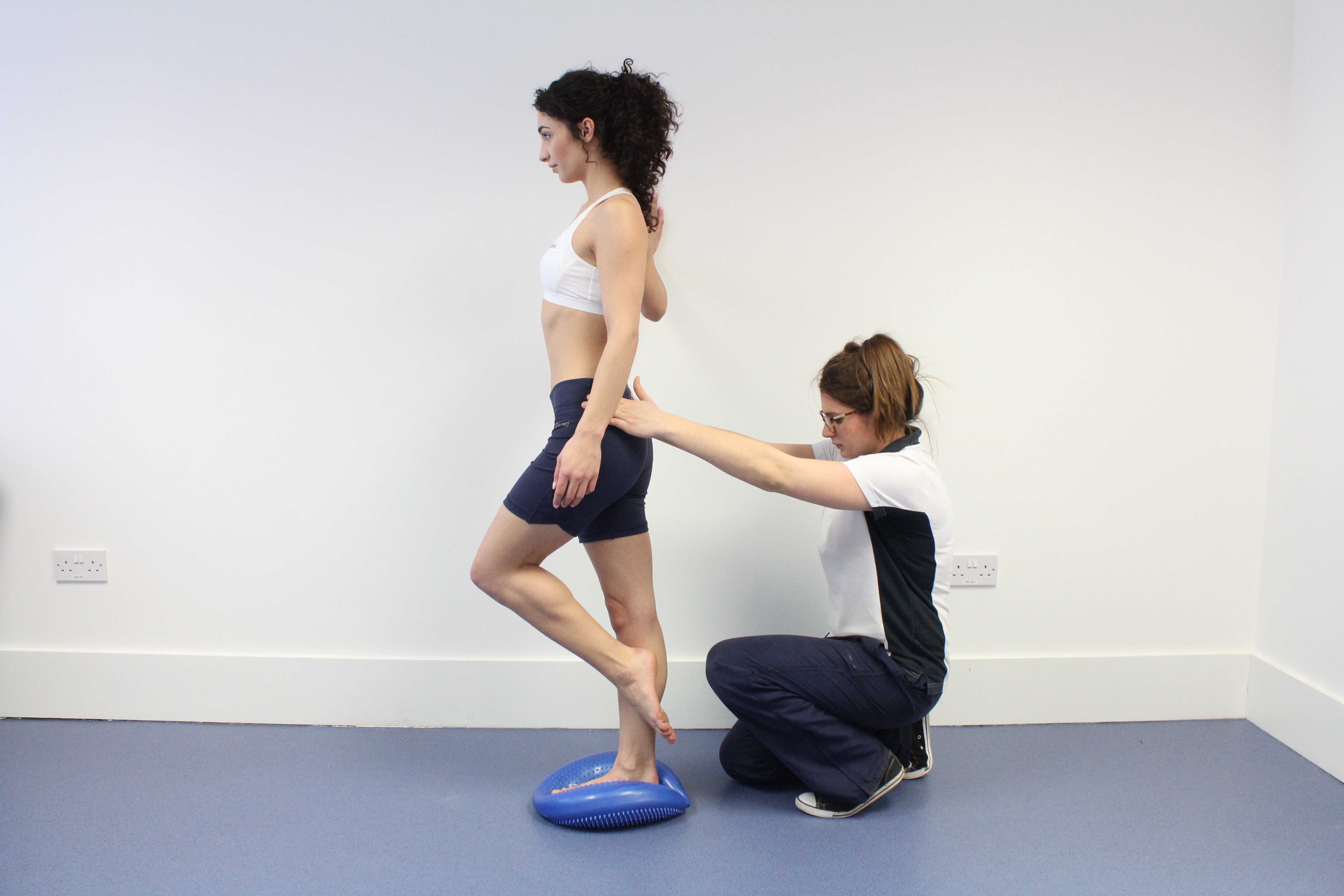 Above: Stability training for the foot and ankle
Physiotherapy following surgery
Physiotherapists can work soon after surgery to enhance healing round the post-operative scar site.
0-6 weeks
Non-Weight bearing with crutches - Although you are advised to rest thoroughly whilst still in a cast, our physiotherapists encourage gentle active and passive movements of the foot (Subtalar and adjacent joints) as pain permits, these include "wiggling" your toes, pointing your toes and gentle ankle circles as your cast allows. Ice therapy (Cryotherapy) can also be used to reduce pain, and decrease swelling. Seated hip, knee and ankle exercises will allow you to maintain range of movement and strength around these joints.
6-12 weeks
Physiotherapy sessions will work to increase range of movement; they will also involve seated stretching and strengthening exercises to target muscles of the lower leg as these will have weakened through lack of use since your operation.Massage may also be used to reduce swelling and enhance scar tissue extensibility. As you will have been off your feet for a while, our physiotherapists will introduce exercises to help you build your stamina back up, as well as exercises to increase the strength in your knees and hips.
10-12 weeks
Cast Removal
Physio.co.uk will work with you in progressing to partial weight bearing; our physiotherapists will work on your strength and balance, and assist you in practicing gradual weight transference exercises (stepping forwards and backwards) in the safety of parallel bars if required.
12-14 weeks
Progress to full weight-bearing
Physio.co.uk will work to increase your confidence in walking, and practice going up and down the stairs. Using mirrors, our physiotherapists, will allow you to acknowledge, discuss, and correct your walking pattern accordingly. From here our physiotherapists will create a programme consisting of a number of short-term goals and work alongside you in achieving your long-term functional goals whether they are walking your dog in the park to returning to your favourite sport.
Above: mobilisations and stretches of the foot and ankle
Summary
Open Reduction and Internal Fixation of the Calcaneus is an operation that works to both realign and stabilise the heel following a serious fracture. The operation usually takes place some days following fracture so swelling has time to reduce. Here at Physio.co.uk we can help both in the days following fracture leading up to your operation and also following your operation. Our main aims are to reduce pain, enhance range of movement and allow you to return to full function following your operation. We will work together to negotiate and produce an extensive and detailed week-by-week rehabilitation program focused on achieving your personal goals.
Call Physio.co.uk now on 0330 088 7800 for more information or to book an appointment please contact us.