Hip revision surgery involves using artificial hip implants or bone grafts to replace the original artificial hip joint that has been damaged or loosened over time or as the result of infection or dislocation. A hip revision can be more complicated and more time consuming than the initial hip replacement.
Types of hip revision include:
Removing loose implants with a new well fixed implant
Bone grafts
Removing infected implants ( this may involve 2 or 3 operations)
Revision surgery is performed by an open incision and will usual take several hours to remove the old prosthesis and replace it with a new one.
The recovery period for revision surgery is usually longer, however physiotherapy treatment will improve your recovery and help you achieve your maximum potential.
Recovery following a bone graft is longer as time is needed for the graft to become bone. However, the benefit of using a bone graft, especially in young patients, is that the bone stock is eventually restored and as a result, it is easier to do future operations if needed. Following this type of hip revision, people may have a period of bed rest lasting from 2-6 weeks. It is likely that crutches will also be required for about 3 months.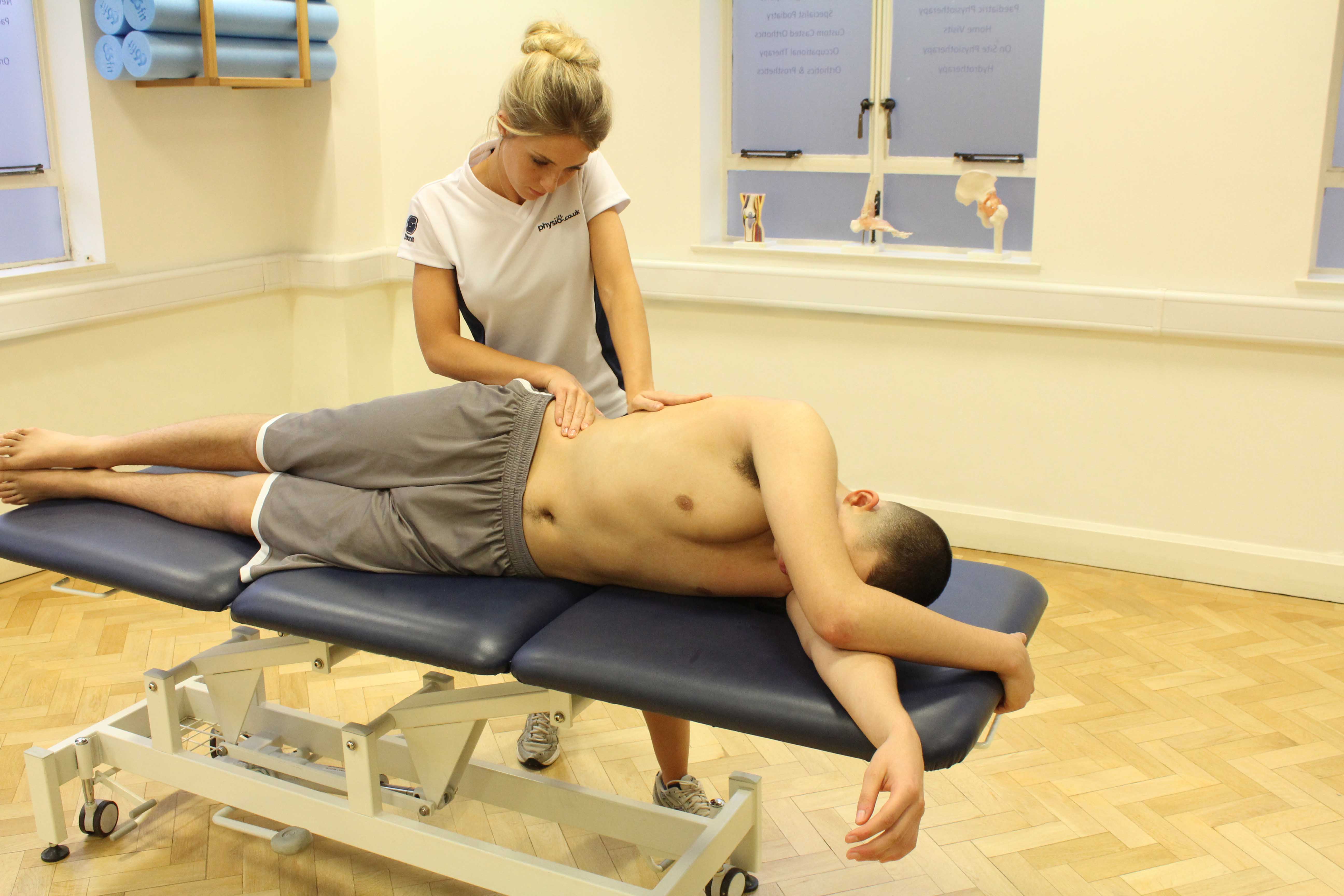 Above: Passive stretch of the hip joint and surrounding connective tissues
Pre operative management
Your surgeon will decide exactly what surgical method to use, taking into account your individual situation. A physiotherapist will visit you before your operation to explain the type of procedure and what to expect afterwards.
Symptoms after a hip revision
After your operation you will experience pain, swelling and loss of movement, however, this is normal. Major surgery like hip revision requires a period of adjustment. The procedures following your hip revision will be similar to those after your initial hip replacement. A pillow may be placed between your legs to hold your hip joint still and prevent it from dislocating.
A physiotherapist will help you begin walking, first with a frame to focus on the healing process. Gentle exercise will be provided by your physiotherapist to increase circulation and reduce swelling. Your physiotherapist will also teach you the correct way to get in and out of the bath safely and give you advice on dressing, toileting etc. Once you are able to mobilise safely with your crutches or frame, you will be discharged. This is usually between five and seven days.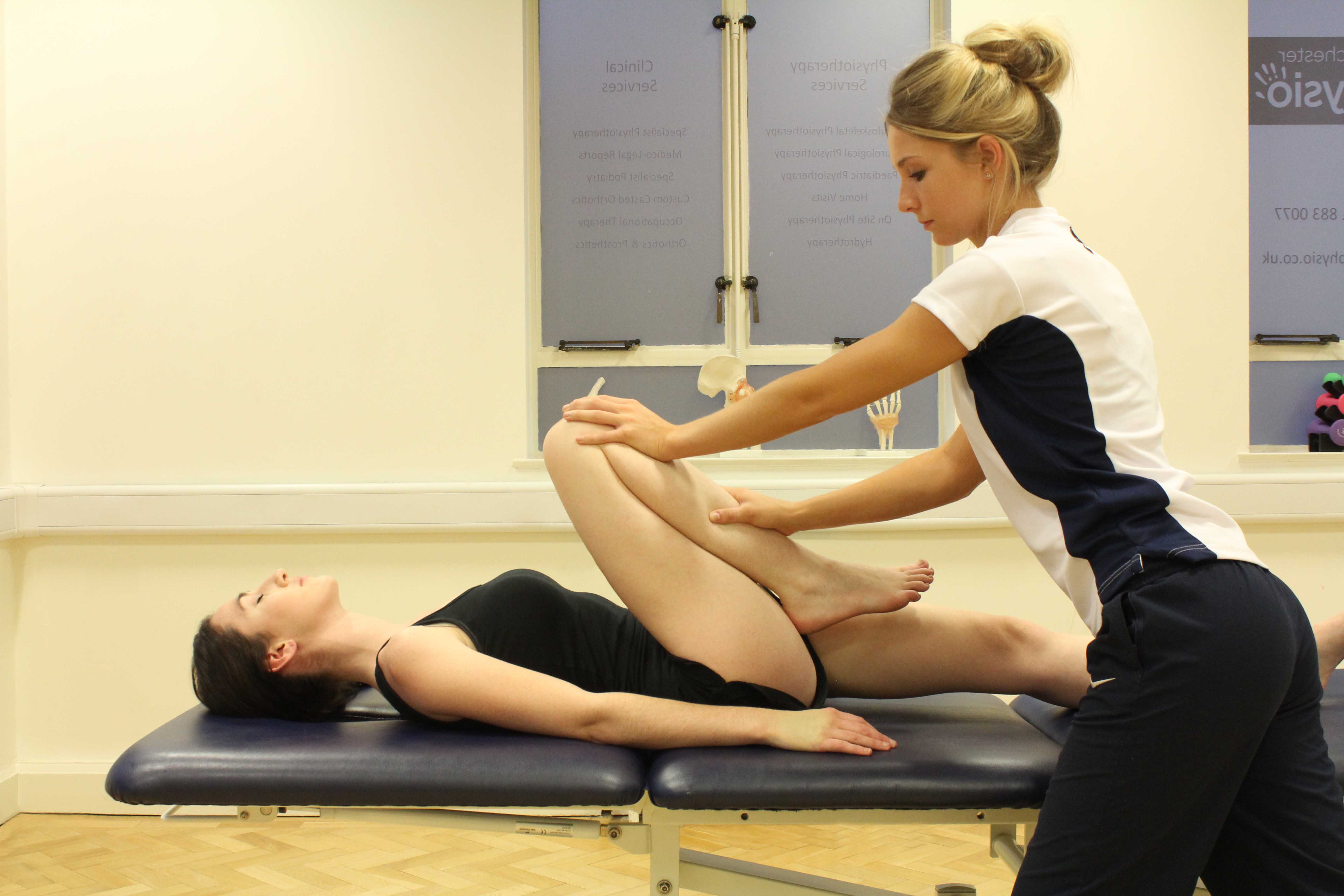 Above: Passive stretch of the hip joint and surrounding connective tissues
Physiotherapy following a hip revision
Physiotherapy following a hip revision will enhance your recovery and promote your independence will everyday activities. At Physio.co.uk our physiotherapists are experienced in treating patients with difficulties following major hip surgery. Our specialised physiotherapists understand the problems that you will face and treatment will be tailored around your needs and requirements.
Physiotherapy treatment will depend upon what type of hip revision you have had. At Physio.co.uk, treatment will work on improving your muscle strength around your hip, increasing range of movement, improving balance and reaching your full potential with functional activities.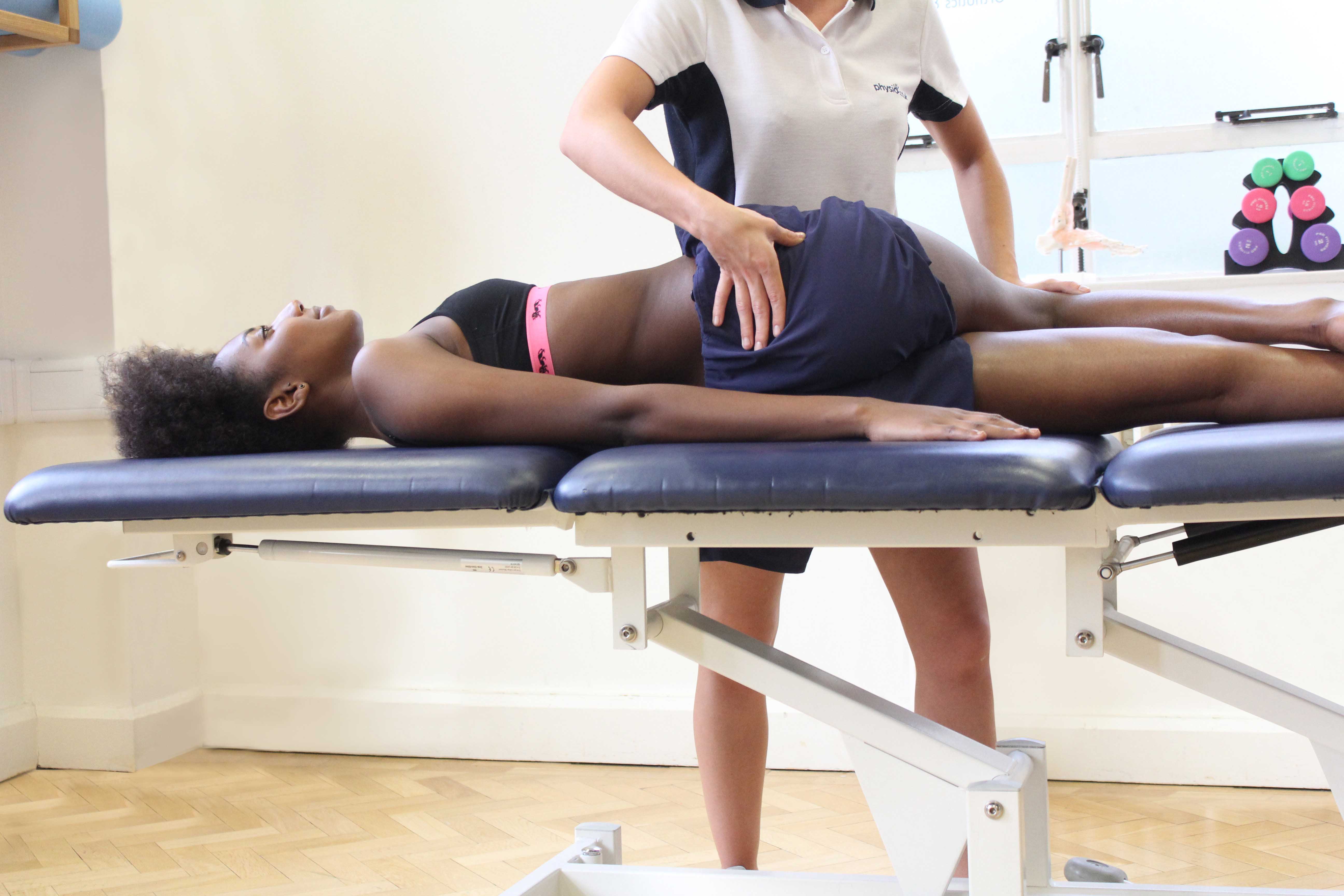 Above: Passive stretch of the hip joint and surrounding connective tissues
1-2 weeks
The main focus at this stage in your recovery is to reduce pain and swelling and begin working on improving your range of movement in your hip. After hip revision surgery, you will only get around with a walker or crutches for the first week or two. Normal everyday things like getting into a car or walking up steps will be difficult.
Physiotherapy treatment will also be focused on improving your mobility around your home. Physiotherapy treatment at this stage will include:
Gait re-education with the use of assistive devices, such as crutches and a walker
Continuation of functional transfer training, e.g. getting in and out of bed or the bath.
Exercises to increase range of movement and strengthen muscles
Progression of ambulation on level surfaces and stairs (if applicable) with the least restrictive devices
Hydrotherapy treatment to increase mobility in water
A structured exercise programme containing short and long term treatment goals will be developed which should be continued daily in order to aid your recovery.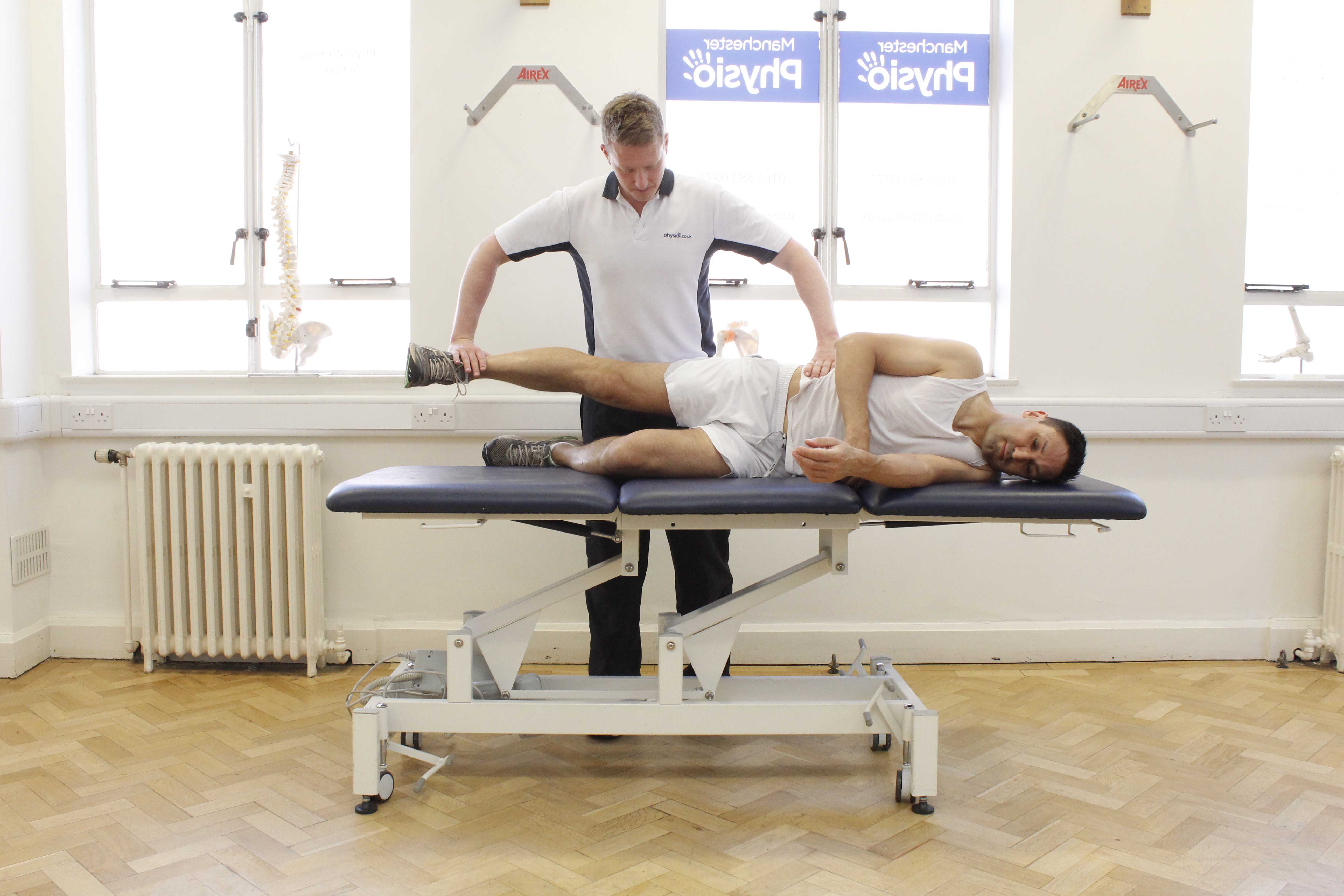 Above: Strengthening exercises for the hip and pelvic muscles, supervised by MSK therapist
2-6 weeks
After about a month, your surgeon will take x-rays of your leg to monitor its healing.
You physiotherapy treatment at this stage of your rehabilitation will continue previous exercises to increase range of movement with the addition of resistance exercises to increase muscle strength. Exercises will also be based around daily tasks to increase your independence. Treatment will also include gait re-education with and balance training. Physiotherapy activities will include:
Strengthening exercises including core stability work
Stretching exercises to increase the flexibility of hip muscles
Progression of ambulation distance with or without support
Progression of independence with ADLs
Gait re –education training
Proprioception and balance training
Stationary bicycle as tolerated
6-12 weeks
At this point of your rehabilitation you should be mobilising independently. Your physiotherapist at Physio.co.uk will focus on maintaining your range of movement and continuing to increase your muscle strength and balance so that you can back to social or sporting activities you enjoyed previously.
Your physiotherapist will guide and support you throughout your programme to ensure that you are safe carrying out your activities. Short and long term goals will be followed and adjusted to ensure the best possible recovery. Activities at this stage will aim to increase your fitness levels and may include walking, gentle cycling and swimming.
12+ weeks
The time it takes for you to get back to a level you were previously will largely depend on your input and dedication. The structured treatment programme initially developed between you and your physiotherapist is a good guiding tool and will help you progress to your maximum potential. Recovery may take up to 6 months but physiotherapy will help you make long term improvements and enhance your quality of life by continuing exercises that you enjoy and incorporating them into your lifestyle and hobbies.
For more information call Physio.co.uk now on 0330 088 7800 or to book an appointment please contact us.