Splints are devices worn on the outside of the body to improve or maintain
range of movement
at a joint. Splints are available for most joints of the human body in a variety of materials and sizes. The material of the splint will be dependent on your child's
muscle tone
,
range of movement
and goals. At Physio.co.uk, our specialist physiotherapists can provide a range of off-the-shelf splints and an extensive variety of custom-made orthotics. Our physiotherapists will endeavour to find a splint that is comfortable, aesthetically pleasing and most importantly does the job for your child.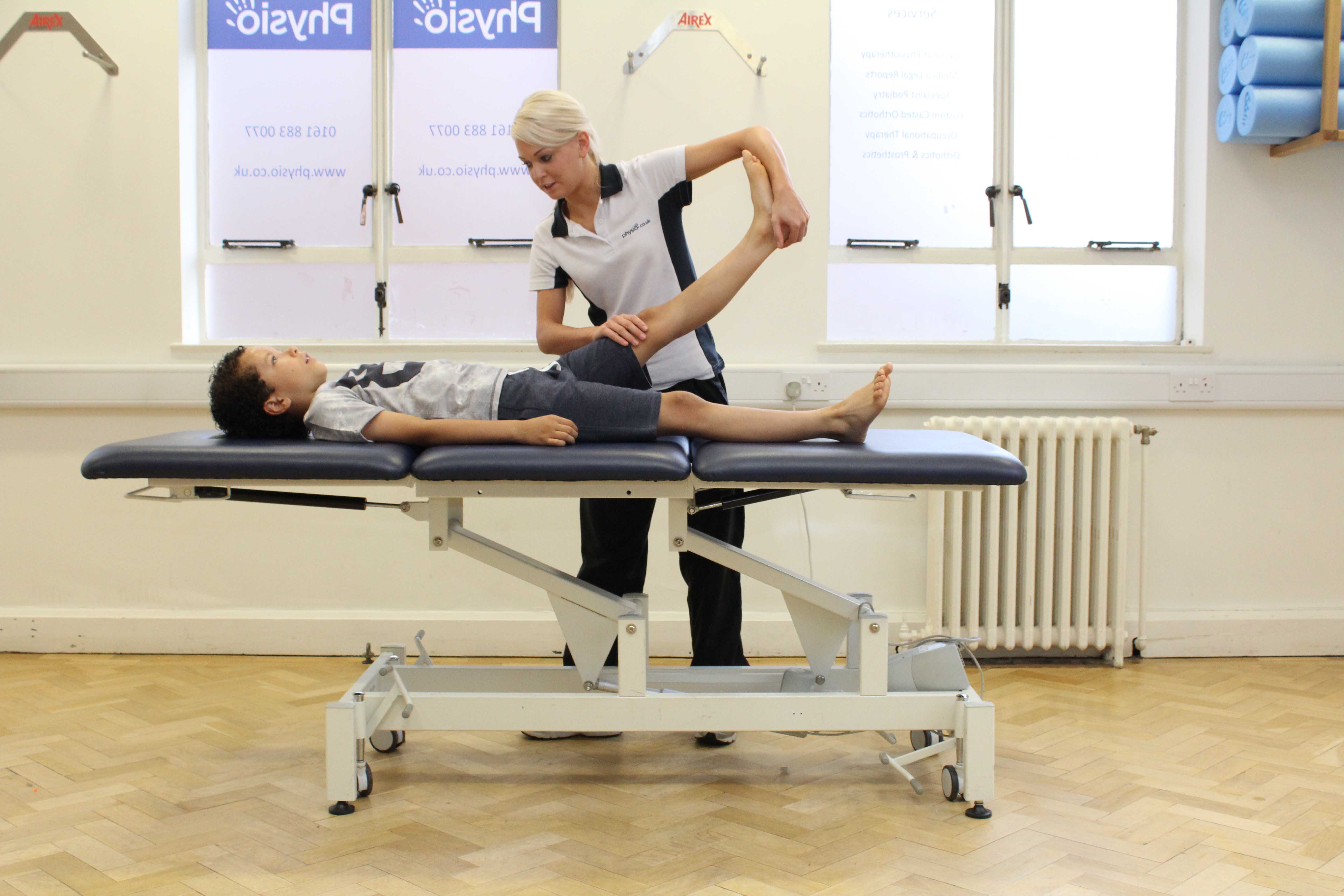 Above: Mobilisation and stretch exercises applied by a paediatric physiotherapist
Conditions treated with Splinting
Splints can be provided to children with any condition causing
reduced range of movement
at a joint. For example, splints can be worn on the hand and wrist to prevent the formation of a claw-like hand and enable efficient maintenance of hygiene in the palm. They can also be worn on the foot and ankle to increase weight bearing and improve heel strike while walking. A specialist physiotherapist at Physio.co.uk will assess and determine if splinting is an appropriate treatment modality for your child.
Physiotherapy and Splinting
Your physiotherapist will carry out an in-depth neurological examination of your child's symptoms, problems and goals in order to determine if splinting is an appropriate treatment intervention for your child. The assessment will involve measuring your child's
range of movement
,
muscle strength
,
tone
,
sensation
,
proprioception
,
co-ordination
and checking their ability to carry out simple functional tasks. The findings of the assessment will be discussed with you and your physiotherapist will help you to weigh up the advantages and disadvantages of splinting your child.
If splinting is considered to be a useful treatment route for your child, it can be carried out in one of our clinic locations or at home. Your physiotherapist may provide a pre-fabricated splint or it may be appropriate to make one from a high standard mouldable material. Your physiotherapist will discuss how often your child should wear the splint in order to make maximum improvement.
It is important to note that splinting does not replace the need for physiotherapy treatment. It is a treatment intervention that is used alongside physiotherapy sessions. Physiotherapy treatment for a child with limited range of movement at the joints may focus on:
Positioning – advice and charts
Exercises – strengthening limbs and trunk
Practice of functional activities – reaching, walking
Weight bearing – through arms or legs
Splinting produces lasting effects alongside other treatment modalities such as
botulinum toxin (botox) injections
and
serial casting
. The benefits of splinting include:
Splinting is a pain free procedure that improves or maintains your child's range of movement at the joints. When a splint is worn regularly and correctly, it can significantly improve your child's functional ability and quality of life.
Why Physio.co.uk for splinting
At Physio.co.uk, we understand that reduced range of movement can negatively impact on your child's comfort, confidence, function and ability to move around. Our physiotherapists are specifically trained to deliver a high standard splinting service. Splinting is an evidence based treatment technique that can substantially improve range of movement and overall quality of life.
Access to botulism toxin (botox) injections to increase effects of splinting
Access to hydrotherapy to increase stretch in warm water
Access to occupational therapy
Provision of splinting regime and home exercise program
Learn how to help your child achieve optimum quality of life
No waiting lists
Treatment at home or in the clinic
Experienced specialist physiotherapists
Treatment at any stage of your child's development
Physiotherapy sessions and splinting can be provided in your home or at one of our clinic locations. To discuss the benefits of splinting with regards to your child's needs or to make an appointment, please contact us now on
0330 088 7800
. You can also use our online booking system to
book an appointment online