Long Thoracic Nerve (LTN) release is a surgery performed to reduce compression on the long thoracic nerve. The LTN is a peripheralnerve (away from the spine) that originates from the cervical spine (neck bones). The nerve descends from your spine, passing through the middle scalene muscle of your neck, continuing down your shoulder and rests on the outer surface of your serratus anterior muscle. The serratus anterior muscle is important for normal shoulder function.
The serratus anterior fixes the scapula to the rib cageas well as performing protraction of the scapula (pulling of the scapula forward and around the rib cage). When the LTN is compressed or damaged it stops innervating (stimulating) the serratus anterior, preventing these movements and causes winging of the scapula (scapula sticks out at your back looking like a wing). This results in scapula dyskinesia (abnormal movement of the scapula) causing pain and predisposing you to future shoulder problems. In order to prevent this, a long thoracic nerve release is performed
When the middle scalene muscle contracts, it compresses the long thoracic nerve causing damage resulting in a loss of function of the serratus anterior muscle. The LTN can also be damaged through direct trauma or stretching e.g. falling on an outstretched arm. Long thoracic nerve release resects (cuts away part of the muscle) the middle scalene allowing the LTN to pass freely though the body without it being compressed. Physiotherapy will be needed following surgery to help re-train your muscles to prevent any future shoulder problems occurring.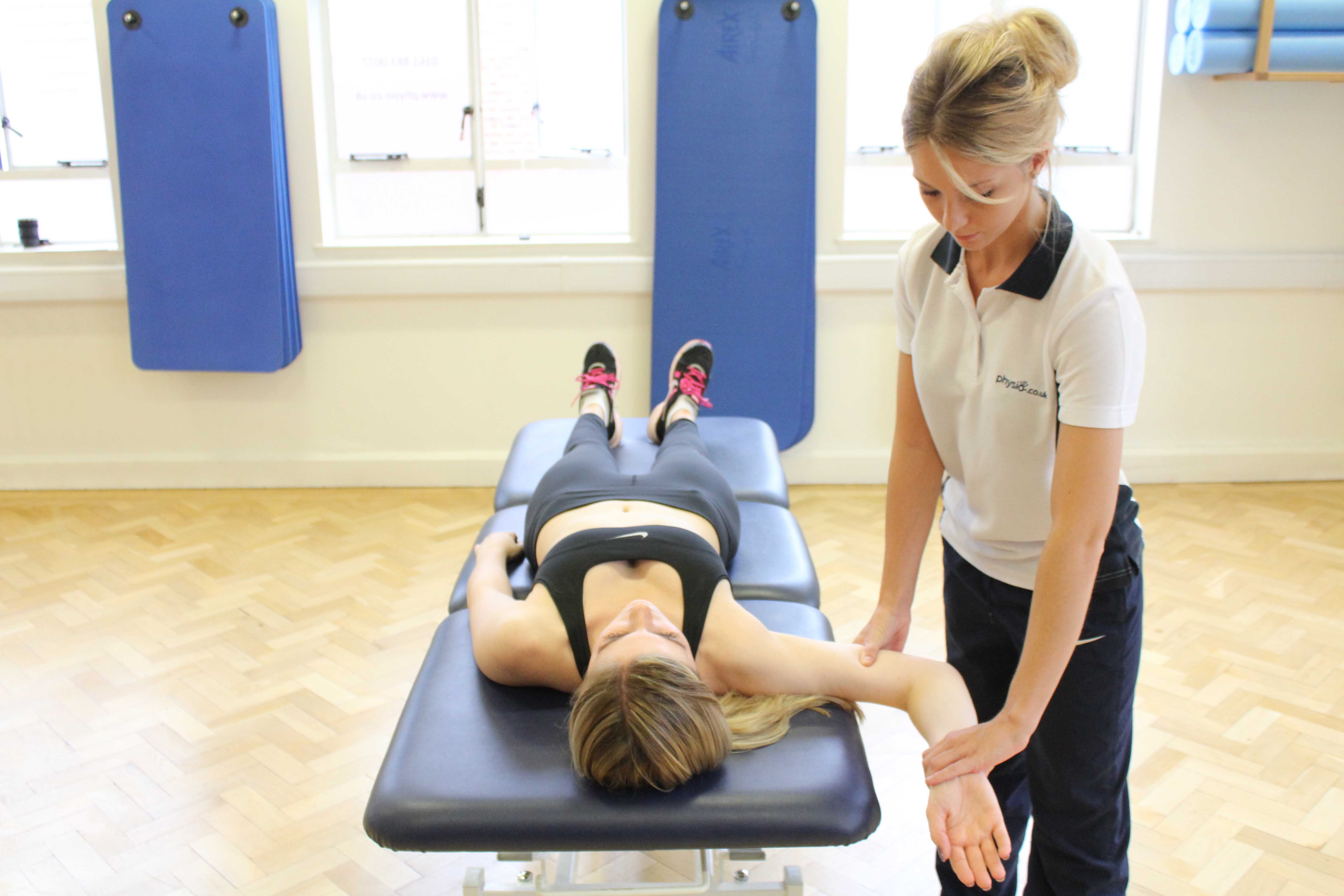 Above: Mobilisation and stretches of the glenohumeral joint
Physiotherapy before Long Thoracic Nerve Release
Physiotherapy prior to long thoracic nerve release is a highly useful and recommended intervention. Physio.co.uk will help conservatively treat with your injury to help deal with your injury allowing you to maintain function and learning correct shoulder movement. Also, pre-surgical physiotherapy with Physio.co.uk will prepare your shoulder for surgery and provide a solid platform for post-surgical rehabilitation, speeding up your rehab period. Treatments performed include:
Cryotherapy (Ice)
Pain management
Strengthening surrounding musculature
Massage
Myofascial release
Advice on surgery and post surgical management
Symptoms after Long Thoracic Nerve Release
Following surgical release of the LTN your arm will be placed in a protective sling to aid recovery and maximise rehab potential. Common symptoms following long thoracic nerve release include:
Pain
Stiffness
Numbness – due to the anaesthetic used in the operation. This should resolve within a
few hours
Nausea
Physiotherapy after Long Thoracic Nerve Release
Following long thoracic nerve release surgery it is essential to have physiotherapy. Physio.co.uk will provide a thorough assessment and explanation of what will be undertaken in the coming weeks as well as design a personal rehabilitation programme. Treatment will be focussed on acute management after surgery and progress on to regaining full movement, strength and functional use of your arm
Weeks 1-3
Initial treatment with Physio.co.uk will concentrate on minimising post-operative complication, reducing acute symptoms and initiation of movement. Treatment will include:
Cryotherapy (Ice)
Pain management
Gentle range of movements passive and active
Sling use (day and night) including recommended exercises
Scapular stabilising exercisesActive movement of fingers, hand, wrist and elbow to prevent stiffness in and out of sling
Wound management
Weeks 4-8
Following initial management of symptoms Physio.co.uk will focus rehabilitation of the restoration of functional movement through accurate biomechanical movement training, strength and muscular control. Treatment will consist of:
Active and passive range of motion exercises
Scapula Stabilisation
Proprioceptive training
Neural Mobilisation
Strengthening
PNF
Stretching
Serratus anterior re-educating
Taping
Following 8 weeks of treatment, Physio.co.uk will continue to progress your rehabilitation, advancing the exersies to challenge and strengthen your scapular. Focus will be on the correction of biomechanical faults and the re-activation, strengthening and endurance of serratus anterior and the scapular musculature. Due to the delicate nature of nerves, it can take between 6-12 months to achieve full recovery.
Summary
Long thoracic nerve release is a surgery performed to relive pressure off the LTN. When this nerve is damaged, it can cause paralysis of the serratus anterior muscle resulting in winging of the scapula. This results in abnormal biomechanical movement of the shoulder causing pain and resulting in other shoulder problems. In order to limit the effect of this problem, as well as treat once the surgery has been performed, it is essential you conduct a physiotherapy rehabilitation programme with Physio.co.uk. Physio.co.uk will provide a thorough and comprehensive rehabilitation programme to help re-educate and restore normal functional movement.
Call Physio.co.uk now on 0330 088 7800 for more information or to book an appointment please contact us
.