A below knee amputation prosthesis is an artificial replacement of an amputated leg and is more commonly used than other amputations.
As the amputation is carried out below the knee the individual has the potential to walk very well. The most frequently used prosthesis for a below knee amputation are:
The Preparatory Prosthesis
The Patella-Tendon Weight-bearing Prosthesis (PTB)
Total-Surface Bearing Prosthesis
A Joint-Corset Prosthesis
The Preparatory Prosthesis
The preparatory prosthesis will be the first prosthesis you will receive to reduce
oedema
and progress the rehabilitation while the person awaits the final prosthesis. The preparatory prosthesis also allows changes to be made within the position or alignment between the foot and the limb while the stump is still healing and changing shape.
The socket of the preparatory prosthesis is normally made up of plaster-of-Paris or a plastic material. This is then attached to an aluminium tube normally called a pylon, which attaches to an artificial foot. A belt around the waist or over the shoulder is usually used to help keep the prosthesis in its place. Aprosthetic sock is worn between the socket and the stump to prevent rubbing and to provide ventilation.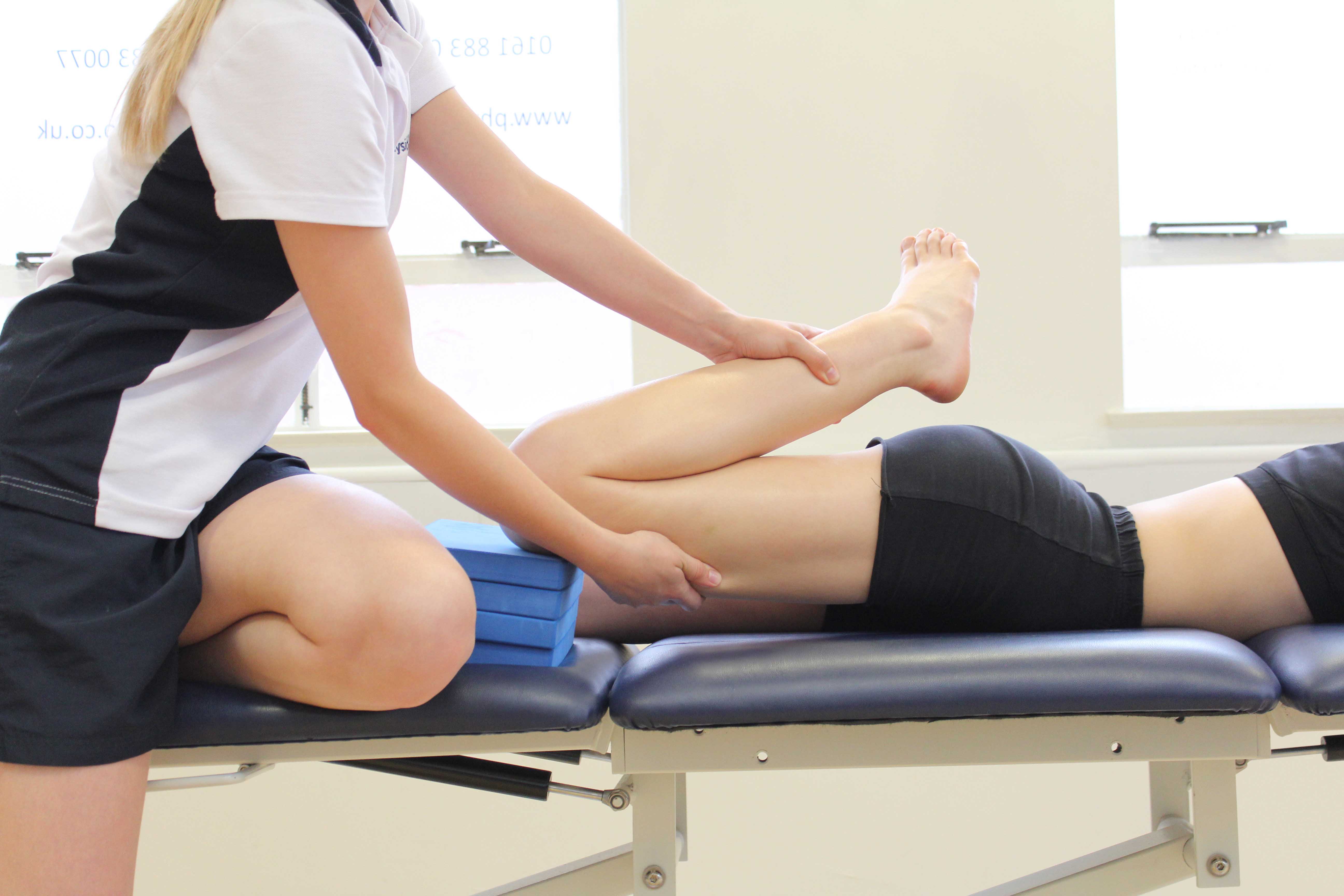 Above: Hip and knee passive stretch applied by a physiotherapist
The Patella-Tendon Weight-Bearing Prosthesis (PTB)
The PTB prosthesis is usually suitable for 90% of amputees with below the knee amputations. The PTB prosthesis is based on transferring load through the patella tendon (tendon below the knee), the tibial condyles (upper extremity of the shin bone) and a large portion of the stump. The most common error made when fitting a PTB is an exceedingly tight fit around the popliteal area (hollow behind the knee joint) of the stump which can lead to excessive oedema, reduced circulation and skin irritation.
Total-Surface Bearing Prosthesis (TSB)
TSB is a total contact prosthesis and may be used instead of the PTB. There must be sufficient contact between the stump and prosthesis to allow the prosthesis to weight bear over the entire stump. Amputees feel a greater sense of stability and attachment with this prosthesis.
A Joint-Corset Prosthesis
A joint-corset prosthesis accounts for 10% of below knee prostheses and allows the person to apply a much greater force than their own bodyweight on their prosthesis by applying some of the weight through the thigh bone (femur). This prosthesis can overcome the weakness of the PTB prosthesis. For example amputees who have a PTB may find kneeling and climbing ladders or stairs difficult and therefore this population may benefit more from a joint-corset prosthesis.
For more information on below knee amputation prostheses or to book an appointment please call Physio.co.uk on
0330 088 7800, or book an appointment online today!