Our specialist physiotherapists at Physio.co.uk understand that losing a limb can have a devastating impact on anyone?s life.
Physiotherapy at Physio.co.uk will promote recovery and help people regain their functional potential so they can life to the full.
Common types of amputees we treat at Physio.co.uk include:
Your treatment plan at Physio.co.uk will be based upon on your individual needs and abilities and will be focused on:
At Physio.co.uk, our specialist physiotherapists use exercise programs, heat, massage, acupuncture and ultrasound to facilitate recovery and healing and maximise independence with functional activities.
Our physiotherapists at Physio.co.uk also work closely with occupational therapists who can advise you on any equipment or adaptations needed.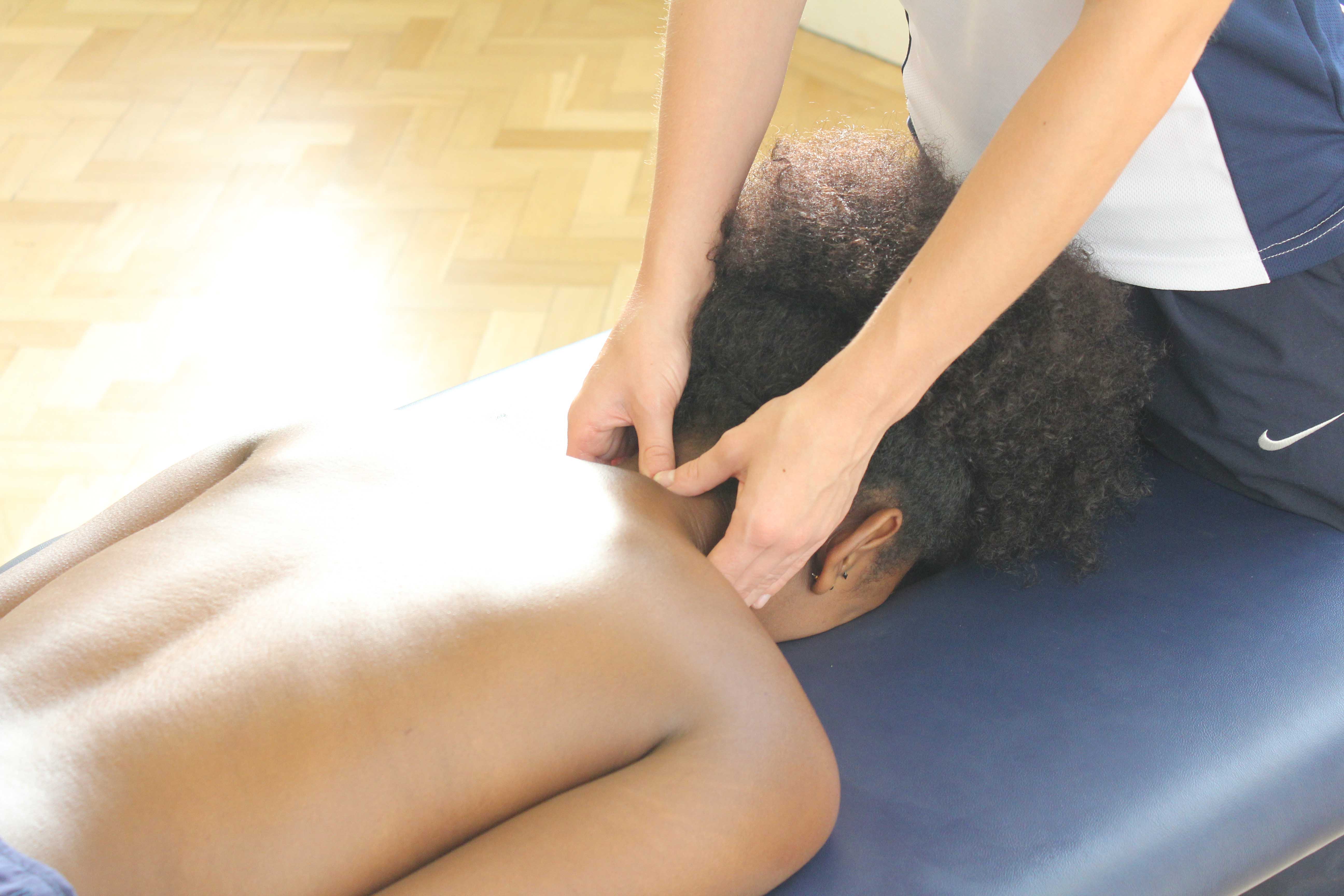 Above: Mobilisations of the cervical vertebrea by an experienced physiotherapist
Physiotherapy Following Amputation
Amputation is the removal of a body extremity by surgery or due to trauma. Losing a can be an overwhelming experience for anyone to go through. It requires a combined professional approach to help you adjust to living without your limb. Physiotherapists play a key role during the rehabilitation of individuals who have had an amputation.
There can be several reasons why someone would become an amputee; however, the two main categories are:
Trauma –when the limb is badly damaged in an accident and either the blood supply or the structure of the limb cannot be saved
Vascular disease - if it is serious it may result in a loss of blood supply to the limb after previous medical management, which can lead to an amputation
Less common causes for amputation include, tumours, infection, as a pain control method or due to congenital reasons.
A new amputee can experience the following signs and symptoms:
Pre-operation Physiotherapy
Prior to non-emergency amputation a physiotherapist can provide:
Post-operation Physiotherapy
A physiotherapist can provide several interventions to assist with post-operation rehabilitation. Treatments may include:
Massage to relieve pain, promote the healing process and relieve tension in muscles surrounding the stump or the opposite limb where problems can arise due to over-use caused by compensation.
Acupuncture and electrical stimulation can be used to treat phantom limb pain and phantom sensation.
The physiotherapist will carry out an initial assessment including pre-amputation lifestyle, expectations and medical limitations. Assessments and treatments will always take in to account the level of amputation, social environment, physical (healing of the stump) and psychological healing (emotional and cognitive). The physiotherapist will then devise a treatment plan in agreement with the patient to achieve maximum independence safely within the patient's limitations.
Rehabilitation in Hospital
During your hospital stay a physiotherapist will teach you some exercises to perform in bed and they will also teach you transfers which would include getting in and out of bed, into a wheelchair and on and off the toilet.
Whilst Still in Hospital
You will continue with an exercise program to strengthen the muscles around your stump and maintain strength in all other limbs. Here they would also begin to work on gait, providing any appropriate walking aids, if required.
Rehabilitation Following Hospital Discharge
You may be discharged from hospital as early as two weeks post-operation. It is important to continue with your exercise program.
Although all physiotherapy treatment plans will be individualised, in general, physiotherapy intervention programs would include:
Amputee strengthening program which could including a variety of exercises:

Isometric
Isotonic
Isokinetic
Manual
Active upper and lower limb extremity strengthening

Functional exercises for the upper and lower limbs
Pre-gait training exercises
Weight bearing and balance exercises
Pelvic and trunk exercises
Injury prevention and management strategies
If appropriate you will also be assessed for an artificial limb (prosthesis). If a prosthesis is deemed appropriate the physiotherapist will educate you in donning (put on your prosthesis) and doffing (taking off your prosthesis).
Summary
Physiotherapy plays a major role in the rehabilitation of individuals following amputation. Physio.co.uk therapy is able to provide you with expert guidance and help to anyone who has lost a limb.
To find out more about our services, or to arrange an appointment please call us now on 0330 088 7800 or email office@physio.co.uk