Rehabilitation with a Prosthesis Following a Forearm Amputation
Rehabilitation will either be carried out with by an occupational therapist or a specialist hand physiotherapist. Rehabilitation with a
prosthesis
will begin when the stump has healed sufficiently. This will vary for each person. The swelling around the stump will need to be minimal to allow it to fit inside the prosthesis and also to prevent any breakdown of the wound site. Normally you receive your prosthesis 8 weeks post-operation, which should be sufficient time to allow the stump to heal.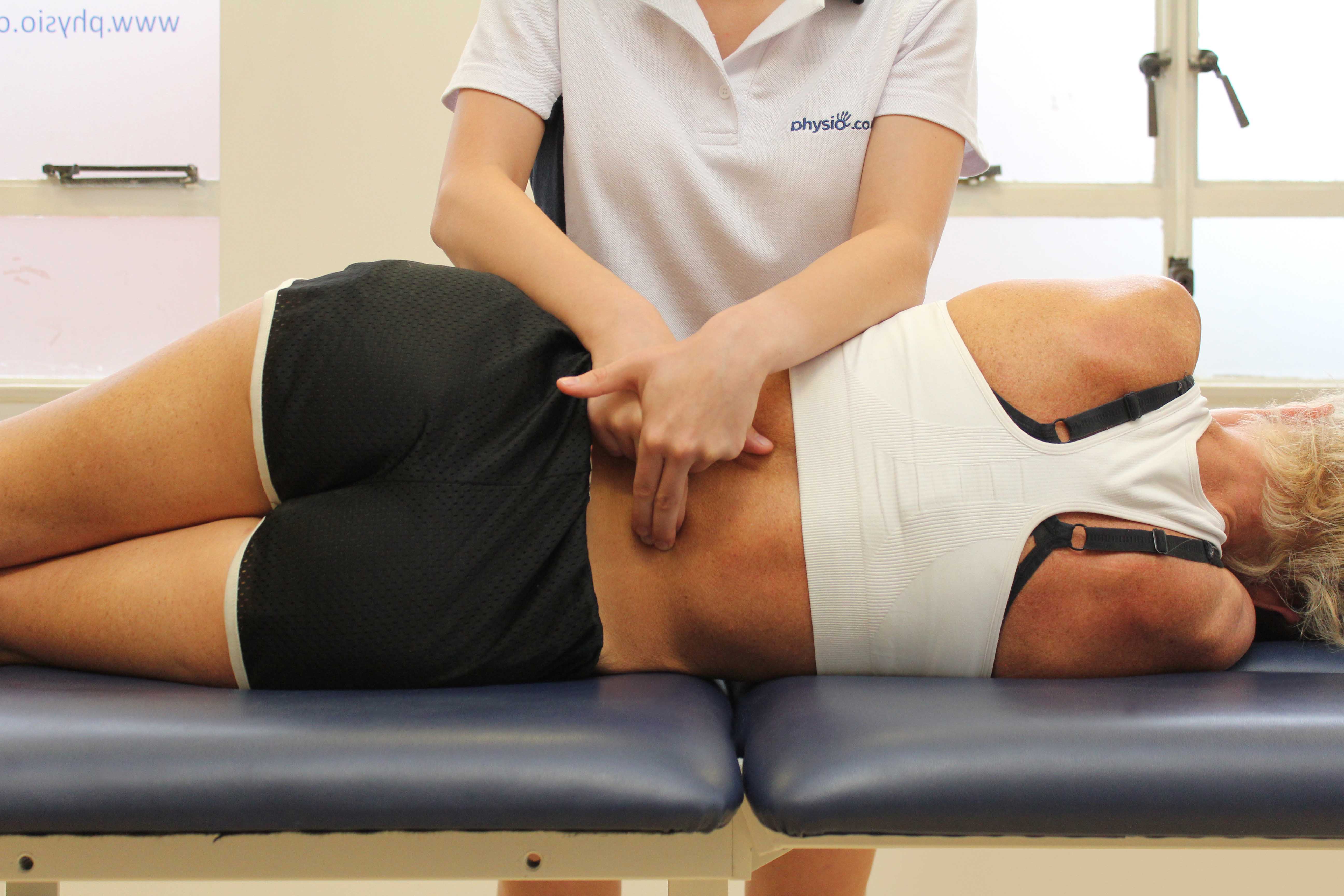 Above: Trigger point massage of the forearm by an experienced physiotherapist
Stages of Rehabilitation
Rehabilitation will start 48 hours post-operation. The physiotherapist will teach gentle
massage techniques
to reduce the
swelling
and to promote healing. The physiotherapist will also be able to offer advice and help with
phantom pain or sensation
. It is important that rehabilitation starts as soon as possible after the operation as this will prevent
contractures
from developing,
stiffness
occurring in the proximal joints to the amputation and will also improve the outcome of function with a prosthesis. At Physio.co.uk we will work with the individual to develop a treatment plan and goals. The physiotherapist will try to re-train the muscles to carry out normal function aiming to achieve the goals set using the prosthesis. Success will often depend on adherence to physiotherapy.
Physiotherapy input can be divided into three main stages:
Post operation (0-7 days)
Pre-prosthesis rehabilitation (1week- 6 weeks)
Rehabilitation with prosthesis (6 weeks +)
Post –operation (0 to 7 days)
Your physiotherapist will:
Carry out a full respiratory assessment after the anaesthetic to prevent and treat any respiratory complications.
Assist you in getting out of bed. Following the operation it is important to start walking as soon as possible as this will encourage you to take deep breaths which will help clear your chest. This will also prevent muscle weakness that may occur if there is a prolonged time in bed.
Prescribe an exercise program that will promote healing of the stump by encouraging blood to the area and will aim to prevent contractures from occurring.
Give advice on stump care and education on pain relief, phantom limb pain and phantom sensation.
Prosthesis Rehabilitation (1week to 6 weeks)
Your physiotherapist will:
Progress the exercise program focusing on ROM of the elbow and shoulder to reduce the occurrence of flexion deformities in these joints.
Prescribe stretches for the muscles which have been altered during surgery trying to prevent contractures forming (shortening of muscles). If contractures were to occur it may make it more difficult to fit and use a prosthesis.
Give advice and teach techniques to cope with phantom sensation or pain.
Start to build up upper limb and back strength as alternative muscles will now need to work harder to compensate for the loss of the limb and to cope with the prosthesis.
Start a general fitness programs, exercise tolerance may have reduced due the trauma or the length of stay in hospital resulting in a general fitness deterioration.
Teach donning (putting on) and doffing (taking off) the prosthesis.
Rehabilitation with a Prosthesis for a Forearm Amputation (after 6 weeks)
Rehabilitation with the prosthesis will start when the stump has healed sufficiently this varies between 6 to 8 weeks. The rehabilitation will either be lead by a specialist hand therapist or an occupational therapist from the multi-disciplinary team. Good techniques to manage the initial swelling are vital as this may prevent the stump from fitting in the prosthesis, delaying rehabilitation. This is why compliance with physiotherapy is important.
Your physiotherapist will:
Work with you to develop a realistic treatment plan and goals to meet your needs.
Build up power and strength in the opposite arm enabling tasks to be completed single-handed.
Modify tasks to be able to use the prosthesis for the desired outcome.
Continually challenge these learned skills with the prosthesis aiming to carry out more functional tasks in order to achieve your goals.
Progress your exercise program focusing on stretches and strengthening for the shoulder and elbow joint on the amputated side.
Progress strengthening exercises for the upper body aiming to optimise function with the prosthesis.
Continue to build overall body strength and fitness levels to minimise the effects of the missing limb.
Summary
Losing a limb is a traumatic experience with professional help recovery will be optimised. At Physio.co.uk are specialist physiotherapist will carry out a full assessment and develop goals with you to meet your needs. Physio.co.uk will work hard to maximise your potential and minimise any problems that may occur throughout the rehabilitation programme.
To arrange an assessment please call Physio.co.uk on 0330 088 7800. .Alternatively, book an appointment online today!