What is dementia?
Dementia is a decline in cognitive function usually caused by damage to the brain which affects memory, attention, concentration and language. People with dementia may also seem irritable, tearful, agitated, have disturbed sleep or feel
depressed
.
In the latter stage of dementia, physical function is affected causing a decline in mobility and continence which can have a significant impact on everyday and social functioning.
The most common form of dementia is Alzheimer's disease which is degenerative which means the symptoms get worse over time. Other types of dementia include vascular dementia, dementia with Lewy bodies, frontotemporal dementia as well as dementia resulting from infection such as Creutzfeldt-Jakob disease or HIV.
A person with dementia who has problems with their
muscle strength
,
balance
or mobility will benefit from physiotherapy. This will improve independence with everyday tasks and prevent the risk of falling.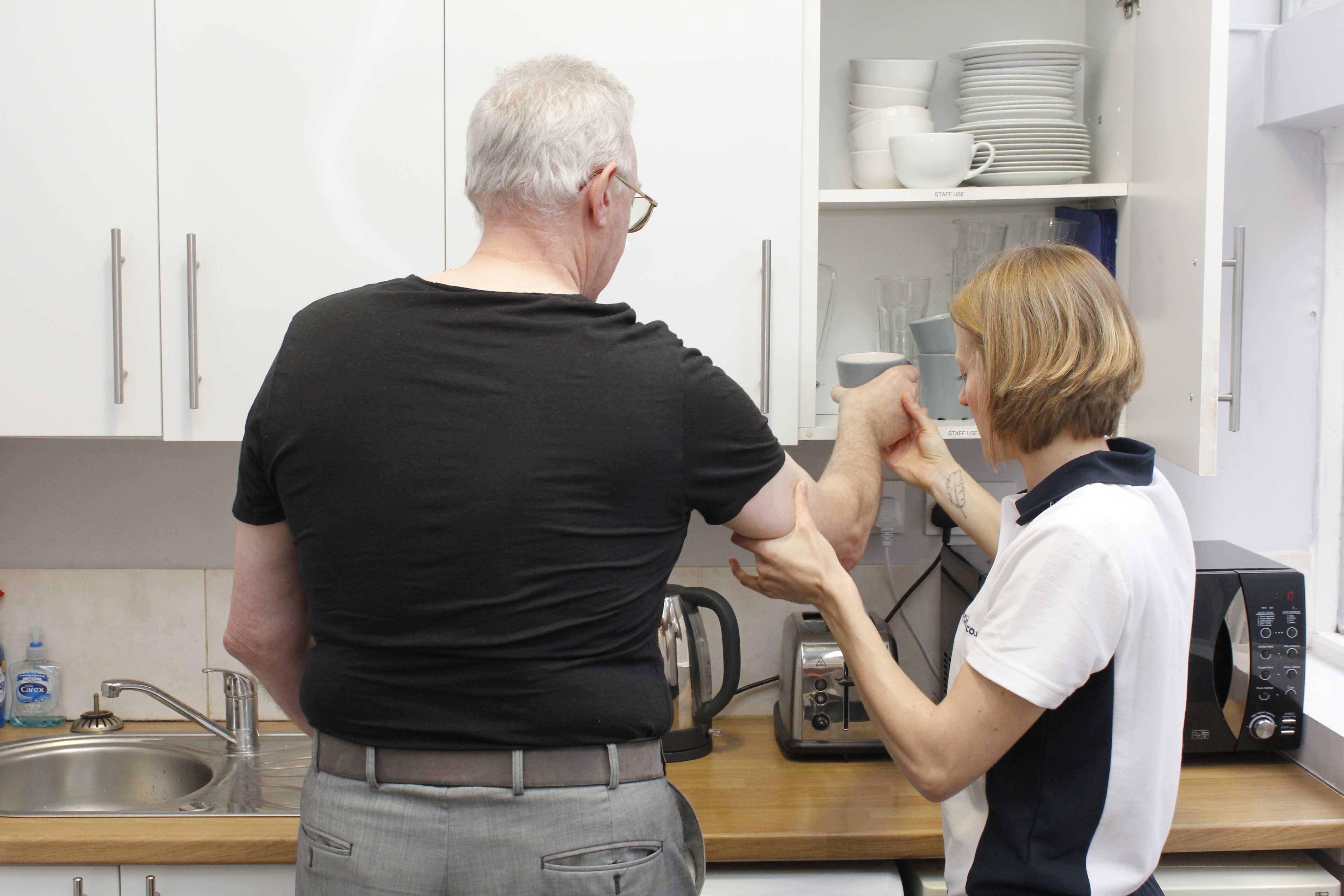 Above: Functional mobility exercises of daily living practiced with supervision from a neurological physiotherapist
Physiotherapy for dementia
At Physio.co.uk, our specialist neurological physiotherapists will maximise your physical potential by improving physical function, such as mobility,
balance
,
coordination
and
muscle strength
.
Physiotherapy will also enhance your independence with everyday activities such as getting in and out of bed, dressing, washing and walking. Your physiotherapist at Physio.co.uk will also advise and support family and/or carers about how to help you remain active in between treatment sessions and how to help you all live easier lives by reducing stress levels. Physiotherapy treatment at Physio.co.uk will:
Dementia affects everyone differently so physiotherapy treatment will be tailored to your needs. Physiotherapy may include:
Exercises to increase joint range of movement and muscle strength making daily tasks easier to achieve such as climbing the stairs and getting in and out of bed.
Balance training to help improve confidence when walking and reduce the risk of falling.
Gait re-education and encouraging normal patterns of movement improving mobility and functional ability.
Stretching muscles to prevent muscles shortening and joint becoming stiff.
Advise on devices for the home environment or mobility aids, such as walking sticks to increase safety and promote functional abilities.
Advice on transfer equipment such as hoists and slings and standing hoists.
A thorough assessment will be carried out in your home looking at furniture, footwear and clothing as well as your physical ability in order to reduce the risk of falling.
A person with dementia will benefit from neurological physiotherapy. Physiotherapy treatment will target your current symptoms in order to improve your independence and quality of life.
For more information or to book an appointment call
0330 088 7800
or alternatively. please use our online system to
book an appointment online
today!