Cervical discectomy
A cervical discectomy is a surgical procedure which involves removing the disks between two or morevertebraein the neck.
If cervical discs tear, the centre of the disc can often bulge out placing pressure on the nerve root or the spinal cord. This is often called a prolapsed disc or slipped disc. This causes pain in the neck, shoulders, arms and sometimes the hands and can be the result of ageing, wear and tear, or sudden stress from an accident.
Surgery is required if an individual experiences significant pain, weakness and loss of movement.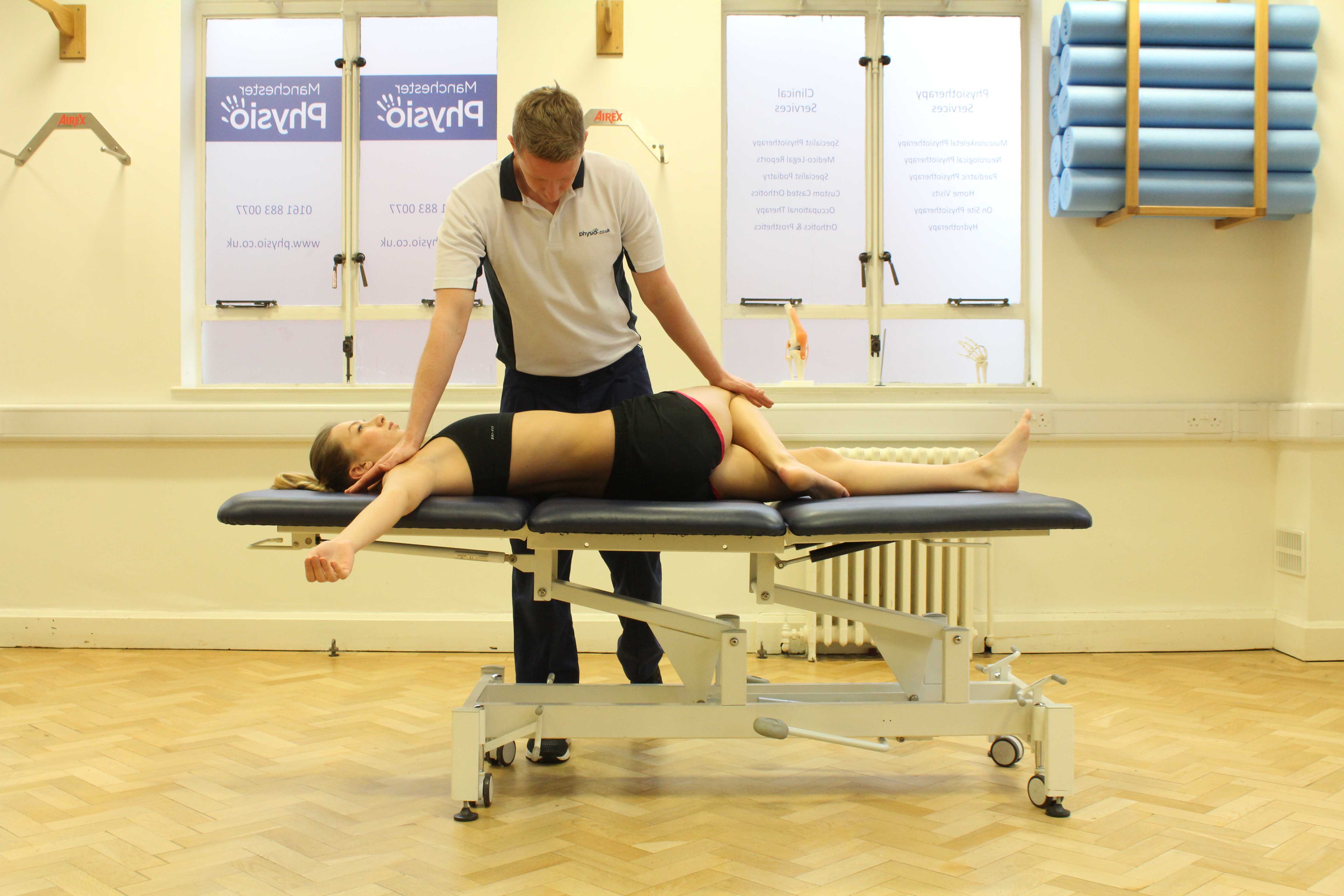 Above: Passive stretch of the trapezius muscle in the neck
An anterior (front) cervical discectomy is the most common surgical procedure to treat damaged cervical discs. A small incision in the front of the neck is done to remove the damaged discand to relieve pressure on the nerve roots or on the spinal cord.The space is either left open or replaced with a bone graft to maintain the normal height of the disc space
Physiotherapy before a cervical discectomy
Physiotherapy treatment before your surgery will help relieve pain and may involve a combination of hands on treatment and simple stretching and range of movement exercises. A physiotherapist may also visit you before your surgery to discuss what to expect following your operation.
The physiotherapists at Physio.co.uk offer cervical disc prolapsed physiotherapy treatment to prevent the need for surgery.
Symptoms following a cervical discectomy
Following your surgery you will feel some pain, commonly at the incision site. Pain medications are usually given to help control the pain. You may experience numbness or tingling but this should decrease over time. A physiotherapist will visit you the day after your operation to help you mobilise in order to maintain circulation and avoid blood clots. You may also be provided with gentle neck and arm exercises to encourage you move as pain allows. You will also be provided with a soft collar to wear for comfort and will return home, typically a day or so later. Before you are discharged the physiotherapist will advise you on activities that can be pursued and activities to be avoided.
Physiotherapy following a cervical discectomy
Physiotherapy treatment at Physio.co.uk, following a discectomy will enhance your recovery and promote your return to full function as soon as possible. At Physio.co.uk our specialised physiotherapists are experienced at treating individuals following a disectomy. The time it will take for you to return to the level you were previouslywill depend on your individual symptoms and goals. A structured rehabilitation programme will be devised between you and your therapist, which will incorporate short and long term treatment goals in order to assess your progress and make sure you reach your optimum potential. Following your surgery, physiotherapy treatment at Physio.co.uk will relieve pain, increase range of movement, improve muscle strength and cardiovascular fitness and your quality of life.
1-2 weeks
During the first few weeks of recovery, physiotherapy treatment will help:
Relieve pain and inflammation by using ice and ultrasound treatments.
Ease muscle spasm and pain by using massage and other hands-on treatments.
Encourage movement and circulation by using gentle passive and active range of movement exercise.
At this stage, physiotherapy at Physio.co.uk will decrease pain and discomfort and improve your range of movement.
2-6 weeks
At this stage of your rehabilitation you physiotherapist will begin to introduce daily low-impact exercise program. Walking and stationary cycling are good at improving cardiovascular fitness. Some discomfort is at this stage is normal, but pain is a signal to slow down and rest. Physiotherapy will also involve a structured exercise program for your cervical spine to help strengthen and stabilise the muscles in your neck, shoulders, and upper back. Treatment at this stage will also target your posture in sitting and standing in order to make sure that you keep your neck in safe positions at home, work or during everyday activities.
Most patients are able to return to light work within two to three weeks but those in heavy manual labour will need to await bony fusion before returning, which may take three months. Sports need to be avoided until healing has occurred, if these involve contact (football and rugby) but non-contact sport can be recommenced typically four weeks after surgery. Physiotherapy activities at this stage may include:
Walking
Stationary bicycle
Stretching exercises to increase flexibility
Exercises to encourage muscle control
Correcting and varying posture during activities of daily living such as lifting, reaching and bending
Physiotherapy treatment at this stage will increase your energy levels and confidence with activities important to you.
6 -12 weeks
During this stage of your recovery physiotherapy treatment will focus on progressing your level of activity and exercises to continue strengthening muscles and improving range of movement.As you continue to improve, your physiotherapist will tailor the exercises in order to promote your return to work or sporting activity. Your physiotherapist may suggest alternative ways to structure your day that will enable you to go back to your previous job or to do alternate forms of work. Physiotherapy treatment at this stage may include:
Neck and abdominal strengthening exercises
Progressing walking distance
Exercises based around your work or sporting life
12+ weeks
Your physiotherapist at this stage of your recovery will focus on improving your confidence with daily tasks at work or home and make sure these activities are carried out safely and effectively.
The amount of time it takes to return to normal activities is different for every patient. When you resume work depends on your job. For example, if you work in an office you may be able to get back within a few weeks but if you do a physical job you should allow at least 6 weeks.
At Physio.co.uk, our motivated team of physiotherapists will get you back to work or sporting activities as soon as possible and improve your quality of life.
For more information call Physio.co.uk now on 0330 088 7800 or to book an appointment please contact us
.