The pelvic floor muscles act as a sling in the pelvic area supporting the uterus, bladder and rectum. It is common for the pelvic floor muscles to become weak during pregnancy which can result in a number of other problems.
Physiotherapy is an effective method of strengthening these muscles and improving stability to the pelvic area. Physio.co.uk have physiotherapists that specialise in women's health and can work with you to create a personalised physiotherapy programme to meet your needs.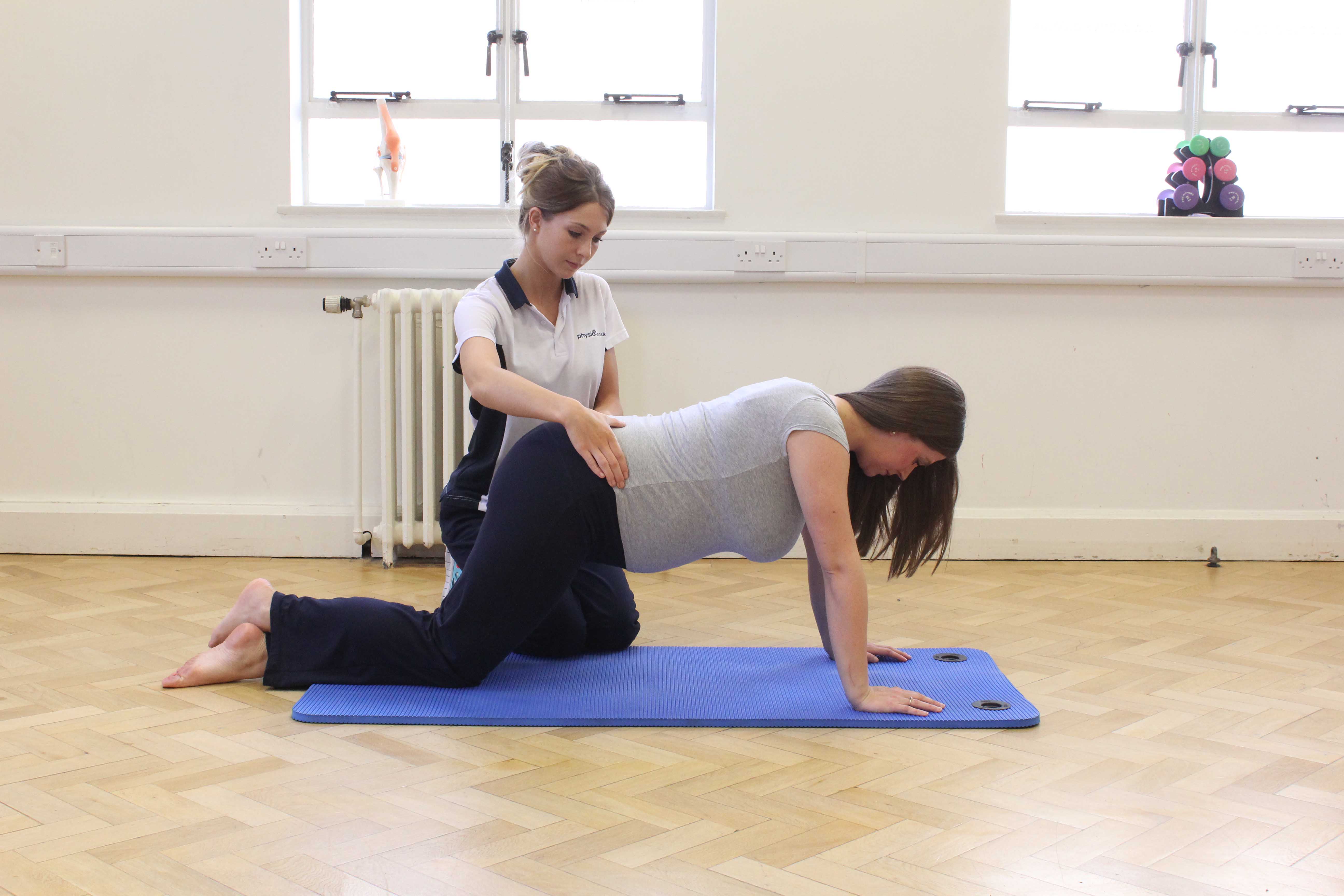 Above: Core stability and pelvic floor exercises supervised by a experienced therapist
Symptoms of pelvic floor
Pelvic floor weakness can result in a variety of different symptoms and it is important that you work with your physiotherapist at Physio.co.uk to identify these as soon as possible. Possible symptoms include:
Bladder and bowel incontinence
Pelvic instability
Low back pain
Problems during pregnancy and in future pregnancies
Why might I experience pelvic floor weakness?
There are a number of factors contributing to pelvic floor weakness during pregnancy. These may include:
Older women
Previous pregnancies
Difficult labour
Larger/more than one baby
What is the physiotherapy treatment for pelvic floor weakness?
There are a number of physiotherapy treatment options to improve the strength of your pelvic floor muscles. The specialist physiotherapists at Physio.co.uk will carry out a full assessment and design an appropriate physiotherapy programme to maximise your potential. It is important to strengthen your pelvic floor muscles as soon as possible during pregnancy and maintain this after you give birth to reduce the risk of any long term complications. Physiotherapy treatment may include:
Pelvic floor strengthening exercises
Pelvic stability exercises
Internal examination to assess the strength of your pelvic floor muscles
Biofeedback (gives you information about how well your muscles are working)
Weighted cones (encourages pelvic floor activity during everyday activities)
Electrical stimulation (small electrical currents to help the pelvic floor muscles contract)
Advice on correct lifting and handling techniques
Advice on positioning
Summary
Pelvic floor muscles provide support to the abdominal contents including the rectus, uterus and bladder. Due to the increased stress on the pelvic area throughout pregnancy, it is common for the pelvic floor muscles to be become weak. The specialist physiotherapists at Physio.co.uk are experienced in women's health problems and will work with you to create a personalised physiotherapy programme to reduce the risk of any complications during your pregnancy. If you would like to book an appointment, please call Physio.co.uk today on
0330 088 7800
, or alternatively
book online