What is motor neurone disease?
Motor neurone disease (MND) is the name given to a group of disorders that affect nerve cells in the brain and spinal cord leading to muscle weakness, wasting and loss of function. It also affects the muscles that enable us to speak, breathe and swallow making these processes difficult. Motor neurone disease is a rare progressive neurological condition that commonly affects people between the age of 50 and 70. Over time the symptoms of MND become worse.
Physiotherapy treatment will promote functional independence by maintaining muscle strength and length and increasing energy levels and sense of well-being. Physiotherapy will also improve a person's ability with everyday tasks and improve their quality of life.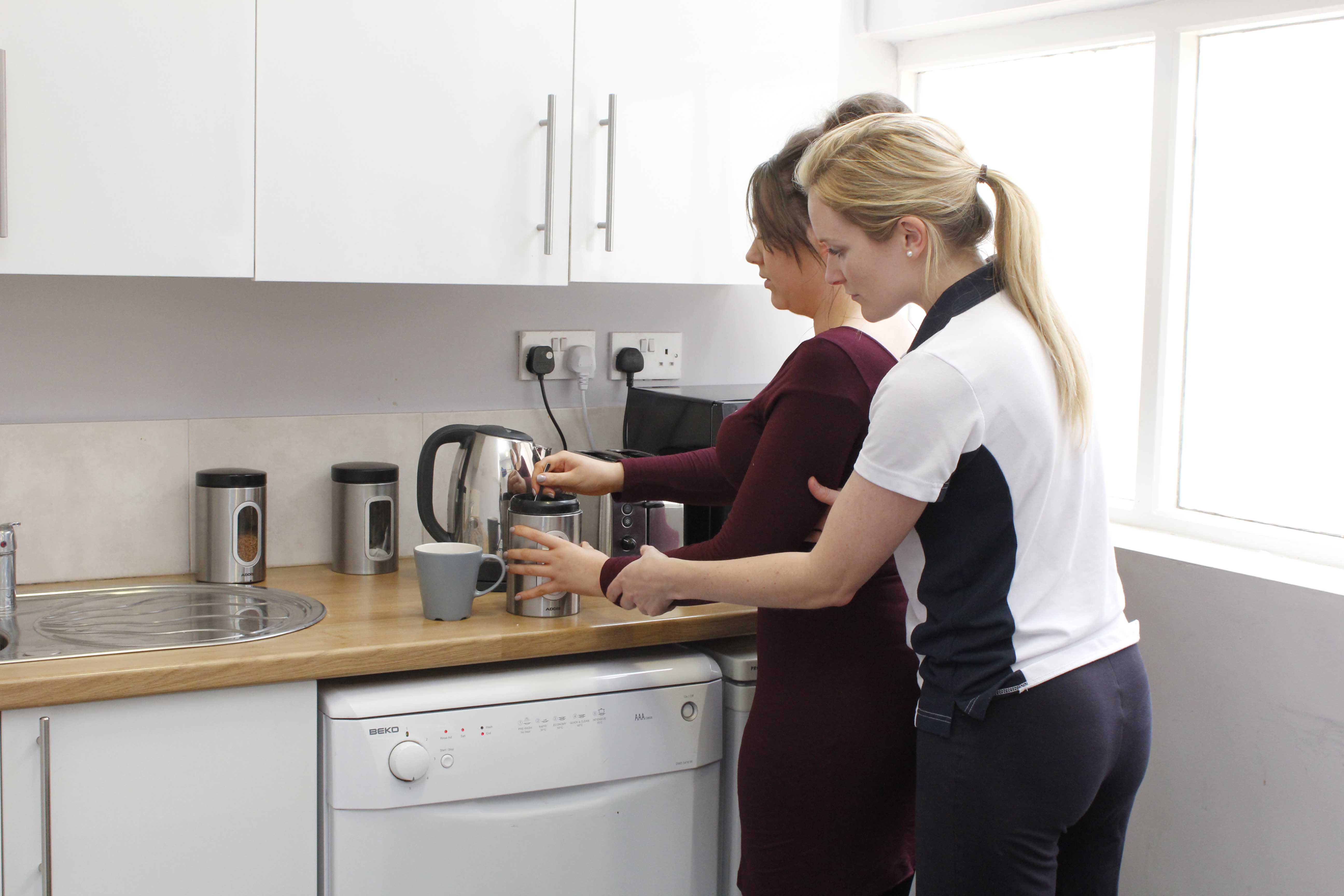 Above: Practicing functional exercises to gain greater independance in daily life.
Types of motor neurone disease
There are three main types of MND:
Amyotrophic lateral sclerosis (ALS) is the most common type of MND and causes muscle weakness and stiffness.
Progressive bulbar palsy (PBP) accounts for 20% of MND cases and causes difficulty with speaking and swallowing.
Progressive muscular atrophy (PMA) accounts for 10% of cases and causes muscle weakness, wasting and twitching.
MND affects people in different ways and there is a difference in how quickly each type of MND progresses.
Diagnosis of motor neurone disease
Diagnosing MND can be difficult as other neurological conditions have similar symptoms such as multiple sclerosis, tumours, a trapped nerve or Parkinson's disease. If your doctor suspects that you have MND you will be referred to a neurologist for tests including blood and urine tests, magnetic resonance imaging (MRI) scan, electromyography (EMG), or a transcranial magnetic stimulation (TMS). These tests measure the activity of your muscles and your brain and will confirm a diagnosis of MND.
What causes motor neurone disease?
Motor neurone disease (MND) is caused by progressive damage to the motor neurones in the brain and spinal cord. Motor neurones send messages from your brain to your muscles allowing you to move. They also help regulate many of the body's automatic processes, such as breathing and swallowing.
It is still unclear how the motor neurones become damaged in MND. It has been suggested the genetic and environmental factors play a part in the development of MND.
Approximately 10% of people with MND have a close relative with the condition. A genetic mutations which people inherit from their parents, may play a role in the condition.
A number of environmental factors have been suggested, including smoking, a high fat diet and chemicals, however, more research is needed.
What are the effects/symptoms of motor neurone disease?
The symptoms of MND depend on the type of MND you have. The main symptom of MND is muscle weakness that becomes progressively worse over time. The first symptoms commonly develop in the hands and arms, or feet and legs. Although physical functions decline, cognitive function remains intact and your memory, sight and smell remain unchanged. Other initial difficulties may include some of the following:
Stumbling,
Dragging of a foot
Difficulty gripping objects.
Stiff joints
Fatigue especially with daily activities
Pain and discomfort
Muscle wasting
Spasticity or stiffness in the arms and legs.
Difficulties with speech, chewing and swallowing.
Breathing problems
As MND progresses, a person with MND may become more almost totally immobile requiring them to use a wheel chair to complete everyday tasks. The speed of the progression varies greatly with individuals.
Furthermore, people with MND may experience a 'plateau' for weeks or even months where symptoms remain the same and no deterioration occurs.
Physiotherapy treatment is very important and should be started as soon as possible. Physiotherapy will help improve balance, posture and mobility. It will also make movement more functional and reduce the impact the physical symptoms have on your life.
Physiotherapy for motor neurone disease
At Physio.co.uk we understand that being told that you have motor neurone disease (MND) can be an emotionally experience and the news can be difficult to take in. Physio.co.uk recommend an early intervention which is very important as this allows time for an effective relationship to be built up with the physiotherapist which will become invaluable as your condition progresses. Our dedicated physiotherapists at Physio.co.uk will promote functional independence by maximising your potential and increasing your self-esteem.
At Physio.co.uk our specialised neurological physiotherapists acknowledge that MND affects everyone differently so treatment is tailored to your needs. An initial assessment will look at how MND affects you and goals will be developed centred around you and those close to you. Physiotherapy treatment will be focused on:
Minimising abnormalities of muscle tone
Maintaining muscle strength for as long as possible
Preventing secondary problems such as soft tissue contractures and infection
Advice on postural management
Facilitating the use of efficient functional movement patterns including the quality of walking.
Helping stiff muscles and joints
Increasing range of motion
Increasing flexibility
Improving balance and posture
Increasing comfort when sitting, standing or sleeping
Reducing the risk of falling
Education and advice about MND
Increasing energy levels
Improving sense of well being
Helping maintain independence
Assessment of your individual needs will be taken on a regular basis as your physical symptoms will change over time. Physiotherapy treatment for motor neurone disease includes:
Exercises to maintain muscle strength and length and how to incorporate these into everyday activities.
Teach techniques that help make some automatic movements and functional abilities easier. For example, walking, sitting down and standing up are some of the tasks that may become difficult as MND progresses, but can be improved by learning new ways of doing things.
Balance training to help improve confidence and reduce the risk of falling.
Teaching and advising family and carers on positioning, transfers and mobility aids.
Gentle exercise and massage will help reduce your anxiety.
Hydrotherapy treatment will also help relax and stretch tight muscles and help with mobility.
As MND progresses, the person will need assistance with daily tasks. Physiotherapy treatment and the correct aids and equipment will help people with MND retain some independence and quality of life. Our specialised physiotherapists at Physio.co.uk will help identify the appropriate resources, aids, equipment and support. To book an appointment call
0330 088 7800
,
book online
or alternatively request a
free phone consultation
.