What is dystonia?
Dystonia is a neurological movement disorder affecting the muscles in the body. A person with dystonia may suffer from uncontrollable muscle contractions which can lead to repetitive, often painful abnormal movements and postures. People with dystonia will have involuntary trembling in parts of the body (tremors). Dystonia can affect men and women of all ages and is a condition within itself, but also a symptom of other neurological disorders including Parkinson's disease, stroke, traumatic brain injury, and multiple sclerosis.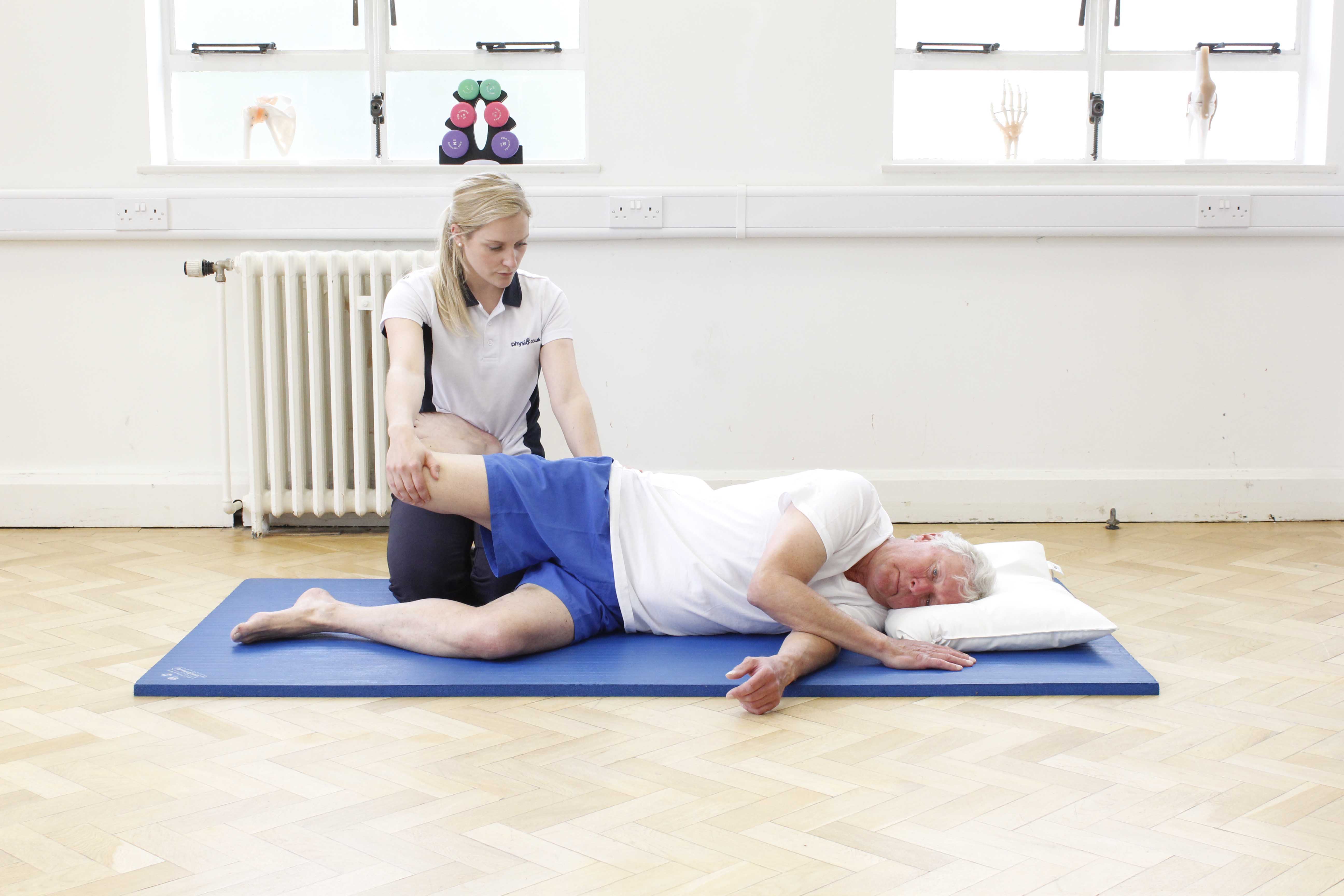 Above: Stertches and mobilisations of the hip and knee joint to relieve pain and lower muscle tone
Diagnosis of dystonia
Dystonia can be very difficult to recognise and diagnose as some doctors may be unfamiliar with the disorder.If your doctor suspects that you have dystonia they will carry out a detailed medical history and a neuromuscular examination or they will refer you to a neurologist who specialises in movement disorders. A person can be diagnosed with dystonia in childhood, adolescence or adulthood.
Types of dystonia
There are many different types of dystonia affecting different parts of the body:
Focal Dystonia – affects one part of the body
Multifocal Dystonia - affects several different unrelated body parts, such as eyes, hands and vocal cords
Hemidystonia - affects one leg and one arm on the same side of the body
Generalised Dystonia affectsmost of the body, usually the leg and trunk
Focal dystoniasare the most common type of dystonia and with different effects:
Cervical dystonia - affects the neck muscles and can make the head, twist, shake or pull in one direction uncontrollably
Oromandibular dystonia - affects the jaw, tongue and mouth muscles and canlead to problems with eating or speaking
Blepharospasm Dystonia - affects the muscles around the eyes and causes an abnormal twitch of the eyelid
Writer's cramp - affects the hand and forearms and can lead to problems with writing
Laryngeal dystonia - affects the vocal cords orspeech muscles which causes speech to become strained and weak
Childhood dystonia is usually different from adult dystonia. If dystonia starts in childhood it usually begins in the leg or foot and commonly spreads to involve the entire body. If dystonia begins in adult life it tends to affects one part of the body, such as the neck or hand.Diagnosis and treatment will, therefore, depend on the time of onset and what type of dystopia you have.
What causes dystonia?
The cause of dystonia is not always clear. In some cases dystonia can be hereditary which means a member of the family who may have or have had dystonia have passed it on via their genes. However, not everyone who inherits the gene develops dystonia.
Dystonia may also be caused by damage to an area of the brain called the basal ganglia. The basal ganglia controls movement by regulating muscle contractions. Damage to the basal ganglia can be due to a variety of causes such as stroke, tumour of the basal ganglia, or the result of certain drugs.
Physiotherapy for dystonia
A person with dystonia will benefit from physiotherapy from the specialist neurological physiotherapists at Physio.co.uk. Physiotherapy can help promote independence and quality of life. Our neurological physiotherapists provide a structured treatment program tailored to help the affected areas of dystonia. We understand that dystonia can have a profound effect both emotionally and functionally so our motivated physiotherapists provide support by working closely with your partners, family and carers. Physiotherapy treatment will address:
Preventing muscle shortening
Increasing range of motion
Increasing flexibility
Improving balance and posture
Improving walking
Improving safety
Increasing comfort when sitting, standing or sleeping
Increasing energy levels
Promoting independence
Our physiotherapists understand that each patient with dystonia has different difficulties so our specialised treatment is suited to your individual needs and includes:
Muscle stretching to prevent stiffness and lengthen tight muscles
Walking to help limit muscle shortening
Exercise to increasestrength in the muscles
Exercises to enhance functional abilities
Exercise to promote posture and balance
Exercise to increase stamina and reduce fatigue
Hydrotherapy treatment
Relaxation therapy to relax tight muscles
Treatment prior to and following botulinum toxin treatment
Specialised neurological physiotherapy treatment at Physio.co.uk will help you reach your optimal potential. To arrange a full assessment to get an idea of your rehabilitation potential and book an appointment call
0330 088 7800
,
book online
or alternatively request a
free phone consultation
.