Pilates is a type of exercise that focuses on core strength and flexibility. It can reduce pain and instability in joints by strengthening the surrounding muscles. Making it an effective treatment for pain in the back, neck, knee, hip and shoulder. Increasing muscle tone in these areas can help with hypermobility syndrome and postural issues too. It is suitable for patient rehabilitation as it is non-impact, safe and can be targeted to all levels of fitness.
Due to these traits, Pilates is also widely practiced by pregnant women to reduce back pain, strengthen pelvic floor muscles and continue gentle exercise throughout pregnancy. It is also an excellent way to retrain abdominal muscles, improve fitness levels and reduce stress after the birth. Pilates is regularly used in sports rehabilitation and general training, as a strong core helps generate more power, improving overall performance.
Our clinics are fully equipped with gym facilities to allow our experienced Physiotherapists to conduct Pilate's classes in a comfortable environment. If classes do not feel suitable or you want specific targeted training then one to one Pilate's sessions can be arranged at a time to suit you. Physio.co.uk provides Pilates sessions of the highest standard to ensure you gain maximum benefits for your body.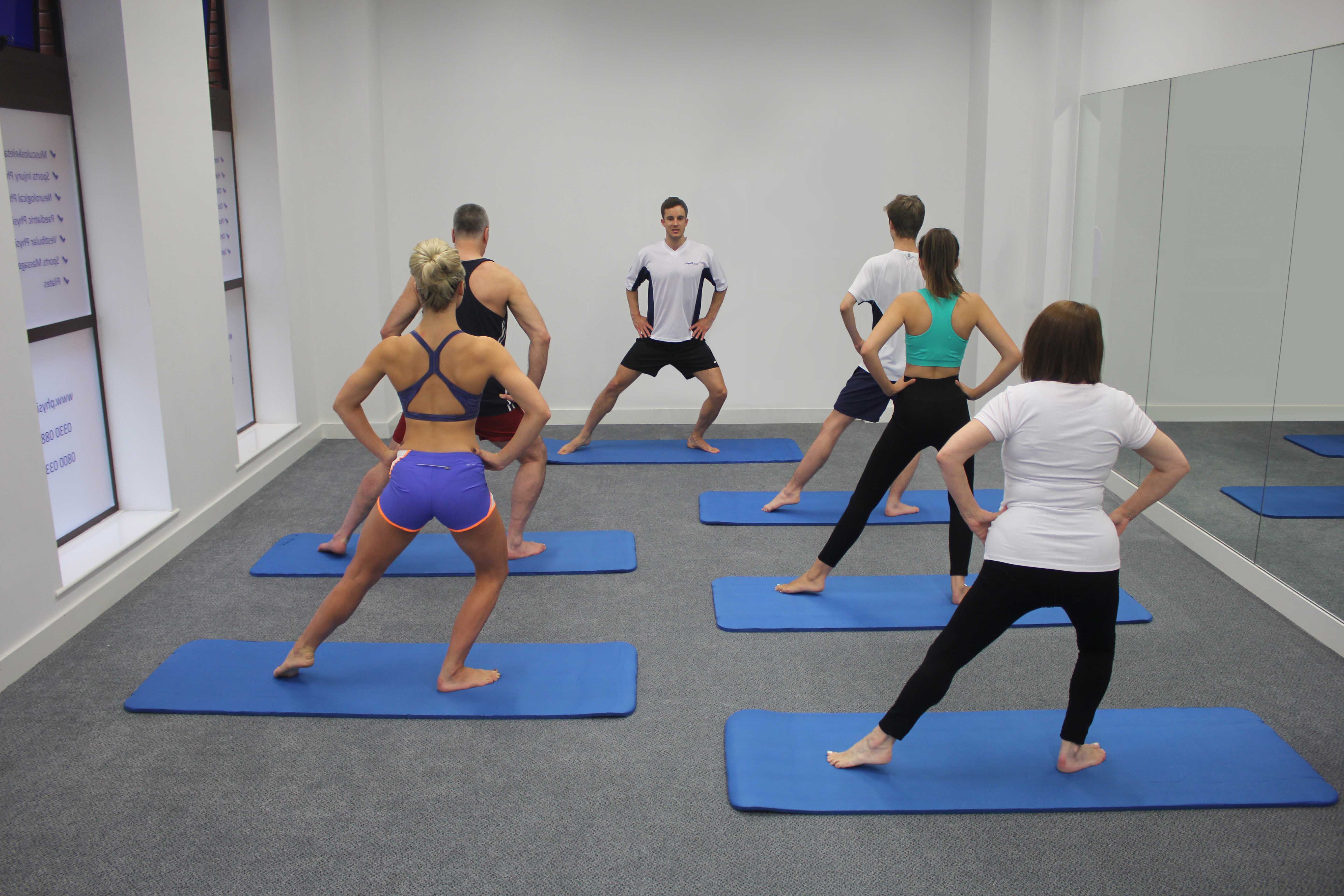 Above: Pilates class led by specialist physiotherapist
How does Pilates work?
Pilates is targeted and effective exercise, specifically developed since its inception for this purpose of rehabilitation. It works by combining its 6 key principles:
Breathing
Concentration
Control
Fluent movement
Accuracy
Centring
What are the benefits of Pilates?
Pilates is low impact training that has 5 distinct benefits not always found in standard exercise classes. These benefits include:
Enhanced muscle tone
Improved posture
Increased joint stability
Injury prevention
Maximised wellbeing
Pilates Class Information
All Pilate's classes are held at 3-5 St John Street, central Manchester, M3 4DN. One to one Pilate's sessions are available, to provide you individual attention and personalised feedback from your physiotherapist.
For more information on how Pilates sessions can help treat your condition, or to book yourself an appointment, please contact us via email at
office@manchesterphysio.co.uk
or call us on
0161 883 0077
.
For more detailed descriptions of the different Pilates class types we offer, please clink on the links below.