What is Down's syndrome?
Down's syndrome is a genetic condition that causes
cognitive impairment
,
developmental delay
, characteristic facial features, and
low muscle tone
in early infancy.
What causes Down's syndrome?
Down's syndrome is caused by a genetic abnormality which means a child has an extra copy of chromosome 21. This extra chromosome affects the child's physical and cognitive development.
Above: Guiding rehabilitation exercises through play activities
What are the symptoms of Down's syndrome?
The symptoms of Down syndrome range from mild to severe.
Toddlers with Down's syndrome have delayed physical and cognitive development and usually take longer to reach their
developmental milestones
such as learning to sit, crawl and walk at the right time.
Other symptoms of Down's syndrome may include heart defects, gastro-intestinal problems, sight and hearing problems, thyroid problems and poor immunity.
Diagnosis of Down's syndrome
Screening during pregnancy can determine the likelihood of your baby developing the syndrome. Diagnosis after birth will be confirmed by a doctor who will assess your baby and look for the typical physical features that are associated with the condition, such as eyes that slant upwards or a flat back of the head.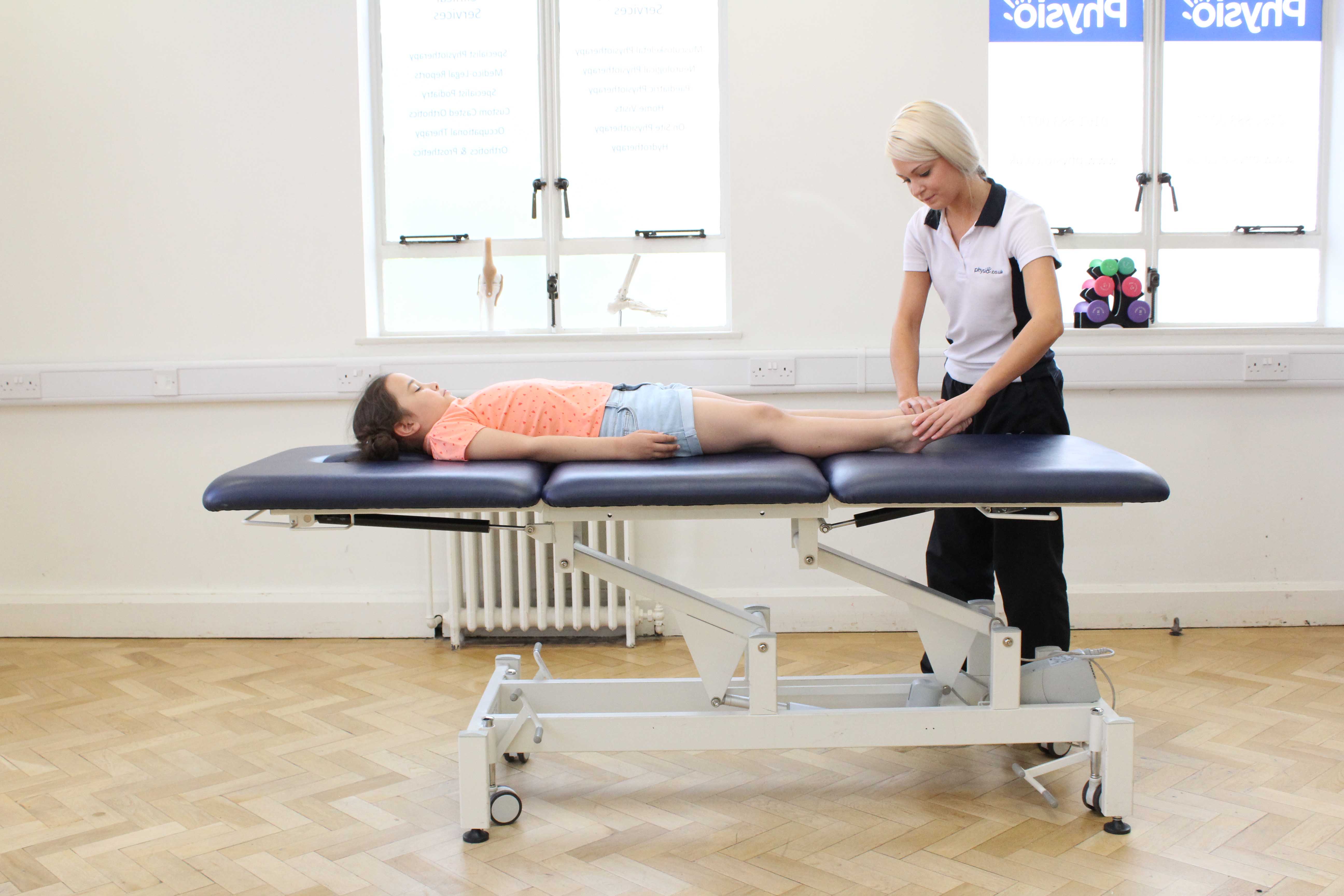 Above: Passive stretches and mobilisations to relieve pain and stiffness
Physiotherapy for Down's syndrome
Early physiotherapy treatment for toddlers with Down's syndrome is vital to progress development and to prevent secondary complications.
Physiotherapy at Physio.co.uk focuses on physical problems that are common in toddlers with Down's syndrome such as:
Hypotonia - reduced muscle tone can affects your child's posture and their ability to learn motor skills and support themselves correctly.
Laxity of the ligaments - this is when the ligaments are so loose so that they do not support the bones adequately. In infancy, it can be seen in the way they lie down with their legs splayed apart. In later years, their ankles and other joints will be loose enough to cause support problems
Muscle weakness – lack of strength in the muscles will affect your toddler's functional independence and involvement in activities at home and school.
Delayed development - activities such as rolling over, sitting, crawling, and walking may be delayed.
Your paediatric physiotherapists at Physio.co.uk will firstly assess you child's ability with functional activities in order to tailor treatment to their stage of development.
Physiotherapy treatment at Physio.co.uk will be suited to your child's current needs and may include:
Physiotherapy treatment at Physio.co.uk will overcome
muscle weakness
and help your child reach their developmental milestones and live a quality life.
Physio.co.uk can provide treatment of Down's syndrome across Greater Manchester and Cheshire. We will provide assessment and treatment at our clinic, a child's school or at your home for your convenience.
If you would like more information on physiotherapy for Down's syndrome or to book an appointment please call
0330 088 7800
, or
book online
today!