What is ataxia?
Ataxia is a neurological disorder caused by damage to parts of the nervous system which control movement and balance. This causes uncoordinated movement of the muscles in the body. Ataxia is the main symptom of a group of neurological disorders called the cerebellar ataxias. Ataxia is also a symptom of many neurological disorders includingstroke, head injury, multiple sclerosis and cerebral palsy.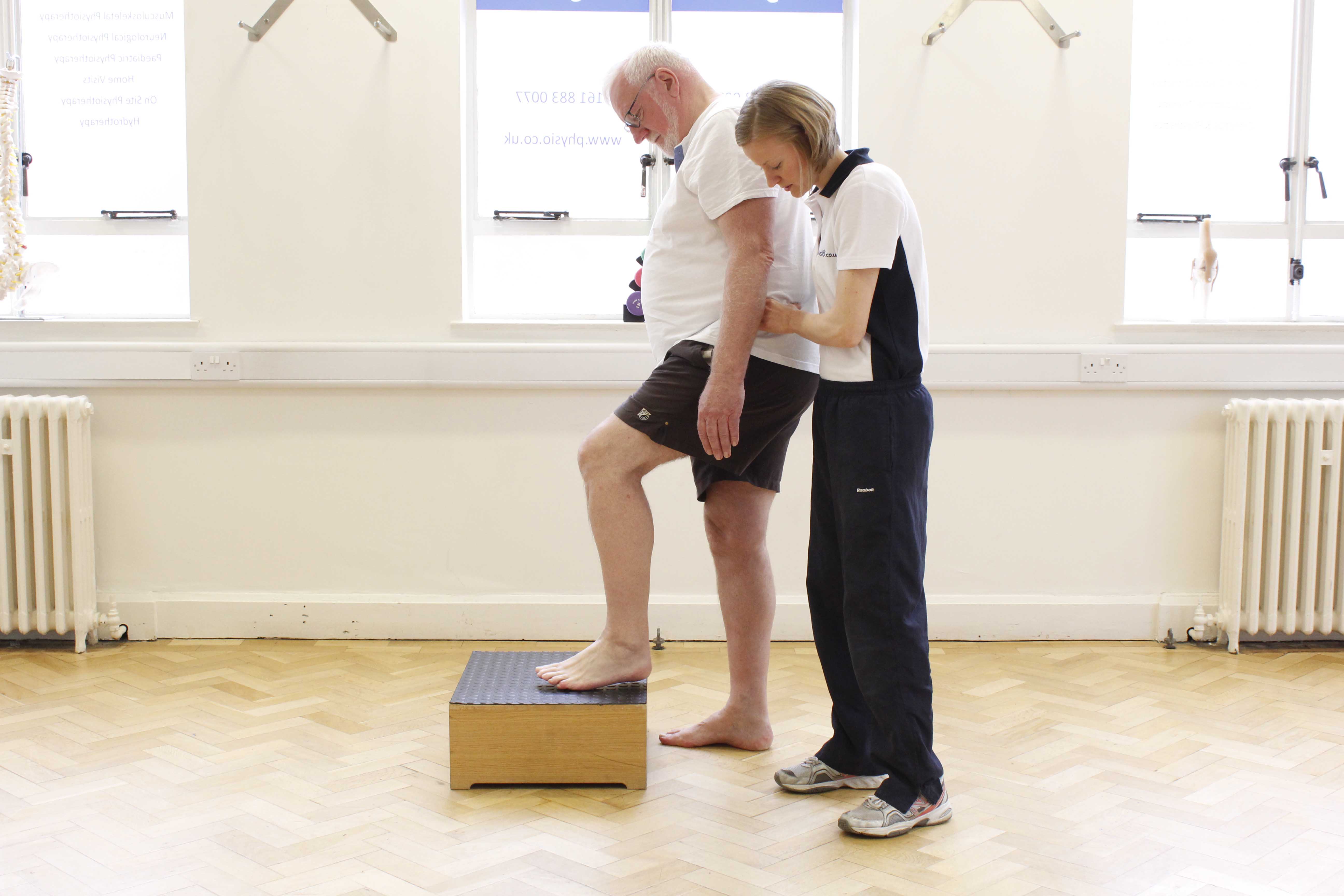 Above: Functional mobility exercises assisted by a specialist neuro physiotherapist
Diagnosis of ataxia
Diagnosis of ataxia is complex as there are different types of ataxia, and other neurological conditions have similar symptoms. A neurologist may have to carry out many tests in order to confirm diagnosis which includes:
Blood tests
Magnetic Resonance Imaging (MRI) scans
Genetic tests to see if the disorder is inherited
A person with ataxia can be diagnosed in childhood or later in life.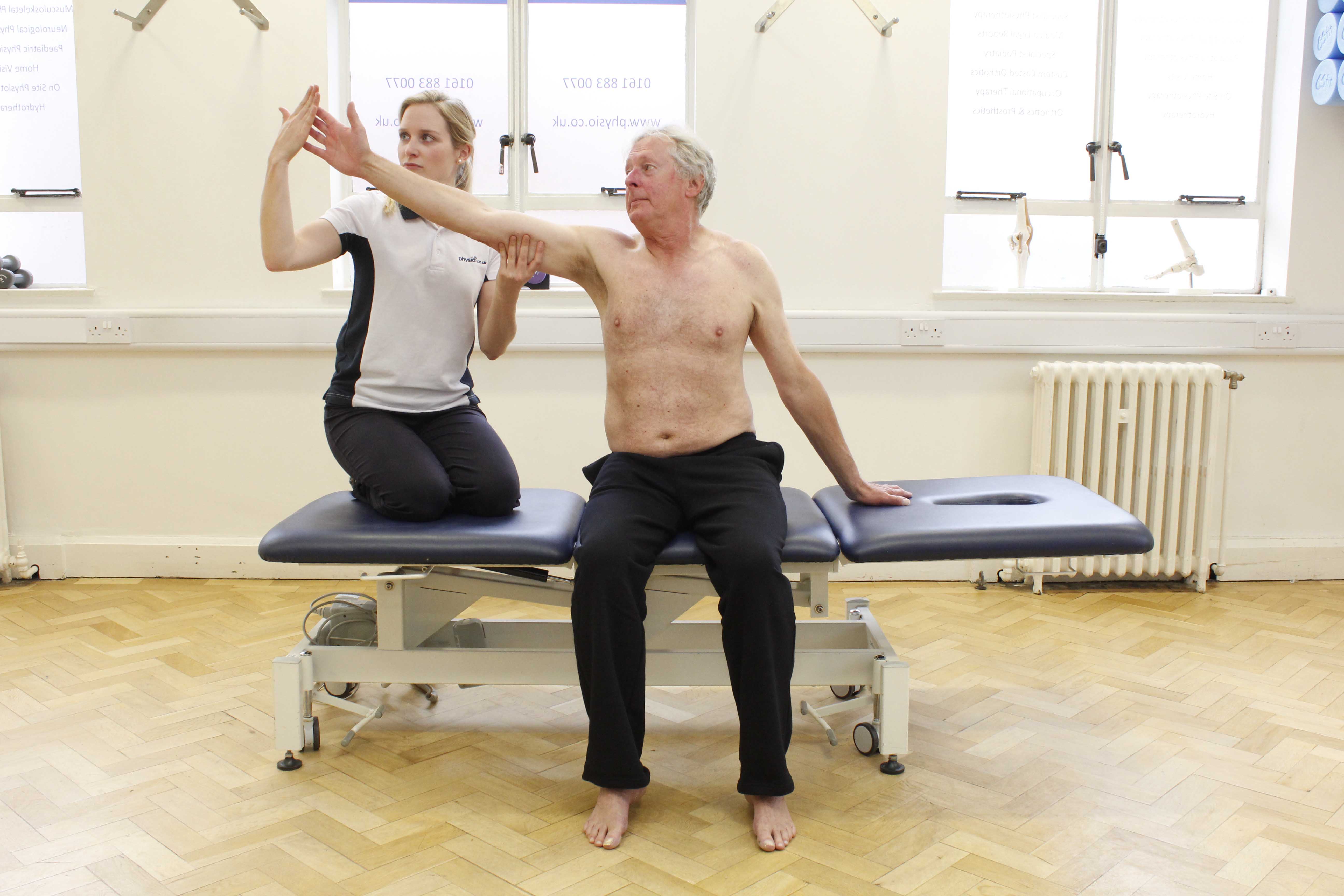 Above: Reaching balance exercises supervised by an experienced neuro physiotherapist
What causes ataxia?
There are different causes of ataxia thatcan be inherited or non-inherited.
Causes of inherited ataxia include:-
Gene abnormality passed down through family (this depends on the type of ataxia being passed on). For example cerebellar ataxia such as:

Friedreich's ataxia,
Spinocerebellar ataxia type 6
Ataxia telangiectasia

Abnormal development of the cerebellum in the womb. The cerebellum is the area of the brain which is responsible for coordination of muscle movement. The symptoms start when the person is young.
Causes of non-inherited ataxia include:-
Stroke
Traumatic Brain Injury
Multiple Sclerosis
Cerebral Palsy
Sensitivity to gluten and a vitamin E deficiency.
Alcohol and drug abuse
Some people have idiopathic ataxia which means the underlying cause is unknown.
What are the effects / symptoms of ataxia?
Ataxia affects people in different ways as there are different types of ataxia with varying degrees and symptoms.
The symptoms of ataxia can get better or worse depending on the cause of the condition and if the treatment is accessed. Symptoms of ataxia include:
Difficulty in standing and walking due to poor balance
Poor coordination of the arms and legs
Difficulty with writing and eating due to impaired coordination and involuntary shaking
Difficulty with speech and swallowing
Slow eye movements and dizziness
Overarched feet
Physiotherapy for ataxia
Physiotherapy is important for people with ataxia and the specialist neurological physiotherapists at Physio.co.uk are experienced in treating people with this condition. Physiotherapy treatment for ataxia is focused around:
Increasing control of movement of the arms, legs and trunk
Improving balance
Improving posture
Improving walking
Promoting independence
Our motivated physiotherapists understand that each patient with ataxia have different difficulties so our specialised treatment is suited to your individual needs. Our neurological physiotherapists will teach you exercises based around everyday activities, whilst improving strength, co-ordination, balance and quality of movement.
Physio.co.uk provides patient centred care that will enable you to increase your independence and postural stability in a safe environment.
To book an appointment call
0330 088 7800
,
book online
or alternatively request a
free phone consultation
.