What is a calf strain?
The calf is the name for the muscle bulk on the back of the leg between the knee and the ankle. The calf is made up of two muscles; the gastrocnemius (superficial) and the soleus (deep). A calf strain is a tear in one of these muscles. Physiotherapy is an effective treatment for a calf strain.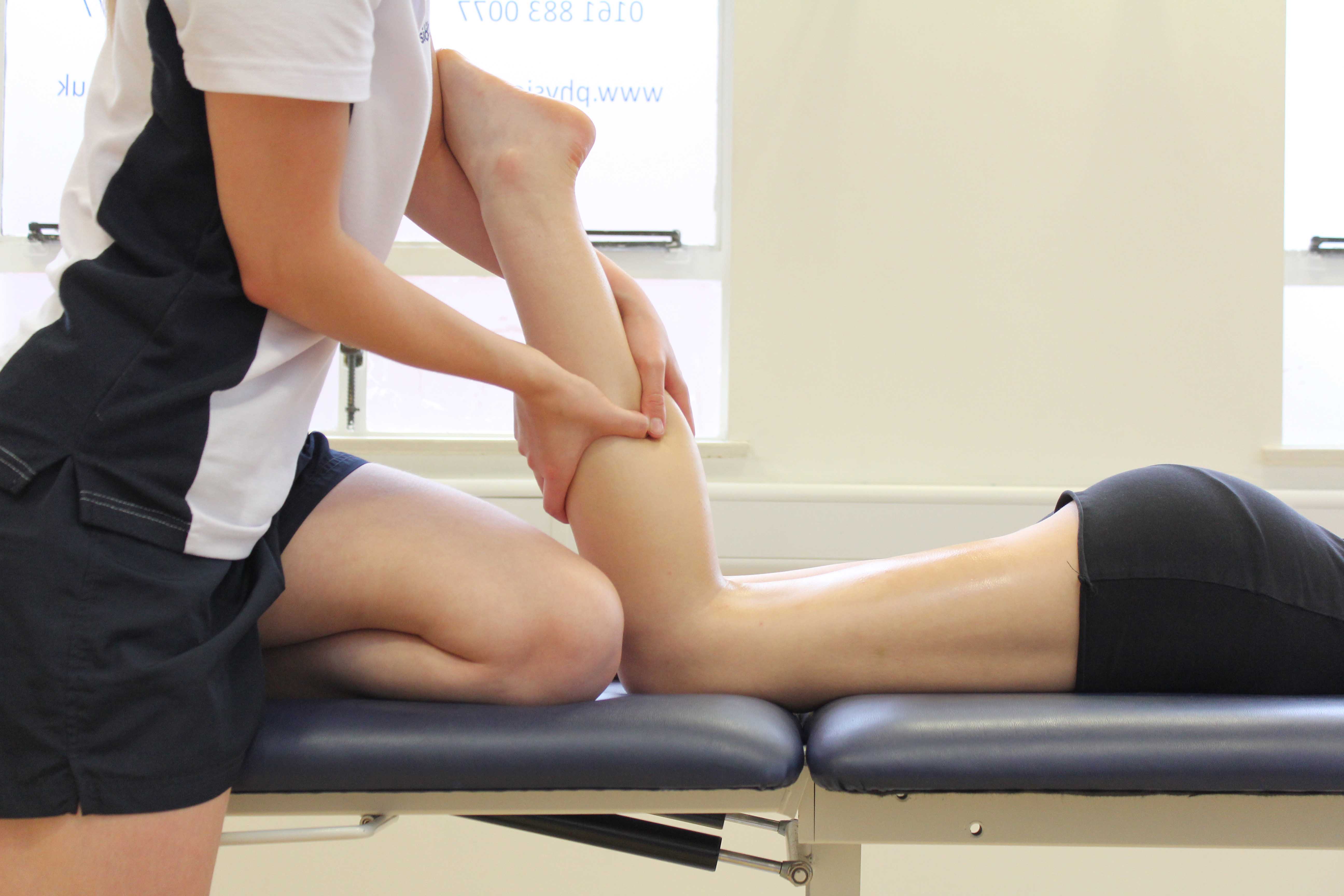 Above: Trigger point massage applied to gastrocnemius muscle by specilaist therapist
How does a calf strain happen?
A calf strain can occur when the muscle is forcibly contracted whilst in a stretched position, such as when accelerating from a stationary position or when lunging forward.
Factors which may contribute to a strain of the calf muscle include an inadequate warm-up, muscle stiffness or tightness, fatigue or overuse, an inadequate recovery period between training sessions, reduced muscle strength, and faulty biomechanics.
What are the symptoms of a calf strain?
The first sensation you feel when a calf muscle is torn is sudden pain in the calf area. This may be associated with a stabbing or tearing sensation. With a minor tear, you may be able to continue walking or running with minimal hindrance. However, as you rest and the muscle cools down, the pain may gradually worsen as bleeding and swelling occurs around the injured muscle. Other symptoms may include:
What should I do if I have a calf strain?
To limit the severity of the injury and, therefore, accelerate your recovery, you should cease participating, begin the
RICE regime
and arrange a physiotherapy appointment.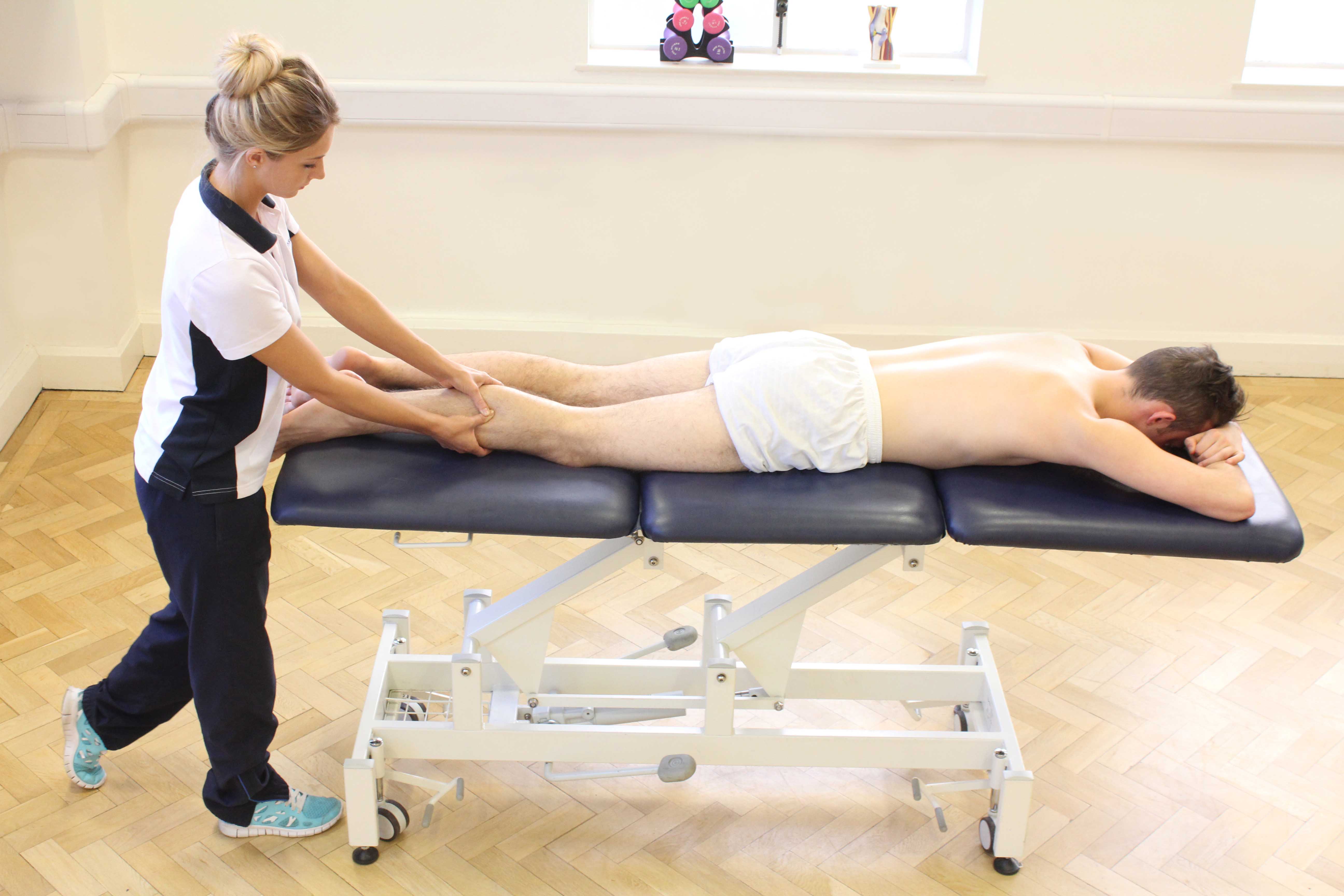 Above: Soft tissue massage applied to soleus muscle by specilaist therapist
What shouldn't I do if I have a calf strain?
In the first few days after a calf strain, you should not undertake activities which increase blood flow to the injured muscle and, therefore, prolong muscle bleeding and increase swelling. These include hot showers, calf-stretching, heat rubs, massage, consumption of alcohol and excessive weight-bearing on the injured leg.
Physiotherapy treatment for a calf strain.
Physiotherapy is important in the treatment of a calf muscle strain. At the initial assessment your physiotherapist can diagnose your injury, explain which tissues you have damaged and to what extent they are damaged. Following the assessment your physiotherapist can give you an indication of how long the injury should take to heal. Treatment varies dependent on the severity of the muscle tear. The main aim initially is to speed up recovery by reducing pain and swelling and enhancing the healing of the injured muscle fibres. Treatment may include: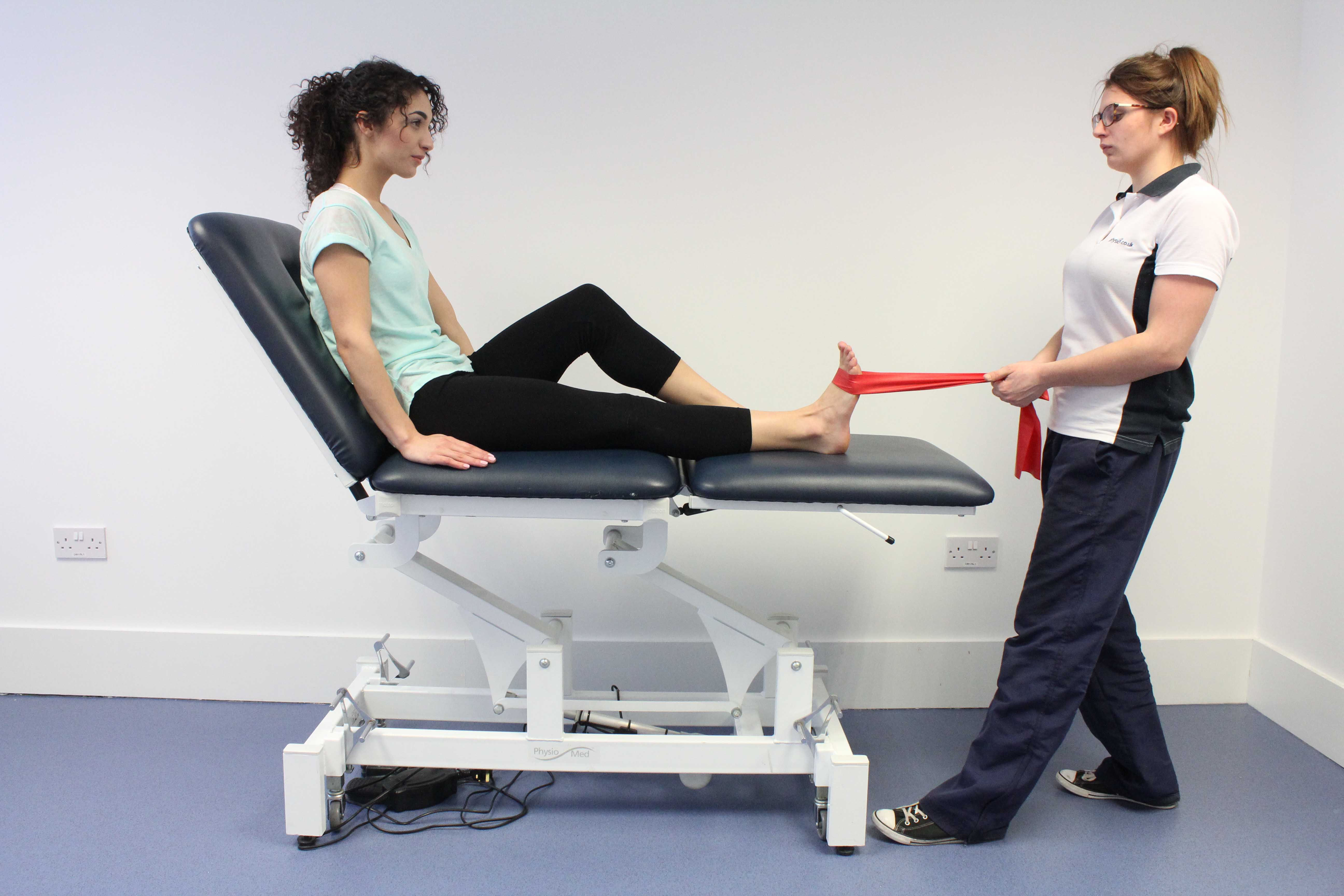 Above: Resisted dorsifexion exercises of the lower limb using a resistance band.
To arrange an assessment with a specialist physiotherapist call Physio.co.uk on
0330 088 7800
or
book online
.