What is a mastectomy?
Mastectomy is the removal of one or both breasts commonly due to breast cancer or if there is a family history of breast cancer.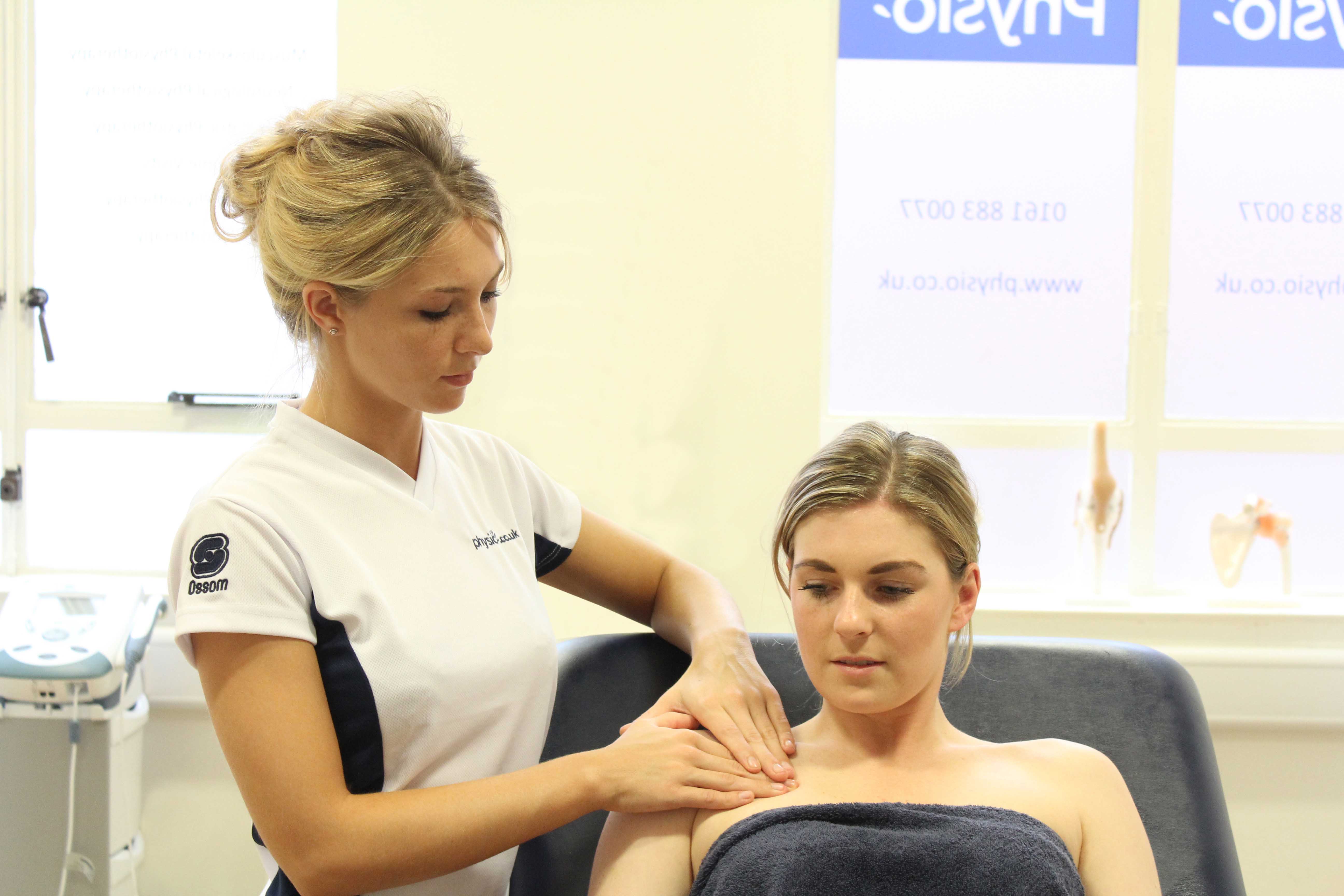 Above: Soft tissue massage of the chest muscle and connective tissues by specialist MSK therapist
Types of mastectomy
The type of mastectomy you have will depend on the size and the location of the lesion. Types of mastectomy include:
Total mastectomy - removal of breast tissue nipple and areola
Modified radical mastectomy - removal of the breast tissue, most of the lymph nodes under the arm and often the lining over the chest muscles
Lumpectomy - removal of a lump suspected to be cancerous. This is often another option of treatment depending on the size of the lesion.
Sentinel node biopsy – used to detect if cancer has spread to the lymph nodes.
Why would you have a mastectomy?
A mastectomy may be recommended when the tumour is:
Large in proportion to the breast,
Just behind the nipple,
In more than one area of the breast
A mastectomy is sometimes done on healthy breasts that are not cancerous to reduce the risk of breast cancer.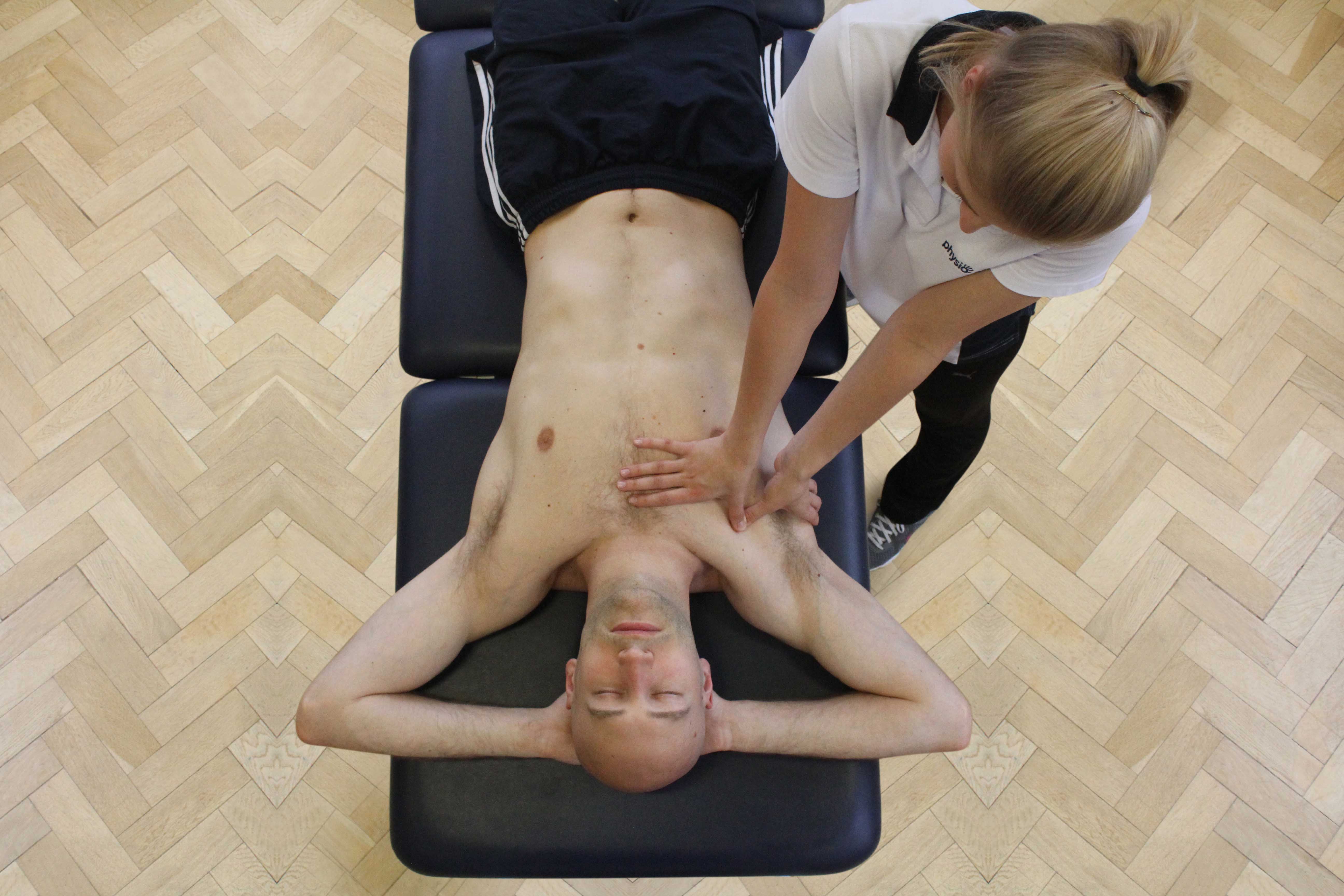 Above: Trigger point massage of the chest muscle by MSK therapist
Breast reconstruction following a masectomy
Breast reconstruction is a type of surgery that rebuilds the breast so that it is about the same size and shape as it was beforehand may involve:
Implants – using silicone gel filled implant or a tissue expander (like a balloon) filled regularly with saline.
Latdorsi flap – tissue and muscle cut from the upper back to make a breast.
Tram flap - uses tissue and muscle from the lower abdominal wall to make a breast.
Breast reconstruction may occur straight after your mastectomy or shortly following the surgery. Physiotherapy is very important in order for you to achieve a full recovery after your breast reconstruction.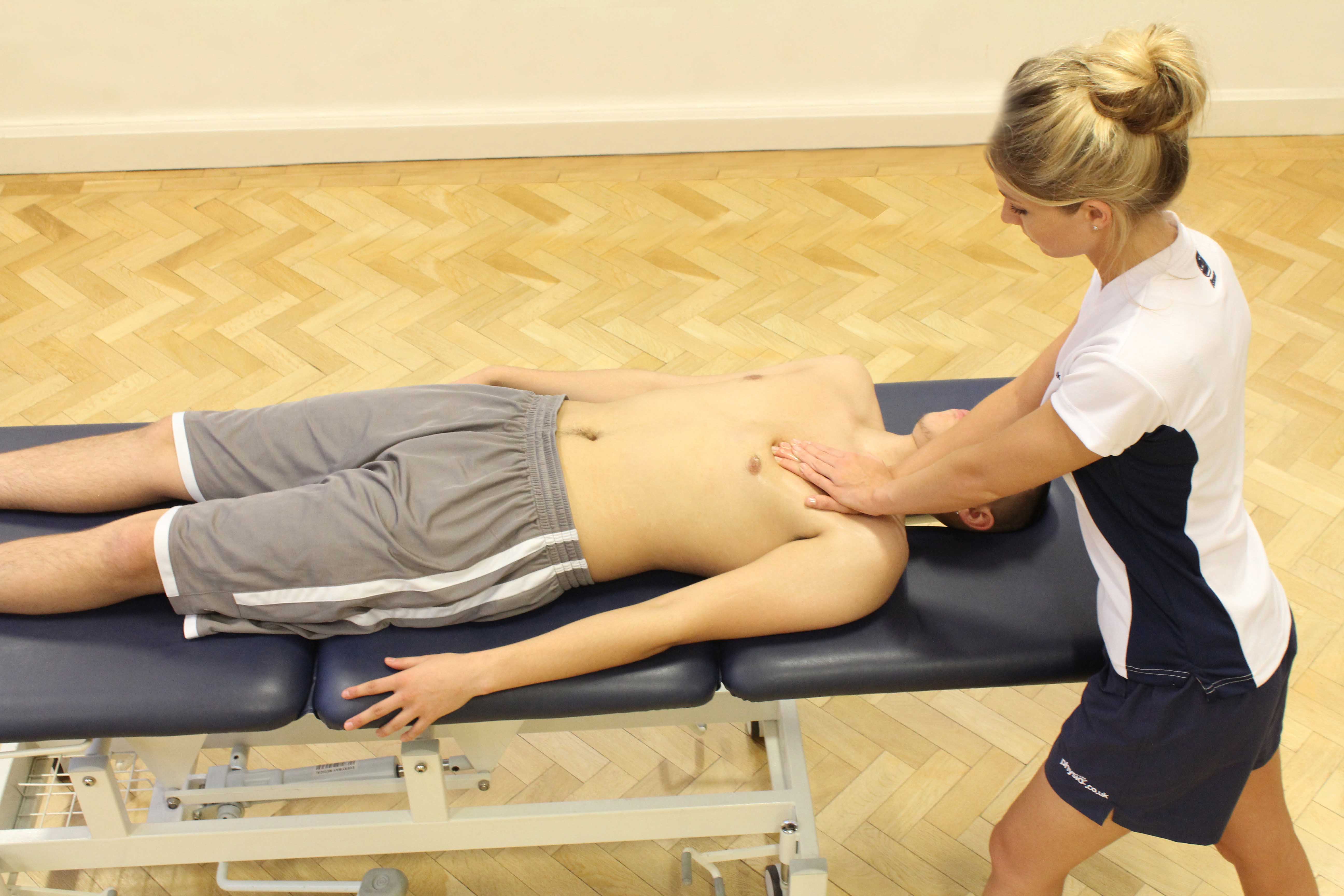 Above: Soft tissue massage of the chest muscle and connective tissues by specialist MSK therapist
Physiotherapy following masectomy surgery
At Physio.co.uk we understand that a mastectomy will cause significant changes which will impact on your life.
Physiotherapy should be started immediately after surgery. Our motivated physiotherapists at Physio.co.uk understand that everyone reacts differently, but there are some common after effects following surgery that the physiotherapists can help with. These include:
Scars – scar tissue may feel tight and tender and you may not be able to wear a bra or anything that puts pressure on the area following your surgery. Physiotherapy treatment such as soft tissue massage and stretching will reduce the risk of scar tissue adhesions after surgery.
Stiffness - your arm and shoulder on the operated side will feel stiff and sore for some weeks. Physiotherapy will increase your strength and range of movement in your arm and shoulder and prevent it from becoming stiff after your surgery. Treatment will also reduce the risk of developing a frozen shoulder.
Swelling - Swelling is common after any surgery and may affect your breast, chest wall, shoulder and arm. Physiotherapy will reduce swelling and prevent lymphoedema by promoting lymph drainage.
Pain - You many experience discomfort for some months depending on the extent of the surgery. If you've had your lymph nodes removed you are more likely to feel pain and discomfort. Physiotherapy will help reduce pain and stiffness by teaching you new ways of moving and improving your posture.
Fitness levels – following surgery you will find it difficult or uncomfortable achieving functional abilities. Physiotherapy treatment will help you back to achieving everyday tasks as soon as possible by improving general fitness and increasing strength in the arm shoulder back and neck. A graduated exercise programme will be developed by the physiotherapist in order for you to regain your full function.
Cording/Seroma – hardening or inflammation of the lymph glands especially under the arm can be painful for some individuals following a mastectomy. Physiotherapy will stretch the cords and reduce discomfort.
Anxiety – after your surgery physiotherapy will increase your confidence and sense of well being. Hydrotherapy treatment is effective at increasing range of movement as well as making you feel relaxed.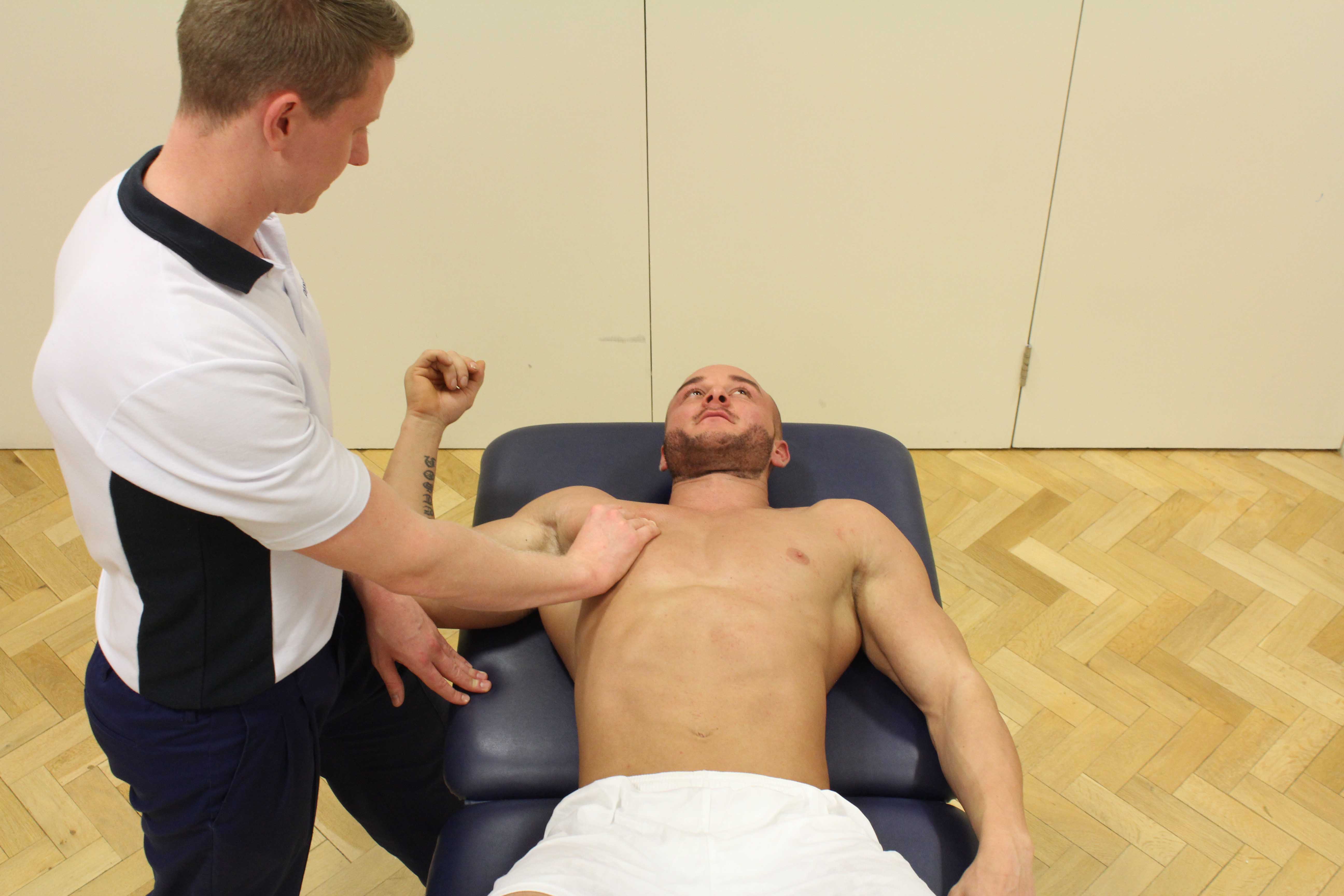 Above: Trigger point massage of the chest muscle by MSK therapist
Our motivated physiotherapists at Physio.co.uk will help you maximise your potential and improve your quality of life. Physiotherapy treatment will also increase your confidence and sense of well being. To book an appointment call
0330 088 7800
,
book online
or alternatively request a
free phone consultation
.