A rectus abdominis repair is a surgical procedure that involves repairing the diseased or torn muscle. The abdominal muscle group consists of rectus abdominis, internal obliques and external obliques. The rectus abdominis is a large muscle that is located on either side of the abdomen which can give a 'six-pack' appearance. The muscle extends from an area of the pelvis (pubis symphysis) to the lower ribs. The rectus abdominis helps to maintain an upright posture and flex (bend) the lumbar spine (lower back).Because of the muscle's attachment to the lower ribs, it is also very important in respiration and creating normal breathing.
When might you require rectus abdominis repair?
Following a grade 3 (complete) tear of the rectus abdominis muscle
Severe trauma
Cancer
An abdominal hernia
Severe abdominal diastasis (separation of the rectus abdominis muscle during pregnancy)
What does rectus abdominis surgery involve?
Your surgery will take place under a general anaesthetic so you will be asleep and will not feel anything. The surgeon will enter the abdominal wall to reach the area that has been damaged and use sutures (stitches) to repair the torn ends of the muscle fibres. The sutures will either be dissolvable or they will remain in the body. Once the repair has been carried the surgeon will again use sutures to repair the wound in the abdominal wall. You will then be taken back to the ward and remain an in-patient for up to 5 days to ensure that your wound is healing well and until you have recovered enough to be discharged home.
A strain of a muscle occurs when the muscle fibres cannot withhold the stresses placed on them causing them to tear. Because of the large size of rectus abdominis and the forceful actions that it is responsible, this is a common area to be strained. Rectus abdominis is usually injured during sporting activities involving sudden acceleration or deceleration actions. There are a number of reasons which may contribute to a muscle strain occurring:
A poor warm-up and/or cool-down
Inadequate core stability and control (see pages on core stability for more information)
Muscle tightness or a lack of range of movement
Insufficient recovery time following an injury
Previous injury to the rectus abdominis
Multiple pregnancies leading to a weakness in the abdominal muscle group
Repetitive trunk flexion movements
Incorrect techniques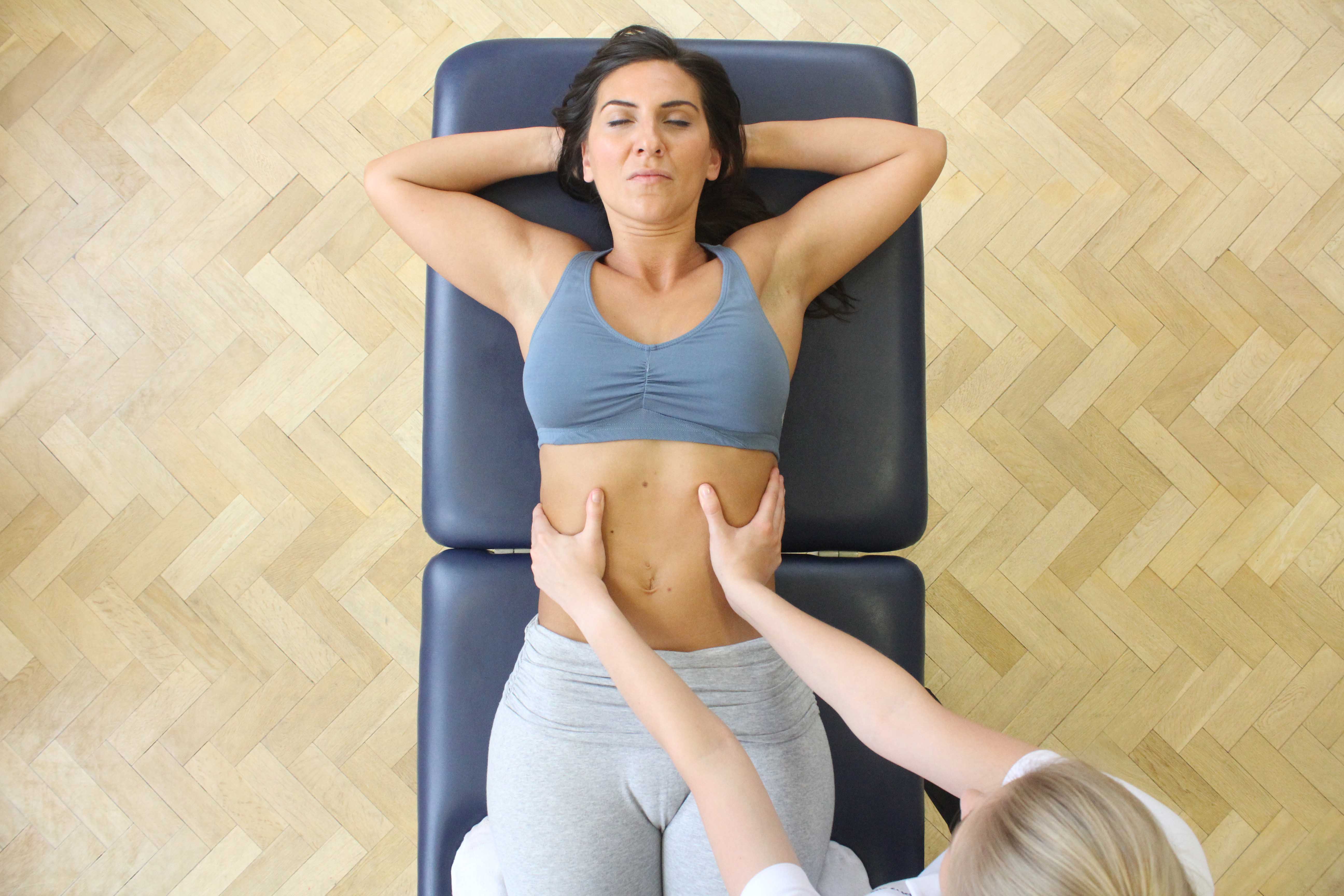 Above: Soft tissue massage and stretch of the abdominal muscles by experienced MSK therapist
The physiotherapists at Physio.co.uk can identify the main risk factors that may have led to your strain and look for ways to reduce these for the future.
If a grade 3 sprain of the rectus abdominis is experienced, a bulge of soft tissue thorough the muscle wall may develop (hernia). If a total rupture of the muscle occurs, surgical repair of the rectus abdominis may be necessary. Rectus abdominis repair is a successful surgical procedure and it is important that you are active in your rehabilitation both before and after your operation. Physio.co.uk has specialist physiotherapists who can work with you to develop a personalised programme to optimise your recovery.
Physiotherapy prior to rectus abdominis repair
Before your operation, it is important to try and remain as active and healthy as possible to give you the best possible recovery. Physiotherapy with Physio.co.uk at this stage may include:
Pain control modalities
Advice on the most pain free moving and handling techniques
Cardiovascular activity
Upper limb strengthening and range of movement exercises
Preparation for your rehabilitation after the operation
Symptoms following rectus abdominis repair
You may experience temporary symptoms after the surgery including:
Pain
A scar from the surgical incision
Temporary swelling around the wound
Pins and needles or numbness if the nerve supply has been temporarily disrupted during surgery
Weakness in the abdominal region
Bruising around the wound
Your physiotherapist at
Physio.co.uk
will help you to manage your symptoms to ensure that you experience minimal discomfort.
Physiotherapy following rectus abdominis repair
Rehabilitation following rectus abdominis repair will focus on the gradual return to your activities of daily living which will be progressed on an individual basis by your physiotherapist at Physio.co.uk.
Week 1
Breathing exercises to minimise the likelihood of respiratory complications after your operation
Positioning techniques to help ease any pain you may be experiencing
Range of movement exercises for lower and upper limbs
Simple strengthening exercises
Gradual mobilising including short walks and simple transfers
Abdominal strengthening exercises
Pelvic tilt exercises to help support your lower back
Postural advice in different positions including sitting, lying and transfers
Cryotherapy (ice) if there is any swelling around the wound area
Weeks 2-4
The symptoms following your surgery should now be reducing and you should therefore be able to be more active progress your rehabilitation with Physio.co.uk further.
Progression of abdominal strengthening exercises
Progression of range of movement exercises
Simple cardiovascular activity
Techniques on how best to lift light objects. Heavy items should not be lifted for at least 6 months following the operation
Weeks 5+
You should now be returning to your normal activity levels. Your physiotherapist at Physio.co.uk will now concentrate on helping you carry out rehabilitation specific to your functional needs.
Advice on pacing your rest and activities
Progression of all exercises provided especially abdominal based activities
Specific cardiovascular activity tailored to your normal daily routine
Preparation for after your rehabilitation and how best to maintain your fitness levels
Advice on how to reduce the risk of re-injury
Summary
Rectus abdominis is a large muscle that extends from the pubic symphysis (pelvis) to the lower four ribs. It is responsible for maintaining a good upright posture and flexing (bending) the trunk forwards like when a sit-up is carried out. Because the muscle can produce very forceful and strong movements, it can be vulnerable to injury. If the damage is more serious, you may have to have a rectus abdominis repair surgical procedure. The success rates of this type of surgery are high and this is further increased by compliance to a thorough rehabilitation programme. Physio.co.uk will work with you to design a comprehensive programme to be carried out before and after your operation to help you reach your potential. Call Physio.co.uk on
0330 088 7800
to arrange an appointment with one of specialist physiotherapists today.