Joint Replacement in the Hand
Joint replacement, or joint arthroplasty in the hand, is a surgical procedure whereby the lining of your joints is replaced by synthetic material. The joint surfaces of your fingers are lined with a material called articular cartilage which is designed to allow smooth movements where two bones meet.
A common reason for joint replacements of the hand is degenerative diseases. Over time and through overuse the articular cartilage can wear away (osteoarthritis) or be destroyed by your body's own immune system (rheumatoid arthritis), leaving the ends of the bones to grind against each other. Therefore, a joint arthroplasty is performed to replace your cartilageenabling you to carry out activities with freedom of movement and less pain. This surgery can be performed on your metacarpo -phalangeal joints (knuckle) or your proximal interphalangeal joints (finger knuckle).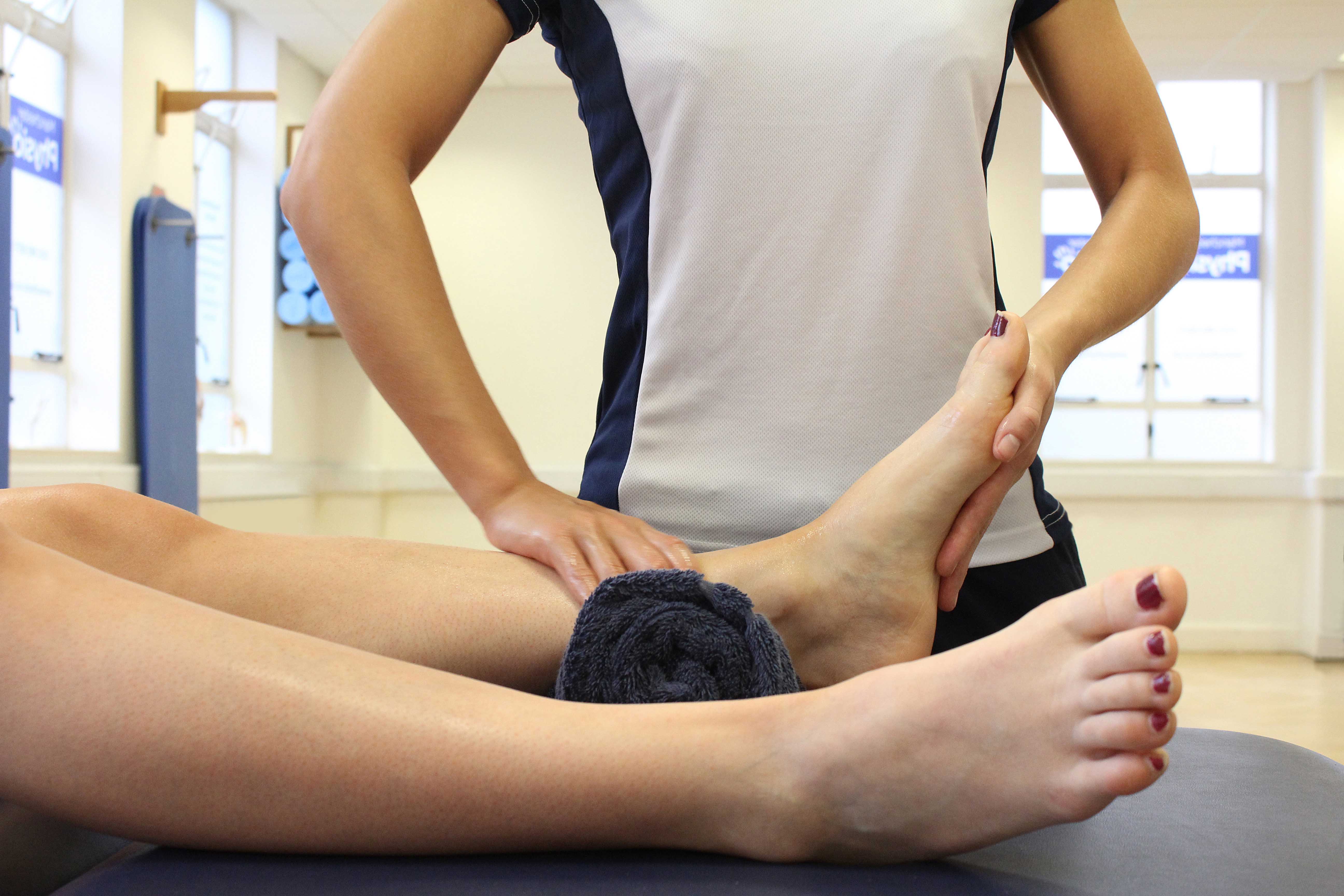 Above: Mobilisation and stretches to the hand by specialist physiotherapist
Other reasons for having a joint replacement in your hand include:
During surgery an incision is made along the back of the finger joint that is to be replaced exposing the joint. The joint surfaces of the bones are taken off forming a flat surface on which to apply the new joint. A small canal is drilled into both bones and the new prosthesis is inserted inside. On the end of each prosthesis there is a flat surface which forms the new articular cartilage of your finger. Your finger is then stitched together, bandaged and placed in a protective splint for 3 weeks.
Following hand joint replacement surgery, Physio.co.uk will assess the results of your operation and construct an effective rehabilitation plan in order to help restore hand function.
Symptoms Following Hand Joint Replacement Surgery
Following hand joint replacement surgery it is common for you to experience a number of symptoms that can be helped through treatment offered by Physio.co.uk. These symptoms include:
Pain
Swelling
Bruising and
Decrease range of movement and strength
Treatment offered by Physio.co.uk will help to minimise these symptoms and maximise recovery.
Physiotherapy after Hand Joint Replacement Surgery
Following hand joint replacement surgery, Physio.co.uk can immediately compile a thorough assessment of your hand and develop a personal rehabilitation programme specific to your needs. Rehab will focus not only on restoration of movement and strength but on activities needed to return to active work, hobbies and sports. Treatment will begin following your surgery and recovery can be seen within 12 weeks.
Weeks 1-3
Initial treatment is focussed on minimising pain and swelling following surgery and to encourage the use of your finger in normal movement patterns. Through early encouragement, end stage rehabilitation becomes easier and the restoration of a fully functioning hand is more complete. Treatment will include:
Cryotherapy (Ice)
Analgesia (Pain killers)
Passive controlled range of movement exercises
Gentle active finger range of movement exercises
Wrist range of movement exercises
Wound monitoring
Splint use – these can be fixed at varying lengths as to give a constant stretch on the tendon in order to improve range of movement and reduce stiffness.
Electrotherapy modalities
Advice
Weeks 4-6
After 3 weeks of rehabilitation your splint can be removed and your rehabilitation can be advanced. During this stage focus will be on the restoration of movement and building up of strength in order to help restore hand function. Treatment will comprise of:
Splint removal
Continued passive range of movement to reach end range.
Active range of movement exercises
Scar management
Heat therapy
Soft tissue massage to break down scar tissue
Begin gentle strengthening exercises
Weeks 7-12
During the later stages of rehab you will begin to see marked improvements of movement, strength and function of your hand. Physio.co.uk will intensify your treatment to help maximise your hands mobility and restore functional use. Treatment will consist of:
Continued active and passive range of movement exercises to end of range
Progressive strengthening exercises
Isolated strengthening of replaced joint.
Hand dexterity
Functional activity exercises
Advice for long term care
Following 12 weeks of rehabilitation with Physio.co.uk you will have achieved significant improvements in range of movement and strength.Physio.co.uk will provide you with the knowledge and exercises needed to maximising the success of your surgery, enabling you to achieve maximal function and use of your hand.
Summary
Joint arthroplasty is a common surgery undertook to replace the joint of the thumb or finger, typically performed due to severe arthritic changes. Your cartilage is replaced with a synthetic version allowing for a return to painless, functional movement. Physio.co.uk will provide a thorough assessment and construct a specific rehabilitation programme with our goal to help patients keep their pain under control, improve strength and range of motion, and regain fine motor abilities with the hand and fingers.
Call Physio.co.uk now on 0330 088 7800 for more information or to book an appointment please contact us
.